As part of Society6's ongoing partnership with Bombay Sapphire to inspire everyday creativity, we're highlighting the artists from our community who embody this spirit of imagination.
Scanning through photos of Los Angeles-based artist Cortney Herron's body of work, a theme emerges: undulating lines and muted colors come together to create emotive portraits of the daily lives of Black women.
Because of her skill in visually portraying the essence of her subjects, we presented her with a challenge with just one parameter: Paint something uniquely her own using Bombay Sapphire's Gin & Tonic ready-to-drink cans as her inspiration.
"This is such a cool, sleek-looking can, so my initial thought was, 'Oh, I've got to make something really fun!'" Herron says. "I thought maybe I could create a portrait using inspiration from the colors on the can, but the can itself is so fun and playful that I just knew I had to recreate it in my style."
Here, Herron shares more about her behind-the-scenes ideation process, why she finds portraiture so impactful, and how celebrating playfulness and tapping into our creativity can help keep spirits high even amidst uncertain times.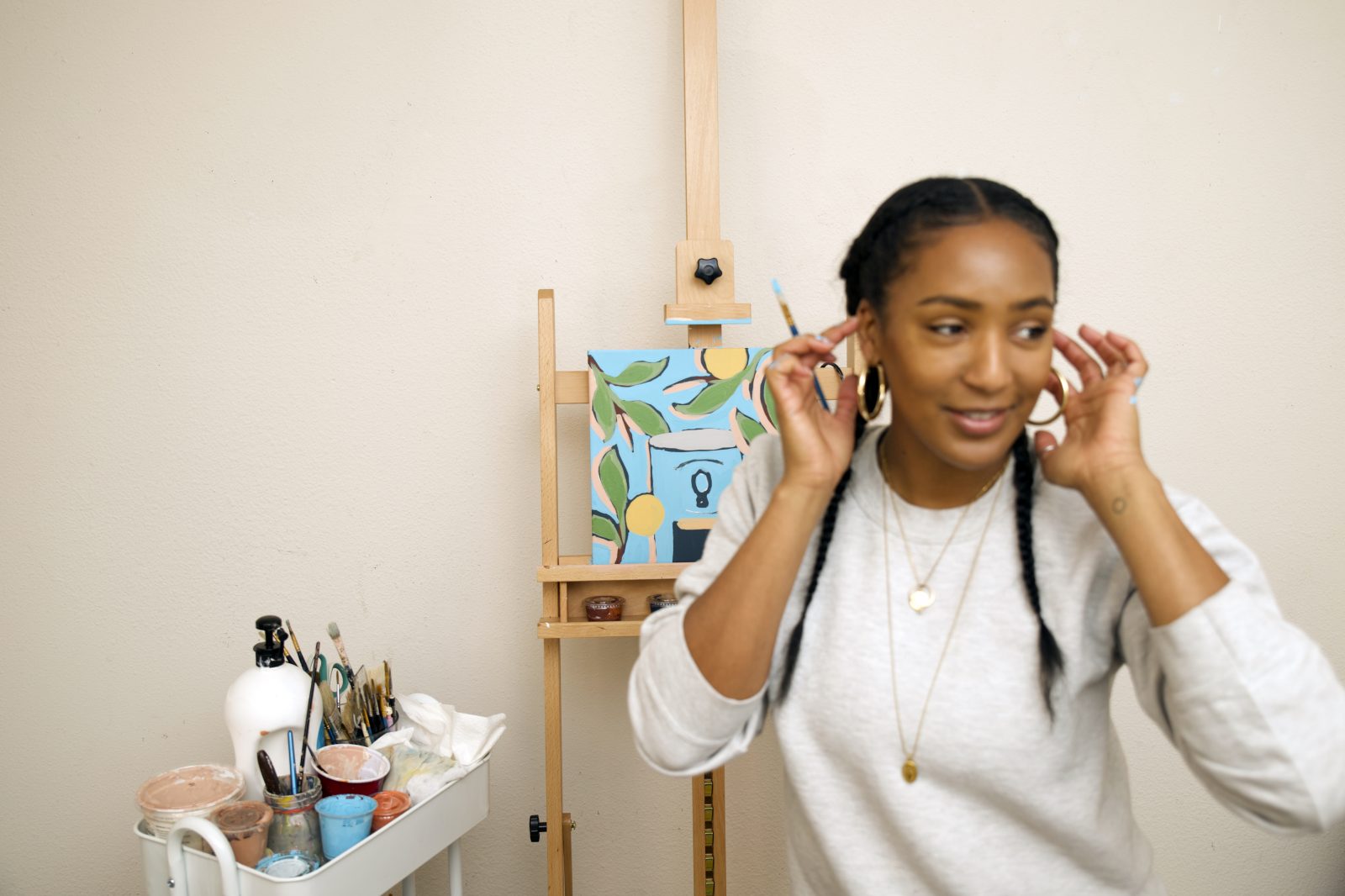 How do you typically find inspiration for your artwork?
A lot of my artwork focuses on portraiture, so that usually involves capturing the mood or essence of the subject. My artistic expression is typically the result of my own mood or feelings, so it's really about creating a sense of relatability for the viewer. Basically asking myself, "How am I feeling right now, and what mood do I want to evoke?"
Additionally, I find a great amount of inspiration from color, because that, too, has the power to convey a specific mood. I love mixing my own paint colors, so it's really about being meticulous with the shades I'm creating. For example, I might add a few drops of brown or earthier tones to a brighter color to tone down the brightness and make the overall piece feel more calm.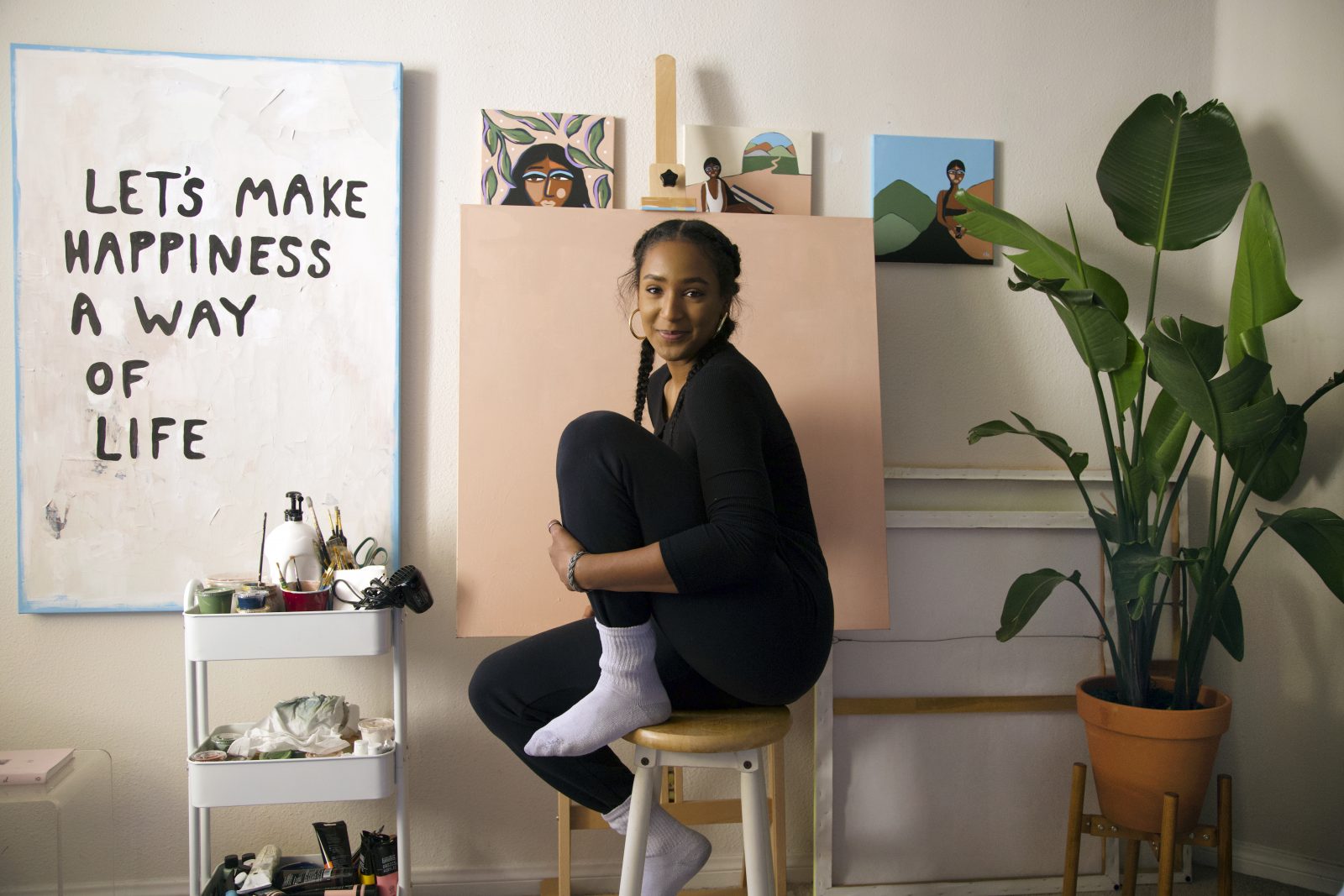 What about for this piece: What was your source of inspiration? Since your art typically centers around portraits, how do you see your personal aesthetic reflected here, even though it's not a portrait?
The beautiful blue color of the Bombay Sapphire Gin & Tonic can was my main inspiration for this piece. Their signature blue is so incredibly eloquent, yet fun and festive, so I knew I really wanted the art to feel lively and reflect a sense of playfulness.
So, it was all about the mood for me. Instead of going the expected route of creating a portrait, I decided to make the can my muse. By paying attention to the curves and lines, the smoothness of its shape, the subtleties of the logo, there were several simple-yet-unique elements that I was able to put my own personal spin on.
The Bombay Sapphire logo, for example: Here I was able to incorporate more of my personal lettering style. And if you look closely at the female figure in the center, I added a subtle nod to my portrait style with the use of the heavy black eyeliner and blue stroke representing the bridge of the nose. I also like playing with color when it comes to shadows, and a lot of my work incorporates a more muted pink color. While I wanted the primary color in this piece to be blue, I still wanted to bring in that same muted pink I regularly use. So adding in those subtle pink shadows throughout felt like the perfect compliment to tie in all of the fun colors.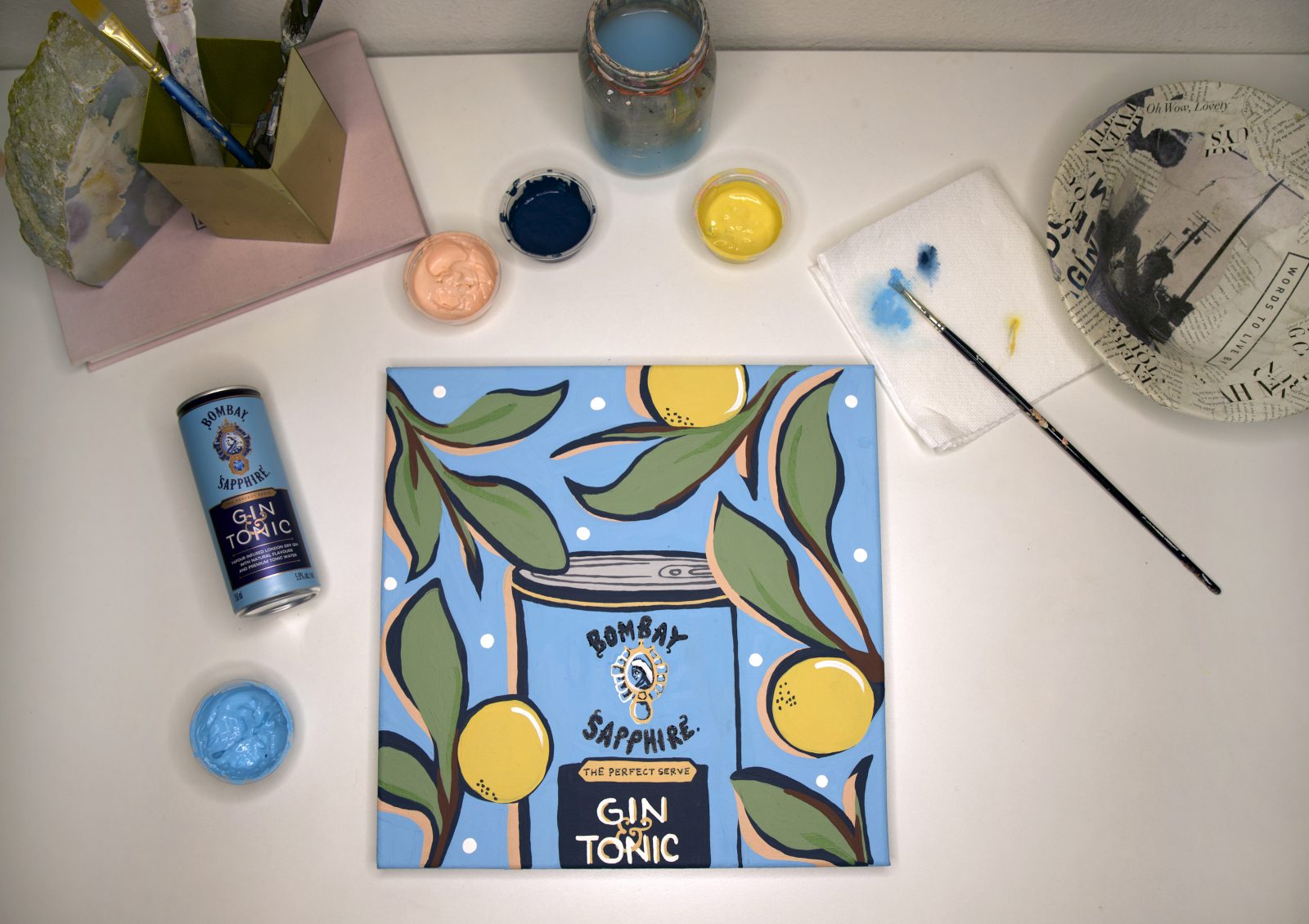 What do you find inspiring about portraiture, and how does that compare to still life work?
There's something about our unique features that hold so much expression and relatability. Whether it's the gaze of our eyes or the tilt of the head, portraits are all about those small details that make us unique. Still life work is really no different—it's about highlighting those special details or unique qualities that bring out the essence of more inanimate objects. That's why I really wanted the soft curvature of the can to mimic the fluid strokes of the leaves, creating a sense of continuity and movement throughout the piece.
What are the main themes behind this piece?
The primary theme behind this piece is movement. Foliage and greenery have been significant elements in many of my portraits, so I wanted to make sure that concept was incorporated into this piece as well. There's something about surrounding the subject with these fluid, organic leafy shapes that almost breathes new life into the entire piece.
No matter what I'm painting, my style leans to the use of very soft strokes and more feminine shapes, as opposed to hard angles or lines, so the smooth curvature of the can was a perfect compliment to that. I want the viewer to feel excited and playful and perhaps even refreshed while connecting with the piece.
At the end of the day, we're all still navigating life during a pandemic, so why not make our time at home a little more festive and exciting? I wanted this piece of art to really represent how much fun you can have when you get creative. Maybe that's making art or maybe it's making your own fun cocktails at home. No matter what, let's just decide to have fun in the process.
What made you decide to hone in on these specific themes?
I think a lot about the current state of the world and how each of us may be dealing with or even struggling with navigating life right now. So it's the little things like enjoying your favorite cocktail at home that have the power to completely turn your day around for the better. That's exactly why I wanted to hone in on movement and fluidity in this piece, drawing out those fun and playful moments that not only put a smile on your face but make you feel like moving or even dancing.
I think it's the sense of fun and normalcy of socializing that I miss most about life pre-Covid—basically being able to move about the world as we want. But now that we're stepping into a new normal or perhaps a new "better," embracing those fun times and moments, even at home, are what can keep our spirits high during such unprecedented times.
What do you usually do when you need additional inspiration? What about this action inspires you to get back to work on your art?
Art and the process of creating is what truly fuels my soul and makes me feel alive. Being in the moment while painting is what I enjoy most about it because I'm able to really let my creativity guide me in real-time. But, when I'm feeling like I need a little more inspiration, mindfulness has proven to be very helpful in getting me back to center, creatively.
So instead of focusing on having a lack of inspiration, I shift my energy toward the other things that activate my creative senses, like listening to music and finding that perfect spot in the sun and basking in its energy. There's just something about the energy of the sun that gives me that hard reset I need to refocus. Taking a step back when I'm creatively stuck and leaning into these kinds of mindful moments is what always seems to get me back on track and excited about diving back into my art.
What is your advice to artists who feel stuck or stifled creatively?
Embrace those moments when you're feeling creatively stuck. Remember, no one is perfect. It can be so easy to beat yourself up over feeling stuck or uninspired, but instead of trying to stifle those feelings, it's so important to lean into them, wholeheartedly. I find that the best way out of those creative blocks is through them.
Simply owning the fact that you're just not feeling creative at the moment can be super helpful because you're giving yourself a chance to actually process that emotion. Forcing creativity never works for me, and as an artist, those creative waves come and go all the time. So don't be afraid to ride those waves as they pass through because you usually end up coming out of them even better!