Breakfast bars, high tables, center islands, countertops: pull up a stool and enjoy your favorite little nook.
Bar stools and counter stools add that bit of casual comfiness without taking away from the contemporary coolness of your space. But like a good pair of boots, finding the right size bar stool for your space can be a bit of a challenge. Never fear, our foolproof guide to buying the right bar stools is here! PSA: there's a fair amount of measuring (and math) involved.
First things first, close your eyes and imagine your space with your dream bar stools. Got it pictured? Great. How many stools are there?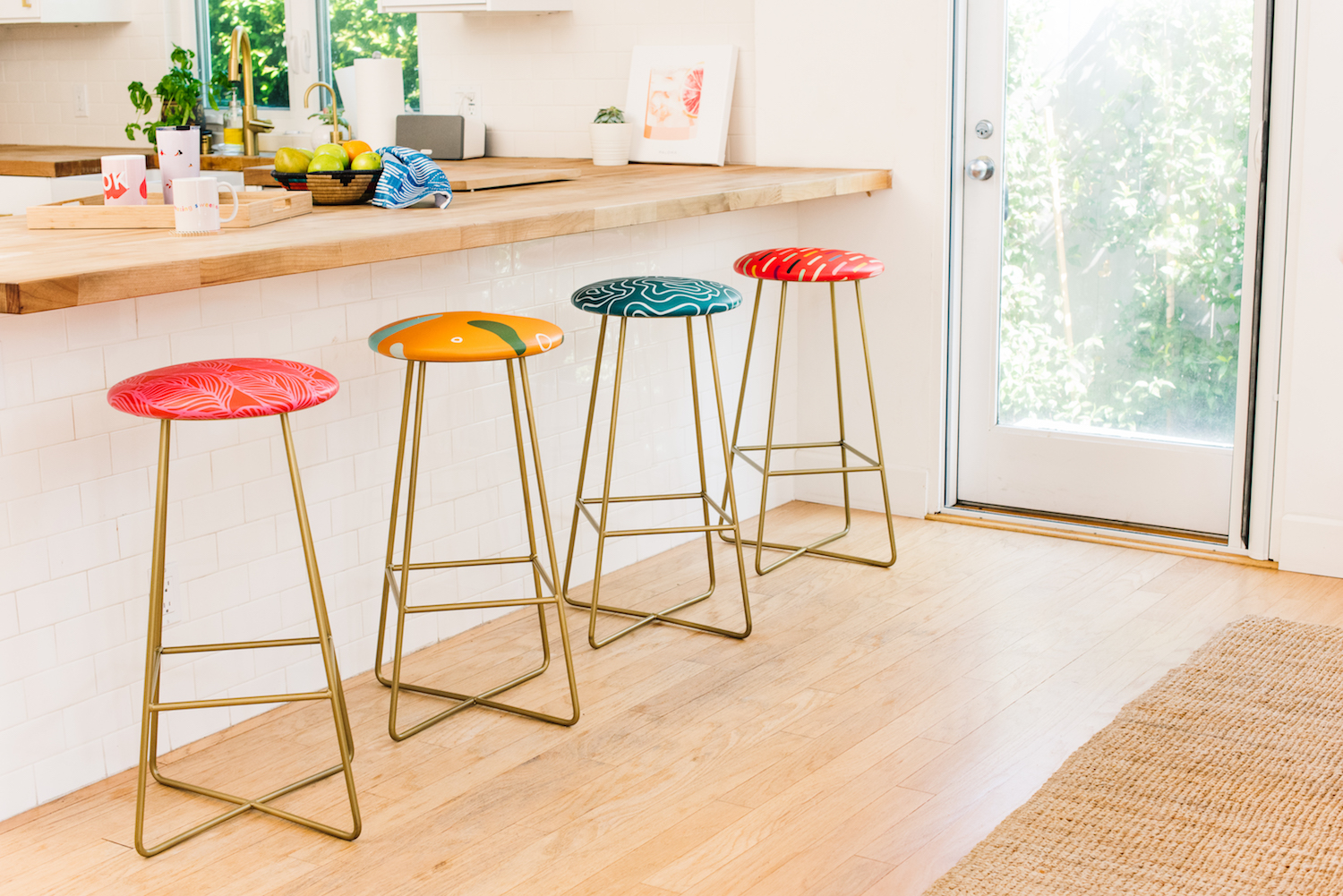 How Many?
One of the most important things is figuring out how many bar stools you can fit in your space. It's important to not overcrowd your little nook but also make sure that you're maximizing this awesome section of your place.
Determining how many bar stools to get varies based on how much personal space you think you need. Some say you only need six inches between stools whereas others think you need closer to two feet!
With a range this big, how do you figure out how much space to leave between the seats? Start by measuring the full length of your area. Next, get an idea of how many bar stools you feel like you absolutely need. Just two for you and your boo? Or four for the whole crew?
Now, it's time for some math: take the total length of your bar" – ( length of a bar stool [ie: 15"]) x the number of stools you absolutely need [ie: 3″]) = how much space you're going to have between them.
If you take that number, (how much space you're going to have left) – 8"  (to account for the space between the wall and your first stool), you'll get the total amount of space between all the stools. If you divide that by the total number of stools needed (ie: 3), you'll find out how much space between each stool you have.
If all of this was just like way too much math for you, split the difference and give yourself about a foot between seats, and see if that gives you enough space in between your dream number of stools.
How Tall?
To bar stool or to counter stool? That is your question. A stool is a stool for the most part, except for the one critical component: their height. Bar stools are taller at about 30" as opposed to counter stools which are usually only about 25".
Measure the height of your bar and decide which type of stool it is that you're really looking for. Remember to account for an extra 10" or so between the top of the stool and the bottom of the bar, for your bod.
How 'Bout Them Cushions?
Deciding what kind of cushions you want is the fun part! Match your stools to your kitchen, or use them to give your space that pop of color. Who says that all your cushions need to match? As long as the structure of your stools is cohesive, you can feel free to add an eclectic spin to their tops.
Petaluma Bar Stool
by sunshinecanteen
$199.00
Scandinavian Dash Bar Stool
by Season of Victory
$199.00
Manzanita Bar Stool
by sunshinecanteen
$199.00
Japanese Boho Floral Bar Stool
by Casey Saccomanno
$199.00
AEGEAN JUTE STRIPE Bar Stool
by holli zollinger
$199.00
Tropical Jungle Night Bar Stool
by Anita's & Bella's Art
$199.00
doodles Bar Stool
by No Accounting For Taste
$199.00