Formidably Impressed is a Honolulu-based greeting card company, founded by the duo of Cherish Prado and Gavin Murai.
Cherish and Gavin's fun, cheeky designs capture the island aesthetic, but the designs take on a whole new layer of nostalgia when you realize they're designed for and printed on an honest-to-goodness letterpress. I spoke with the pair about how they got their start and some of the challenges and opportunities of their vintage practice.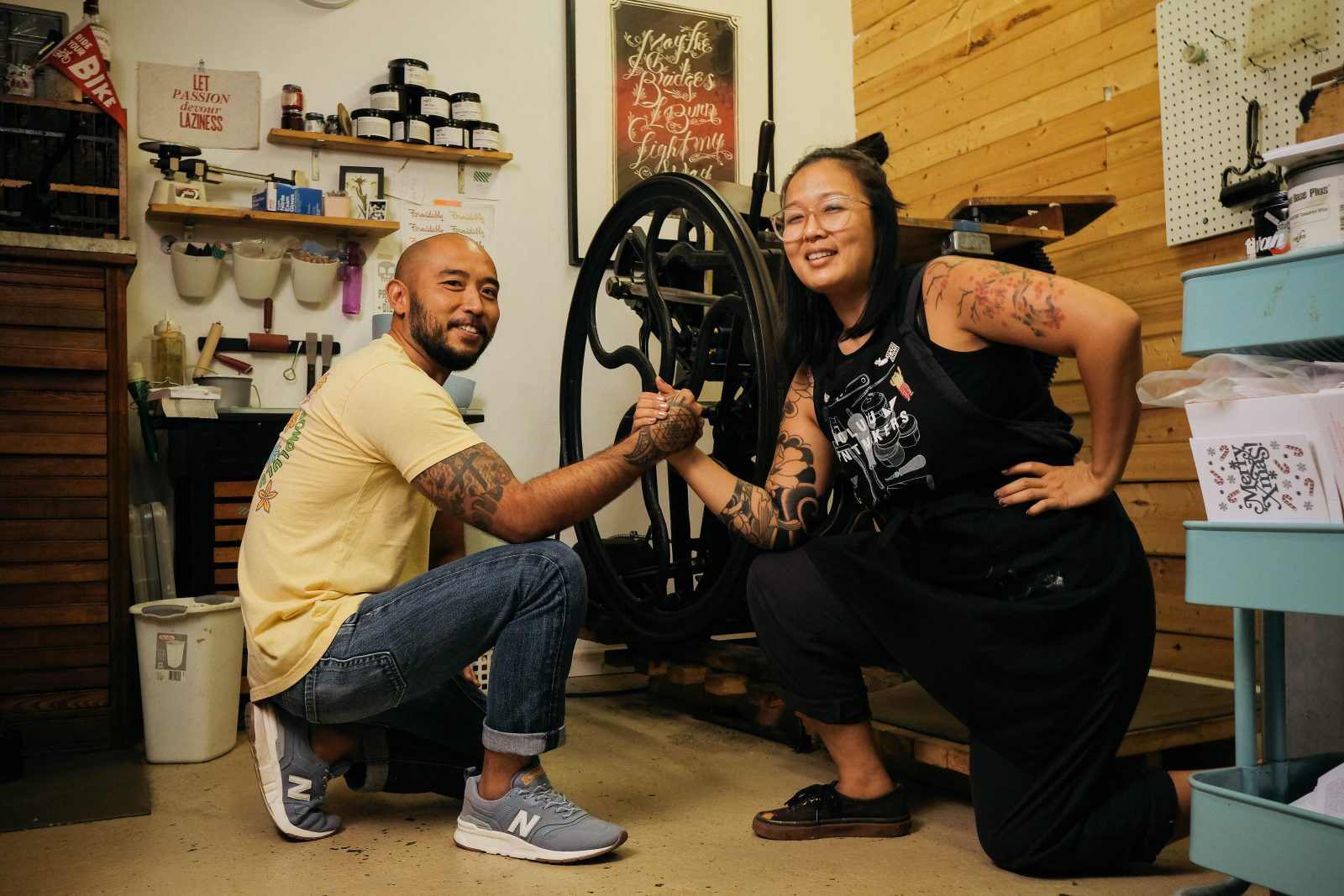 Could you start by introducing yourselves?
GAVIN: We are Formidably Impressed. Cherish Prado, the letterpress wizard, and Gavin Murai, the lettersmith. We are a letterpress greeting card company that delivers high regards and sometimes low blows with our typography-based designs.
How did Formidably Impressed start?
GAVIN: We met at Lana Lane Studios, a collective of creatives based in the Kakaʻako neighborhood of Honolulu, Hawaiʻi. While each of us have our own disciplines (letterpress printing and graphic design), we bonded over an affinity for the analog, handmade aesthetic and products, along with our sometimes misunderstood dry humor.
The name, Formidably Impressed, is simply another way to say "badass." Combining that with the physical act of impressing our various greetings on paper, we felt it was a perfect fit for our company name.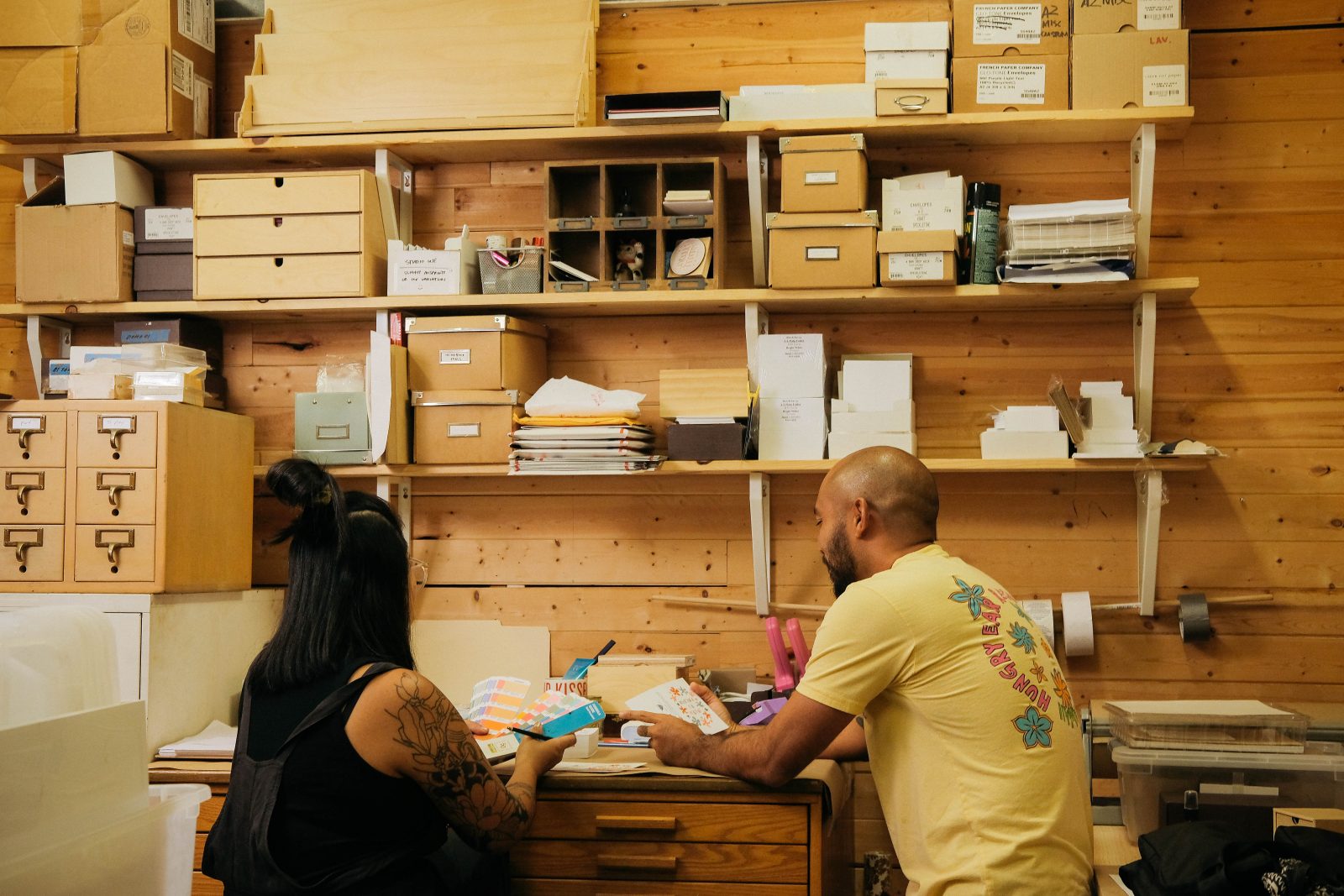 What are your favorite things about working with one another?
GAVIN: Sharing the same dry, cynical humor and stories of our pets' pet peeves.
CHERISH: We have a ton of similar interests, so I enjoy getting the scoop on new tools for home remodeling projects or talking smack about random topics. We have similar demeanors so running our business together has been fun and a great partnership.
Where did your love for art begin?
GAVIN: My love for art and design began at an early age. A handbound sketchbook and a box of Legos were gifts that I spent many hours with when I was young. In my later years of elementary school, a love for surfing was gained. From that, came an obsession with surfboard building, illustration and logo design, which remains an inspiration to this day.
CHERISH: As for me, I grew up with a great-grandfather who taught me to appreciate creating and making things by hand. Although I may not be versed with a pen or pencil, I have a love for process and technique, which aid in the many challenges of printing on vintage presses.
What are your current creative influences?
GAVIN: Current influences range from mid-century Dutch graphic design, 1970s African funk music, our fellow Lana Lane Studios and POW! WOW! Worldwide family members, vinyl cover art from Hawaiian musicians in the 1960s, practicing of Brazilian Jiu Jitsu and even simple conversations with friends in the lineup at our local surf spot.
CHERISH: I'm a big music junky, and you can always catch me dancing to some Cubana jazz funk or switching it up with some dark cello when I'm designing or printing. I also watch a ton of movies and have been currently on a run of lighthearted European indie films. There are so many things that peak my creative interests, but connecting with fellow studiomates always gets the creative juices flowing.
Can you describe the creative process for a new card design?
GAVIN: The creative process for each card design starts with a conversation, whether it be amongst ourselves…
CHERISH: (with a bottle of whisky or scotch)
GAVIN: …with family or friends, or one that we may overhear walking down the street. Once a word or phrase is selected, we pull references from a variety of sources—such as postcards, old bumper stickers, random photos on our phones, even swatches of cloth that have a desirable color. Sources we feel will collectively evoke the feeling that we're trying to express through the card. From there, we create a rough sketch that eventually is vectorized and colored then sent off for a plate to be created from.
CHERISH: Having to work with my hands while printing really offsets the amount of time I spend on the computer. Each design presents new challenges that are exciting to work through. We are trying to incorporate more handset type to keep letterpress printing alive and well.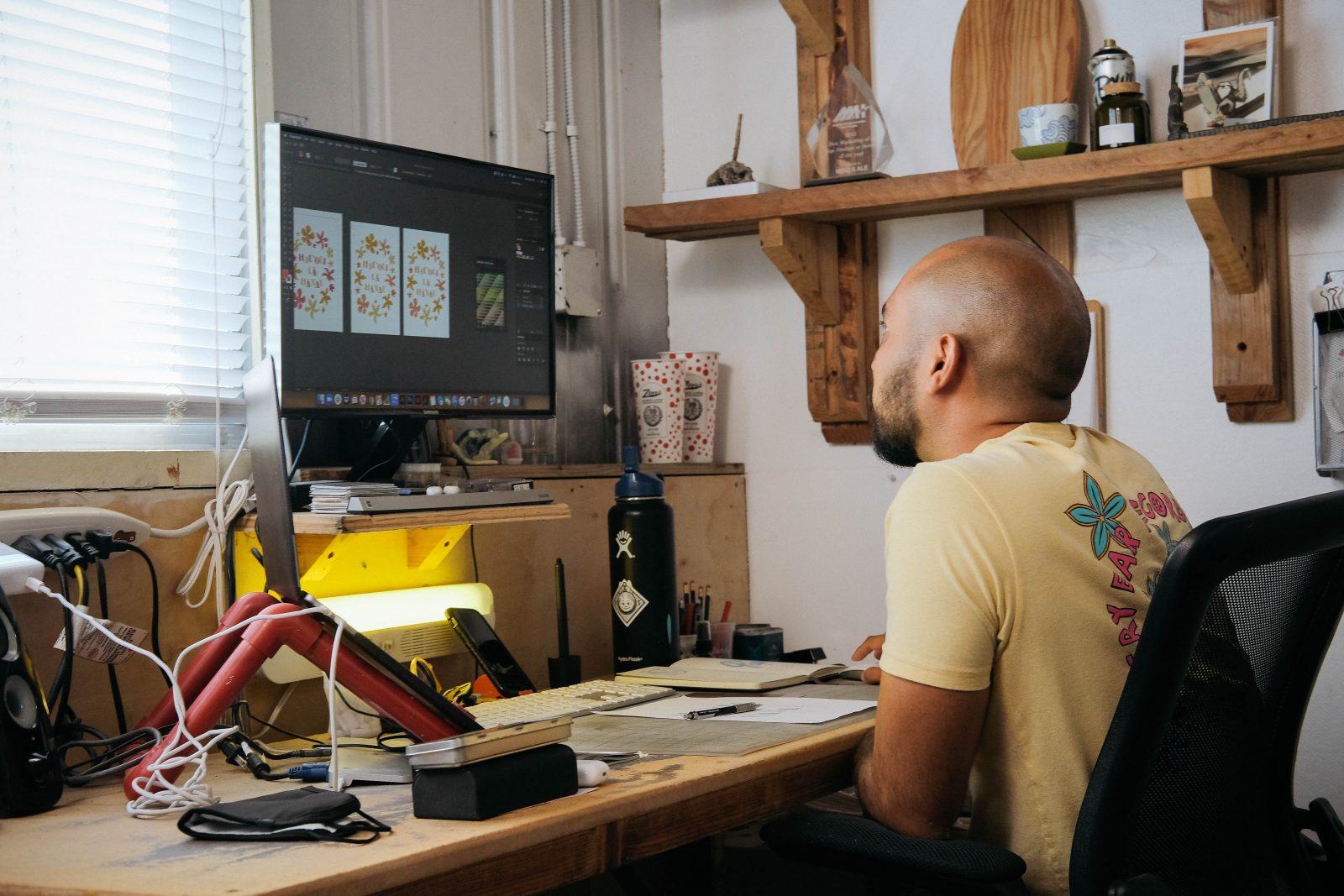 Where do you find the old machinery?
CHERISH: Our main hitter, Hugo, hails from Bellingham in the Pacific Northwest. He is well over a hundred years old and has been with us for almost a decade. Most of our equipment has been passed down from printer friends in the NW, salvaged from an estate or bought at an antique shop. As long as we have a light source, we are able to still run all of our equipment manually, if need be.
What happens if the machinery goes down? Do you know how to fix everything?
CHERISH: If Hugo or Zed (our presses) break down, I go into a hardcore problem solving mode. It is almost impossible to get replacement parts on the island unless I work with a machinist to recreate a part from scratch, which is INSANELY expensive. I have taken our presses apart twice though, so that helps a ton with figuring out where an issue may lie. I have specific rules I print by to ensure that our presses don't malfunction.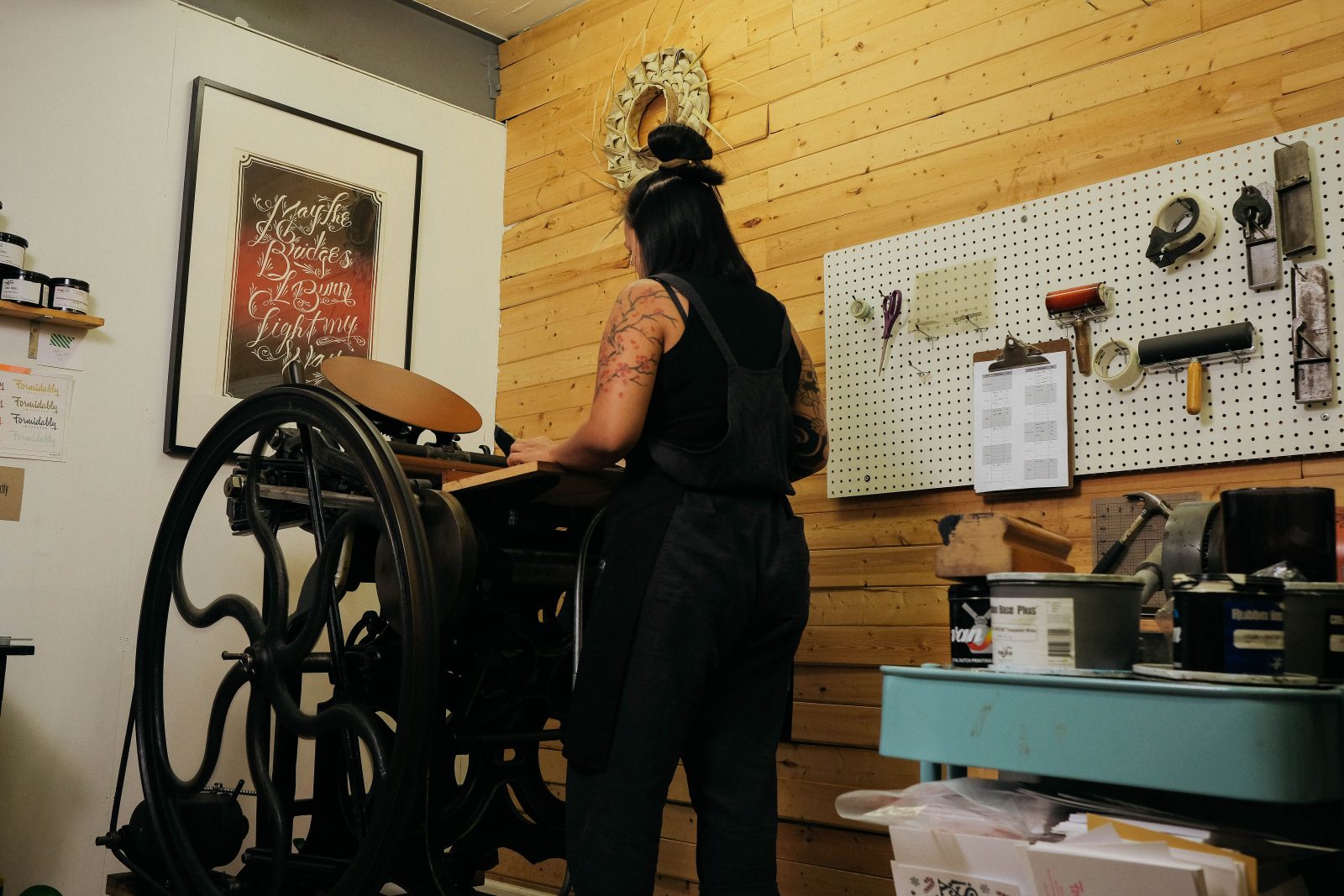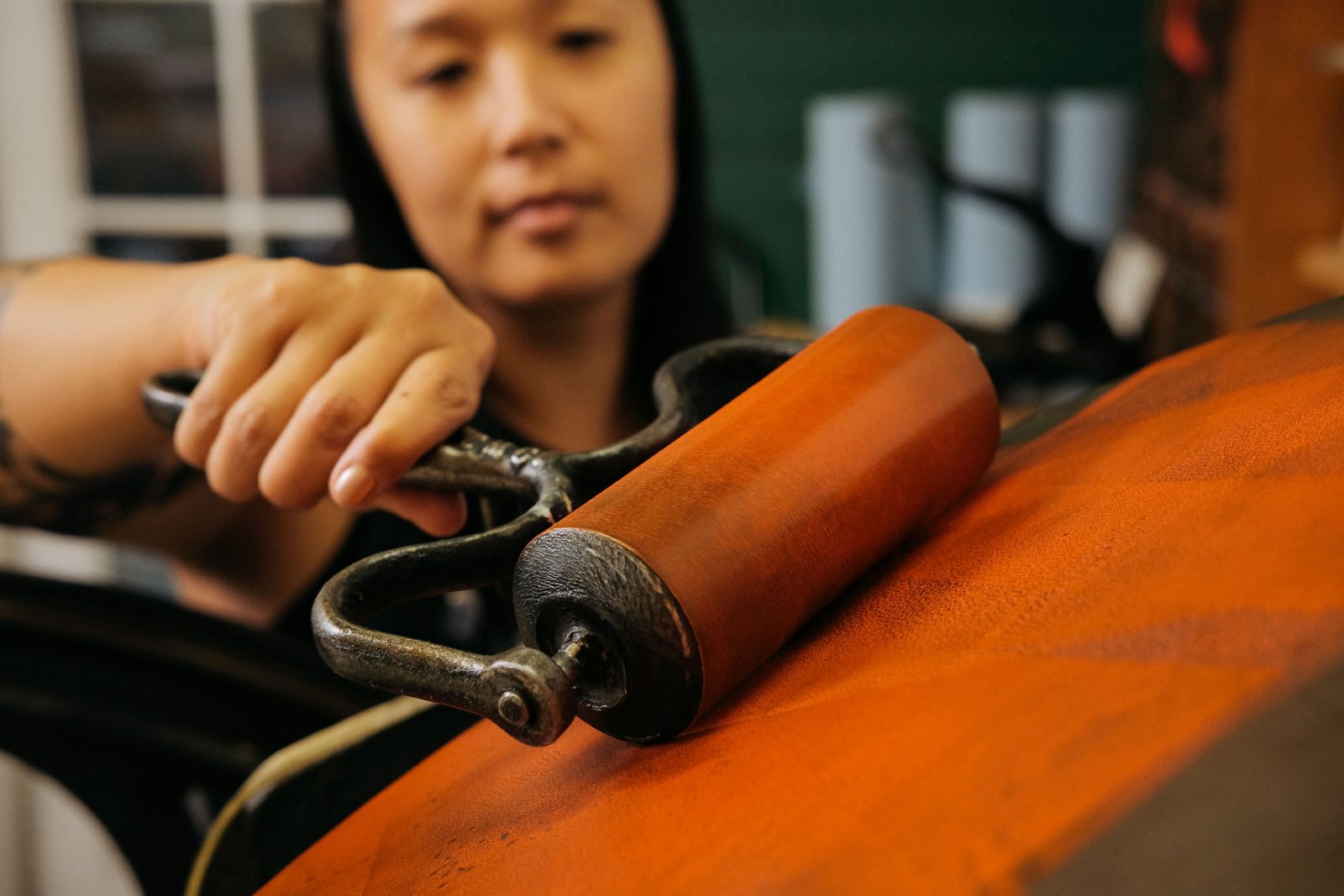 Speaking of working on the island, what are the best parts and biggest challenges to working/living in Hawaii?
GAVIN: Aside from the weather and scenery, our personal and professional community is the best part of living in Hawai'i. Being on an island definitely minimizes our degrees of separation, so we're all in the same boat per se. If we need advice or assistance in nearly any facet, a family member, friend or peer can provide it. If they canʻt, they most likely know someone who can.
The biggest challenges are definitely the cost of living and business operations, along with the lack of availability of tangible resources. These challenges, however, offer opportunities to increase creativity in our workflow—resulting in a product and aesthetic unique to our brand.
If you couldn't work in art, what would you be doing?
GAVIN: Art is such a broad term; being an architect, engineer, surfboard shaper, car builder, or cook are among the many occupations that we've considered taking up previously, all of which require being artistic in a some form. Therefore, not working in art would be nearly impossible for us.
In ten years, where do you see Formidably Impressed going?
CHERISH: Formidably Impressed was formed as a side project for both of us while we ran our own separate design and printing companies. With our current state of the world, as long as we can produce crass-ass cards that make people chuckle and like-minded stores continue to support our humor, we will carry on.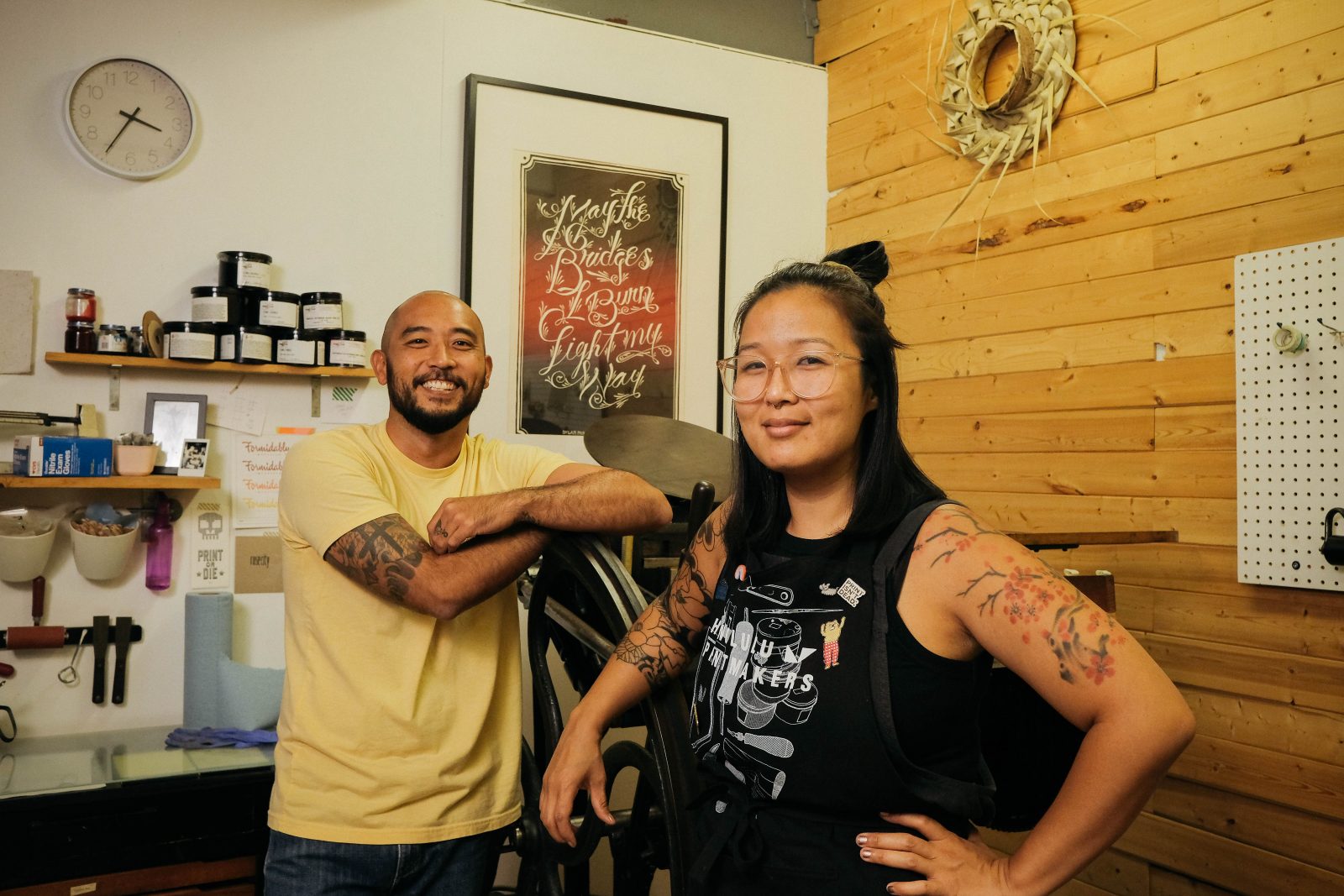 Thanks so much for taking the time to chat with us, and we wish Hugo and Zed a continued happy and healthy life for many years to come!
Shop Formidably Impressed
Photography by Chris Balidio