Arranging a gallery wall is an inventive way to refresh wall space and put your personal stamp on any room. But as exciting as a blank-canvas project may be, it can sometimes be challenging to pick a creative direction and bring it to fruition. Creating a gallery layout for a blank wall can have endless options including framed pieces, canvas artwork, mirrors, and more.
If you're thinking of installing new wall art—or rearranging what's already in your collection—let us help paint you a clearer picture.
Check out ten gallery wall ideas that'll level up your layout. Then, stick around for a breakdown of eight style options you can try today to turn your gallery wall into a true work of art.
#1 Triple the Fun With a Triptych
​​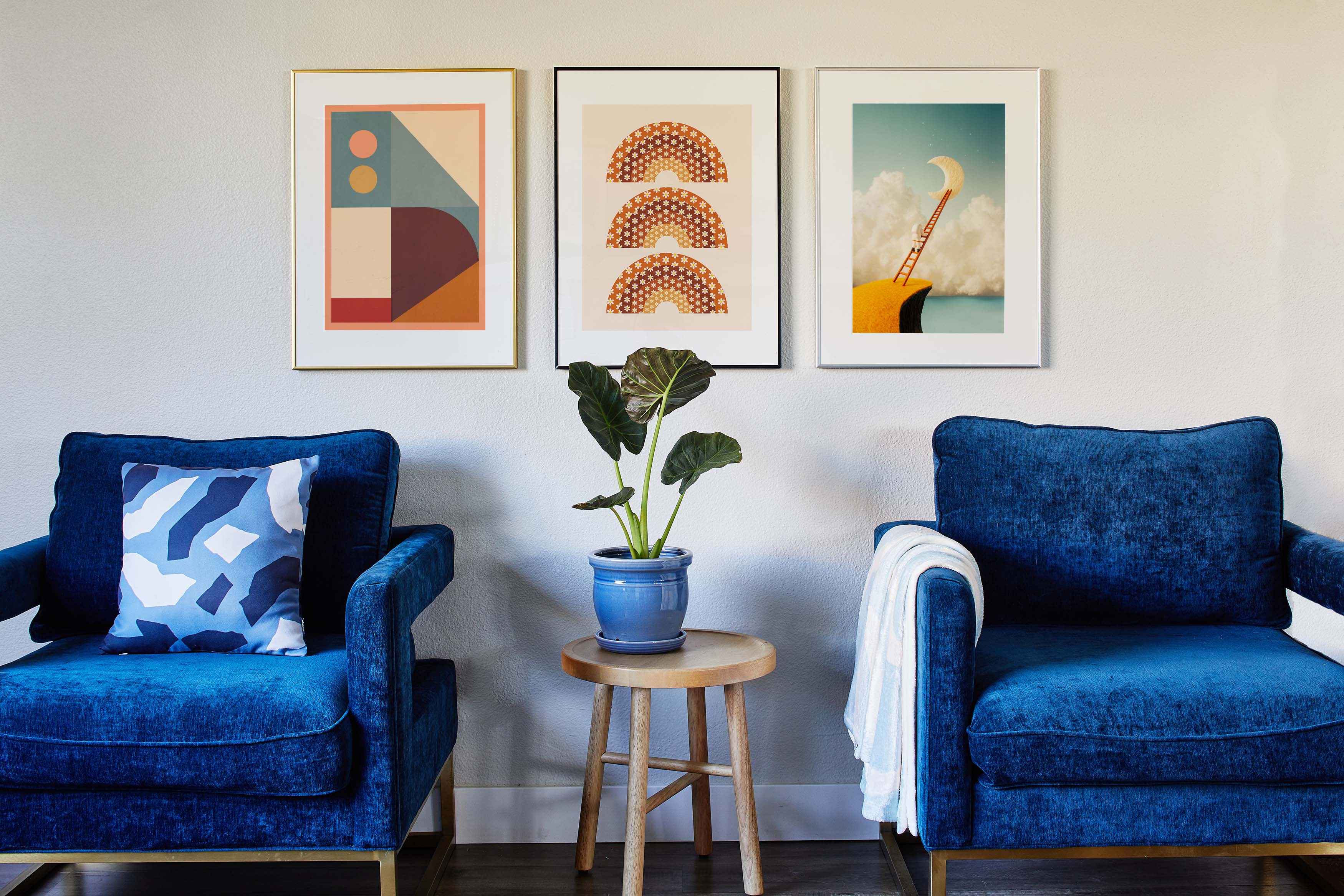 During the middle ages, triptychs depicting well-known scenes from the Bible decorated altars in churches across Europe. Since then, famous artists throughout history have worked with triptychs to elevate their work.
Now, you can use triptychs to elevate your gallery wall layout.
Essentially, a triptych is any piece of art that's divided into three separate pieces and displayed together. That can mean a single image that's distributed across three canvases or three separate but related images.
To help you pull off the triptych idea at home, we've got two effortlessly aesthetic ideas to get you started:
Add a personal touch – Your most recent family photo, a picture of your grandparents, or a snapshot of your pets are great triptych options—choose a shot you love and use a web service or computer program to divide it into three sections before framing each and adding them to your wall.
Choose a theme – Start with a theme, whether it's a beach aesthetic or florals, and then choose different art prints that go together.
#2 Go for an Ultra-Organized Grid Look
For some, there's something extremely satisfying about a grid gallery wall layout. If you happen to fall into the camp of organized, sensible design, this is surely the way to go.
With each frame aligned just so, a grid gallery wall layout lends a sense of orderliness to any room. You can accomplish the exactness of the design by mocking up your layout on the floor and using a measuring tape or ruler to achieve ultra-precise spacing.
#3 Mix it Up With Mismatched Frames
If you're sorting through wall collage ideas, don't forget to consider an edgy mismatched layout. Compared to the stately precision of a grid layout, the varied frames of this approach result in a design that's brimming with fun, free, and funky energy.
When you're arranging your layout, be sure to choose framed pieces that feature different shapes, sizes, and materials. Keep in mind that even, consistent spacing between frames helps keep a mismatched layout from going too wonky.
#4 Keep Them Close
If you want the compact tidiness of a grid layout and the unique flair of a mismatched style, you should consider doing away with space and bringing your frames close enough to kiss. Among gallery art wall ideas, this is an excellent compromise between the two—and still a statement-maker in its own right.
This layout works best with four frames that are different sizes but made of the same materials. Ideally, they'll all be grouped together around a central focal point with the edges of the frames flush against one another, leaving no space between them. The resulting look is chic, considered, and contemporary.
#5 Aim for an Asymmetrical Look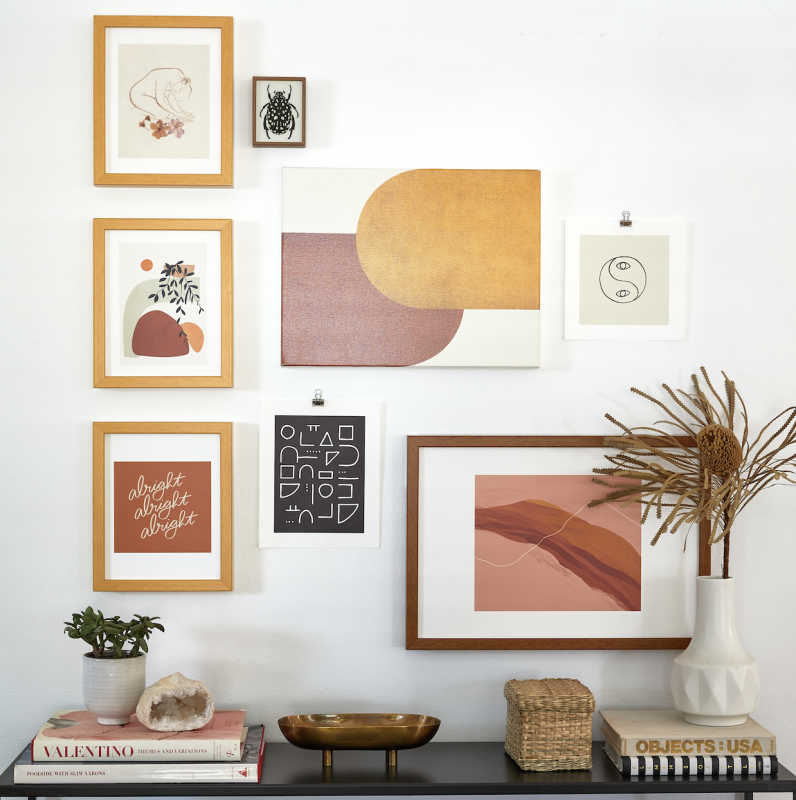 Although gallery wall examples like a grid or a closed set require precise measurements, you don't have to get caught up in perfect spacing to give your walls that gallery feel. You can always opt for a casual, carefree take on the gallery wall by opting for an asymmetrical layout.
Going asymmetrical is the perfect way to:
Indulge your creativity
Express your own unique point of view
Using different styles and sizes of frames, you can pitch the pencil and the tape measure and hang them where you choose.
#6 Play Around with Symmetry
If you aren't feeling the caution-to-the-wind vibe of an asymmetrical layout, consider giving symmetry a shot. When done properly, this layout makes for a wall that feels both organized and occasional.
For this layout, you need an even number of frames in two different sizes. One size should be oriented vertically and the other size should be oriented horizontally. The frames are arranged on the wall in neat columns that alternate between the two sizes and orientations creating clean lines.
#7 Try an Organized Shelf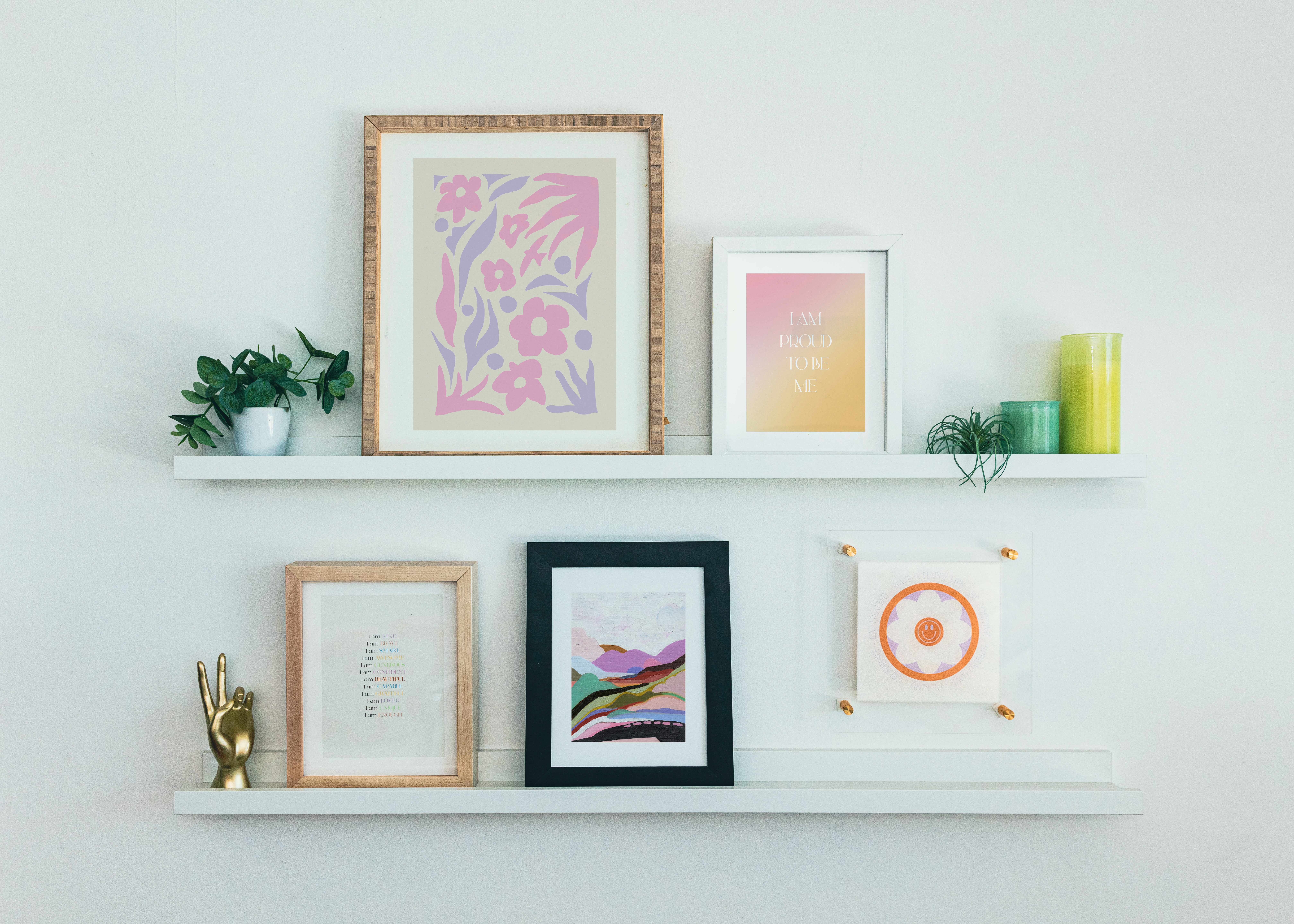 Shelves not only make great wall decor ideas, but can keep your gallery wall organized as well. All you'll need is a couple of floating shelves or photo ledges to pull off this gallery wall layout—any size or style will do.
Once you've installed them in the room of your choice, arrange the frames in neat and clean lines across the shelf with logical spacing between them for a look that's refined and dignified.
To add a touch of texture to the ensemble, consider making room for a potted plant, a few monochromatic books, or a couple of antique figurines you picked up at the local thrift shop.
#8 Embrace a Disorganized Shelf
If the polished look isn't for you, you can also use floating shelves or photo ledges for looks that are quirky and spontaneous. Instead of lining your frames in soldierly rows, approach the project with a looser hand.
Take your framed wall art or family photos and stick them in unique frames. Then, arrange them on the shelf or ledge in one (or all!) of the following ways:
Overlapping frames
Mismatched pairs or trios
Mismatched groups
#9 Warm Up Your Digs with an Organized (or Disorganized) Mantel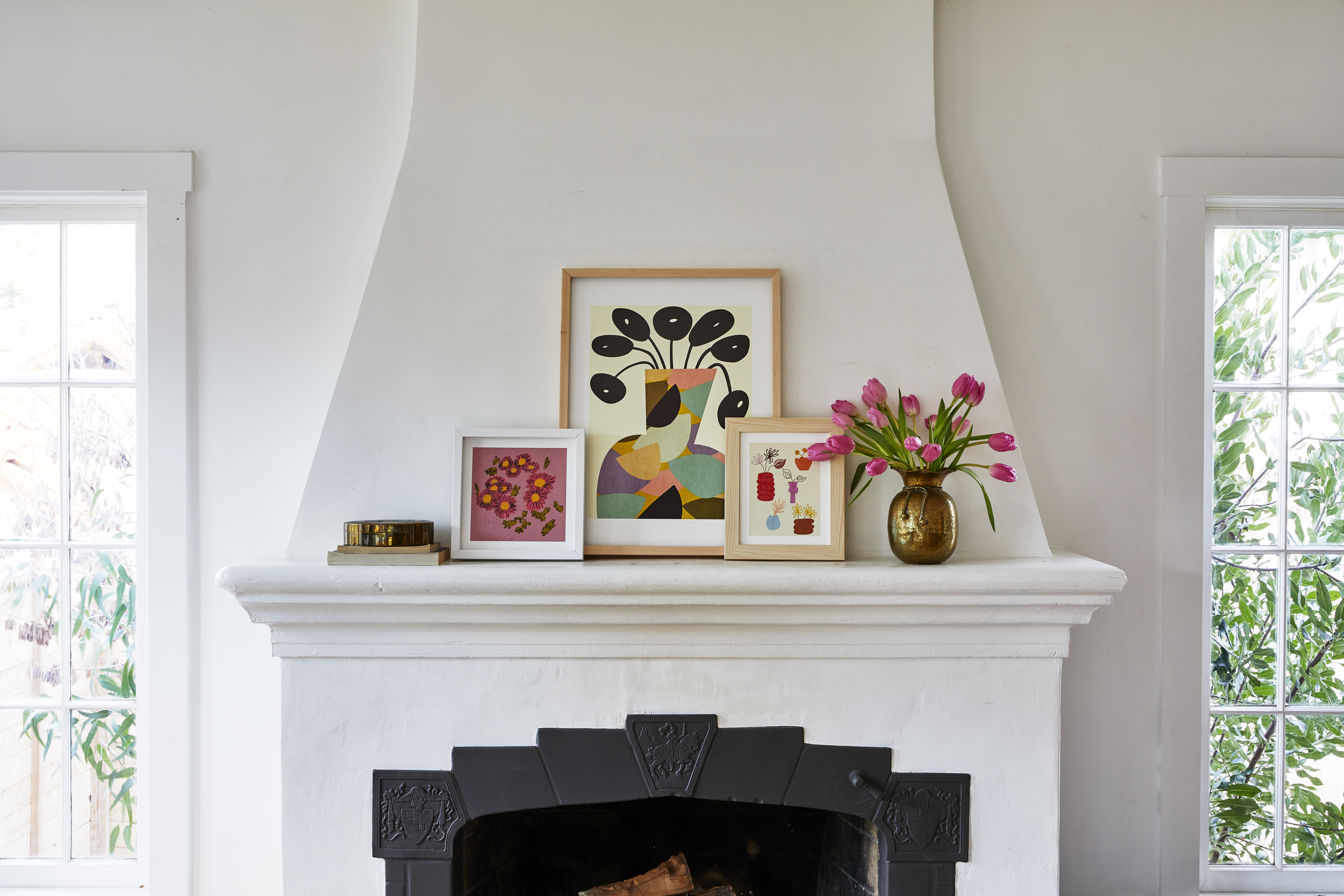 If you have a fireplace, you can easily transform your gallery wall into a gallery mantel. The technique is the same as using a photo ledge or a floating shelf, but depending on the size of your mantel, you may have room for larger frames.
Likewise, feel free to set up your art in organized or disorganized arrangements.
#10 Hang Them Up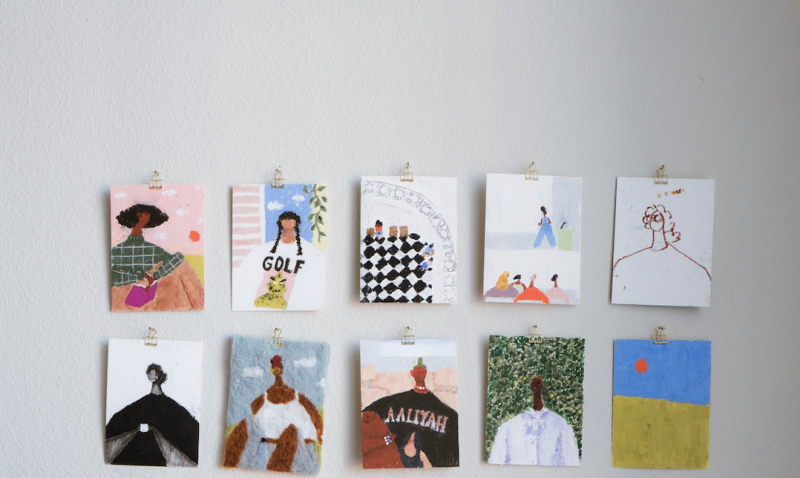 You can use picture-hanging wire, twine, or any kind of string to arrange your wall art in eye-catching ways you couldn't accomplish with nails and a hammer alone.
For this gallery wall layout, your best bet is to use unframed photographs. In addition to string, you'll also need clothespins. You can clip the photos anywhere you want and easily swap them out for new ones when you're ready for a switch.
10 Gallery Wall Style Ideas
Whether you're trying to decorate a large wall or a small one, there's a perfect gallery wall idea to complement each space. With your gallery wall layout ideas coming together, now's the time to infuse the arrangement with style.
Edgy and eclectic or simple and chic? Peruse the ideas below to set your creative spirit ablaze.
#1 Opt for Classic Black & White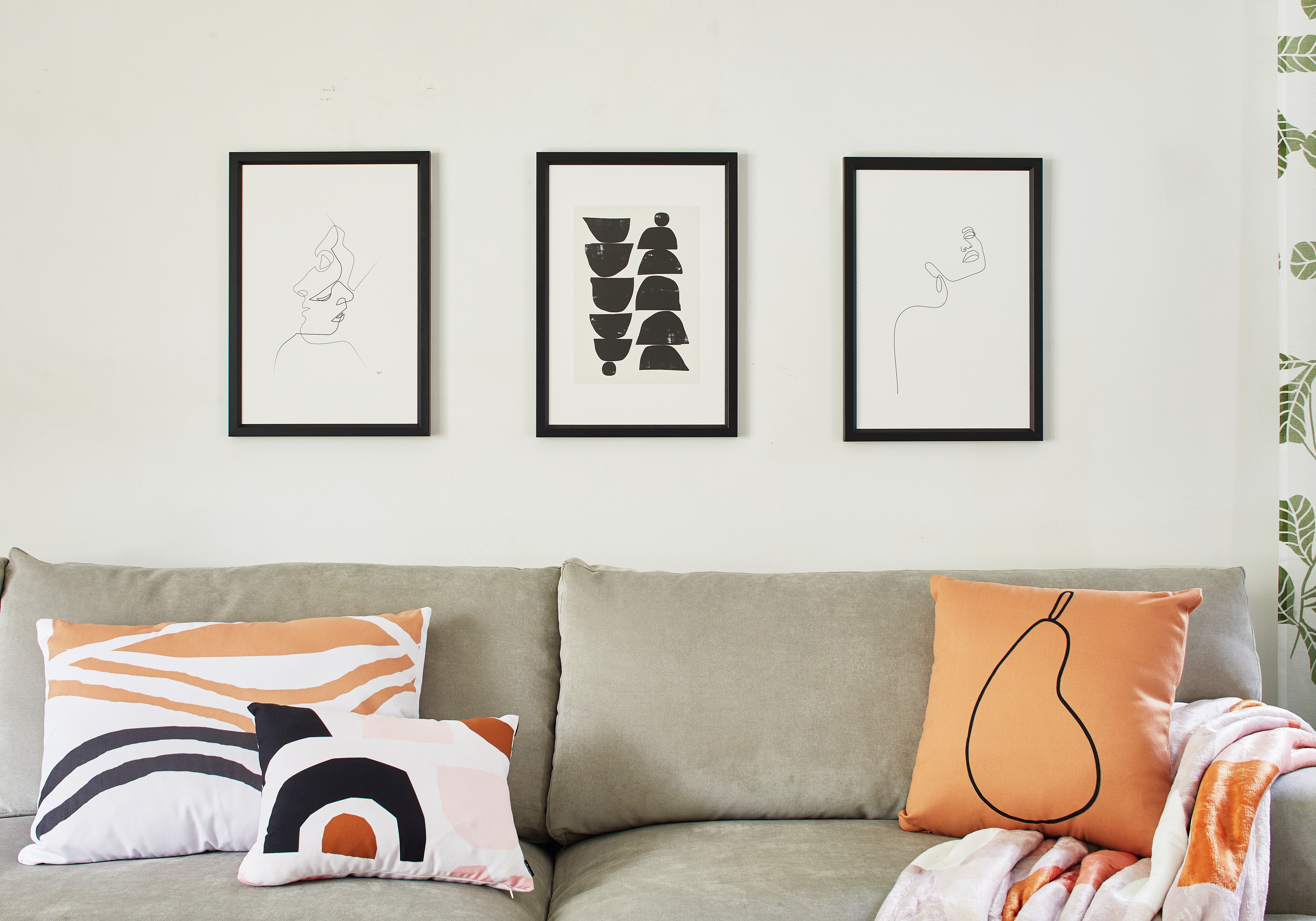 Black and white photos in black and white frames are a classic way to style your gallery wall layout. When you go for a black and white photo wall idea, you make a statement that's:
Classy
Sophisticated
Minimalist
#2 Pick a Colorful Palette

When you're designing your gallery wall layout style, don't be afraid to go for full color.
After all, color is one of the most influential elements of interior design. It's capable of evoking a range of emotions and can play an important role in setting the tone of a room, so be intentional with the colors you choose for your gallery wall art.
#3 Get Artsy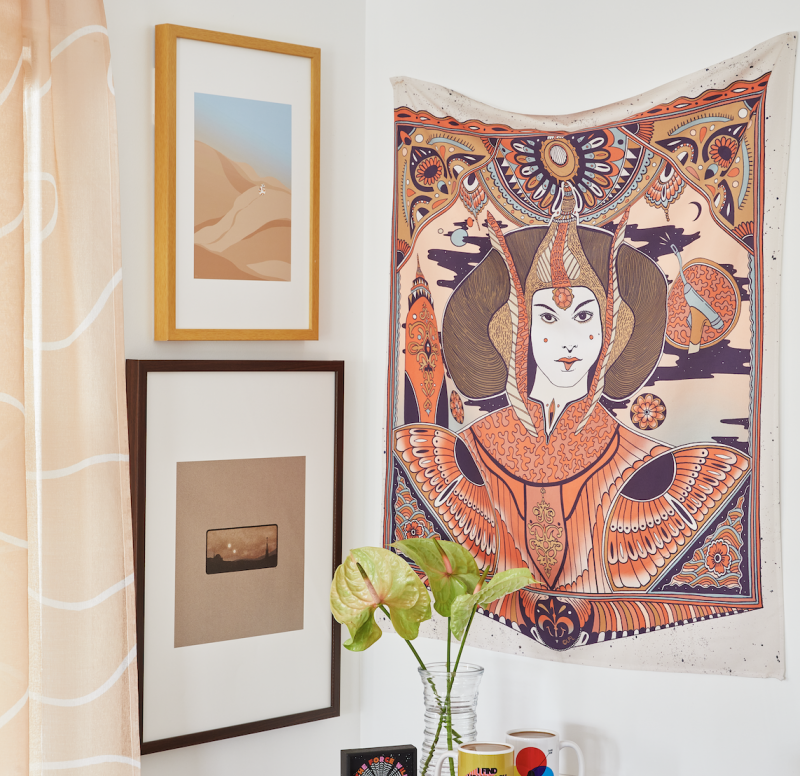 For those with a creative streak, we recommend really letting loose when it comes to styling your gallery wall layout. Show off your artistic side by complementing your layout with other types of wall art, like:
Stencil designs
Murals
Floral decals
#4 Go Eclectic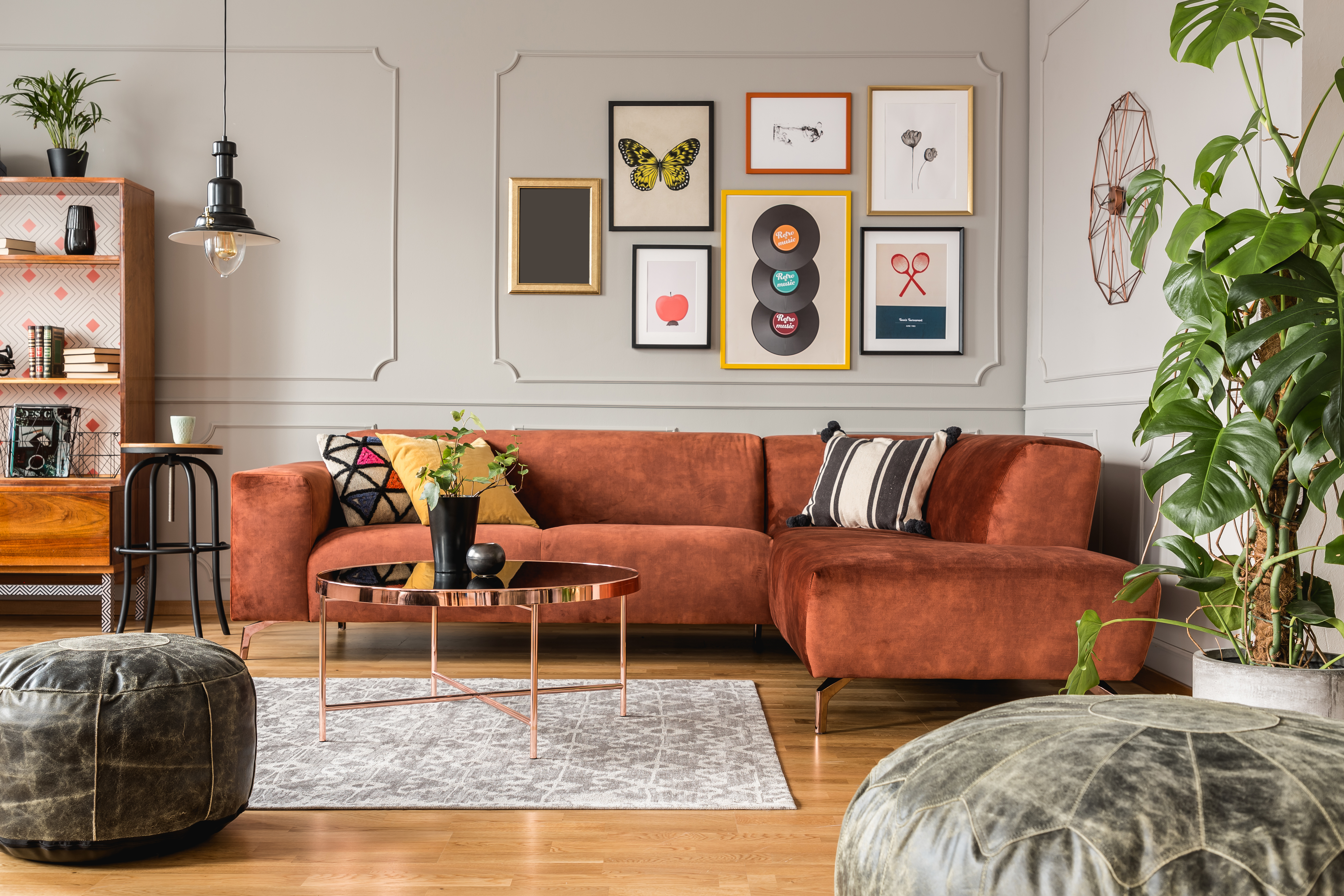 You don't have to commit to any single style to pull off a gorgeous gallery wall. By going eclectic, you can create a design that's one-of-a-kind and 100% you.
You achieve an eclectic look by mixing and matching the elements that characterize your gallery wall layout. For example, you could combine prints of famous art with your child's original work. Or you could have a mixture of different wall art sizes and styles.
Other ideas for curating an eclectic ensemble include combining:
Frame sizes and styles
Frame materials
Framed and unframed prints
#5 Stick With a Visual Theme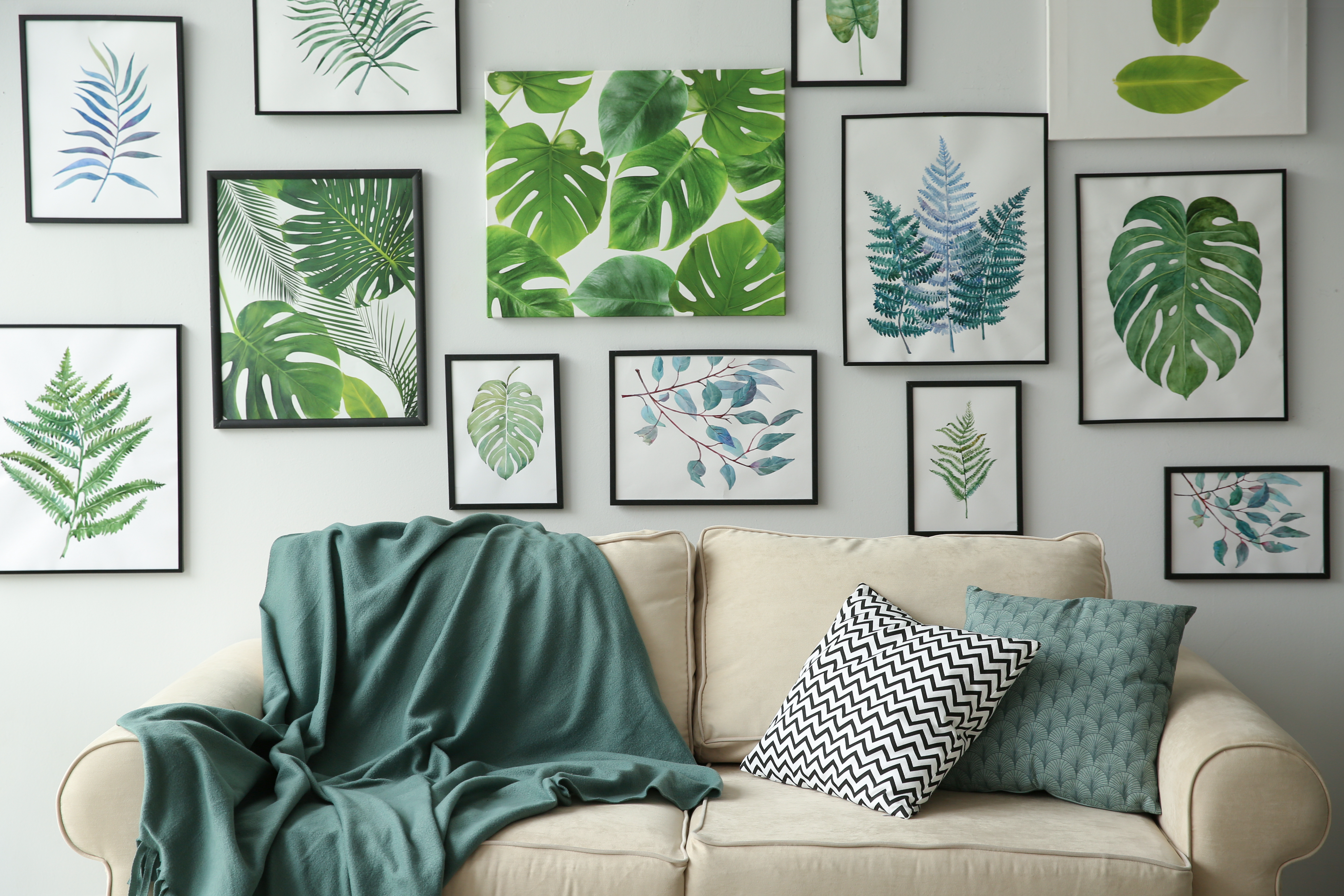 Another great gallery art wall idea is to organize your layout according to a theme. The theme you choose can be anything that fits your tastes.
For example, you could hang prints of all abstract art or art by a specific artist. Depending on the room, some examples include:
Flowers
Abstract maximalism
Animals
Beach
#6 Incorporate a Mirror
Who says your gallery art wall idea has to be only art? Instead, try hanging different shapes and styles of mirrors alongside art for a wall that's dazzling and dynamic.
Why? Because mirrors are extremely effective design elements, especially in smaller spaces. Hanging a few mirrors can make a room seem larger and help with light distribution.
#7 Let There Be Light
While we're on the topic of light distribution, why not turn your gallery wall layout into a stunning light installation?
Instead of using framed art or pictures, you can opt for sconces or other wall lights that have a similar effect. Plus, you can arrange them according to any of the layout ideas we've highlighted above.
#8 Get Creative With Other Types of Wall Decor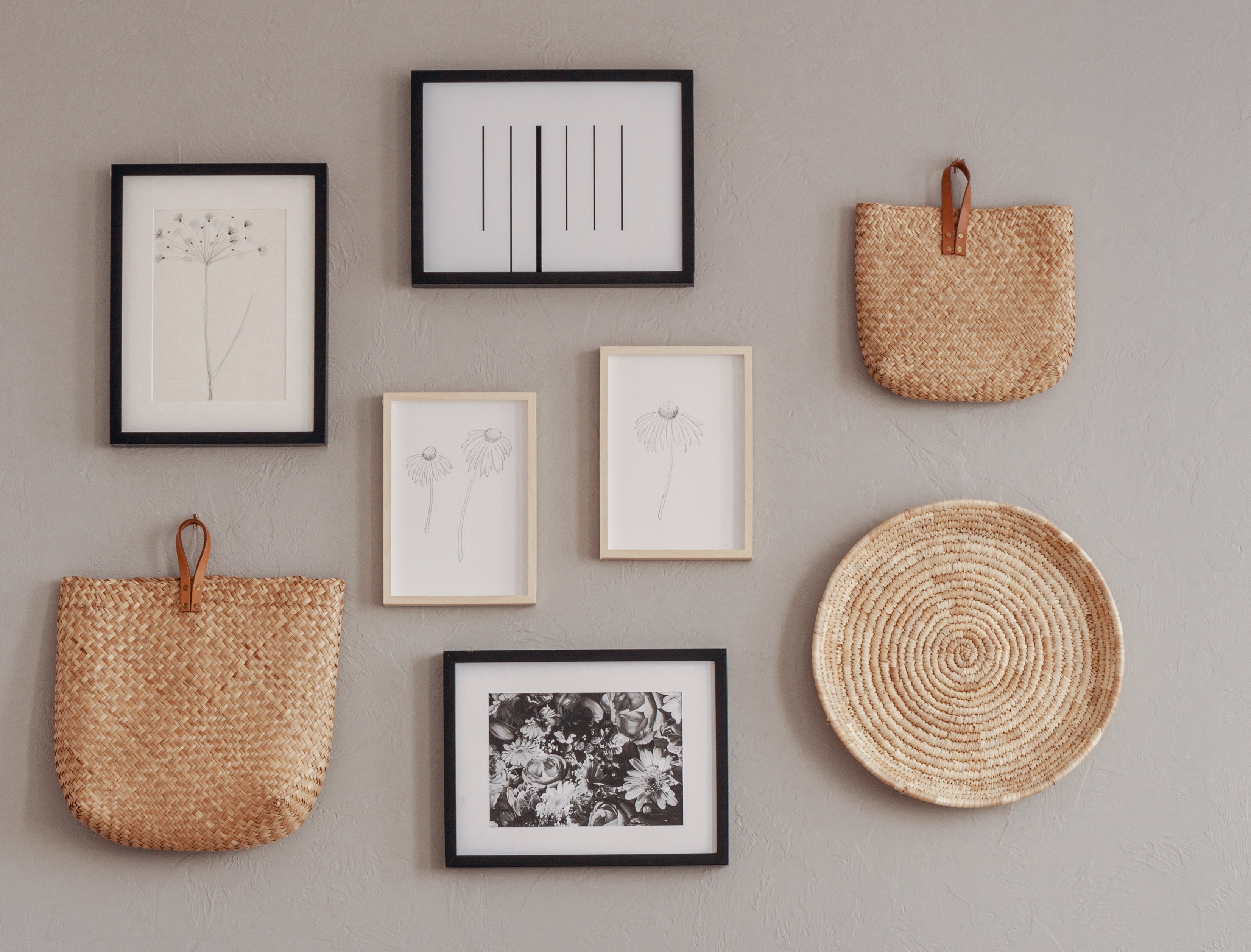 Lighting isn't the only suitable substitution for art prints on your gallery wall. Hanging a collection of decor is another way to put a unique spin on the gallery wall art design.
If you go this route, consider using the following types of decor:
Weaved baskets
Antique plates
Mosaic tile pieces
Jumpstart Your Gallery Wall Project With Society6
Layout? Check. Style? Check. Now, all that's left to do is adorn—with artist-designed wall art from Society6.
Whether you're inspired by floating or framed prints, wall tapestries or posters, Society6 is here to give shape, texture, and creative flair to any space. Start shopping by style, theme, or type today.
Sources:
Art in Context. What Is a Triptych? – Looking at the Best Triptych Examples.
https://artincontext.org/what-is-a-triptych/ 
HGTV. The Psychology of Color.
https://www.hgtv.com/design/remodel/interior-remodel/the-psychology-of-color
AIS Glass. 5 Interior Design Tips to Install Mirrors. https://www.aisglass.com/5-design-tips-to-use-mirrors-for-interior-design/#