Your coffee table needs to make a good impression.
As the centerpiece of your living area, it can make (or break) the mood for the rest of your space. We're guilty of stashing our old receipts and keys there too, but there is a way to make your setup both functional and fashionable. (Hint: Break out those artsy hardcover books–they were MADE for this). Stylist Brynn Elliott Watkins of Being Elliott shows us how with these 6 easy tips.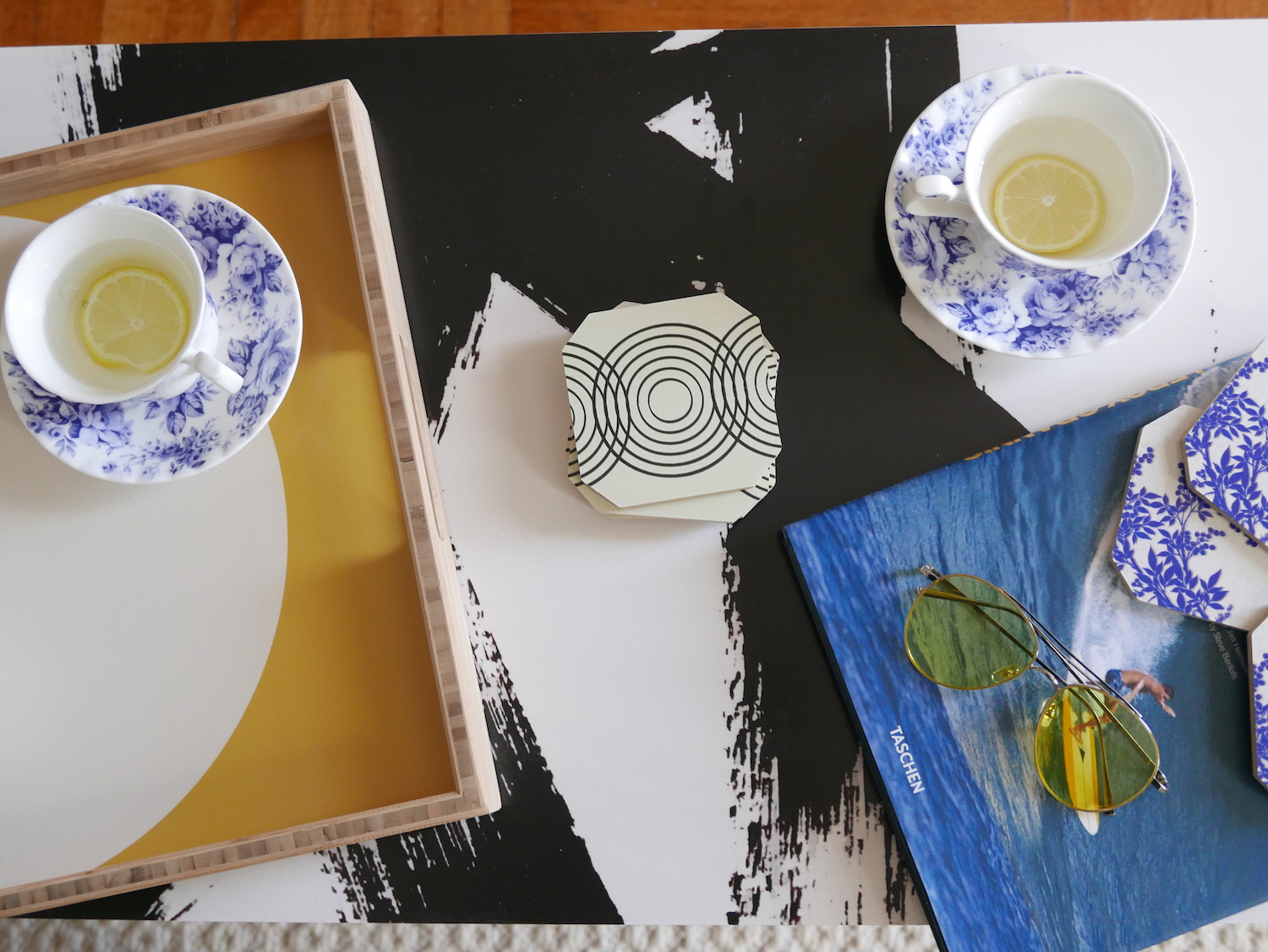 1. Incorporate Your Inspiration
I loved adding some vintage glasses and my favorite book of surf photography, so creative inspiration is readily available to view. Also, I added some beautiful blooms for a bit of freshness.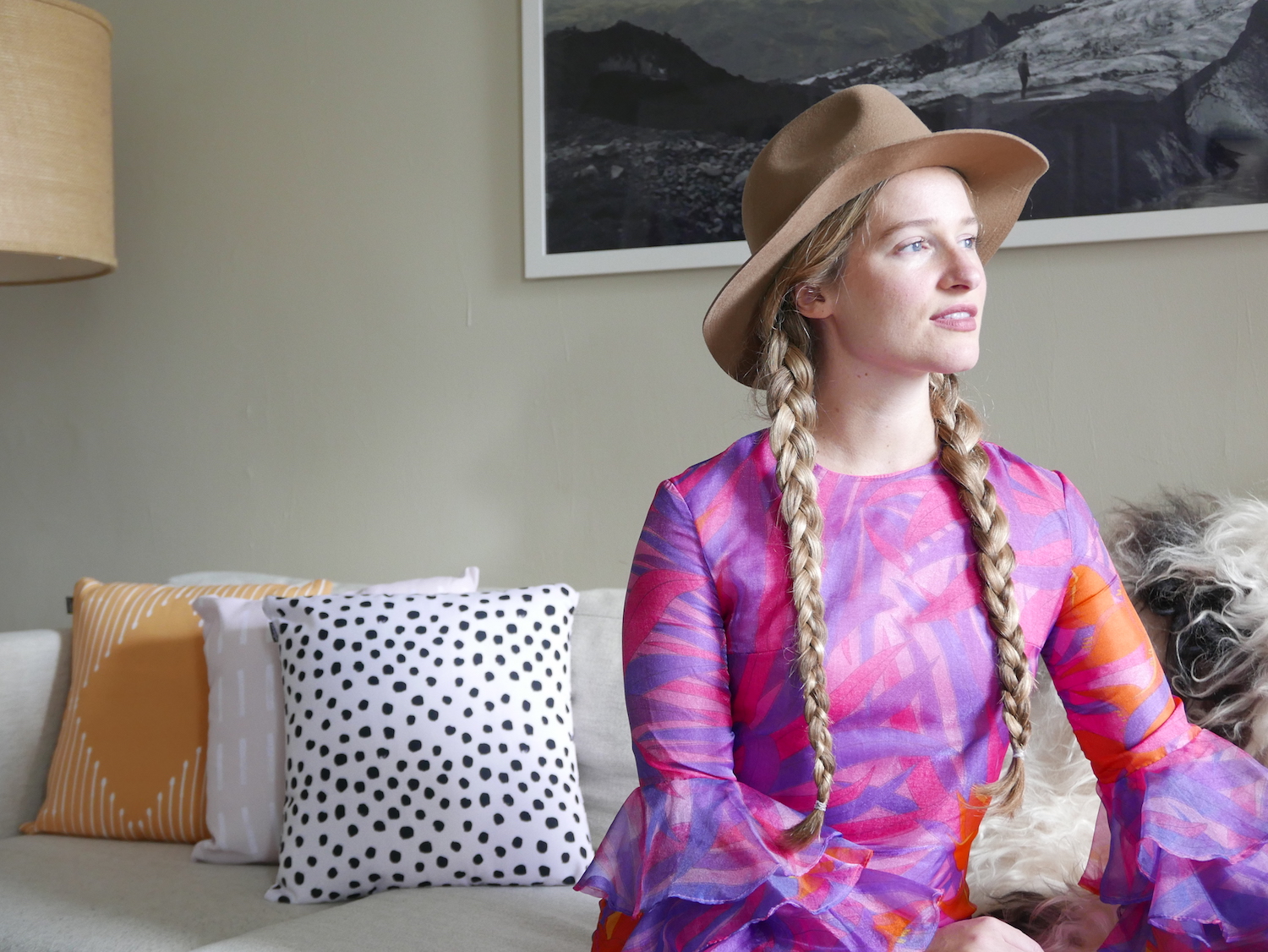 2. Don't Be Afraid of Color
I added pops of my favorite colors with fun coasters and throw pillows. I love the way color can help to make you feel better (at least it does this for me).The possibilities are endless!
3. Keep a Clean Space
This leaves more room for entertaining or to prop feet up. I love a sleek look that doesn't look cluttered. Leaving some space is also ideal for hosting friends for a drink or two.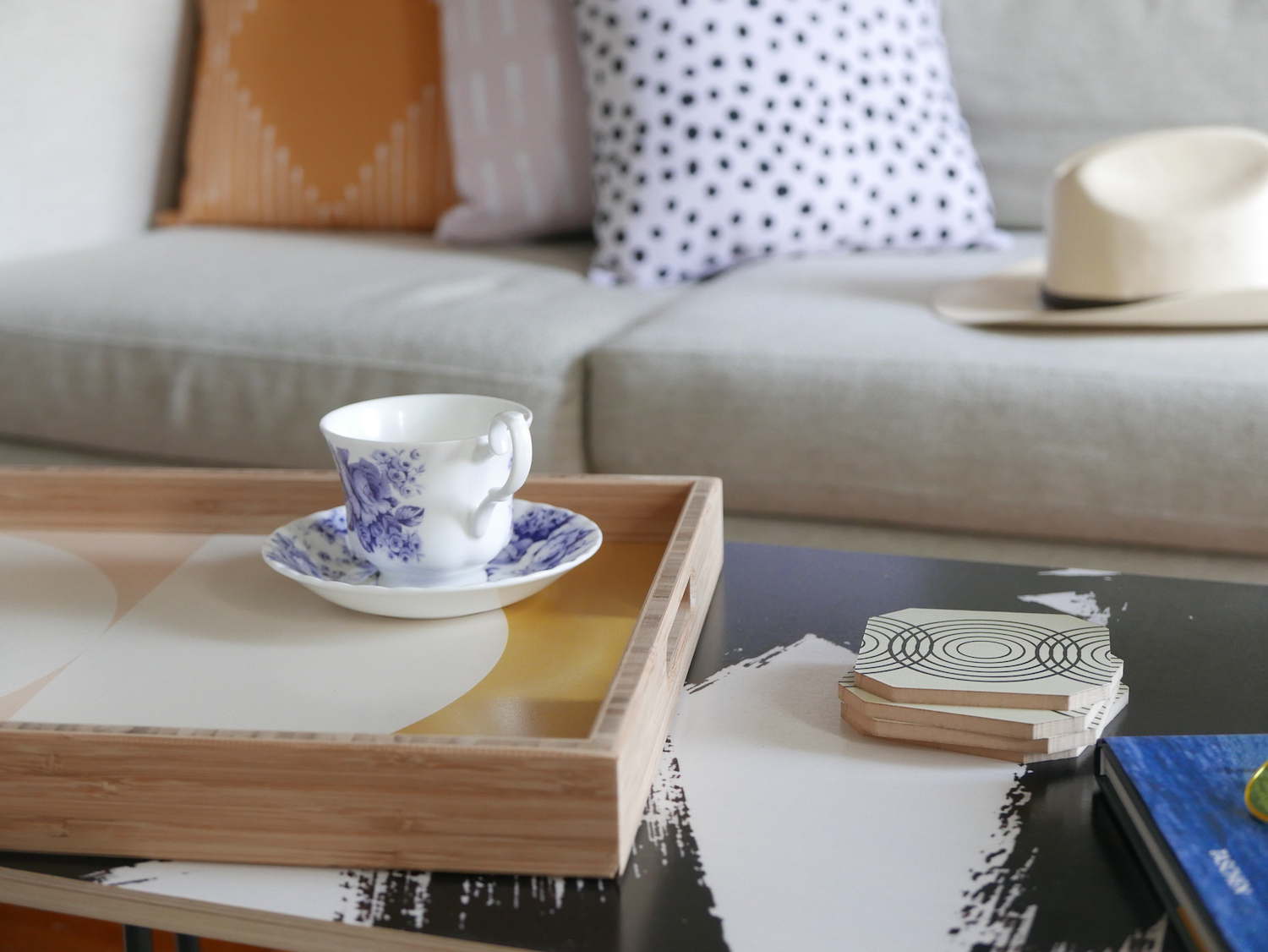 4. Embrace Utility
Use a serving tray as a statement piece, but also as a functional piece for hosting and moving items around. I love having a cute piece that incorporates both utility and adds to the design aesthetic; this '70s-inspired tray hits the mark perfectly.
5. Coordinate Your Colors
Pull out accent colors and add a mix of other items to keep everything looking good together. Blue and white are two of my favorite color combos so I added my favorite tea cups and vase to really tie-in that color combo. Plus, it looks really cute.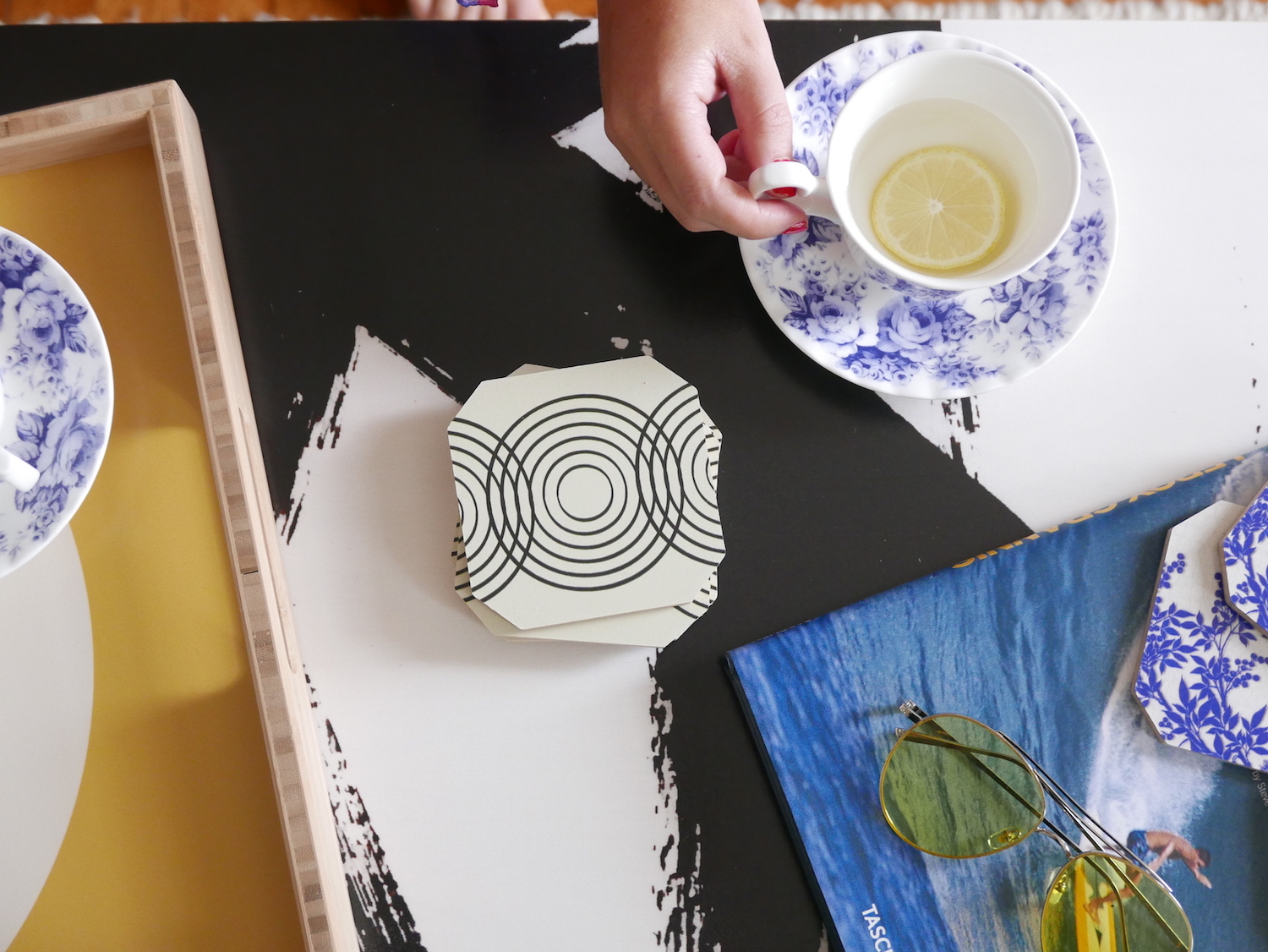 6. Match Your Style
Customize your coffee table to your aesthetic with Society6. There are so so many designs to choose from. I was immediately drawn to the black and white design of this coffee table because I knew I could mix in so many amazing pops of color. Love the way it all turned out!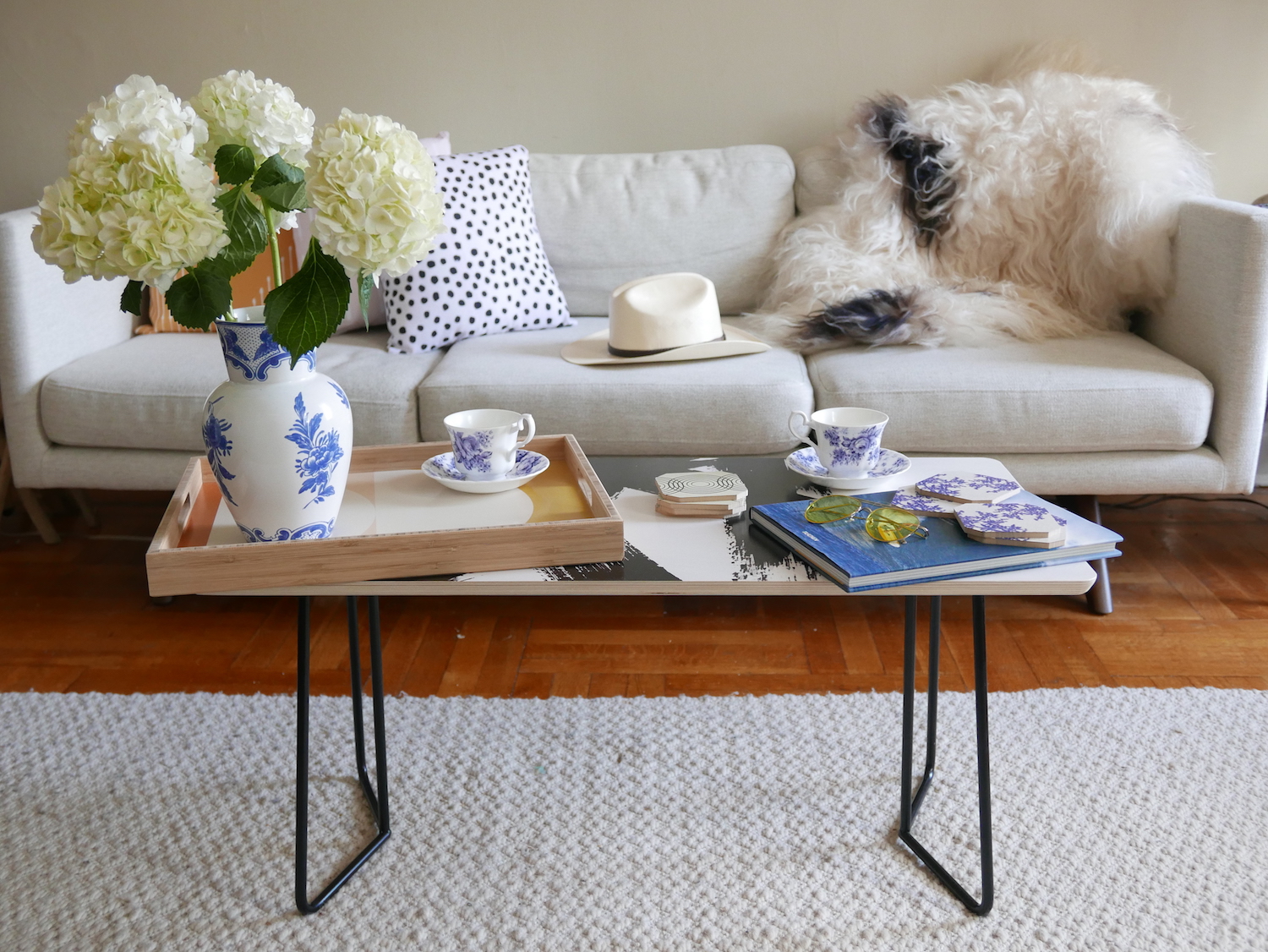 Brushstroke 2 Coffee Table
by Alyssa Hamilton Art
$249.00
Abstract Geometric 01 Serving Tray
by The Old Art Studio
$37.00
BLUE AND WHITE TOILE LEAF Coaster
Preppy Brushstroke Throw Pillow
by Charlotte Winter
$29.99
Dash Blush Throw Pillow
by almostmakesperfect
$29.99
Geo / Yellow Throw Pillow
by Summer Sun Home Art
$29.99
Bricks Throw Pillow
by almostmakesperfect
$32.99