Introducing the tabletop triple threat: coasters, serving trays and cutting boards.
We're SO stoked on adding these new products to your shops—and just in time for everyone who's throwing Pinterest-worthy backyard bashes. None of these products will be seeded from existing assets, so if you'd like them available in your shop, you'll have to work some Artist Studio magic! Here's everything you need to know:
Coasters
Small, but mighty! Coasters are a bold way to bring creative designs into your space—without committing to a large art piece. Add them to your dining table, brighten up the living room and accessorize your next party.
– Comes in a set of 4
– Size: 3 1/2" x 3 1/2" x 1/4" (H)
– Lightweight, high density fiberboard wood
– High quality print with glossy satin finish
You can create a set of four coasters with the same design OR a series of four different designs. Use one of the PDS templates provided in the Artist Studio (see examples below!) to ensure your design fits within the safe area and bleeds to the edge if desired. Your file should be 1200px square at 300 dpi if you want the design repeated on all four coasters. If you want a different design on each coaster, your file should be a single image containing all four designs, 4800px square at 300 dpi.
Same Design on Each Coaster: 
Preferred Pixel: 1200px x 1200px
Minimum Pixel: 600px x 600px
300 dpi
Unique Design on Each Coaster:
Preferred Pixel: 2400px x 2400px
Minimum Pixel: 1200px x 1200px
300 dpi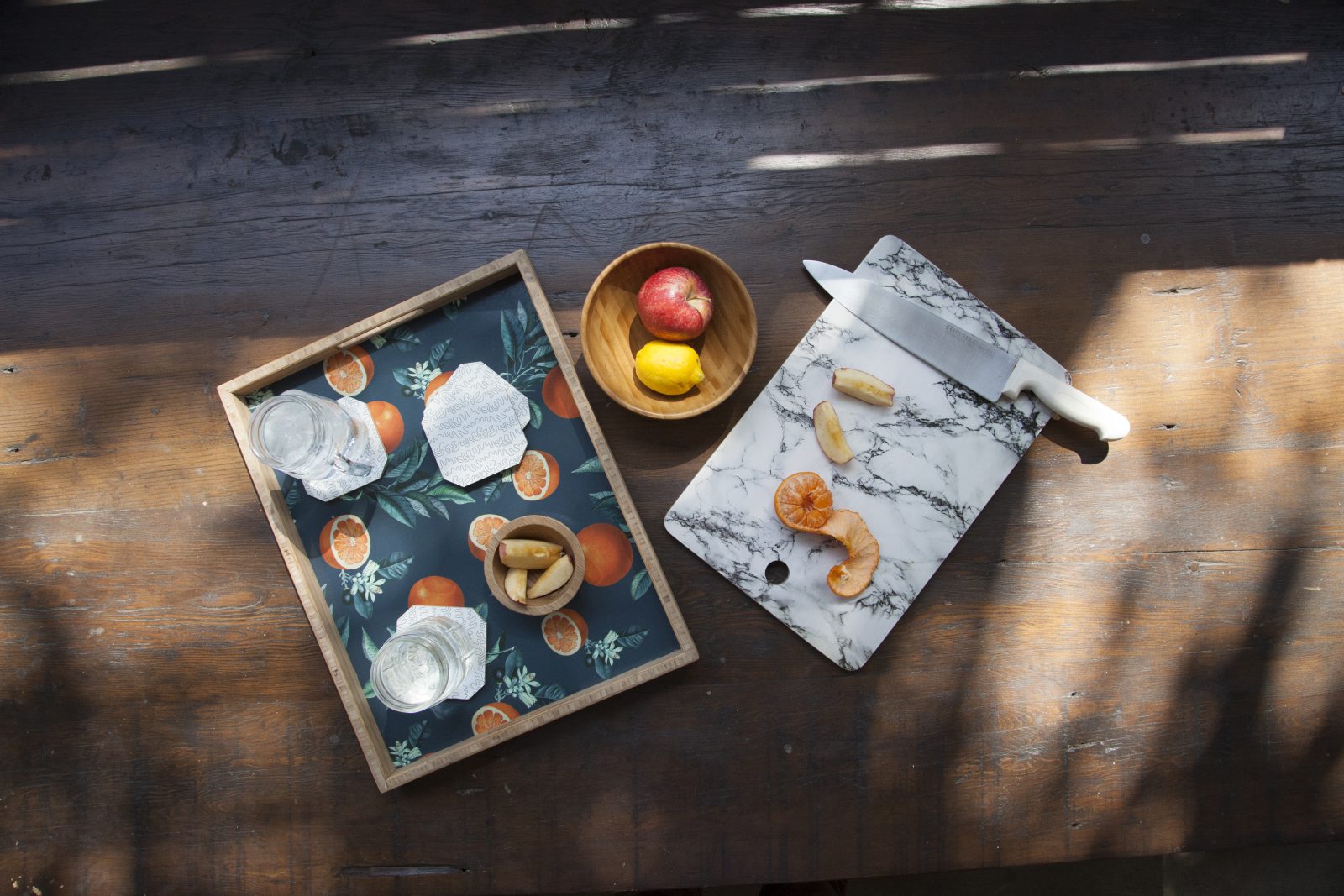 Cutting Boards
Our cutting boards feature bright, glossy designs that transform a kitchen essential into a functional style piece. Prep your food on the wood side, use the design side as a serving board and hang it up as kitchen wall art. Available in round or rectangle options.
– Round: 11.5" (diameter) x 0.5" (H)
– Rectangle : 16" x 10.5" x 0.5" (H)
– Durable, solid and lightweight layered baltic birch wood
– Wood side: matte natural wood grain
– Display side: smooth gloss finish
– 1" hole for handling and hanging
– Rinse and wipe clean with a non-abrasive cloth
Square designs will be available on the circular cutting board only. Rectangular designs will be available on the rectangular cutting board only. The rectangular cutting board will be the default unless you upload an asset with an exact 1:1 ratio.
Circular Cutting Board:
Preferred Pixel: 2500px x 2500px
Minimum Pixel: 1150px x 1150px
150 dpi
Rectangular Cutting Board:
Preferred Pixel: 2500px x 1575px
Minimum Pixel: 1600px x 1050px
150 dpi
Serving Trays
Crafted with 100% eco-friendly bamboo, our serving trays are a versatile accessory—perfect as a coffee table platter, bathroom organizer or plant holder. Featuring a high quality print with a glossy finish, available in three sizes.
– Small: 10" x 7 3/4" x 1"(H)
– Medium (includes cutout handles): 18" x 14" x 1 3/4" (H)
– Large (includes cutout handles): 22 1/2" x 17 1/2" x 2" (H)
– 100% sustainable, eco-friendly bamboo wood frame
– High quality print with glossy finish
Medium Serving Tray:
Preferred Pixel: 2625px x 2025px
Minimum Pixel: 1750px x 1350px
150 dpi
Large Serving Tray:
Preferred Pixel: 3319px x 2569px
Minimum Pixel: 2213px x 1713px
150 dpi