Your artwork says a lot about you.
One look at a minimalist's space and you'll see (or rather not see) what makes them tick, while if you peek inside a wanderluster's home, chances are it will be filled with mementos from their travels. If you're looking to wear your personal style on your sleeve–or, walls–we asked a pro to show us how to keep your space polished, sophisticated and most importantly, all "you." Here, founder and creative director Amanda Hamilton of Amanda Hamilton Interior Design shares how her team selects artwork that is reflective of each individual client to create a truly artful interior, along with interior styling and photos by Courtney Molyneaux.
For clients looking to furnish and style their space, a common frustration we hear is that that they feel that their home is missing something – that it feels incomplete. We know immediately upon hearing this that a well-intentioned DIY attempt has resulted in an outcome that is unrewarding and worse, expensive, with furnishings and goods that don't suit the style, scale or function needed for the space. Artwork falls into this category, with pieces often haphazardly selected to just "fill space" instead of serving as intentional purchases that can drive the overall aesthetic and be a grounding feature in a room.
Below, we share three of our projects, each with their individual personas to show you how to create an artful interior that is personified with character.
If you're creative and eclectic but classy…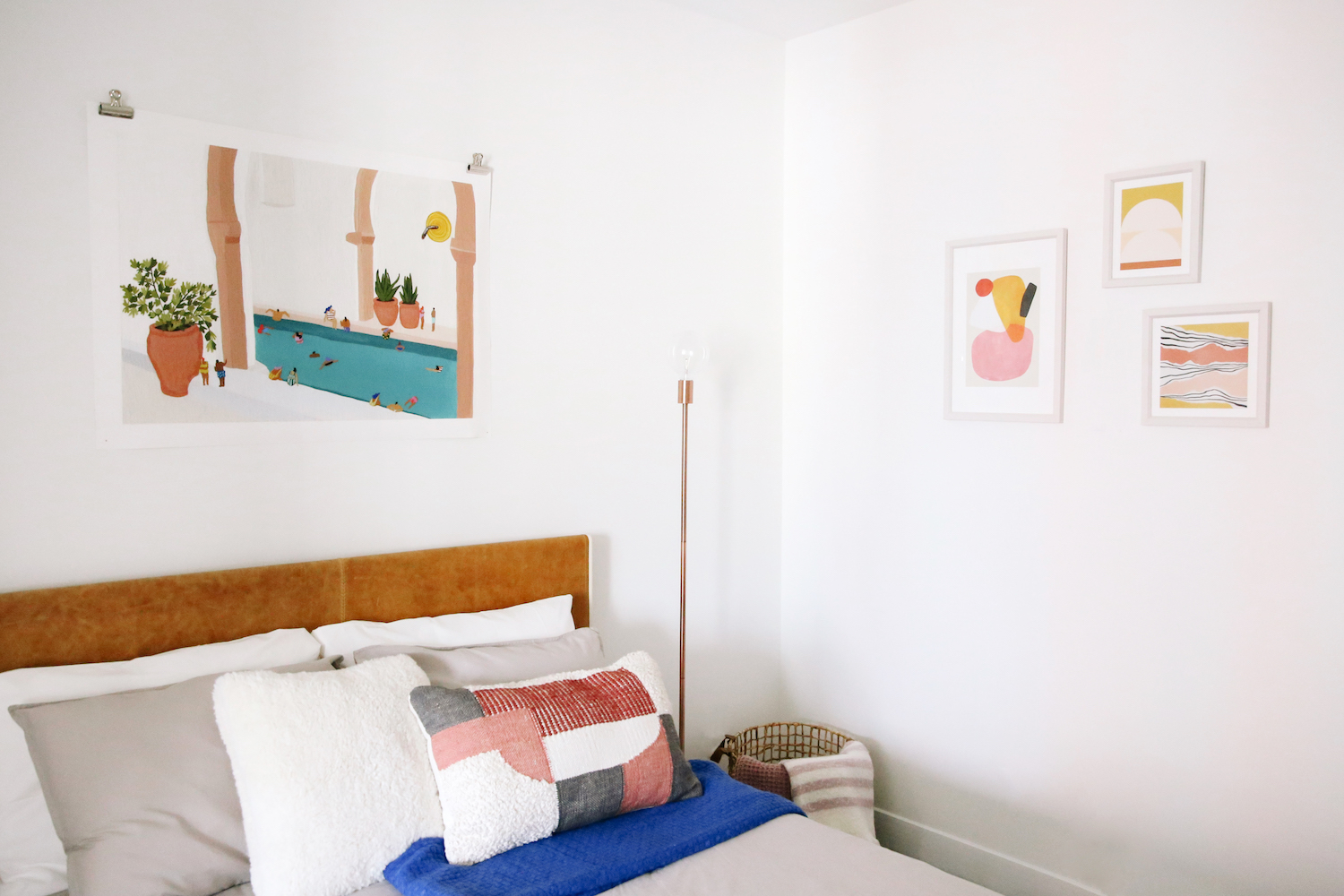 Living and working within her space, this creative freelancer was keen to introduce lots of color and soul into her home to contrast the otherwise white and grey interior. To create an eclectic space, we intentionally avoided having one particular color theme and instead, introduced muted tones of all colors to create a dynamic and vibrant space that still felt pulled together. 
To keep the space feeling lose, casual and creative, we selected art prints that are organic, graphic and more abstract and hung pieces in various ways to keep a relaxed vibe. Artwork in the bedroom was hung from bulldog clips and artwork in the living room was paired with postcards, pinned to the wall. The furniture was also reflective of this approach. With found objects, vintage goods and an inspiring collection of books, the space feels as thoughtful as the client's approach to her own creative work.
Abstract Geometric 01 Framed Art Print
by The Old Art Studio
$47.99
Modern irregular Stripes 01 Framed Art Print
by ViviGonzalezArt
$54.99
Coffee a Day Framed Art Print
Wonderer on a Couch Framed Art Print
by Isabelle Feliu
$109.99
If you hustle hard and need a place to chill…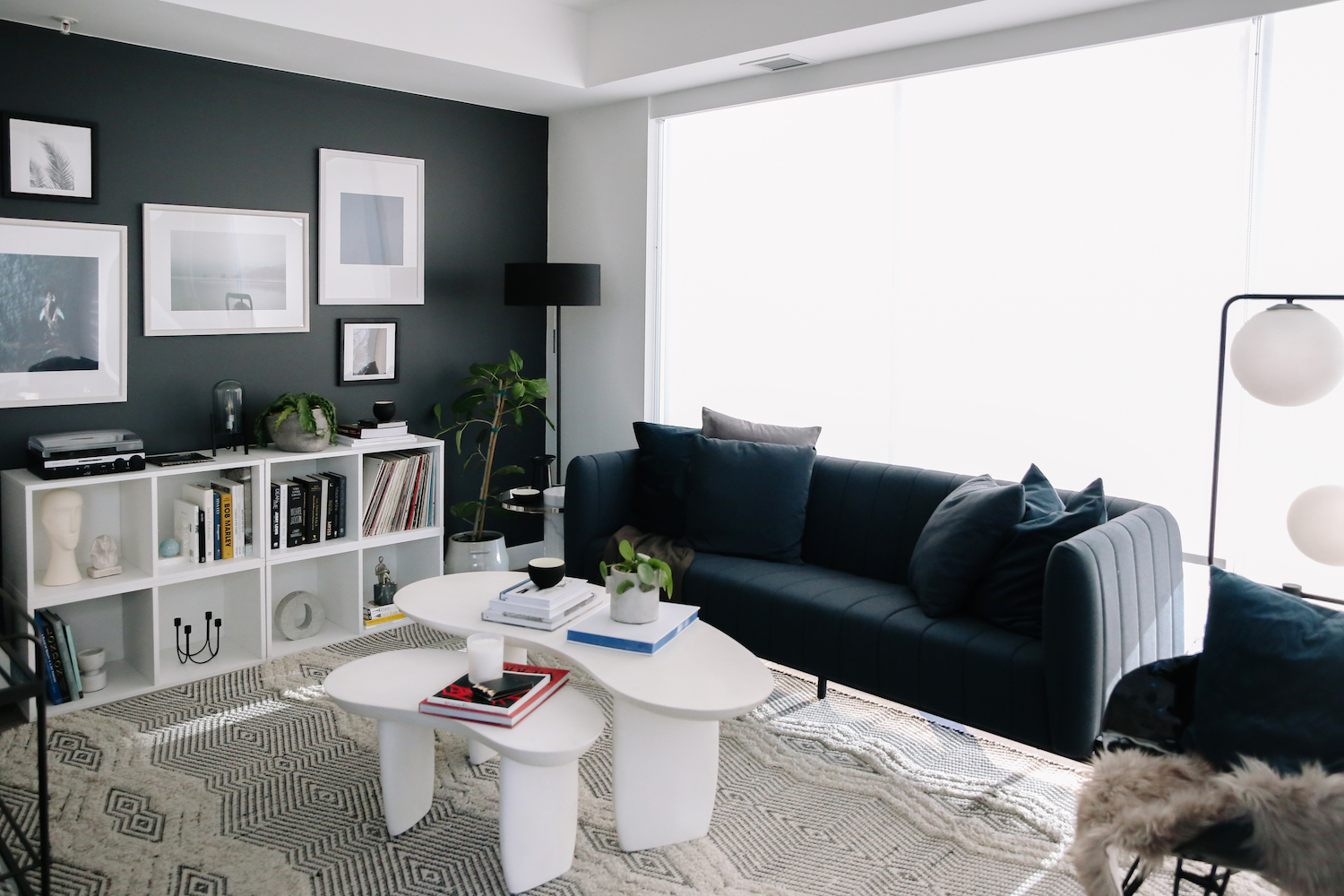 As young professionals established in their careers, this couple looks to their home as a quiet escape from busy careers. With a love for music, literature and traveling, we curated a space that was reflective of their individual passions but still felt sophisticated. With dozens of countries under their belts, they were looking for artwork that embodied a global aesthetic and that was reminiscent of their favorite stops—particularly sea side destinations. 
We selected soft imagery with white mattes to contrast the dramatic dark wall we added to create this moody, dramatic living space. Not to be forgotten, we add several prints to the powder room to continue the theme and selected black frames to contrast the crisp white walls.
Humpback Whale Framed Art Print
by Michael Schauer
$87.99
Fog Art Print
by Michael Schauer
$90.99
sea lace Framed Art Print
by Ingrid Beddoes photography
$76.99
Waves on Black Sand Framed Art Print
by Michael Schauer
$57.99
Amalfi Coast Framed Art Print
Catch a Wave Canvas Print
by Ingrid Beddoes photography
$103.99
Blue Indigo Denim Framed Art Print
by Beautiful Homes
$90.99
If you're ready to move from beer pong to beer tastings…
For our coffee slugging, tech loving bachelor, we selected artwork that felt reflective of his quirky but disciplined personality. Luckily, it was easy to tie together his long-term romance – or reliance – on caffeine and the ever-so-popular graphic print. We aren't talking about "Live, Laugh, Love" here (and, in my opinion, if you have this anywhere in your home, please promptly discard it and replace it with something more reflective of your personality – because don't we all live, laugh and love?). 
To ensure we didn't "404 Error" on this techie, we selected artwork that was primarily black and white with touches of sepia tones. This was a perfect complement to the furniture package we developed which was lightly contrasted and graphic with elements of warm woods and soft leathers to soften the space. The final result is cozy but contemporary, with room for all of the late nights spent coding with his favorite friend, coffee.