Sell smarter on the world's most popular social platform.
According to Facebook, there are 1.9 billion active monthly users on their platform–a majority of which are accessing Facebook via mobile. That's over a quarter of the world's population (7.5 billion). While their ever-changing algorithms determine what and how much of your content gets seen, there are a handful of things you should be doing to give yourself a leg up on the platform. In this article we'll cover getting the most traffic with minimal effort, what the best Facebook features for artists are and how to use those features to increase sales.
1  |  Create a Facebook Page dedicated to your artwork
Keep your personal profile for personal stuff–for your sake. Further, the largest benefit to creating a professional page dedicated to your artwork is that you have access to analytics. If you want to grow, it's best to know where you're growing from.
A few benefits:
Your "Page" is public and can be found through Google and other search engines.

Anyone can follow your "Page" without you needing to accept or allow for this to happen.

You can see demographic information about your followers such as location, age, male/female ratio, and when they're on Facebook so you can optimize what you post and when you post it.

Any person or business page can tag your page in a post or comment — easily linking new followers to your page.

You can use your personal and professional pages interchangeably
I started a business page on Facebook because there's no reason not to! Even though I don't have a big amount of likes or followers on my page, you never know what it will lead to. Just one encounter can make a difference–and that encounter might be on Facebook. –Hanna KL
2  |  Get your Business Page ready for followers
Before launching the page publicly, fill out every corner of your page. Include basic contact info, links, curated photo albums, videos, location, email, etc. You want to make a potential customer's decision to follow you an easy one. You want their ability to get in touch with you easy as well. The more professionally creative it looks (i.e. filled out with great content), the more likely you'll have yourself a new follower.
3  |  Add a "Shop Now" button
The quickest and easiest way to generate passive income from your Facebook page is by adding a "Shop Now" button. It's as simple as that. You can always update this to send traffic anywhere else, but generally speaking, leaving a live "Shop Now" link up on the world's largest platform will give you the best chance to start selling without having to lift a finger. The "Shop Now" button is also visible in Facebook's search engine!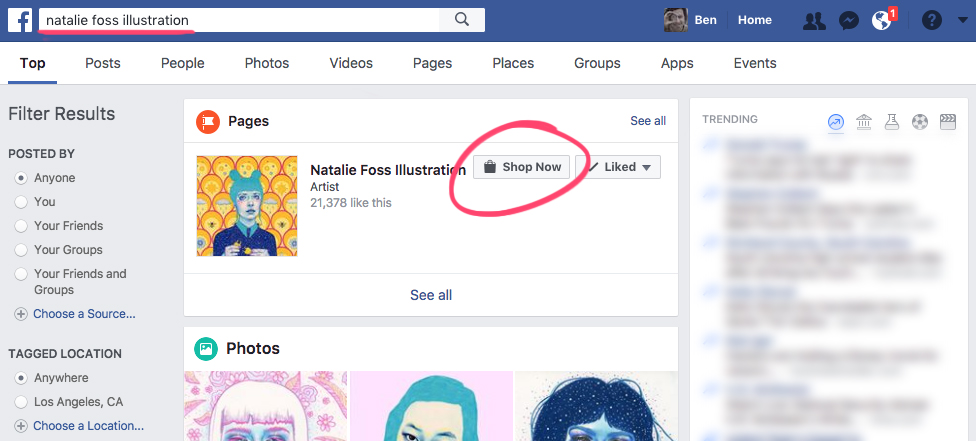 PRO TIP: Alternatively, you can send traffic to a Collection featuring sale-specific items during a Society6 sale. You can tell people to click on the "Shop Now" button from a post without having to explicitly link to your shop in the post. You can add your Artist Promo Link in there too to pass savings along to your customers.
4  |  Organize your artwork into Photo Albums
This is just like organizing a portfolio or your website. If you have multiple series of work, break it down as you would for anyone, anywhere. It makes viewing your artwork easier and more aesthetically pleasing. Provide a link to purchase on every image.
PRO TIP: Create a photo album with your top-selling products. Each product image should link to your artwork.
5  |  Always post content with some form of imagery
Facebook seems to favor content with a visual component. Aside from that, it's a social medi norm to expect some sort of visual with any written post these days. It's evolved that way across all platforms. Even Twitter which was originally meant to be 140 characters or less. If you want people to engage with your content, even a simple question, be sure to add a photo to your post to inspire a conversation.
I like Facebook a lot because you can post images as well as links to articles/sites/etc. When I post a drawing or a GIF, people can instantly share it with their friends–then they can share it with their friends, etcetera, etcetera. –Robin Eisenberg
6  |  Post a variety of engage-able and shareable content
Shareable content is valuable content. Valuable content comes in the form of educational, exciting, inspirational and entertaining. Best case–it's all four of those things. If an individual post is getting a lot of engagement (likes, comments, shares, click-throughs), Facebook will show that content to a larger audience.
Examples of shareable content:
Artwork
Timelapses
Works in progress #WIP
Articles
Best-selling products
Viral timelapse from Wendy Ortiz
7  |  Share your Business Page posts to your Personal Page
The activity that comes from your friends should boost visibility to additional Business Page followers. Further, any increase in engagement means you're gathering more valuable analytics information on who your customers are. So, while your Facebook friends may make up for a small section of your fanbase, when they engage with your content, you'll know.
8  |  Update your Business Page's Facebook profile picture or cover image regularly
I get the most likes if I update my profile picture or cover photo, and I feel that that´s the way that works best if I want people "attention". So instead of making a post with links to my Society6 shop, I update my profile picture or cover photo and add a link to the description underneath. It´s also a good idea to add your Society6 shop link on the image, so people can google it. –Natalie Foss
9  |  Allow other social platforms to publish to your Business Page
Because Facebook favors content published from itself and Instagram, make sure you give priority to those. Then, work your way into automatically sharing from platforms as an easy way to cross-post your content without much effort. This is an easy way to get in front of more people with limited effort.

10  |  Boost posts that do exceptionally well while they're doing well
You'll know "exceptionally well" when it happens. Content that exceeds expectations usually gets 2x or 3x the usual amount of engagement. If a post is working exceptionally well with your audience, bets are it's relevant to a wider audience. Take advantage of that moment to bring in new potential customers who are likely to engage with more content.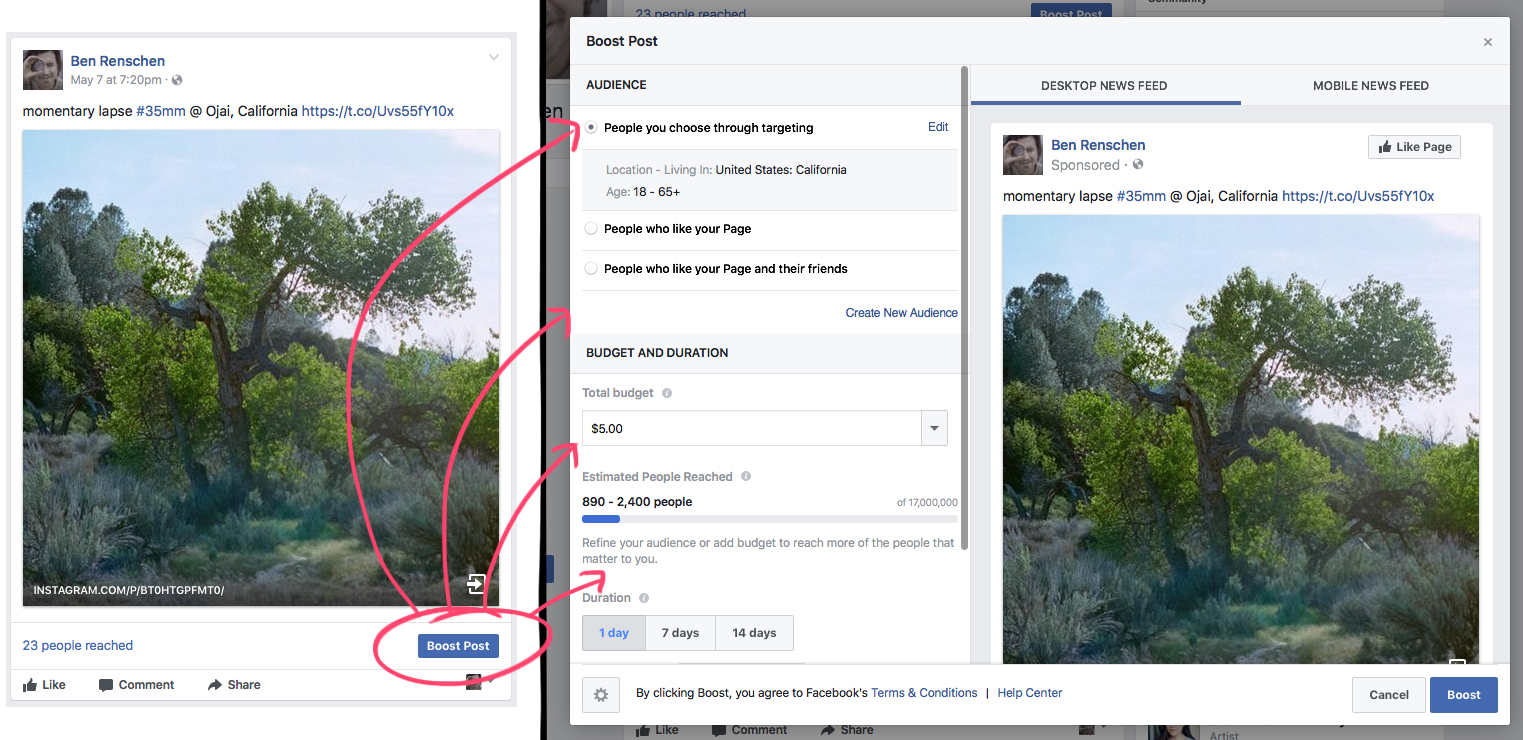 PRO TIP: Baby step your way into this. Do a quick test with $5-$10 to see if it's yielding results you're happy with. If it is, bump up your spend if interested.  You don't just want "followers"–you want fans who are going to engage with your artwork and become customers. Over time, see if engagement increases with the acquisition of new followers.
11  |  Post your best content when your fans are most active (use Insights)
Using Facebook's Insights, you can see when your fanbase is most active by the hour over a "recent week". For me, it looks like 2pm is my sweet spot, albeit almost indistinguishably compared to 1pm and 3pm. Overall though, 9am to 5pm looks like a safe bet for me to be posting content. As your following grows, you'll get more data and those hot spots will become more pronounced. Another simple one worth paying attention to.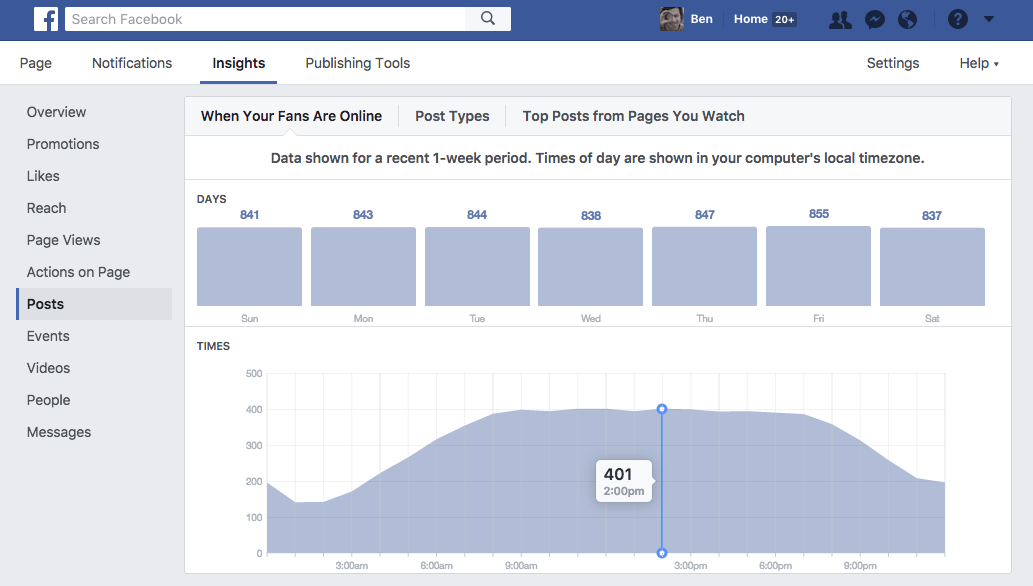 PRO TIP #1: You can influence engagement by consistently posting certain types of content at a given time.
PRO TIP #2: If you're feeling particularly interested, there's a number of paid and free third-party analytics tools to give a much deeper look at what your numbers mean.
12  |  Join Facebook Groups with similar interests
Aside from networking, these are great places to find engaged followers. If they're active in groups, bets are they're active on Facebook in general. Again, the more activity your posts see, the more it's going to show up in someone else's feed.
Facebook is a good networking tool. Find groups that have common interests and goals. It can help to keep you in the loop. Many things, social media, etc. interconnect with Facebook. You can have your private profile and have your Facebook (business) Page where Fans, customers can be kept informed of the happenings with your biz/work. –Lisa Argyropoulos
13  |  Engage with your customers and have some patience
As with all good things, building a community of engaged customers takes time. It sounds weird, but you can "train" your customers to be active on your page by setting an example. If people expect a response, they're more likely to engage in the first place. On top of that, the more shareable, valuable and frequent your posts are, the quicker you'll grow your customer base.
What I like about FB is how everything gets around in time. A friend might like your artist page, and a friend of that friend will see that in their feed and if it peaks their interest too, which means another like, and so on. Exposure, exposure, exposure. Even if they don't always like what they see, the more that see my art, the higher the chances of me selling it. –Tangerine Tane
Overall, Facebook is the most widely used social platform out there and that's reason enough to have a Business Page dedicated to your artwork. This is a lot of info to digest, so if you can't do all of these, pick the easiest ones to start with–Add Button, updated info, and create shareable content. As you engage with fans, they'll learn to engage with you. And as you build a following and create content that is valuable to your customers, you should see movement from Facebook fan to Society6 customer.
Feature Image Artwork by Wesley Bird
Banner Artwork by Yuliya