Curtains are that brilliant blend between functional and fashionable, providing you with privacy, style, diffused light, and cooler or warmer temps, depending on the season. Whether you are looking for ready made curtains or custom curtains, it's essential to understand the different measurements needed so you can dress up your window frame in style.
Before you toss that pair of sultry sheer curtains or richly-hued window treatment into your cart, it's vital to get a handle on how much drapery you'll need to accomplish this design staple's primary purposes. There are many different types of curtains and a variety of factors to consider before finally buying curtains. But one of the most important steps is measuring curtains.
Read on for the basics of how to measure curtains for windows so that you can start enjoying all the benefits they offer with the right curtain size.
How to Measure Window Curtains: 6 Simple Steps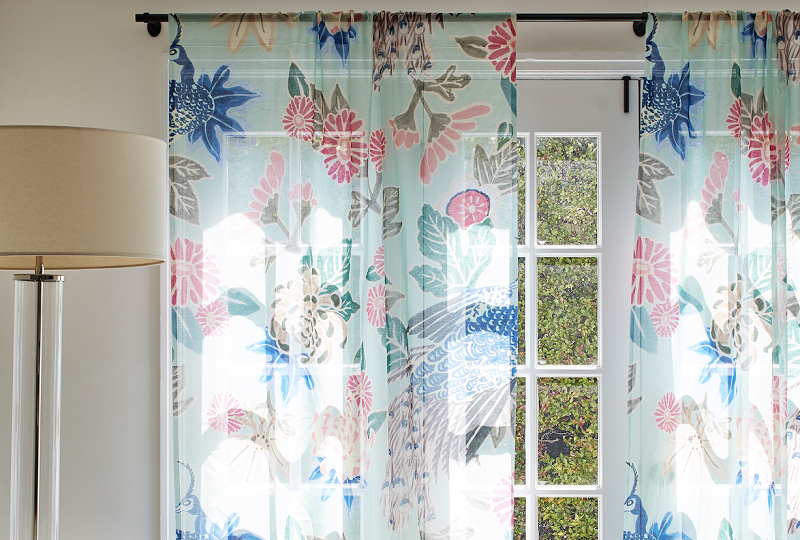 Curtain measurements aren't just about the dimensions you'll need to adequately cover your window panes. They'll also depend on the look and objectives you hope to achieve with each curtain style.
With that in mind, follow these six simple steps on how to measure for curtains.
Step #1. Define Your Aesthetic and Aims
Perhaps you're eyeing elegant drapes to dial up the beauty of your living room. Or maybe you're on the prowl for blackout curtains that will naturally prompt a sounder night's sleep.
Regardless of where you plan to hang curtains in your abode, it's essential to get a grasp on the look you're going for. Do you want long, darkly-colored drapes that will puddle on the floor of your dining room and give your space a stunning, dramatic effect? Or do you want a no-nonsense pair that sits just below the floor or windowsill? The desired length of your drapes has the power to change the tone of the room.
A couple of specific questions to ask yourself include:1
Will your curtains be used solely for decorative purposes, or do you have a particular function in mind?
Do you want to keep your space bright or airy, or are you specifically shopping for a blackout curtain that will block out light?
Answering these questions is crucial, as they'll determine the fabric, length, and cost of the curtains you'll need to satisfy your intentions.
Our advice is to familiarize yourself with different curtain styles, as each offers a unique aesthetic. Pinterest, IG, TikTok, and interior design magazines like Elle Decor may help you zero in on the window treatments that will amplify your home's allure.
Step #2. Determine Your Ideal Drop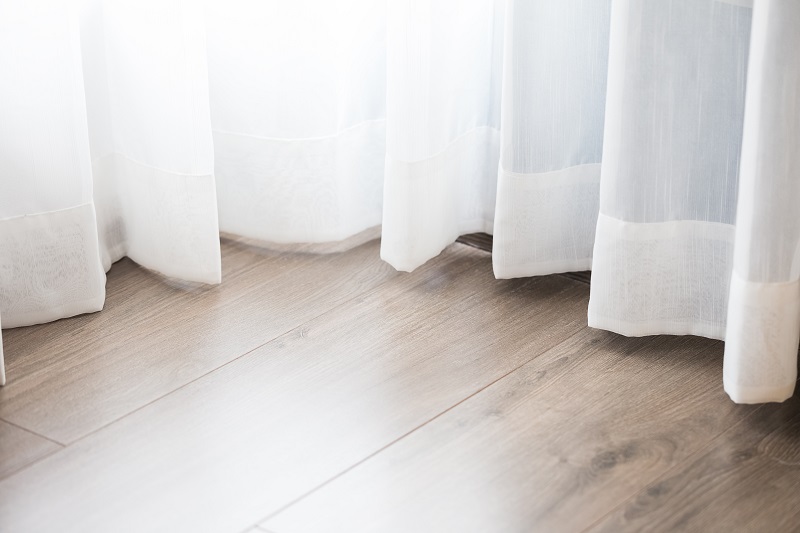 The finished length of your curtains sets its tone. Window treatments that sit well above the window sill or floor call to mind ill-fitting, too-short pants—and not in a deliberate, cheeky-hipster way. In, well, short, they can look awkward and disrupt the entire appearance of your space.
On the flip side, abundantly long curtains can lend a room a more lavish look, but they're also a struggle to open and close. And if you live in a place that sees a ton of sand and dust, like Hawaii? Forget it; the bottom of your curtains will be tarnished before sunset.
In the interior design sphere, curtain-length styles typically fall into three categories:
Hover – As its name suggests, "hover" refers to curtains that fall right above the floor. This is likely the most common curtain length you'll find. A hover is simple to open and close. They also grant your space a streamlined and refined appearance.
Puddle – "Puddles" are that opulent look we just mentioned—curtains that drape and gather on the floor. Generally, up to six inches of additional curtain fabric nails this look. That said, if you want what's referred to as a "true" puddle, you can use up to sixteen inches of additional fabric.2 Think of a long bridal train that pools on the ground; this is what a true puddle will help you attain.
Break – A break is neither a total puddle nor a hover; instead, it entails having an extra inch or so at the bottom. Depending on the fabric you choose and your overall space, this can give you a luxe or laid-back look.
Step #3. Select Where Your Rod Will Rest
Rods, poles, or tracks affixed a few inches above your window will lengthen your window and give the illusion that your space is larger and loftier. But again, this will come down to personal preference.
If you're not after height per se or don't have the room to tack on a few extra inches, a good rule of thumb is to hang your curtain rod 15 cm or 6 inches above your window.3

Step #4. Choose Your Curtain "Heading"
A curtain heading simply refers to the style at the top of the curtain that attaches to the curtain rail. There are a host of curtain headings out there, but a few of the most prevalent come down to:
Eyelet – Eyelet headings are cutouts, like bold metal rings, that allow you to thread your curtain rod through.
Wave – Wave curtains facilitate a uniform but flowy look. However, they must be affixed to a wave track.
Pencil pleats – Pencil pleats look, literally, like a series of pencils. This isn't as contemporary of a look as eyelets, but it can nonetheless appear elegant with the right product and curtain measurements.
Step #5. Measure Your Length
Ready-made curtains—as opposed to custom curtains (which can be pricey)—are usually offered in five lengths:
63 inches
84 inches
95 inches
108 inches
120 inches
To determine the length you'll need, measure from the top of the rod or the bottom of the rod (depending on the heading you've chosen and the aesthetic you want) to the floor based on the drop you've identified. If you have a radiator below your window, measure curtains to be sure their bottoms hang two to three centimeters above it so that they won't hinder heat from radiating into your room.
Step #6. Figure Out Your Width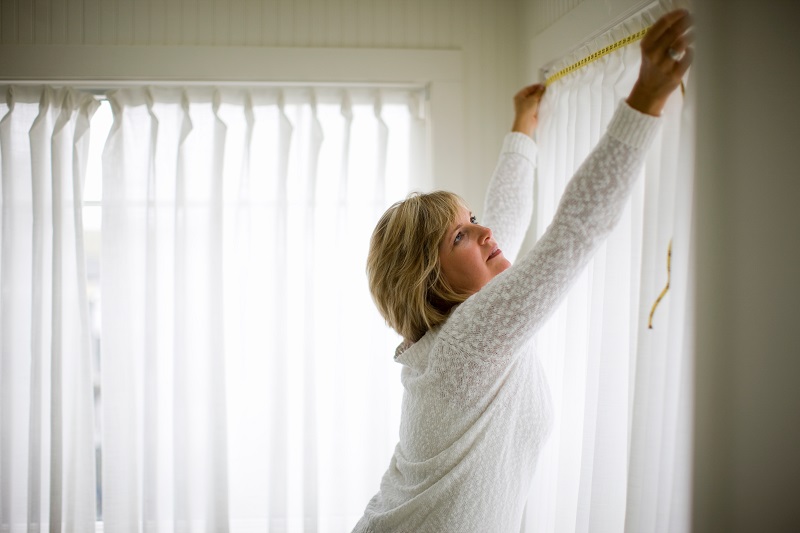 The width of your curtains also plays into the look you're pursuing. A few tips:
To create a full, warm, and inviting look, place the ends (or finials) of your rod(s) between 15 cm and 20 cm (or 6 to 8 inches) wider on each side of the window. This will help ensure your curtains aren't tugged taut when closed, potentially exposing light and space on their sides, which may look a tad sloppy. Additionally, it'll give your curtains a delightful "gather" whether they're open or closed.
Measure the width of the rod, as opposed to the width of your window, to ensure you have enough curtain panels. Experts suggest multiplying the width by 1.5 times at a minimum (to prevent curtains from hanging like lank hair), two times for greater fullness, and three times for linen and sheer curtains. Keep in mind that ready-made curtains normally come in four curtain measurements:

46" (117 cm)
50" (121 cm)
66" (168 cm)
90" (228 cm)
A word of caution: If your rod has an overlap, add the length to your overall width. Also, remember that width is always stated first on the packaging, followed by length.
Once you've done all this, you're ready for the best part: Deciding on the color, fabric, print, and hardware that aligns with the images prancing through your head.
Level Up Your Curtain Game with Society6
Knowing how to measure for curtains includes much more than busting out your measuring tape and slapping down some numbers. Even a spare inch at the bottom of your window treatments can shift their appearance. But the time and energy you put toward establishing the correct curtain measurements for your space will pay off in spades.
Society6 simplifies and electrifies the whole process. Instead of bouncing between several sites examining prices, designs, manufacturers, and colors, we offer a sweet selection of ready-made curtains, all crafted by expert artists and available in a magnificent array of prints, hues, and, yes, sizes.
Whether you are wondering how to choose curtains for your living room, bedroom, or dining room, you can give your room a gorgeous glow with Society6 curtains.
Sources:
The Spruce. How to choose curtains for the living room. https://www.thespruce.com/how-to-choose-curtains-5089323
Decor Snob. How much should curtains puddle? https://www.decorsnob.com/how-much-should-curtains-puddle/
House Beautiful. How to measure for curtains: a simple guide for curtain measurements. https://www.housebeautiful.com/uk/decorate/windows/a29696662/how-to-measure-curtains/