One look at
Kelli Murray's
instagram
and you'll want to step into her color-coordinated and joy-filled life.
Besides being the coolest family around, her brood aims for the stars and lands there. After years as a freelance designer and illustrator, Kelli recently started a children's clothing line inspired by her own tinies Rylee + Cru, that's killing the cute game. We caught up with this highly creative lady to chat about how to accomplish your goals no matter what gets in your way (enthusiastic children included!).
Hello! First off, tell us a bit about yourself, you seem to have your hand in so many artistic pots! How would you describe what you do?
First, I'm a mama to two kiddos, Rylee who is 5 and Cru is 2, and we are looking forward to meeting our baby girl due in the beginning of August! I worked for years as a freelance illustrator and graphic designer, but in late 2014 I launched a long time dream project of mine: a children's clothing line inspired by my own kids called Rylee + Cru.
You have two little ones (and another on the way!), this is a broad question, but what is the biggest thing being a mother has taught you about creativity?
Well honestly, my kids are the reason I am even doing what I do for a living now. When you become a parent your priorities shift all of the sudden and you realize how valuable time is. My kids have obviously inspired me in my artwork and moving in the direction of designing childrenswear, but they also inspire me to really chase after my dreams and make the most of my time. My goal was to create a business that allowed me to continue to pursue my creative passions, but also the flexibility and freedom to be a mom at the same time. There's been a lot of learning along the way but I really do believe I'm on the right path and am thankful everyday that I get to do what I love for a job and that my kids are a part of that.
Were you always artistically inclined? What helped you decide to take your life down it's current path?
I've always had an entrepreneurial spirit and creative edge, but wasn't totally sure where to go with it. My first love was fashion and I remember in high school starting a little "custom skirt" business where I would sew all my friends skirts made out of fabrics they picked out. They were terrible, but at the time I thought they were awesome! I attended the Fashion Institute of Design & Merchandise in LA for college and worked in the fashion industry for several years after that. Around that same time that I got interested in graphic design and illustration. I quickly fell in love with creating art and decided to pursue that more full time after I gave birth to my daughter in 2011. Fast forward a few years and my husband and I welcomed our baby boy in September of 2014 and a week later I launched my first Rylee + Cru collection online, which, to our surprise, completely sold within a few days. It was then I realized that this could really be something—it merged my love for fashion, art and my kids all into one, .making it truly my dream job.
Tell us a bit about what made you decide to start Rylee and Cru, your beautiful children's clothing line:
My kids 100% inspired me to start this brand, which is probably fairly obvious given the name! When I had my daughter I realized that I couldn't find much clothing that spoke to my neutral-loving, artistic aesthetic. There was A LOT of pink and a lot of ladybugs and ruffles, but not a whole lot of what I was expecting or hoping to find. I thought that my personal art style would translate really well onto children's clothing, and felt there was a space for it in the market at the time. Given my background in fashion design and merchandising, I began to take steps forward into creating a line I could call my own.
How do you teach your kids about honing their creativity and artistry, while still respecting their burgeoning imaginations?
When your kids are young, it's easy to direct them in their creative choices—really, it's you who make the choices for them. But as they get older, it definitely becomes more about them having a say and feeling empowered to make their own decisions. My daughter is 5 and as much as I have battled the whole princess thing, it is just something I have had to give into because she loves the dresses and the sparkly shoes, and it makes her happy. I still try to help her to understand balance and when too much is too much, BUT, I do want her to feel proud of the choices she is making. Kids are sponges and Rylee is at an age where she just wants to copy everything I do. She loves to paint and draw and "design" new clothing silhouettes for the brand. I love that she is so interested in art and I plan to continue to encourage her in those areas.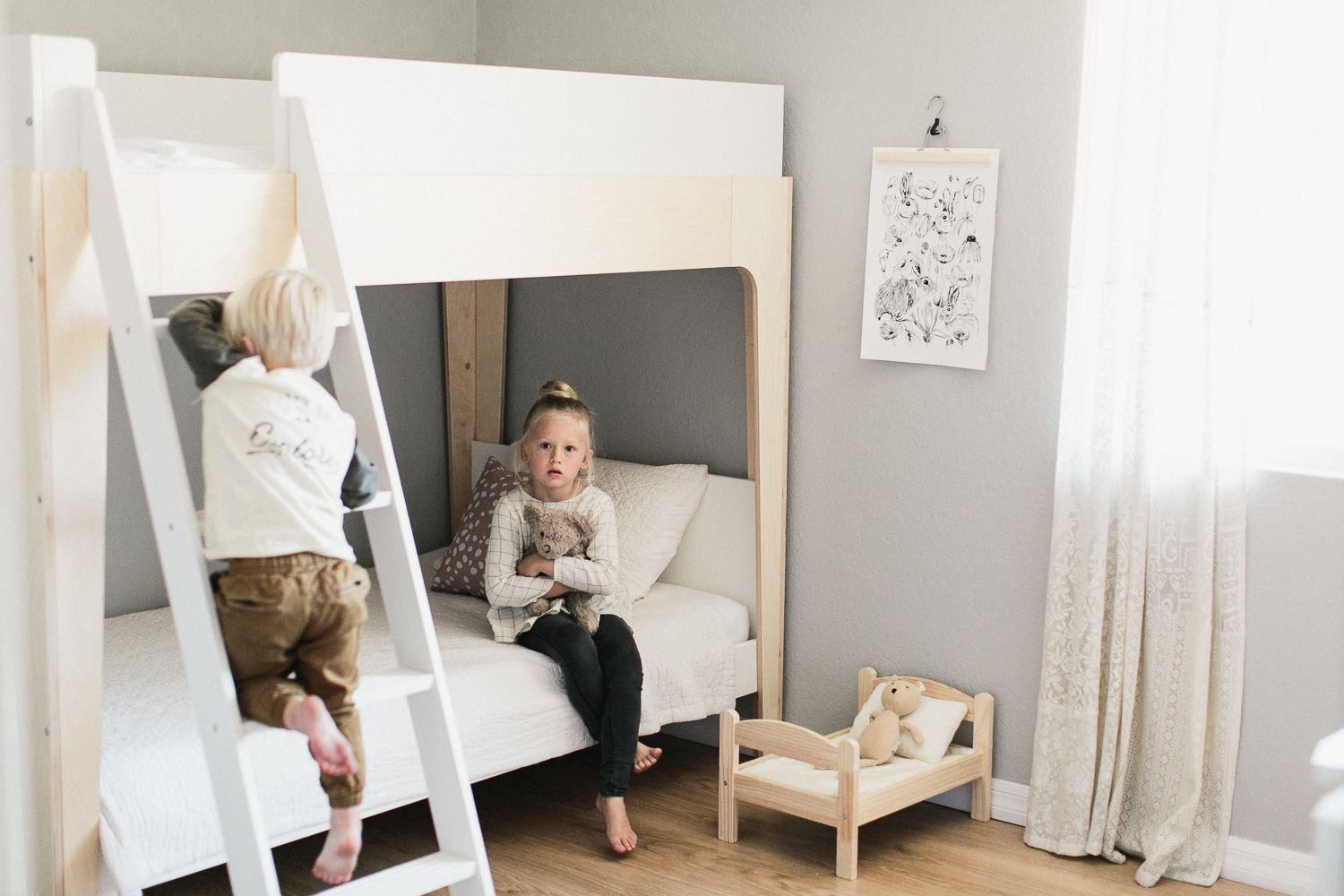 What do you think is the greatest value of exposing children to the arts?
I think art is a building block of child development. It helps them develop fine motor skills when they are young and later helps in decision making and creative thinking. When kids are encouraged to express themselves and take risks in creating art, they develop a sense of innovation and accomplishment that will be important in their adult lives.
Your personal brand is so cohesive and lovely. Two questions: what do you see as the main value of having a "personal brand" and how do you recommend someone go about curating this for themselves?
I think having a distinct look and style is really important, particularly in business and when you are looking to attract a certain customer. Weather you are a blogger looking to engage a certain type of reader or specific brand, or a freelance artist wanting to work with a certain company.  Having a signature style that sets you apart is important. The launch of Rylee + Cru was largely a success because of the years of work I had put in previously to honing my style, maintaining my blog, and building a loyal follower base that liked what I was creating. If it wasn't for that "personal brand" that I had developed prior to starting this new venture, I am sure it would have been a whole lot harder to get my feet off the ground. I think all I would recommend in terms of curating a personal brand is to be yourself, to stay consistent in your style and imagery, and keep putting new work out there. Eventually you will find your niche. I've always felt that if you love what you are creating, there will be others out there that love it too.  
It's so common for people to be given the advice of "dream big!", which is great, but it's like—then what? How have you built not only dreams, but actual achievable goals for yourself and your businesses?
Yes, the first step is to dream big, but with that comes SO MUCH WORK!! I think that is what a lot of people underestimate. Yes, I can say that I currently have my "dream job", but it came with a whole lot of blood, sweat and tears. You have to be willing to sacrifice, to fail and to pick yourself back up again and to learn from your mistakes and continue on despite the naysayers that come your way. Even still, it's never easy. I have to remind myself all the time that I can only do so much. Especially with having young kids, I have had to learn how to set boundaries with work and really prioritize my time. My goals might not be achieved as quickly as I would like them to be, but eventually they do get accomplished. It's also vital to have a good team and support system surrounding you—at Rylee + Cru, we are a small team of 4, but we are mighty!  Each of us hold different roles and we carry our own weight. The business would not be thriving if any of us were not a part of it.  
With the little ones running around, how do you carve out time to spend cultivating your creative side?
Unfortunately, I don't have a whole lot of time to cultivate anymore! Often times, my creative process is forced simply due to lack of time. That has been one of the harder parts of my job, finding the in-between time to rest and get re-inspired. Somehow, the inspiration always comes in one way or another, but not always in the timing that I need it.
What brings you the greatest joy in life?
Cliche, but my kids. Being a mom is the best job in the world. Those little people fill me up daily.
Falling Leaves Duvet Cover