Kind of a big deal.
With peel and stick wall murals up to 12 feet wide and 8 feet tall, and no limit on purchasable wallpaper panels, any homeowner, apartment renter or DIYer can give their space a big treatment with limited effort. Society6 wall murals and wallpaper can be put up in two hours or less (assuming you're not filling a reeeally wide wall). Since these products are non-permanent, they're great for renters. They're great for bedrooms, bathrooms, office spaces, college dorms/apts, entryways, boutique retail shops and more.
Why are people buying wall murals or wallpaper?
The most common use of wall murals or wallpaper is to bring a room to life with an accent or statement wall. There's a lot of ways to do that. Also, since they're self-adhesive, they can easily be taken down without a landlord ever knowing the difference. While these are some work, you can do this in a couple hours compared to painting a wall, which may take A customer could certainly do an entire room.
Looking for a non-permanent "statement wall"

They run a cool AirBnB space

Fill a kids room or nursery

Hide an old/ugly wall

Great for entryways or walls in a boutique shop

Use as a backdrop for photos

Creative way to decorate a closet door, desk or tabletop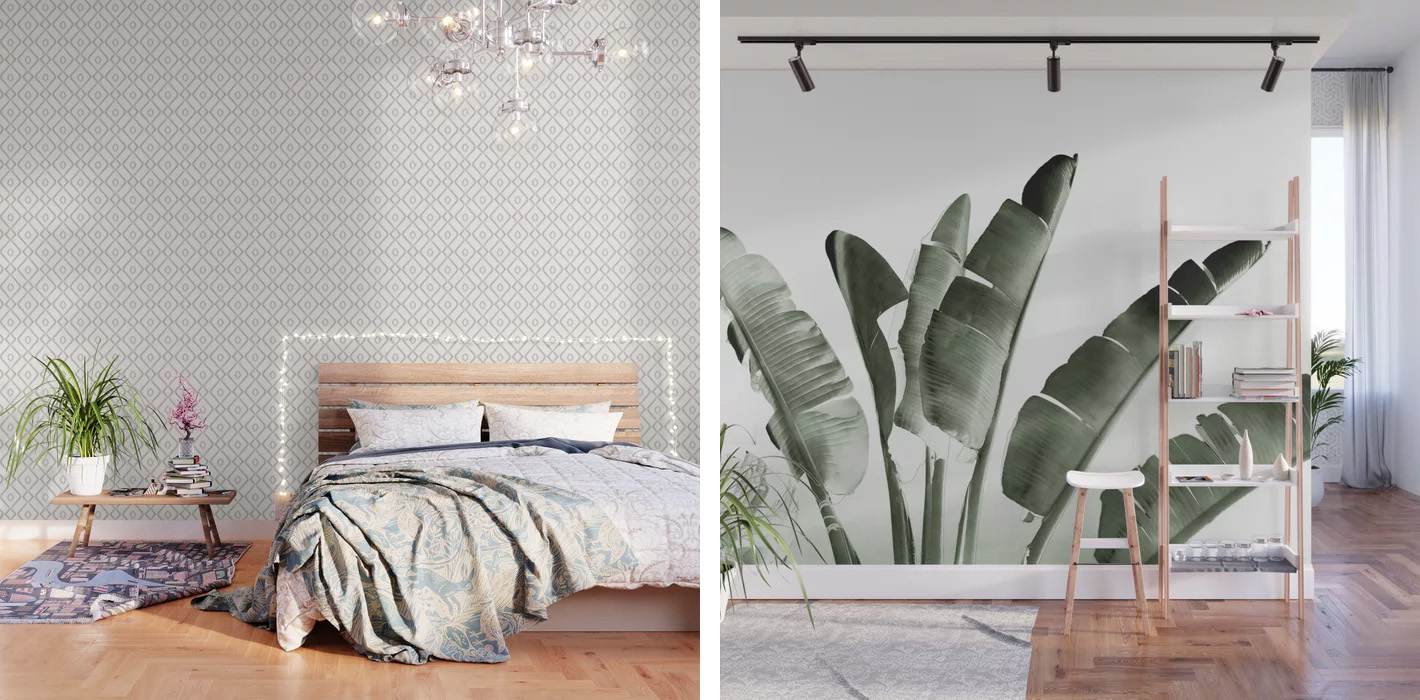 Left: Wallpaper by Becky Bailey, Right: Wall Mural by Gale Switzer
Who is buying wall murals or wallpaper?
Looking at the above list of why customers are buying wall murals and wallpaper, we put that info into context. That way you know who to consider messaging to.
Homeowners and apartment renters
DIY-ers
Boutique shop or restaurant owners
Parents
Creatives
Bloggers
Photographers
PRO TIP: People in the UK show a particular affinity for wall murals (albeit a smaller market relative to the US), whereas North America leads the interest in wallpaper.
When do people need wall murals or wallpaper?
Using Google Trends, we identify seasonal trends and the best times to promote these products. As you scroll over the graphics, you'll notice a popularity score. 100 is peak popularity relative to search volume at other times throughout the last twelve months.
While wall murals and wallpaper serve similar purposes, we break out search popularity for both independently of one another.
PRO TIP: Customers often use "peel and stick" or "removable" interchangeably in their searches for wallpaper and wall murals. If you use either of those terms when promoting your products, most customers should know what you're talking about.
Search popularity for "wallpaper"
Search popularity for "wall murals"
The best time to promote wallpaper and wall murals is late summer. Wallpaper outshines wall murals in terms of year-round popularity. They both see a rise in late summer and holds strong through to the following spring, especially wallpaper. That's a really long high-season, which is great for your marketing efforts.
Wall murals have a long high season too, but you can see some dips during the holidays (likely due to people focusing on enjoying their break for the the new year kicks off).
The second best season seems to be fall. After spending the summer outside, it seems fair to assume that people turn back to their dwellings. They're settling in for fall and winter, right through to spring.
How to promote on social media
Home decor is a massive market and there's no shortage of DIYers eager to take on home projects. Even non-DIY customers can install Society6 wallpaper and wall murals. We have some handy instructional vids to help the process too. Here's some social content we've seen as popular around these products. If you or a friend do an install, make sure you get some great shots of the process, and especially the finished product.
PRO TIP: Since this product requires more effort and money to get a photo of, you can create your own mockups by shooting blank wall in your own home. Then apply your own artwork accordingly. You can use the imagery below as a reference to how to shoot your own living spaces.
Shoot straight lines
Shoot with straight wall, floor and ceiling lines. Symmetry matters unless you're intentionally shooting at an angle.
Create context for customers
Shoot wide to show how wall mural or wallpaper compliments a space. Customers just want to know what their design will look like in their house. If you shoot a wall really tight, it's harder for customers to understand what a wall mural (or wallpaper) does for the space they're trying to imagine with your designs. You can easily create scale by putting someone in your shot as well.
Enhance small spaces or surfaces
Whether a customer is going for a bold statement or just looking for a splash of color, wallpaper especially can be used in creative ways. If you wanted to order a single panel of your own wallpaper, this might be a good way to showcase your product without having to do a full wall.
View this post on Instagram
View this post on Instagram
View this post on Instagram
Pre-written social captions
Struggling for words? Here's some captions that you can use to promote wall murals and wallpaper. Feel free to change these up or use as-is. They are meant to take the edge off the copy process. And of course, use emojis liberally.
Available in my shop
Did you know… Switzerland eats the equivalent of 22 pounds of chocolate per person per year? And since we're talking about sweet things, did you also know that I sell wall murals in my Society6 artist shop sure to sweeten your home decor. Ha. We're having fun. Shop them all through the link in my bio.
Running a promotion
Only one thing looks better than my wall murals or wallpaper in your place… that extra money in your bank account when you get them ##% off today! See what I did there? Check em out through the link in my bio.
Do your walls say what you want them to?
What do your walls say about you? No, not in a judgemental, can you believe how much Netflix is consumed here on a nightly basis kind of way. I mean, like, design-wise. Well, now's your chance to make a statement with one of my wall murals. Check em out through the link in my bio!
Keeping up with the Joneses made easy
Accent walls are in. Accent walls are out. There's no way to actually know when the winds will change when it comes to home decor. Which is why mess-free, DIY-friendly, non-permanent wall murals (or wallpaper) are the solution to making a statement…without setting it in stone. I'm selling some on @Society6. Link in bio.
For a kid's room
Kids are fickle. This is a fact. First they like this, then they like that. This isn't a nursery rhyme though! It's a warning that no matter how much time you spend painstakingly painting their bedroom to match their current mood, it. will. change. So, a mess-free, DIY-friendly, non-permanent wall mural could be the solution. I'm selling them on @Society6. Link in bio.
Getting creative with closet doors
You're looking to spruce up your bedroom, but you don't want a major overhaul. You can stand a change or two, but not for all four walls. So why not add some whimsy to your space by adding some color to your closet? Wallpaper is an easily accessible solution. Especially when they're peel-and-stick. And especially because I'm selling some on @Society6. Link in bio.
High season (late summer)
Can't we all just play in the backyard and ride bikes around the block like we used to instead of adulting? Knowing that fall and winter (the cozy, inside months) are just around the corner, it might finally be time to give those empty walls some love…again….because fiiiine I'll be an adult. I have some pretty epic wall murals for sale in my @society6 shop. Check em out via link in bio.
Wallpaper hack
Life hack – (1) buy peel and stick wallpaper panel, (2) apply to closet door or boring wall, (3) become more of a hermit because you love your room more now than you thought you ever could, (4) order celebratory, eat-in-bed pizza for a job well done. Selling wall murals in my @society6 shop. Link in bio.
Wrapping up
Wall murals and wallpaper are a welcome addition to just about any room your customers are looking to put some creative energy into. Make sure you're putting your best foot forward with this product. Depending on the space a customer is trying to fill, this product is on the higher end of price and requires a little elbow grease to install. Feel free to reference any of your wall mural or wallpaper product pages for an official description.
If you have any additional tips or tricks that have helped you sell wall murals or wallpaper, please leave them in the comments below!