Wellness and lifestyle maven Jessie De Lowe helps people live their most vibrant lives possible.
So when it came to decorating her daughter Amelie's nursery, she aimed for equal-parts organization and playfulness—especially since she tends to spend as much time in there as her toddler does. We talked to the How You Glow founder about how motherhood influenced her style, the advice she has for fellow working moms, and what causes her to lose (then reignite) her natural glow.
As a manifestation coach, yoga instructor, and art therapist, you strive to enrich the lives of your clients. What tips can you offer on creating a space for oneself that promotes wellness of the mind & body?
Our external world is simply a mirror for our inner world, therefore our external environment should be created consciously to reflect how we want to feel on the inside. Use colors, textures, scents, and artwork that lift you up, inspire you and make you feel at home in your space.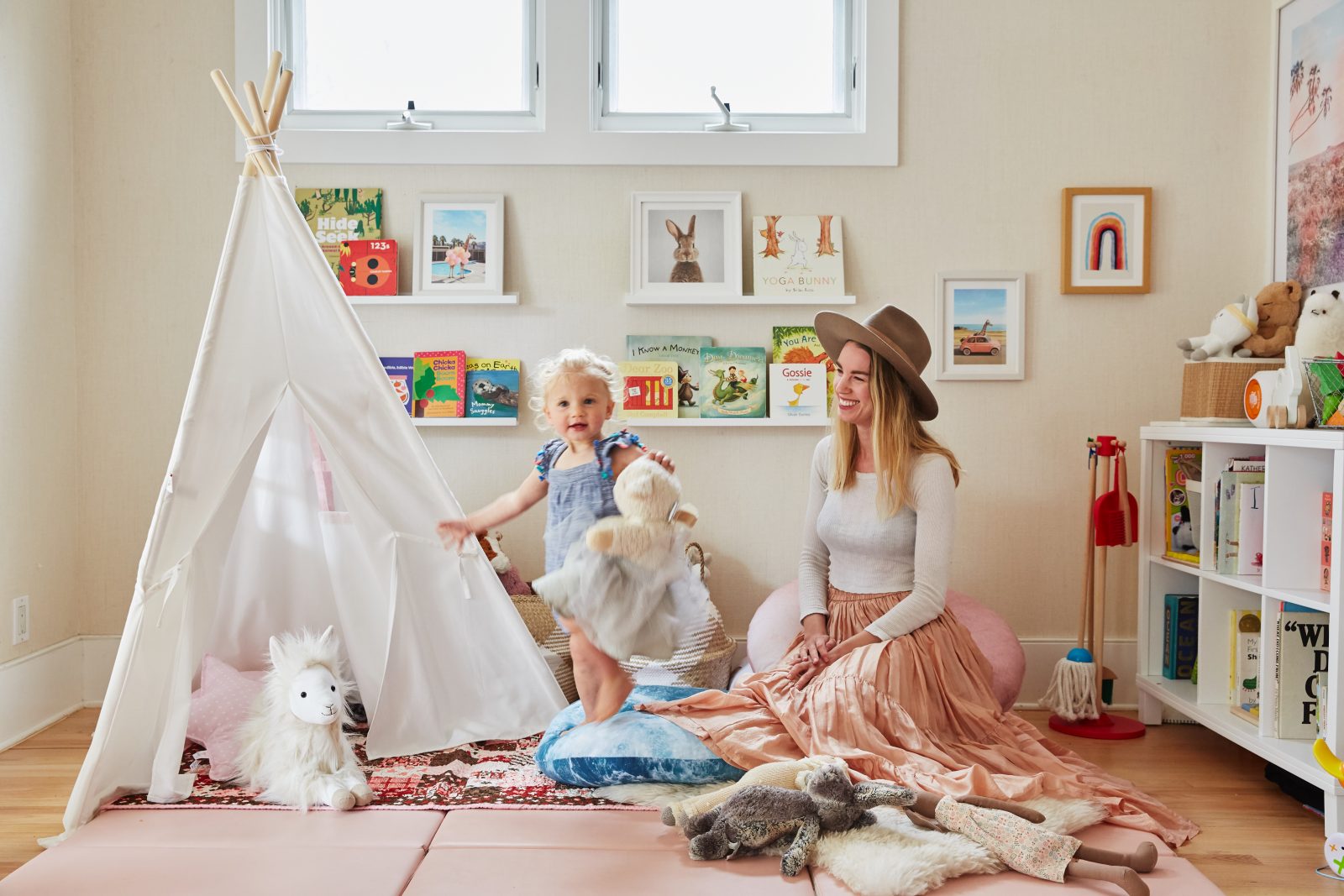 What is your favorite space in your own home, and why?
My favorite space is our bedroom. This is the first time I've had a true "Master bedroom" and it makes me feel like I'm entering into a sanctuary. We have high beam ceilings, a fireplace that creates the most romantic lighting and a wonderful deck that overlooks the ocean, which is where I practice yoga (on my How You Glow x Society6 yoga mat!) It truly makes me feel like I'm on vacation.
Having lived in New York, and now residing in Santa Monica, how would you say each city has influenced your home decor "style"?
In NYC, I had a tiny apartment in a walk-up in the East Village. I wasn't thinking too much about decor to be honest, as most of my time was spent enjoying the city and the apartment was just a place to rest my head. Now that I live in LA and I have a family, home is such an essential part of our life. We get so much enjoyment from being comfortable and inspired in our space.
What was most important to you when decorating your daughter Amelie's playroom?
Amelie spends a lot of time in her play area and so do we! In fact, most dinner parties we have end up with all the adults laying on Amelie's playroom floor while the kids play. I wanted it to feel uncluttered while still playful and to allow her easy access to her toys and books. Kendra from @organizedbyhand helped me to achieve this by using really cute simple shelves and beautiful baskets to store stuffed animals. The artwork from Society6 pulled the whole room together and made it feel complete.
How has being a mother to Amelie influenced your own style and creativity?
I've always been a happy person, but Amelie has awoken an inner joy within me beyond what I could have ever imagined. This joy definitely translates into a greater confidence and enhanced creativity in all aspects of my life. My "style" has always been, and continues to be, very low-maintenance, which is convenient and appropriate for messy life with a toddler!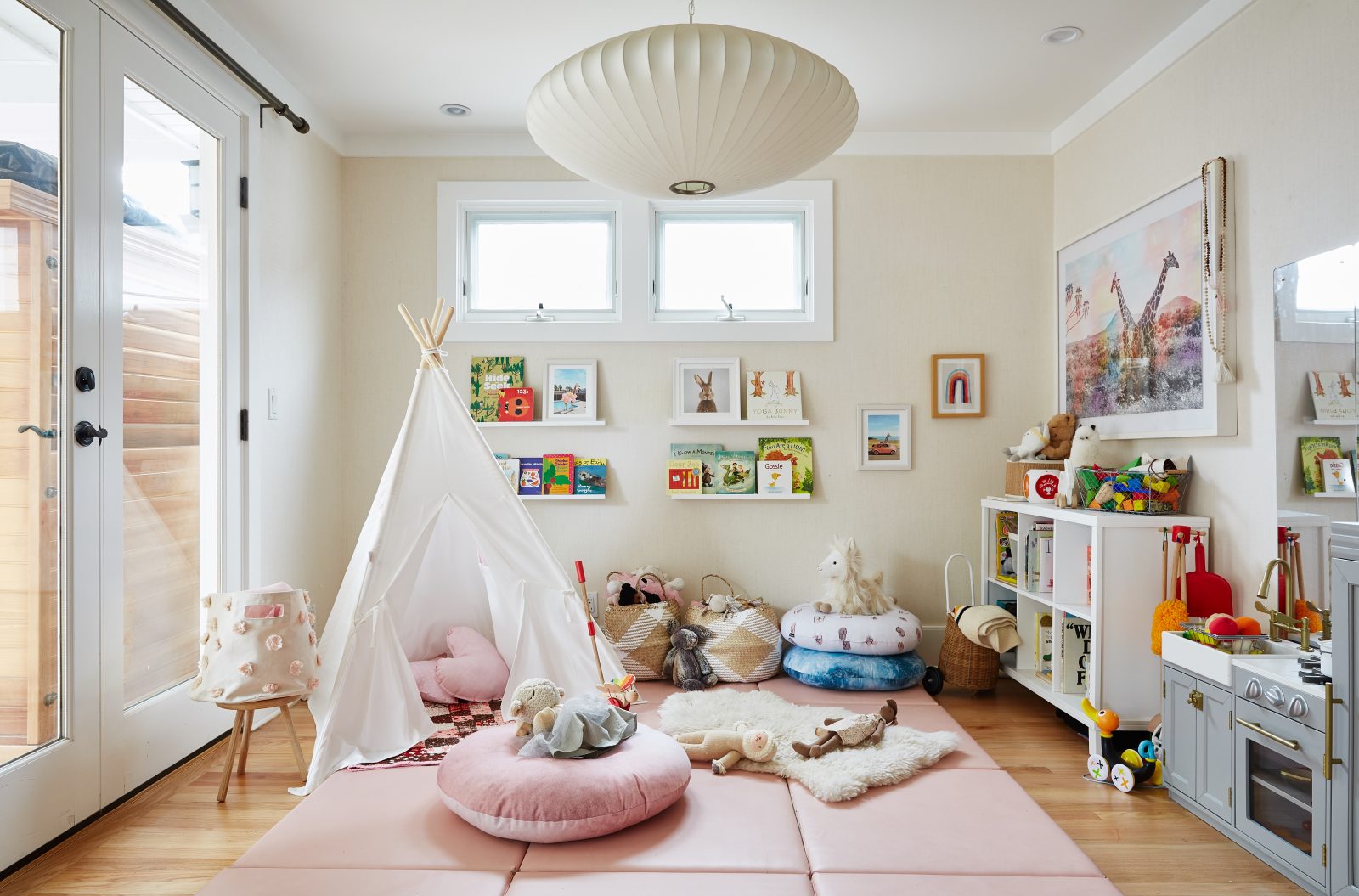 You're also co-founder of lifestyle and wellness blog, How You Glow. Day to day, what can dim your "glow," and what reignites it?
I find my glow is dimmed by procrastination or too much time on my phone. Being outside in nature always reignites my glow. I'm also very lucky that my work really makes me come alive, so the deeper I dive into helping others find their glow, the brighter I shine. And, of course, being with my husband Brian and daughter Amelie; they are my ultimate glow igniters.

What's one learned lesson or piece of advice you want to share with all working moms?
Don't compare yourself to others or try to live by what you think others expect of you, or by an external definition of "success." Find what feels authentically in alignment for you and your family. Identify what you want your day-to-day life/work balance to look like, and work towards making that happen.