Jessie De Lowe and Tara Sowlaty get their glow on for a living.
The self-named "glow girls" are experts in everything from art therapy and crystal consulting to yoga, and are the founders of lifestyle and wellness blog How You Glow, which gives you all the resources you need to lead an inspired and healthy lifestyle.
We partnered with these lovely ladies on a pair of exclusive, special edition yoga mats featuring designs by illustrator Alja Horvat. Inspired by How You Glow's dreamy purple sunset logo and the crystalline texture of rose quartz, these mats make the perfect pair for any yoga sesh.
In light of this collab, we caught up with Jessie and Tara to find out more about their love of yoga and tips for getting your glow.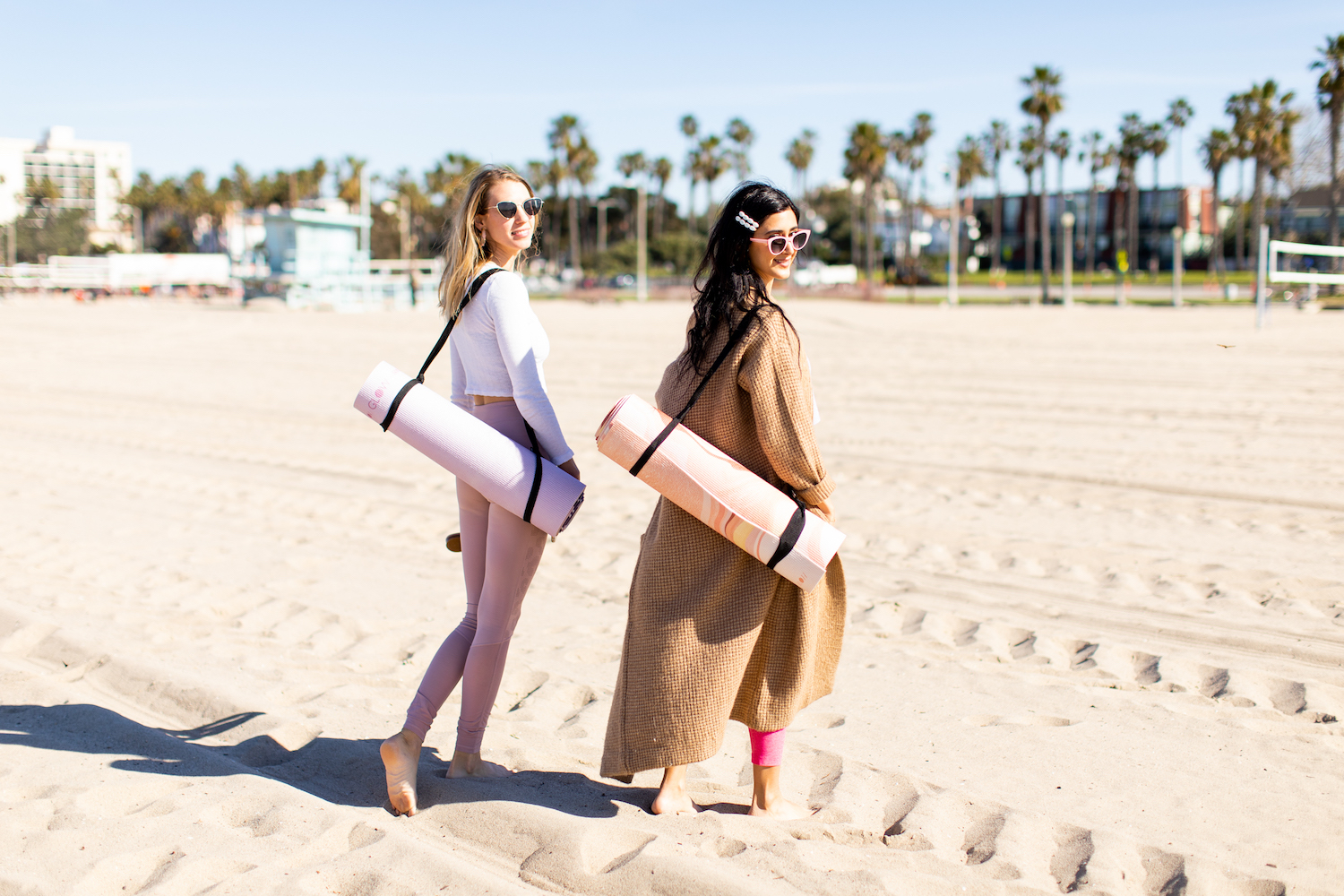 Can you tell us a bit about yourselves and what inspired you to start How You Glow?
JESSIE :: I am originally from New York and now live in Santa Monica with my husband Brian and daughter Amelie. Our home by the beach is truly my own personal heaven. In addition to How You Glow, I am a manifestation coach, art therapist, yoga teacher and host of a relationship podcast entitled Madly Forever.
I was inspired to start How You Glow to immerse myself in the wellness world in a fun, collaborative, elevated and far-reaching way. Tara and I joined forces and with our combined energy, we were able to create something very magical within what felt like a blink of an eye. We chose to seek out and highlight people, places and things that would enhance our own personal repertoire of knowledge, which we could then share with the world to help spread  goodness and GLOW with anyone who is inspired to learn.
TARA :: As a natural foods chef, holistic nutritionist, trained yogi, crystal consultant and designer, I wear many, many hats, but all under the theme of creating beauty and goodness to share with the world. Jessie and I were set up on a blind friend date; I cooked her a meal, she taught me yoga, and from there we knew we wanted to create something magical together. Initially we wanted to create a physical wellness center for food, wellness, yoga, and beauty, and instead we decided to take it online — a wellness destination we call How You Glow.
What does it mean to be a glow girl?
TARA :: We believe that GLOW is an innate vibrancy that starts from within. A glow girl is someone who radiates beauty, confidence, happiness and peace, all stemming from the inside out. Glow girls know what they want, are constantly seeking to better themselves and are willing to share their goodness with others.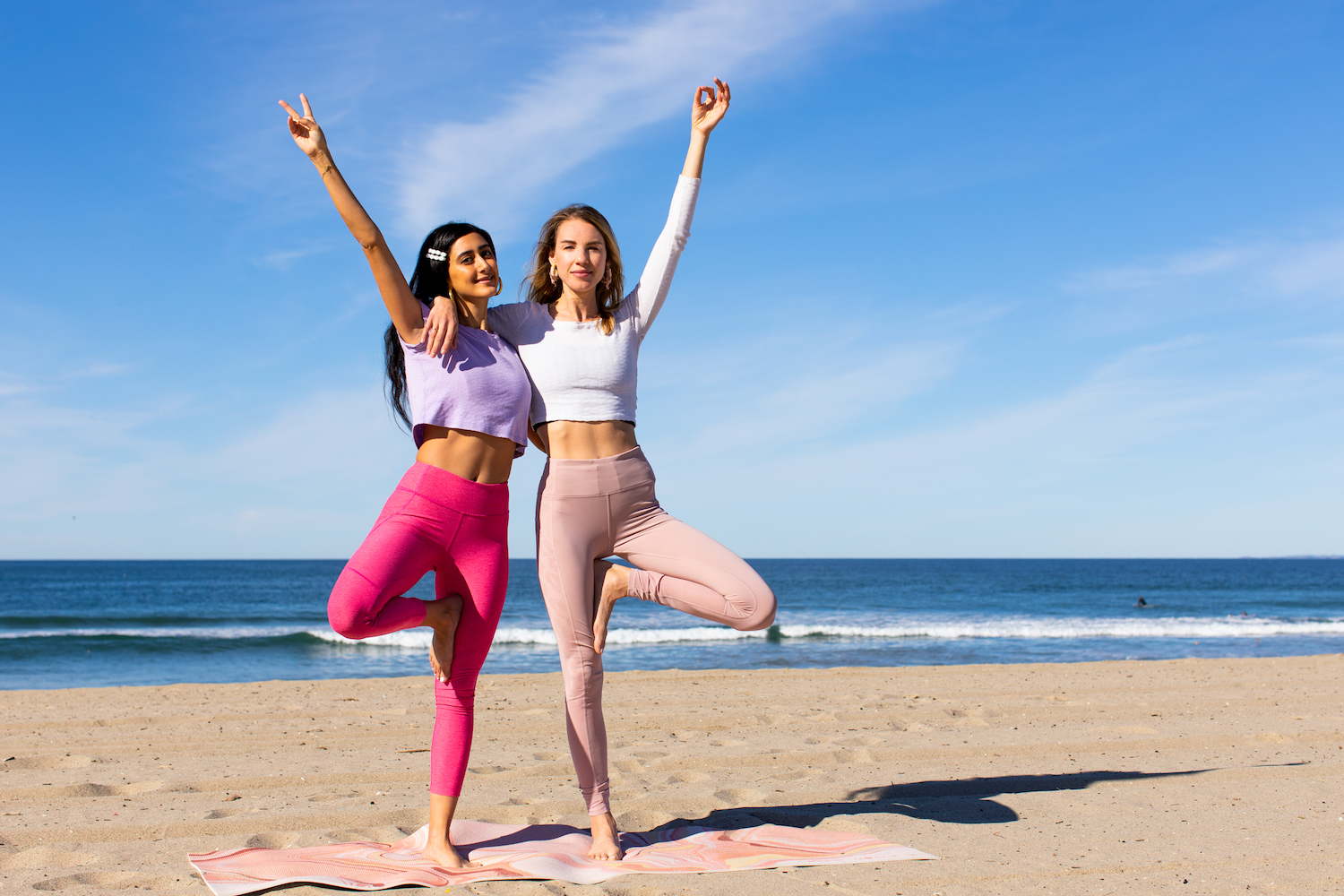 Can you share with us how the Society6 partnership came about and what drew you to the brand as a partner for this exciting opportunity?
JESSIE :: I have personally collaborated with Society6 in the past and have been so impressed by their brand and the incredible variety of fun, versatile and creative products that they offer. They sent me some yoga mats that they produced when they first launched in that category and I fell in love with them! I instantly knew that they would be the perfect partner to help Tara and I create the yoga mats we had always wanted to design and we made it happen pretty much immediately. When something is meant to be, it aligns and manifests so organically.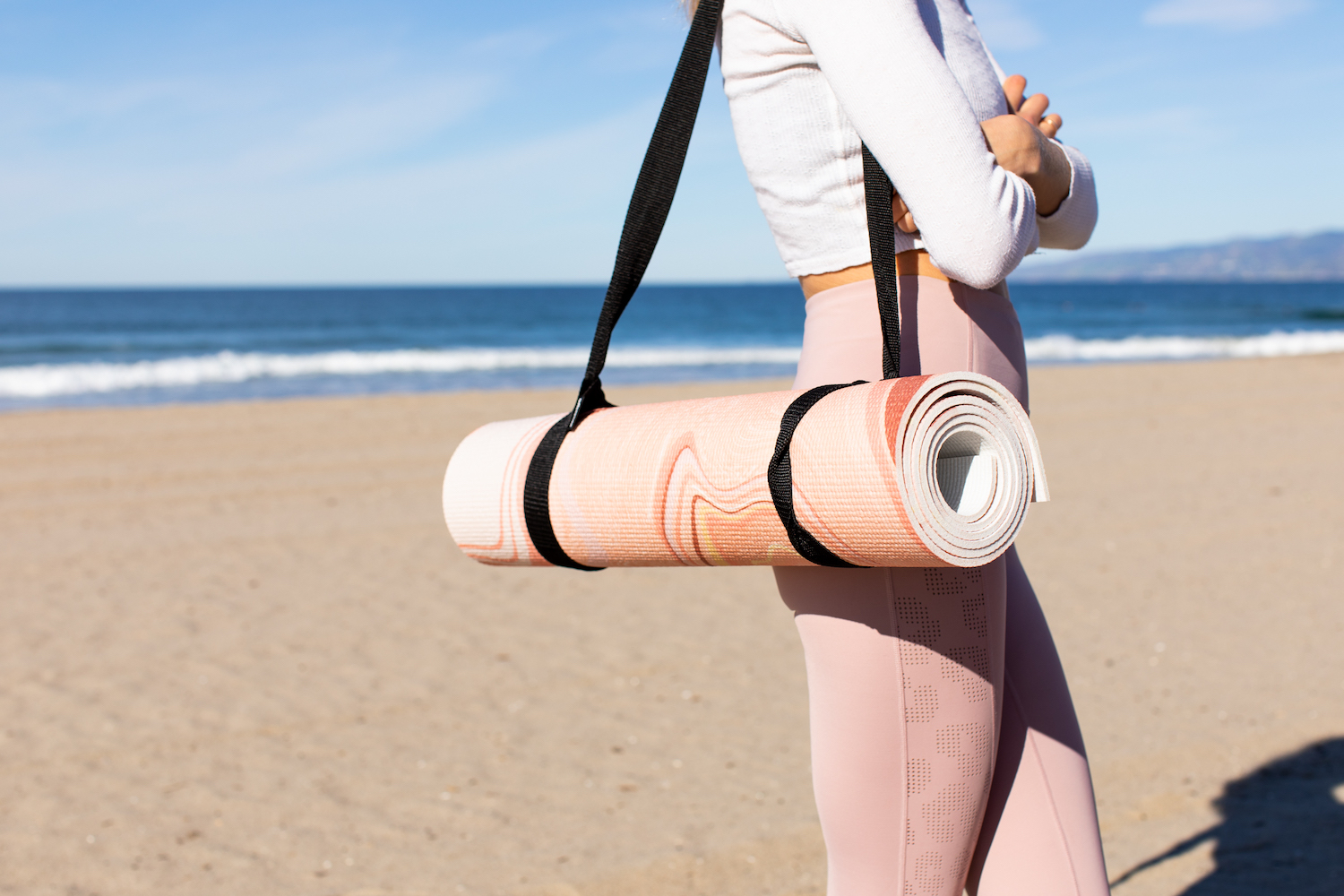 A tenet of the How You Glow manifesto is to treat yourself from time to time. What are some of your favorite ways to indulge?
TARA :: Treating ourselves is a huge, huge part of glowing. What is life without indulgence?! The key is to make indulgences regularly sprinkled into your routine, of course in a balanced manner, so that you always have access to the joy it brings you! Some of our favorite ways to indulge is at the spa (massage is like medicine), delicious foods like crispy chicken sandwiches or an amazing piece of chocolate, a perfectly ripe fig, dancing like crazy and letting loose with friends.
You specifically made How You Glow an online platform so that you could reach more people, but what are some of your favorite ways to connect with the wellness community IRL?
JESSIE :: We think it is super important to create in-person experiences that exist offline. We regularly host events for our communities and have lead retreats in the past. We even lead a retreat in Bali which was beyond magical! We have a strong intention to continue cultivating our GLOW community, connecting with people in every city that we travel to. We want our audience to connect and flourish both online and in real life.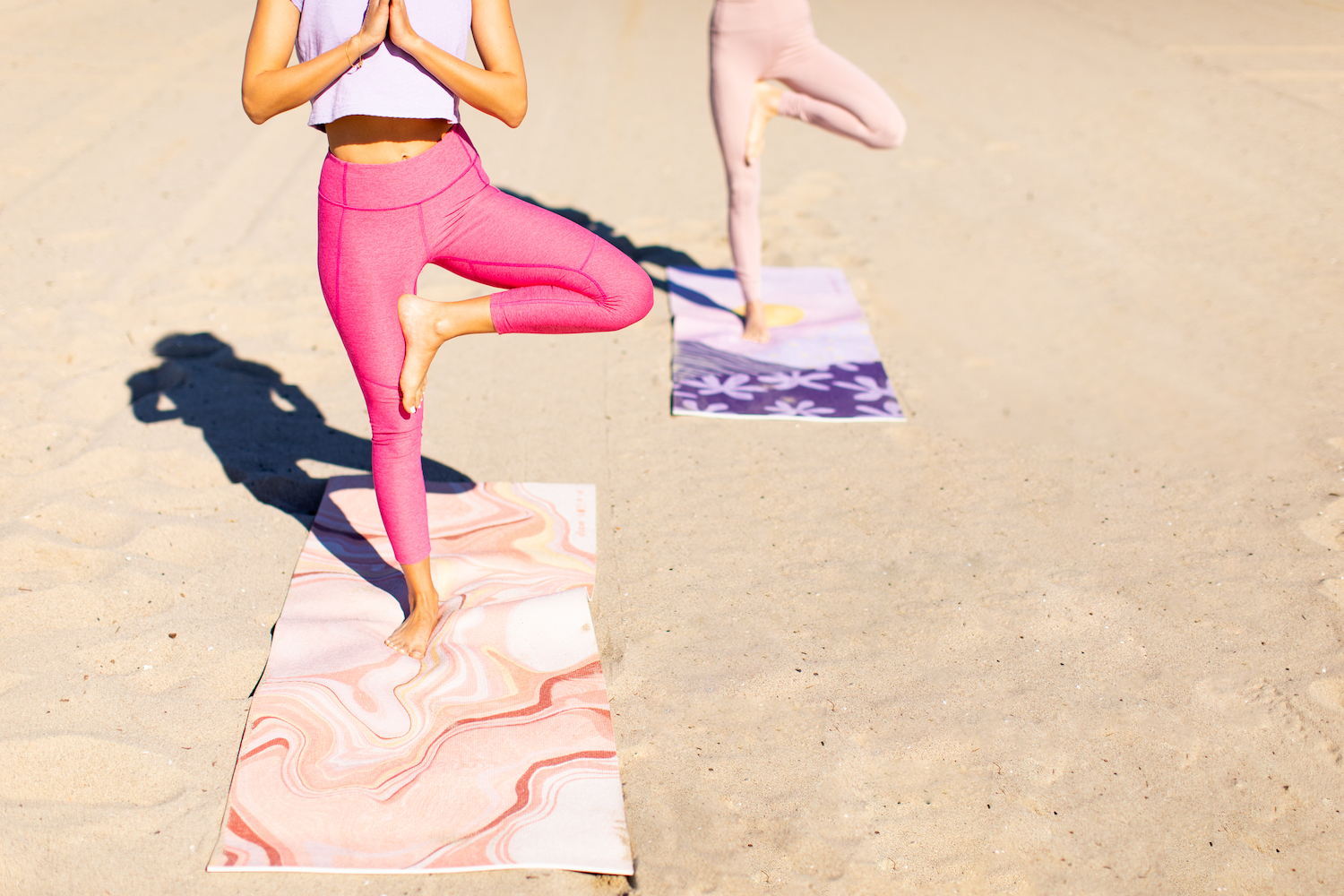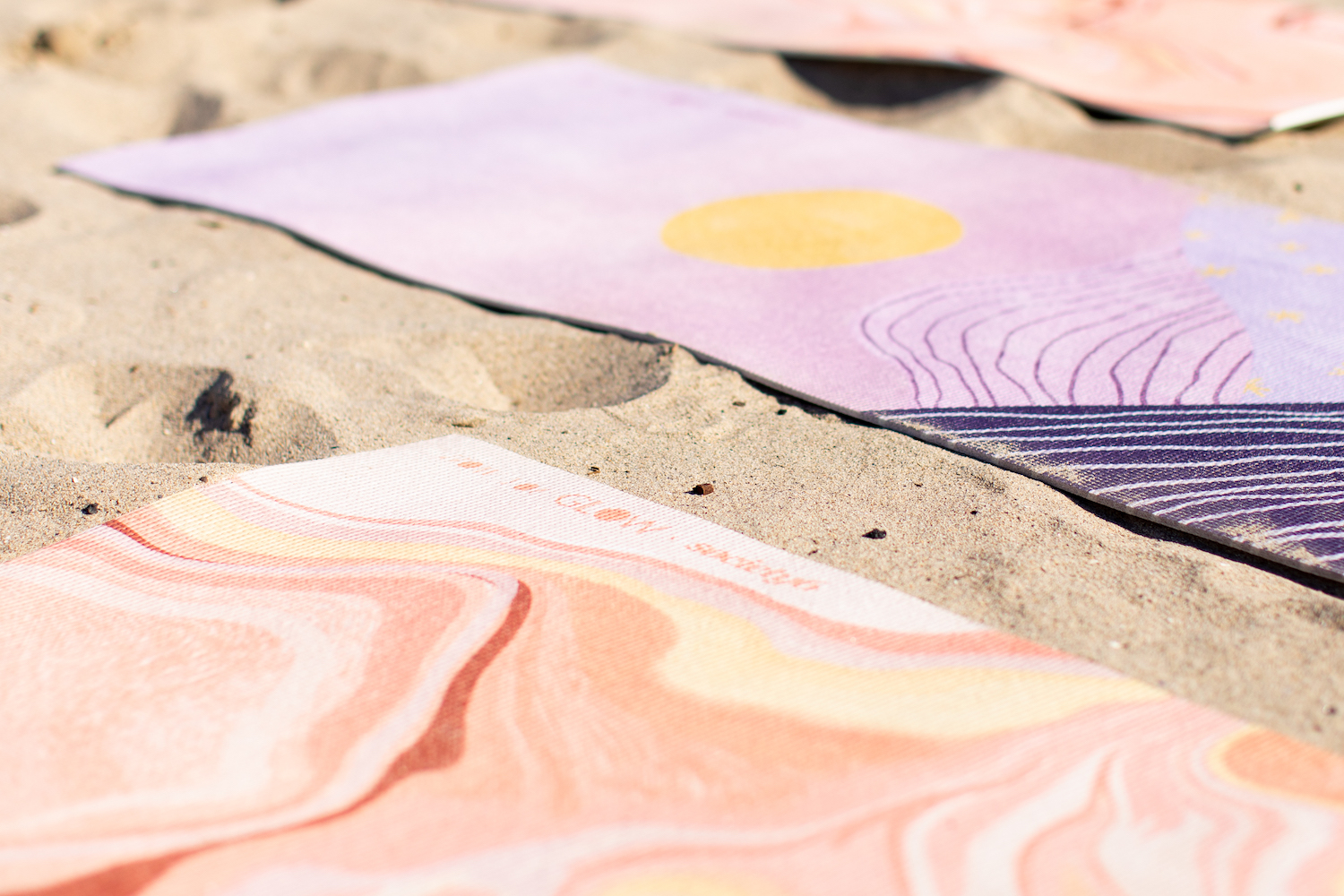 Considering you both have yoga certifications, it's only fitting that you've now created your own yoga mats. What drew you to yoga in the first place?
JESSIE :: I fell in love with yoga while I was in college at University of Colorado in Boulder. The yoga community is so vibrant there, and I was lucky enough to study with some of the best teachers in the country. The first time I really "dropped in" during savasana, I knew I was destined to make yoga an integral part of my life. I felt at home within myself in a way I had never experienced before, and yoga continues to create that experience for me on a daily basis.
TARA :: Yoga is one of the most beautiful practices I've ever been able to experience in my life. It has been a constant in my life since the age of 13, and something that will be a part of my life until the very end. Yoga at its core is movement in connection to breath. All in one, it allows you to feel incredibly powerful, peaceful, restored, invigorated, challenged and relaxed. It really is one of the most magical tools on this earth, and I truly love it so much.
We love the yoga mats you worked with illustrator Alja Horvat to design! Can you tell us a bit about the inspiration behind each of the designs?
TARA :: Designing yoga mats has been a Glow Dream for quite some time now, and we were waiting for the right moment! Working with Society6 and Alja was so lovely, and she really understood our vision. The first design was based on the colors of our brand, which are a purple sunset. Soothing, peaceful, yet impactful, this yoga mat is a beautiful piece for restorative flow. Our second yoga mat was based on a rose quartz geode. This stunning and vibrant yoga mat is super lovely for a more intense and vigorous flow. Representing both sides of yoga that we love, these two mats go hand-in-hand for the glowiest combinations of yoga.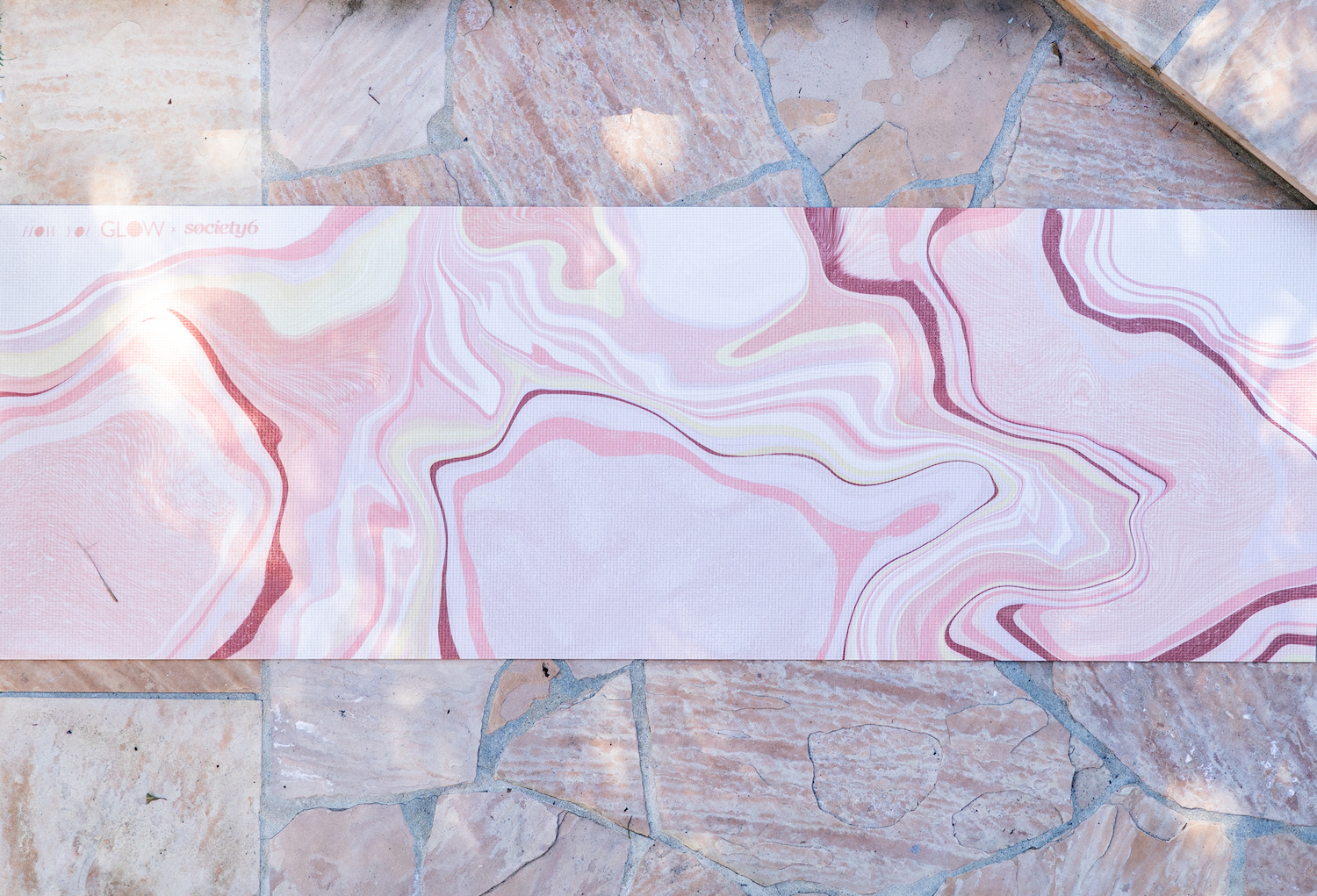 Jessie, you have a background (and a Master's degree) in art therapy. Were you looking for any particular qualities to be present in the yoga mat designs?
JESSIE :: Yes! Colors are such a huge part of positive psychology. Visualization is a big aspect of the work I do with my clients, and we intentionally chose soothing colors such as the soft pinks and purples and joy-inducing patterns to inspire a relaxed, peaceful and uplifted state of mind.
Tara, as a crystal consultant, what are some tips you have for people who are just starting to get into crystals?
TARA :: My biggest tip for people getting into crystals is to just play, have an open mind and pay attention to the stones, textures and colors you gravitate toward. From there, do some research on those particular stones, as they might give you some insight into some energetic forces that you might want to incorporate into your life. Crystal work is quite intuitive and not something that has a right or wrong answer in my opinion. Much like yoga, crystal work and energy is a beautiful tool brought straight to us from Mother Earth. It's so incredible!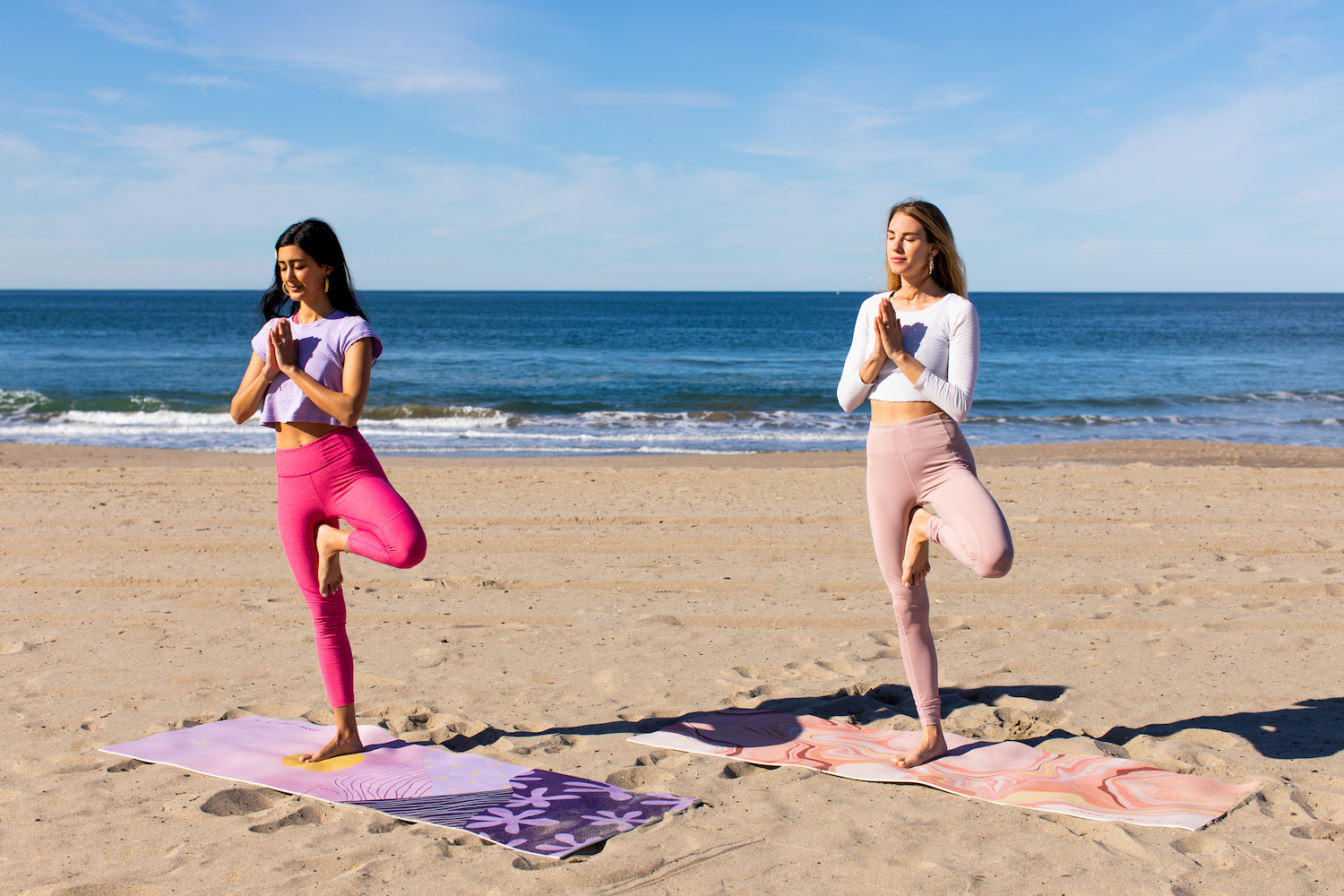 Aside from mats, what are your essentials for any yoga session?
JESSIE :: I always try to create a sanctuary for my senses. I light some candles, have some good tunes on, breathe in essential oils and have a journal nearby in case some creative ideas arise that I want to remember. I also write down my intentions before I begin. Creating this sacred space where all my senses are brought to life allows me to enter into a deeper level of consciousness and presence during my practice.
TARA :: First and foremost, the most essential thing in a yoga session is breath. From there, I love to use essential oils, as they add a beautiful dimension to the practice. If I'm taking a hot yoga class, a yoga towel is definitely necessary as well. And lastly, a desire to open and clear your mind is certainly essential.
Lastly, what are some ways each of you get your glow?  
JESSIE ::  I glow brightest when with my family, in nature, by the ocean, moving my body,  exploring new places, eating healthy, delicious food, drinking plenty of water –and some beautiful wine as well :)– and by helping others to step into the best version of themselves.
TARA :: To me, getting my glow entails so many things. It's the variety of life that truly makes me feel most vibrant. When I'm engaging with the ones I love, working hard, traveling the globe, eating delicious foods, getting in a good sweat, going on walks, spending time with my dog, dancing and enjoying nature – that's when I feel most alive. To me, there's nothing glowier than sharing goodness with others, and I feel so so grateful to be able to do that everyday through How You Glow.