Whether you're moving into a brand new abode or redecorating your old digs, it's easy to dream about all the home decor you'll fill your space with. But when it comes down to actually choosing what goes on the wall, we'd understand if you have some trouble deciding. After all, those walls in your living room can end up seeming much like a giant, intimidating blank canvas. How do you decide what to display? A large wall art piece or a textured canvas? Perhaps different sized picture frames?
While the number of wall decor ideas for living rooms might seem endless, your personal sense of style probably fits in a much more specific category. To that end, choosing the best living room wall decorating ideas for you is all about determining what options best fit your style and the mood you hope to achieve.
To help you narrow it down, we've curated 20 living room wall decor ideas to suit any aesthetic.
Deck the Walls with Art of All Kinds
Designing your living room with your personal tastes in mind will say, "come and stay a while" louder than any "Live, Laugh, Love" sign from World Market (unless that's your style). But there's much more than one kind of wall art. Let's explore.
#1 Show Your Style with Framed Art Prints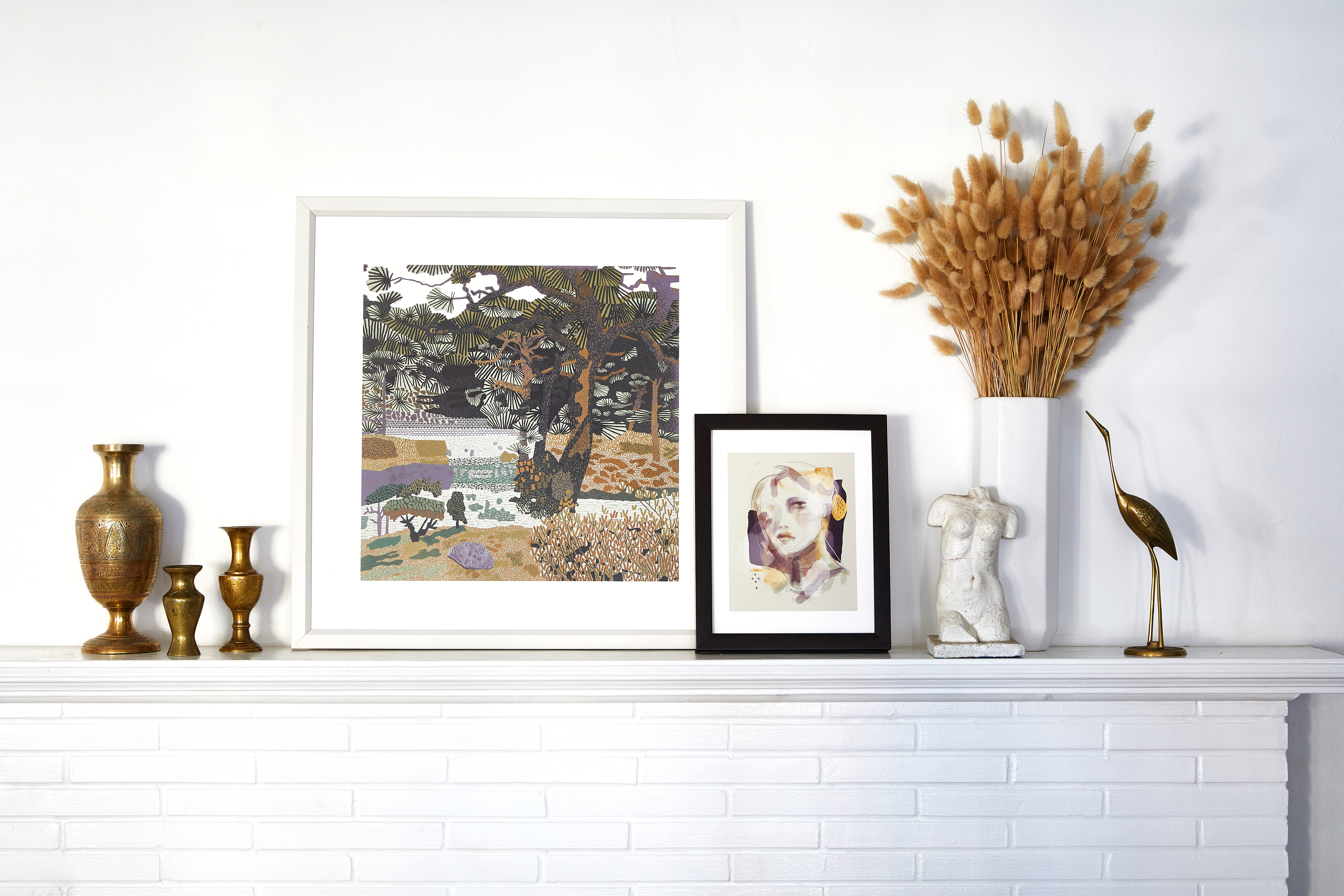 Framed art prints are an excellent option no matter your taste in home decor. They tend to be more affordable than original artwork, can often be customized to the size you need, and allow you to choose a frame that perfectly fits your living room vibe.
Because you can order an art print of just about anything, you'll want to start by narrowing down the genre, whether that's:
Digital art
Vintage prints
Nature photography
Abstract painting
#2 Add Texture with Canvas Prints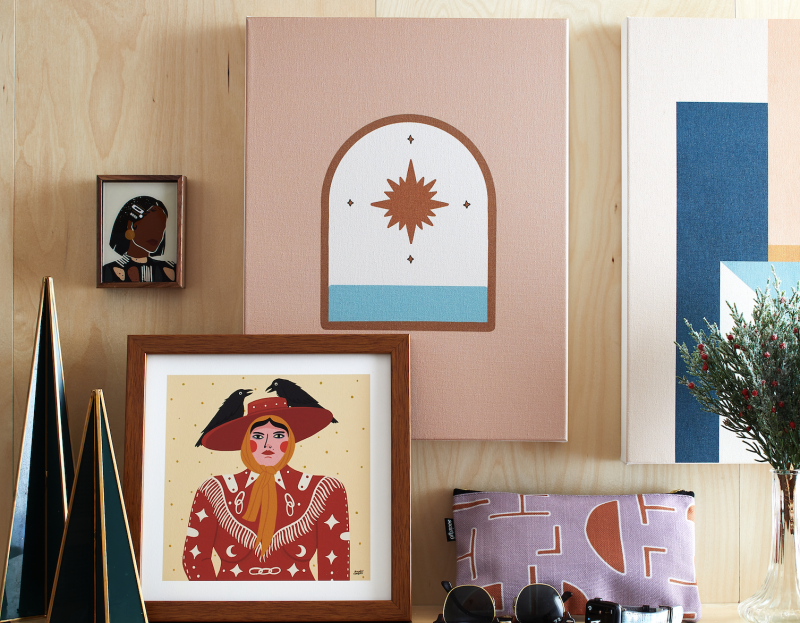 Love the look of a print or a poster, but wish it was made of something a little more substantial? Canvas prints are your new BFF. They're not just for printing blown-up family portraits (though you can totally go this route if that's your thing). Anything you can print on paper can grace a framed canvas, too—but options we love include:
For the antique lovers – Prints of classic-style oil paintings
For the graphic designers at heart – Canvas prints featuring typography
For the realists – Street photography canvas prints
For the dreamers – Canvas prints with surreal illustrations
#3 Introduce an Industrial Edge with Metal Prints
If reclaimed wood, old metal pipes, and exposed beams fit right into your interior style, consider having your living room art printed on metal. Metal wall art not only adds a tangible edge to your living room decor—it's also ideal for all kinds of artwork, producing sharp details and intense colors.
#4 Come Home to Coziness with Wall Hangings and Tapestries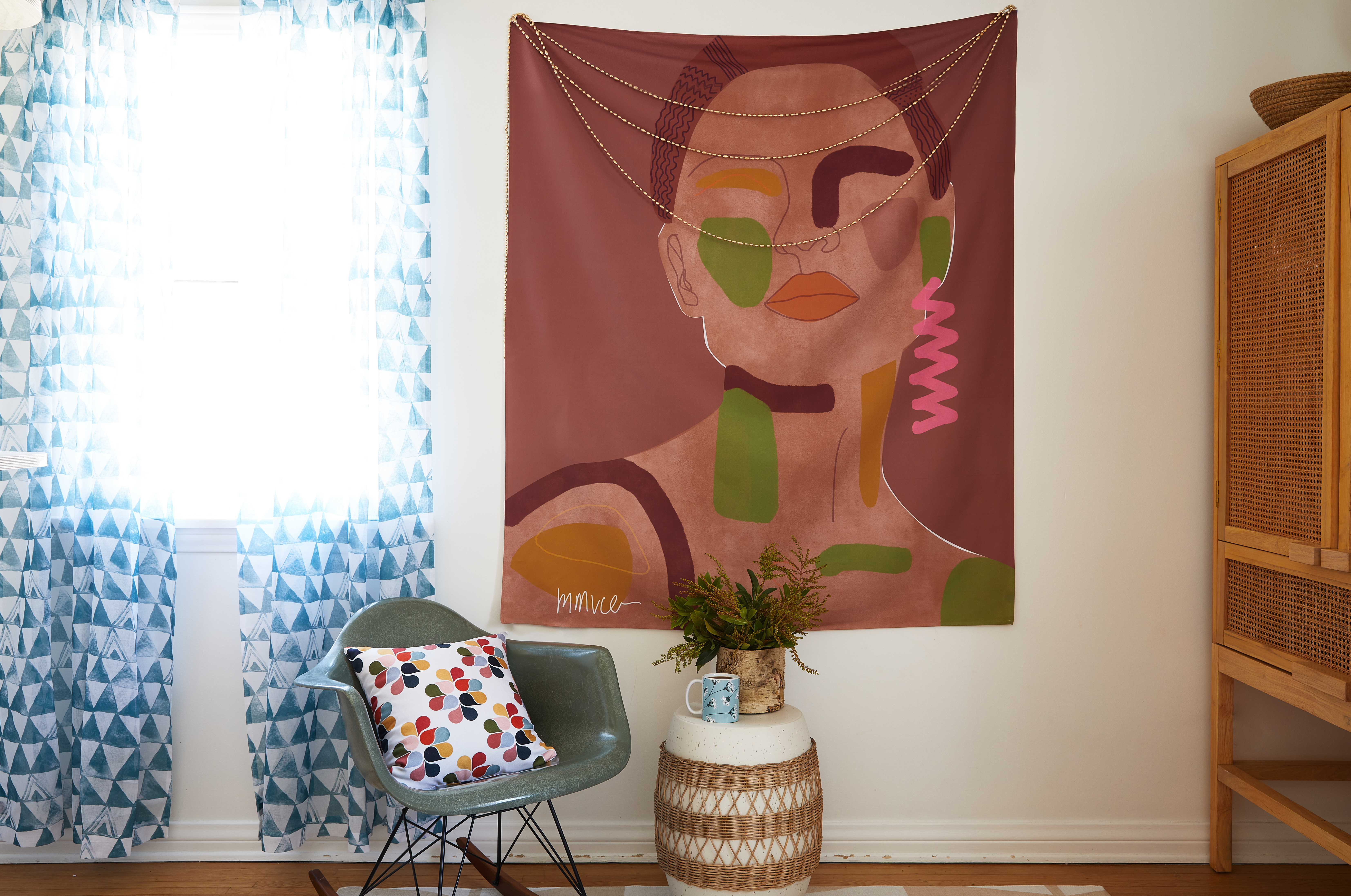 Then again, some of us prefer a little more softness in our living room spaces. For a cozier vibe, you can't go wrong with wall hangings or wall tapestries. Because they're made of fabric, textile art can feel a little more dynamic than art on paper or canvas, creating a sense of movement in your living room. Plus, they're spectacular for filling large wall areas.
#5 Fill Your Space with Murals
Have a large, gaping wall and just can't decide what to do with it? While you could fill the wall with art, you could also make the wall the art itself.
Murals are an excellent way to fill and decorate a large wall space with color and visual interest from floor to ceiling. And you don't even have to break out the paintbrushes. These days, you can find removable, easy-to-install murals that come in multiple panels that you simply peel and stick to your wall.
#6 Create a Mosaic with Wood Wall Art
You might imagine your living room decor as a collection of individual pieces whose shape is defined from the moment you purchase it. But what if the pieces of your decor were a little more moveable with wood wall art?
With a design printed on multiple pieces of wood, you're free to move, mix, and match the pieces of your artwork as you see fit—spacing it out over a larger area or even arranging them in between other pieces. With this wall decor idea, you become the mosaic master.
#7 Try Floating Acrylic Prints for Something Contemporary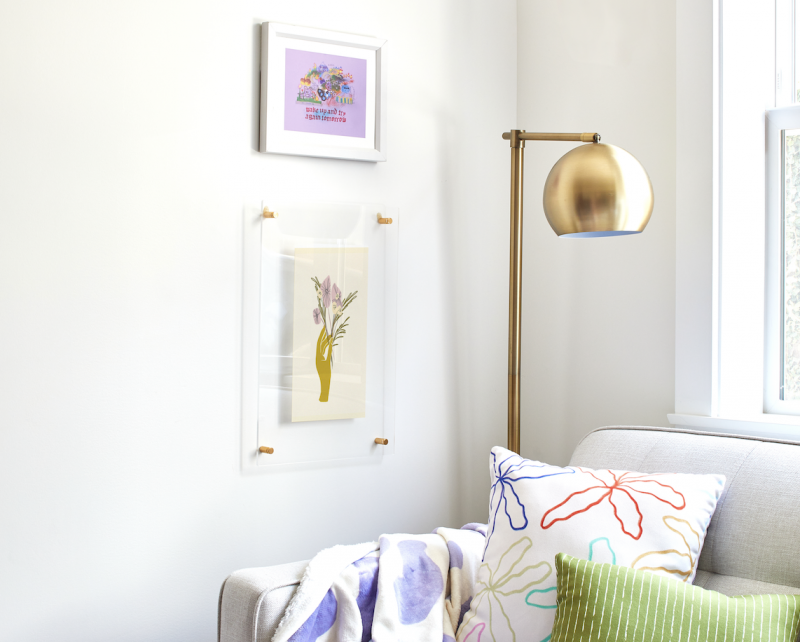 Do you head straight for the modern and contemporary section of every museum? Do you long for a form of living room wall art that's a little more sleek and refined? It's time you met floating acrylic framed prints.
Fitting right in with sleek modern furniture and abstract coffee tables, your artwork of choice is printed directly on acrylic, with a flat area of transparent acrylic framing the piece around it. It's the perfect way to display your decor with depth and a unique presentation.
The G.O.A.T. of Wall Decor: The Gallery Wall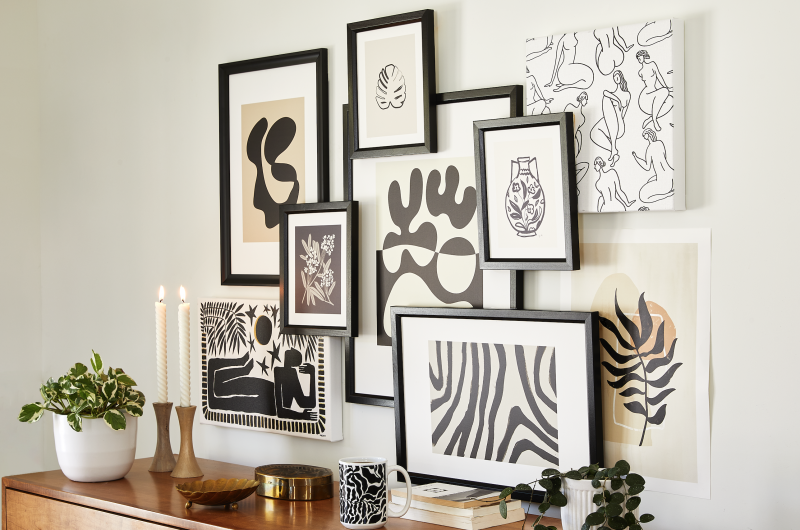 Ah, the gallery wall: eclectic, sophisticated, rustic… whatever your personal vibe is, you can arrange a gallery wall that echoes it. And gallery walls aren't difficult to create—in fact, you can make your own using the following tips.
#8 Start With a Plan
To avoid putting too many unnecessary holes in your wall, it's a good idea to plot out where you'd like your art to go. This can be especially true if you're trying to decide between different wall art sizes and shapes. You can do this in a few different ways. The first step is to measure the space on your wall where you'd like to put your art. Then, you have three options for arranging:
Tape out that measurement on your floor – Once this is done, place your art pieces in the taped-off area to determine how you'd like them arranged on your wall. Don't be afraid to play around with different organizations and find out what looks best. Pro tip: a good rule of thumb is to include three inches in between your pieces.
Use a large paper stencil – If you have access to a large piece of paper, cut out a piece that is the same size as your intended gallery wall area. Lay that on your floor, play around with arrangements, and once you've decided on a layout, trace the outlines of your frames onto the paper and place it directly on your wall. This is an efficient option because you can nail directly through the paper and easily tear it off.
Make cardboard replicas of your art's sizes – Tape off the area on your wall that you'd like to be your gallery wall, stencil out your art pieces onto cardboard, cut out those cardboard pieces, and arrange them how you'd like directly on the wall.
Whichever way you choose to arrange it, make sure to snap a photo of your final arrangement before getting to the nailing part, as a backup.
#9 Go Big First
Place the biggest piece on your wall and build around it. You can place a large art piece in the outer corner of your gallery wall, or just off-center. If you have more than one large piece, you can place them in multiple outer corners, and if you're choosing to place them near the middle, arrange them diagonally from each other.
Starting with the big pieces allows you to organize your medium- and small-sized pieces around them. This style of arrangement helps the eye travel around the gallery wall vs. being drawn to one spot.
#10 Don't Be Afraid to Be Hyper-Personal
Not all your gallery wall artwork has to be art. The key to many gallery wall ideas is a personal touch. If you have a drawing, a note, a photo strip, a flag, a sculpture piece, or even an email that's special to you, hang it up on your wall. These personal items will add visual intrigue to your gallery wall and make you feel even more at home in your space.
#11 Stay Cohesive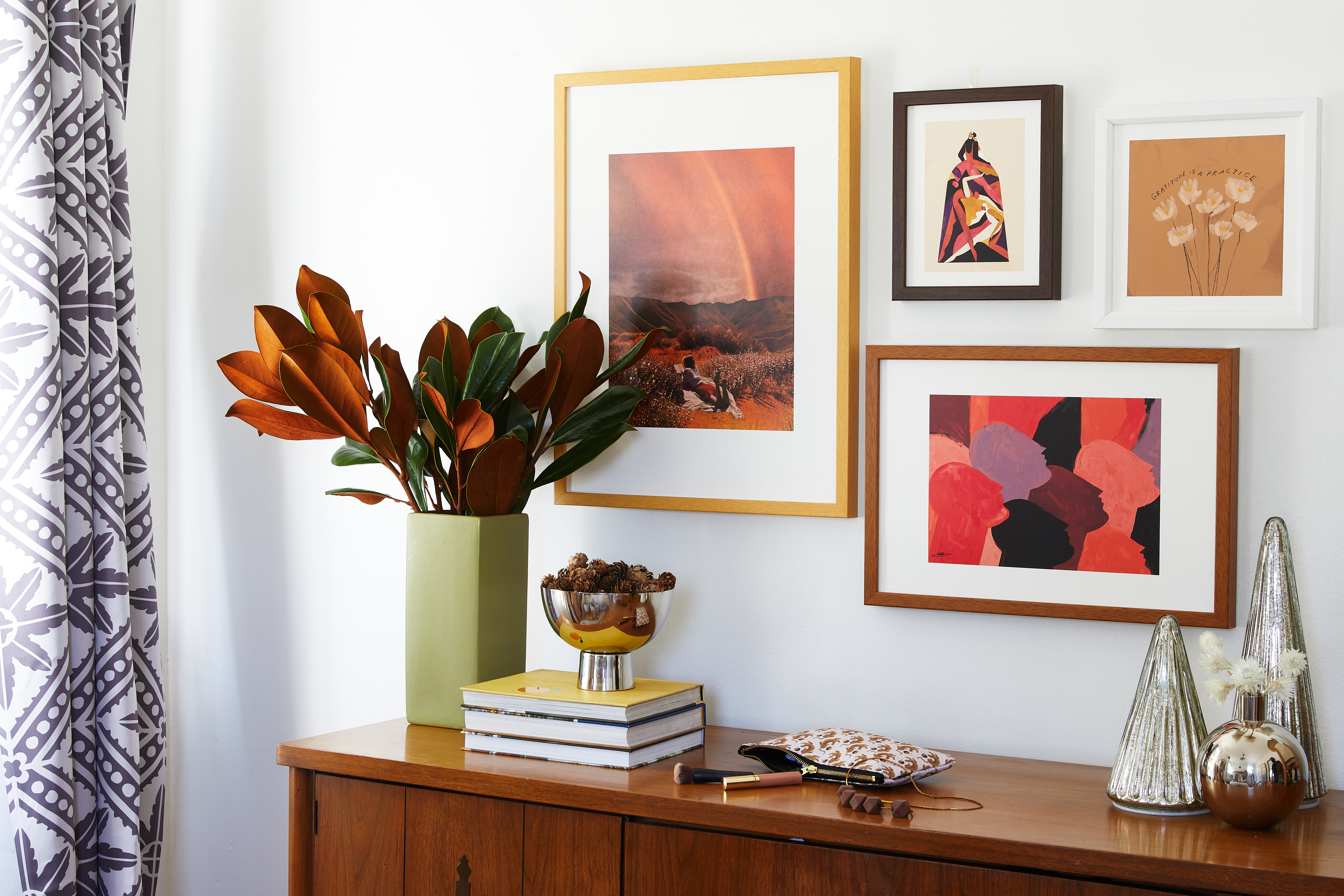 When you're combining multiple pieces on a wall, aim to find pieces whose color palettes or art styles feel cohesive. The best way to do this is by ensuring the same colors or styles can be seen on your gallery wall at least 2–3 times.
#12 Don't Go Strictly Portrait or Landscape (AKA, Vertical or Horizontal)
You may think that your wall hanging art has to all be either hot-dog- or hamburger-oriented, but that's not the case! Mixing your horizontally aligned pieces with your vertically aligned pieces adds appeal to your gallery wall.
Add in Complimenting Home Decor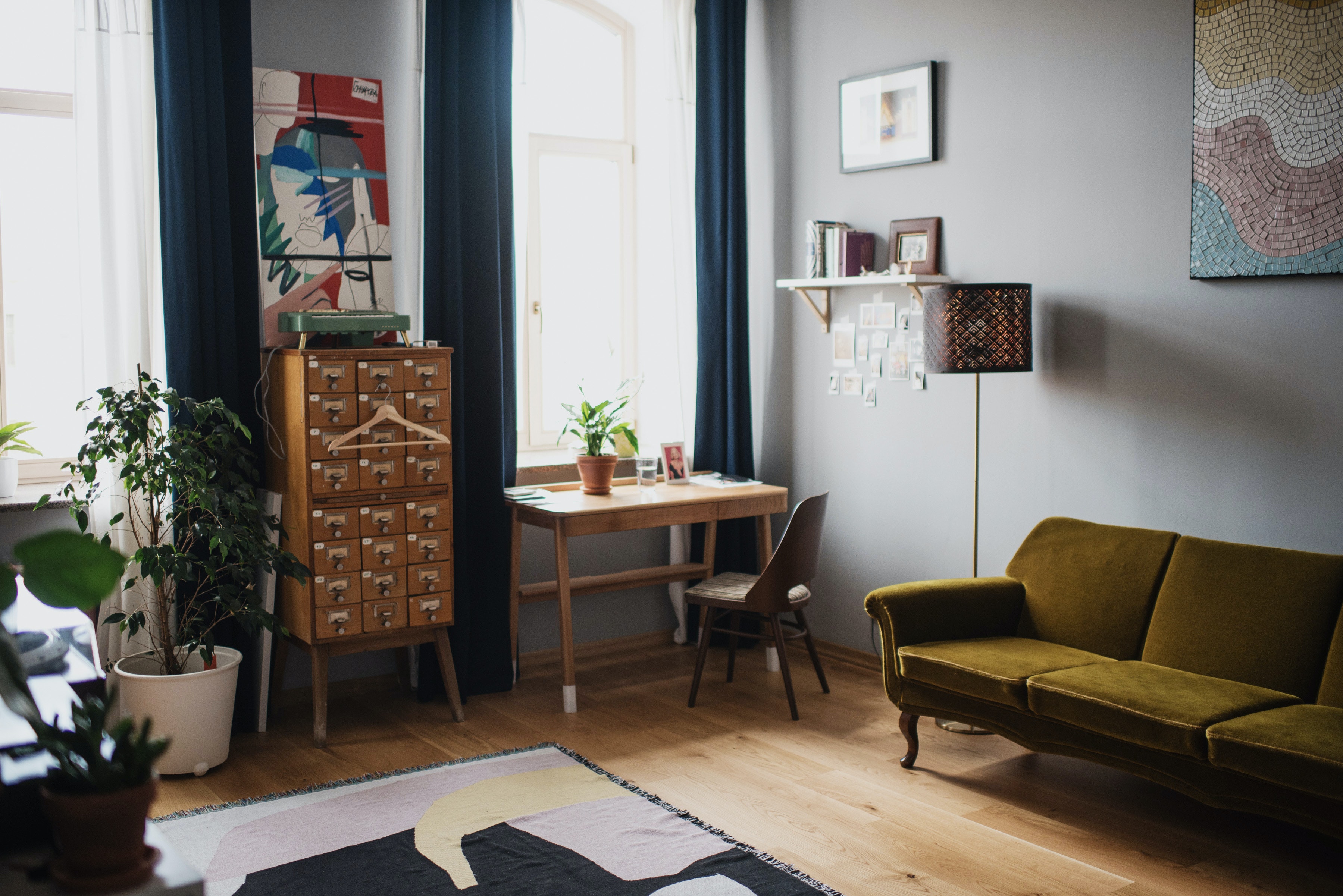 Art prints and gallery walls are wonderful living room decor ideas that can make your space or a bare wall more visually engaging. But they're not the only living room decor out there. Let's look into some additional wall ideas that can complement artwork.
#13 Play With Mirrors and Lighting
If you're working with limited space, make it more engaging with lighting and mirrors. Adding mirrors to your walls can make a space seem both larger and brighter, and you can further illuminate your space by placing lighting fixtures above your art pieces or sconces in between them.
#14 Make It Personal
We briefly mentioned ways to make your gallery wall personal, but if you want your whole living room wall to be photos of people, places, and things you love, we say go for it. Add an aerial shot of your favorite beach or print out black and white photos from your wedding for a cohesive look.
#15 Bring the Outside In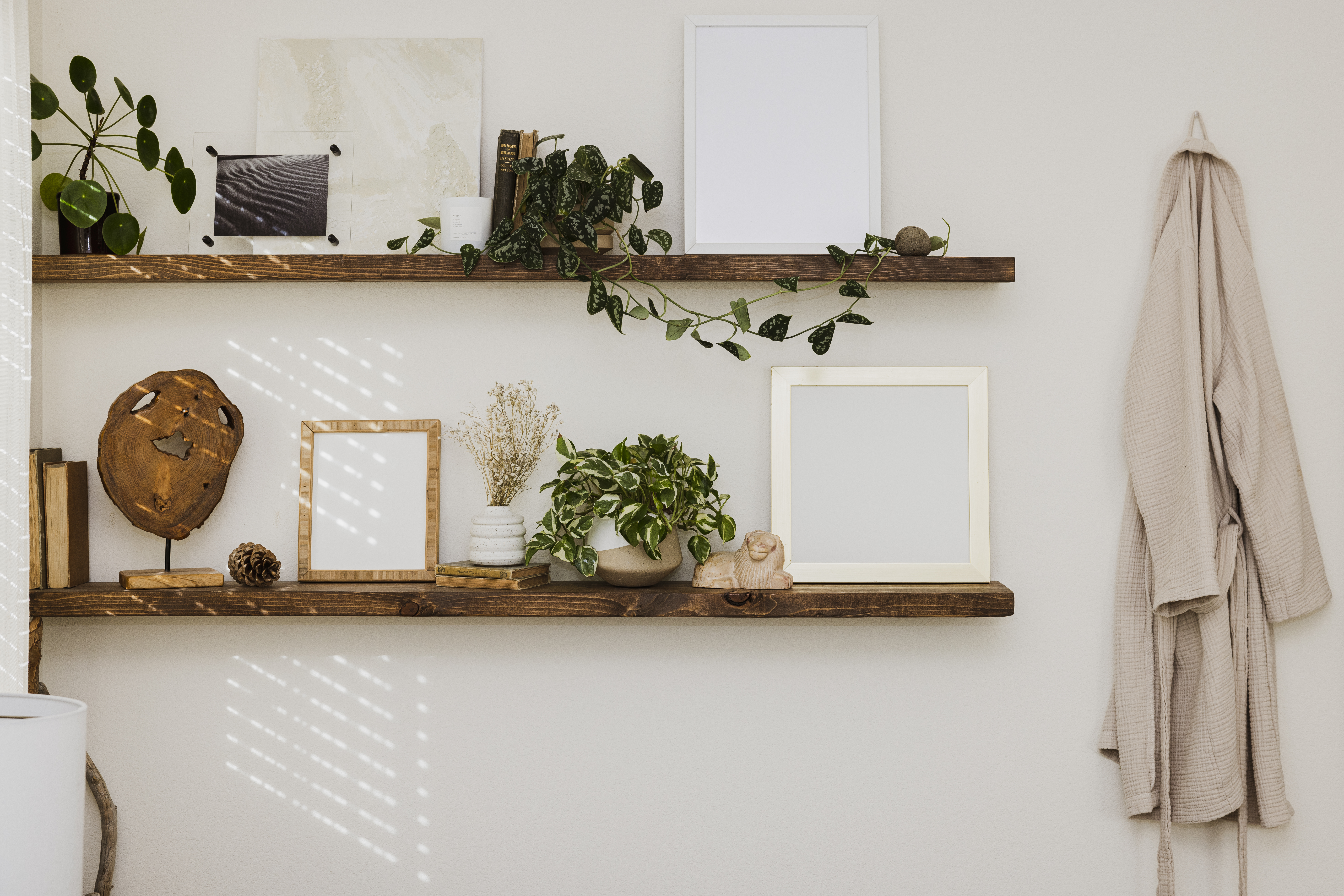 Does nature feel more like home to you than the indoors? If so, bring the earth inside to your living room. Options to experiment with include:
Setting up a living moss wall (a delightfully low-maintenance textural element)
Hanging small vases and planters to hold stems, dried flowers, and other propagations
Displaying botanical prints
#16 Give Your Trinkets the Spotlight
Hanging shelving, baskets, and other storage structures is a wonderful way to showcase your favorite objects. Books, records, sporting goods, bikes, musical instruments, hats, a prized collection of action figures—whatever your collection is, hanging storage on your living room walls means your room will be both stylish and functional.
#17 Incorporate Wallpaper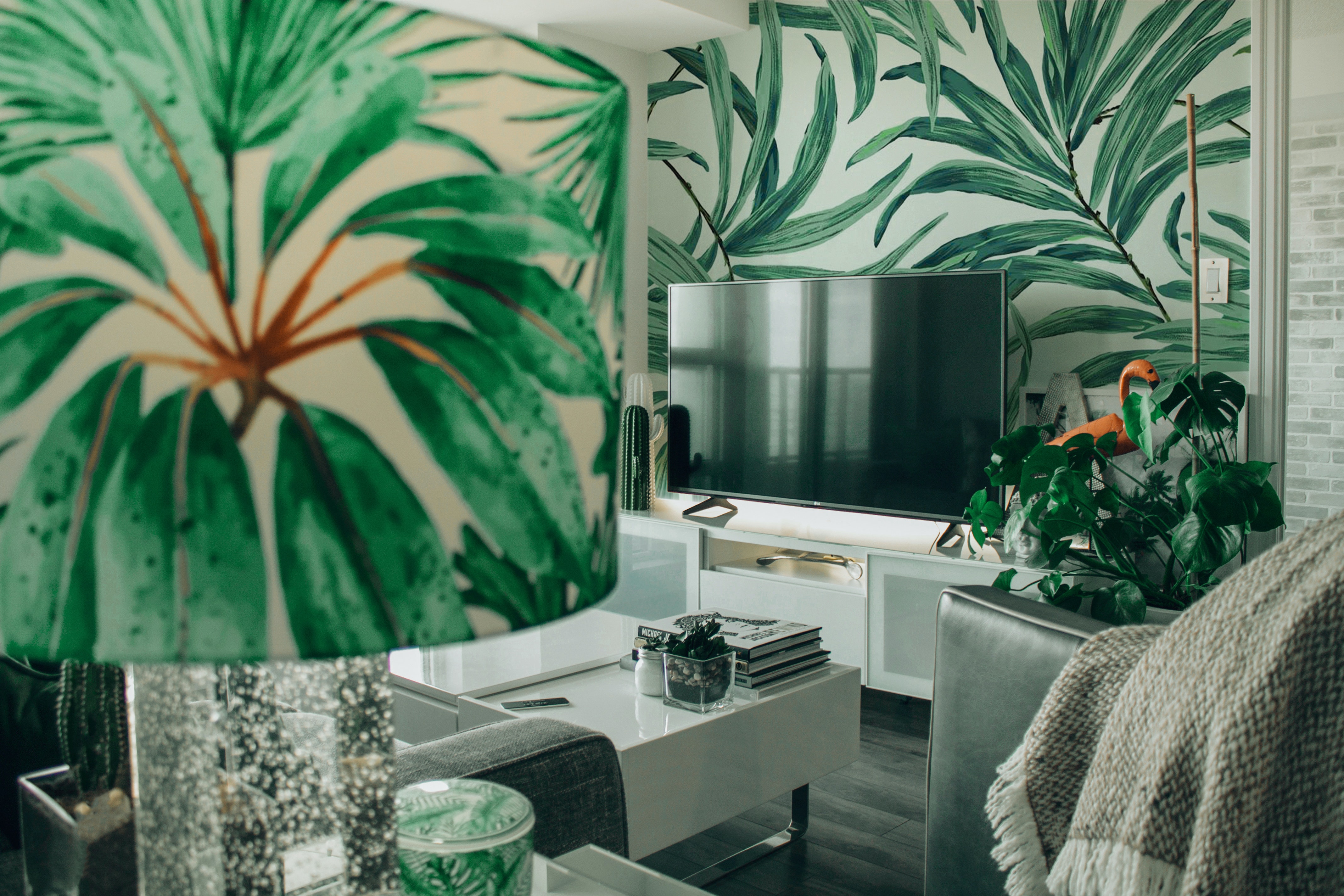 It might sound old-fashioned, but wallpaper is making a comeback with designs and colors that will make you want to frame it. Instead, make your entire wall into art with printed or patterned wallpaper. If you're renting, there are removable wallpaper options that are just as appealing. For an eclectic look, consider layering wallpaper underneath art prints featuring contrasting patterns or images.
#18 Don't Be Afraid to Go 3D
Adding dimension to a room can completely transform it, and there are tons of ways you can do this with your living room walls. Select three-dimensional wood, metal, macrame, or clay art pieces, add texture with tapestries and other textiles. You can even add wooden paneling, like shiplap or wainscoting. Wall sculptures add texture and dimension to an otherwise flat, dry wall.
#19 Try Art that Tells Time
Hear us out: that clock on your wall isn't just for alerting you to the premiere time for your next favorite bingeable series. It can also be a major part of your decor.
While grandfather clocks may fit in with some aesthetics, don't fear if you prefer something a little more modern. These days, you can find customizable wall clocks in contemporary builds that feature artwork of all kinds. To name just a few examples:
#20 Curtains Can Be Decor, Too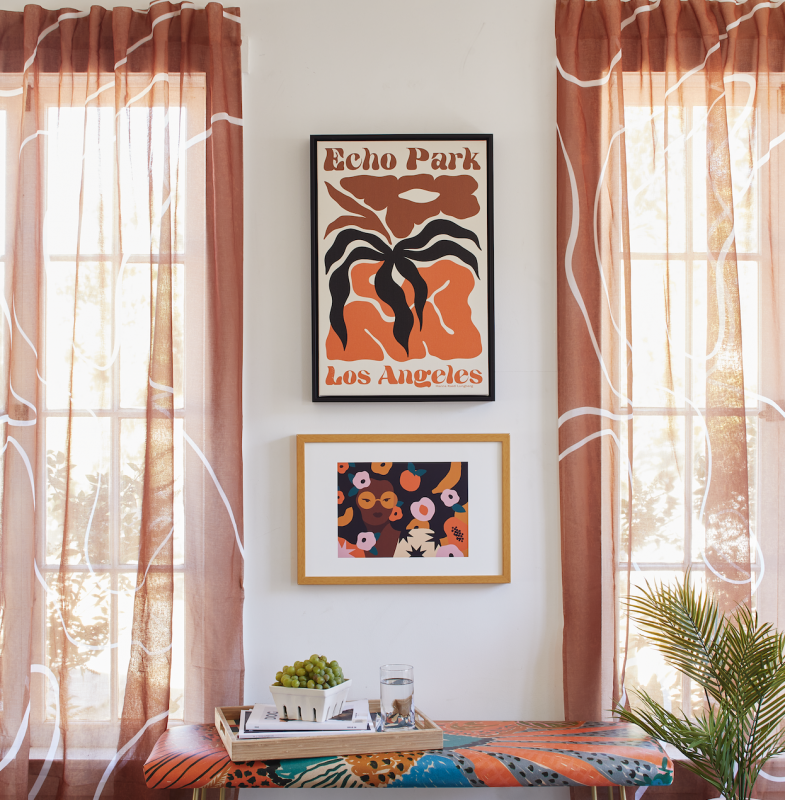 As you choose your living room wall decor, don't forget that your windows are part of the wall, too—and what you hang on them can have just as much of an impact on the mood. Try choosing sheer curtains that coordinate with the colors of other decor. Or, better yet, choose curtains with printed artwork so stunning, they become a statement piece all on their own.
Make Your Living Room Walls Stand Out with Society6
And there you have it: twenty bold, beautiful, and unique ways you can splash some fun on your living room walls. Remember that the key to interior design is to let your sense of personal style shine in a space that's your own—after all, what's more comfortable than being surrounded by the things you love?
Society6 can help you find the next piece with our wide assortment of art prints, home goods, and other accessories that feature the gorgeous art of independent artists. Browse our collections today for your next great find.
Sources:
Studio DIY!. HOW TO MAKE A GALLERY WALL (SELECTING, ARRANGING + LAYOUT IDEAS!). https://studiodiy.com/how-to-make-a-gallery-wall-a-guide-to-selecting-arranging-hanging-art/ 
Style By Emily Henderson. How To Actually Make A Gallery Wall: Our No-Fail Formula We Use Every Time (+ Our Favorite Original Art Resources). https://stylebyemilyhenderson.com/blog/how-to-make-a-gallery-wall