Studios and offices are where the magic happens, but it's too often that there's nothing magical about their design.
Blank walls, boring desks and limited space often leave much to be desired in the decor department, but overdoing it can leave little room for business essentials. Shop owner and stylist Alyssa Lau of New Classics recently put some some roots in a brand new studio space in her home of Edmonton. Here, she gives us some tips on how to personalize a blank space, all the while prepping it for maximum productivity.
In the past two months, my partner, Eric, and I moved New Classics Studios HQ into a larger and whiter studio space, only to realize that we had a lot of empty space. And trust me when I say that I'm not the type of person to keep minimal spaces minimal. I've never really understood how some people are so good at making their spaces look like empty Ikea showrooms while actually living in them. Instead, I'm that girl who truly lives in her spaces, whether that be at home or at work.
So, to make my lived-in messes look more intentional, Eric and I spent hours looking at #InteriorGoals online trying to figure out how to create a workspace that we both wanted to work and live in. And after a few weeks of decorating, we learned that: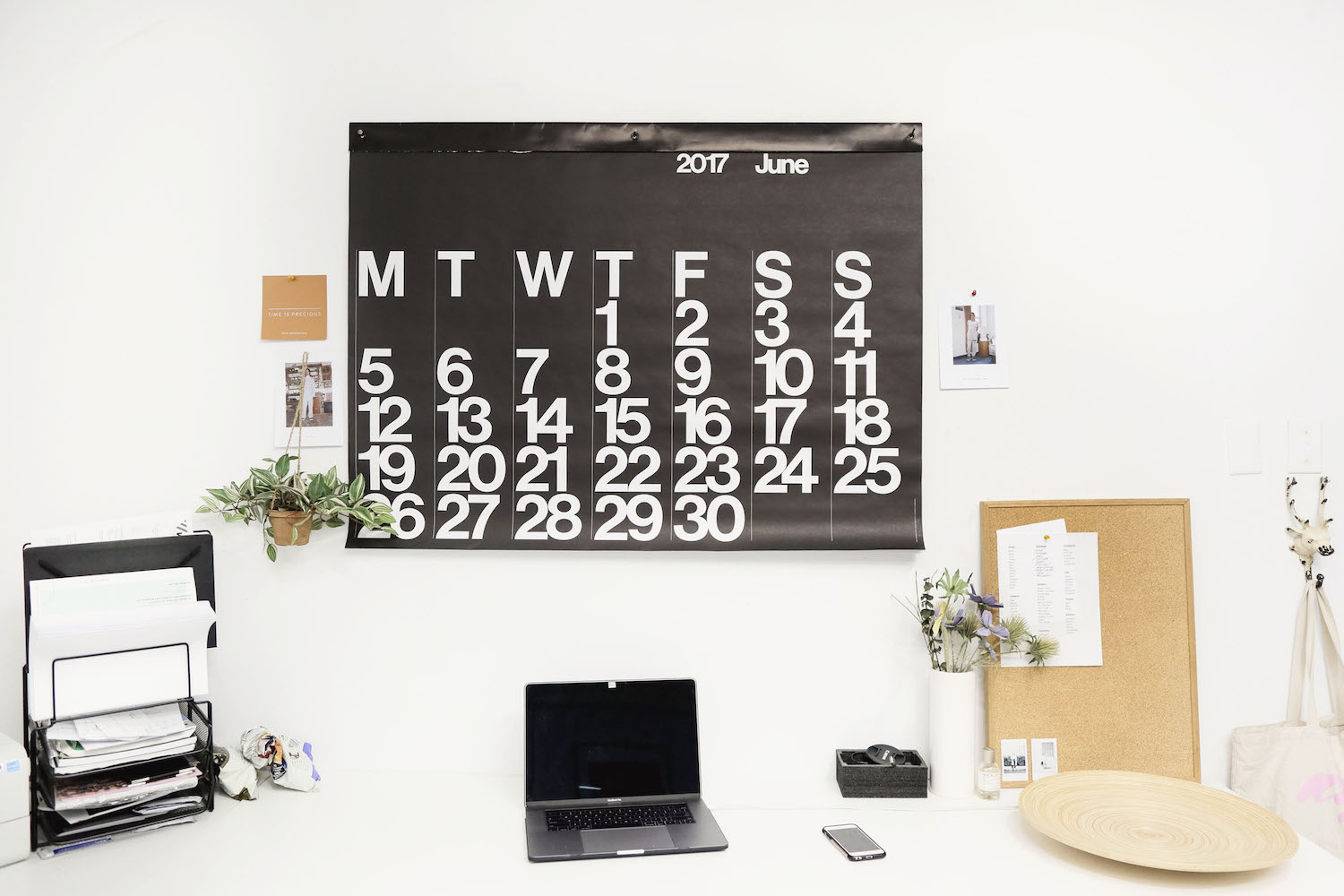 No 1
Buying quirky goods and fake plants at secondhand stores and garage sales is a great and budget-friendly way to fill empty spaces and decorate desks. Eric and I spent one afternoon visiting our local thrift stores only to pick up a handful of fake plants, vases, baskets, a rarely used cork board and some plant holders, while we picked up a ton of quirky decorative goods like a wooden crate and some empty, vintage bottles at garage sales.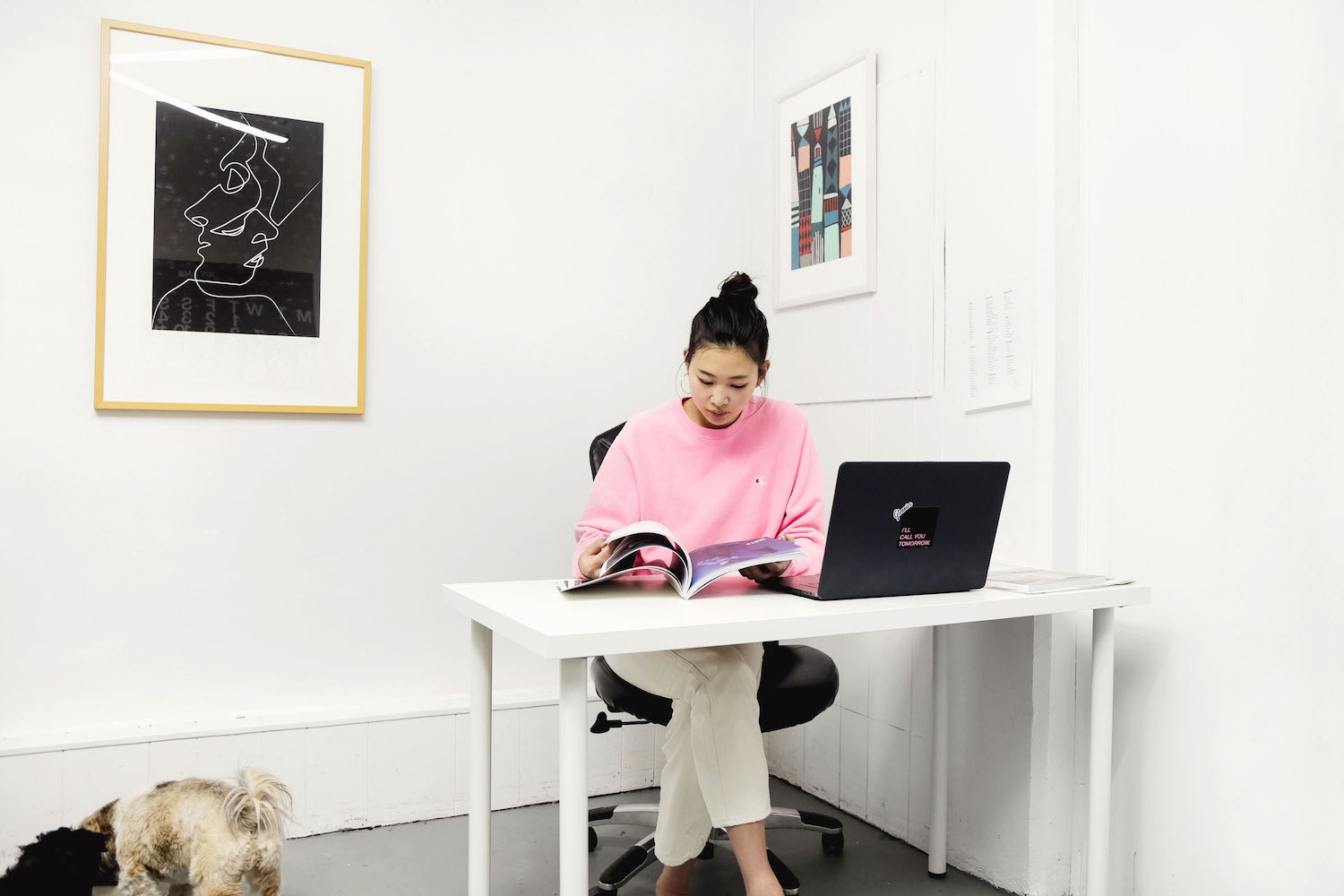 No 2
Framed prints look great anywhere and everywhere and immediately make a space look more inviting.  They're also pretty useful if you need to cover up holes in walls that may have resulted from DIY renovations.
No 3
Printed pillows are a cute way to customize a couch and make a great bed for any studio pups you may have roaming around.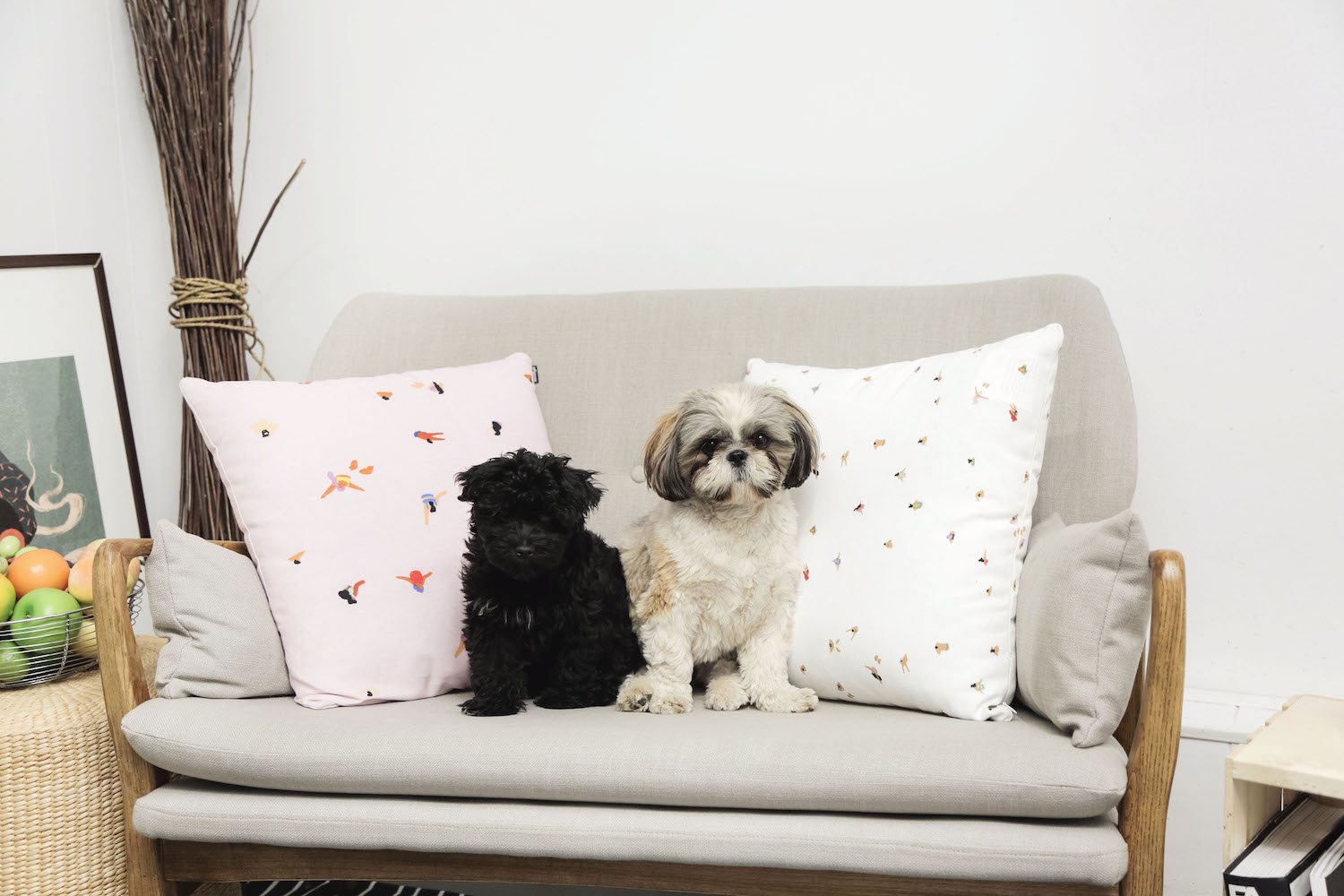 No 4
Adding a rug to a corner instantly makes it cozier for those times when you need a break from work or want to have a quick morning meeting. Plus, although concrete floors look cool—they're not always comfy. A rug will guarantee that you won't get cold feet!
No 5
It's much easier to coordinate and choose prints when you put together a visual mood board. You can hit up Pinterest, make an IRL collage with old magazines and printed imagery or tap S6 for it's ever-helpful collection feature.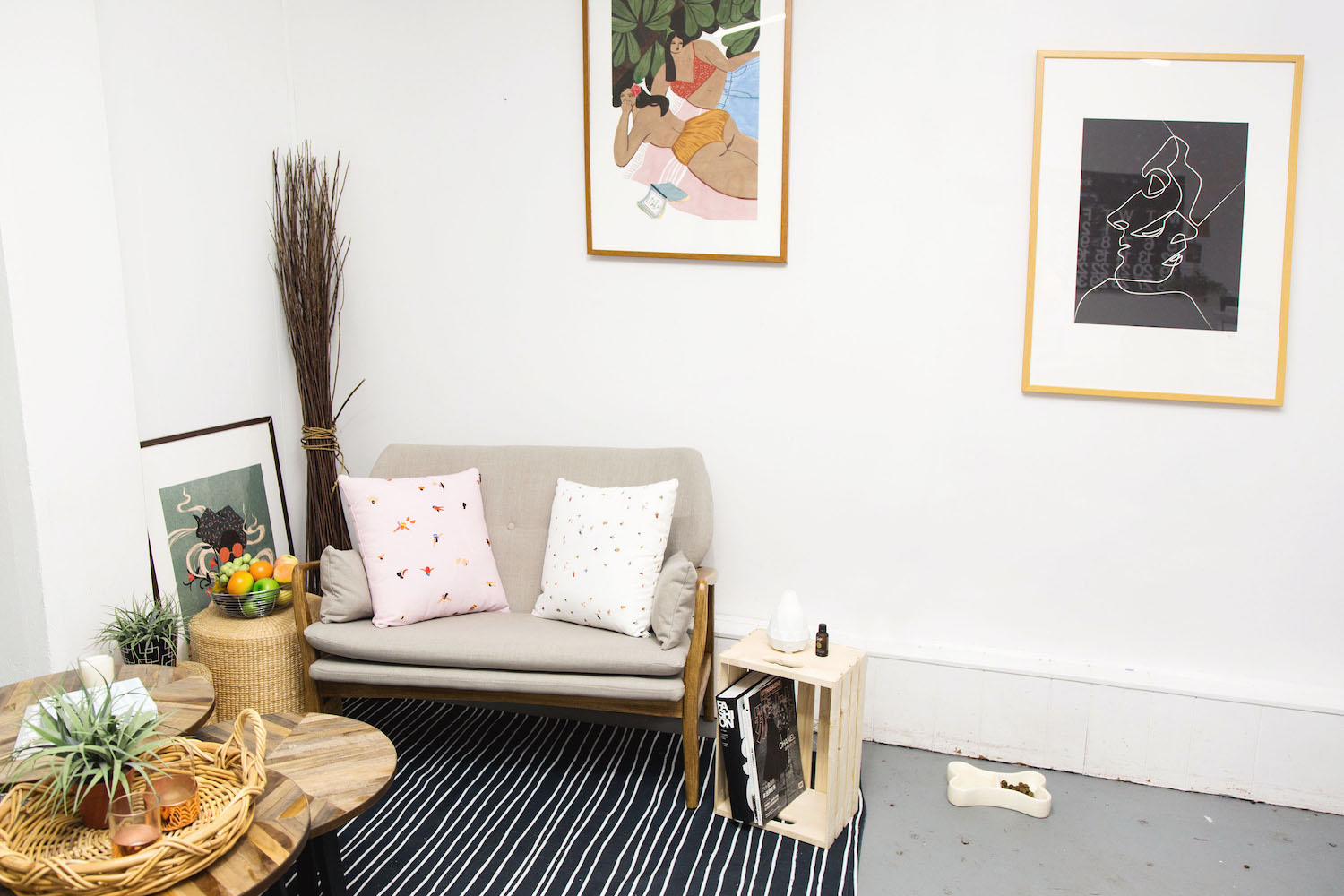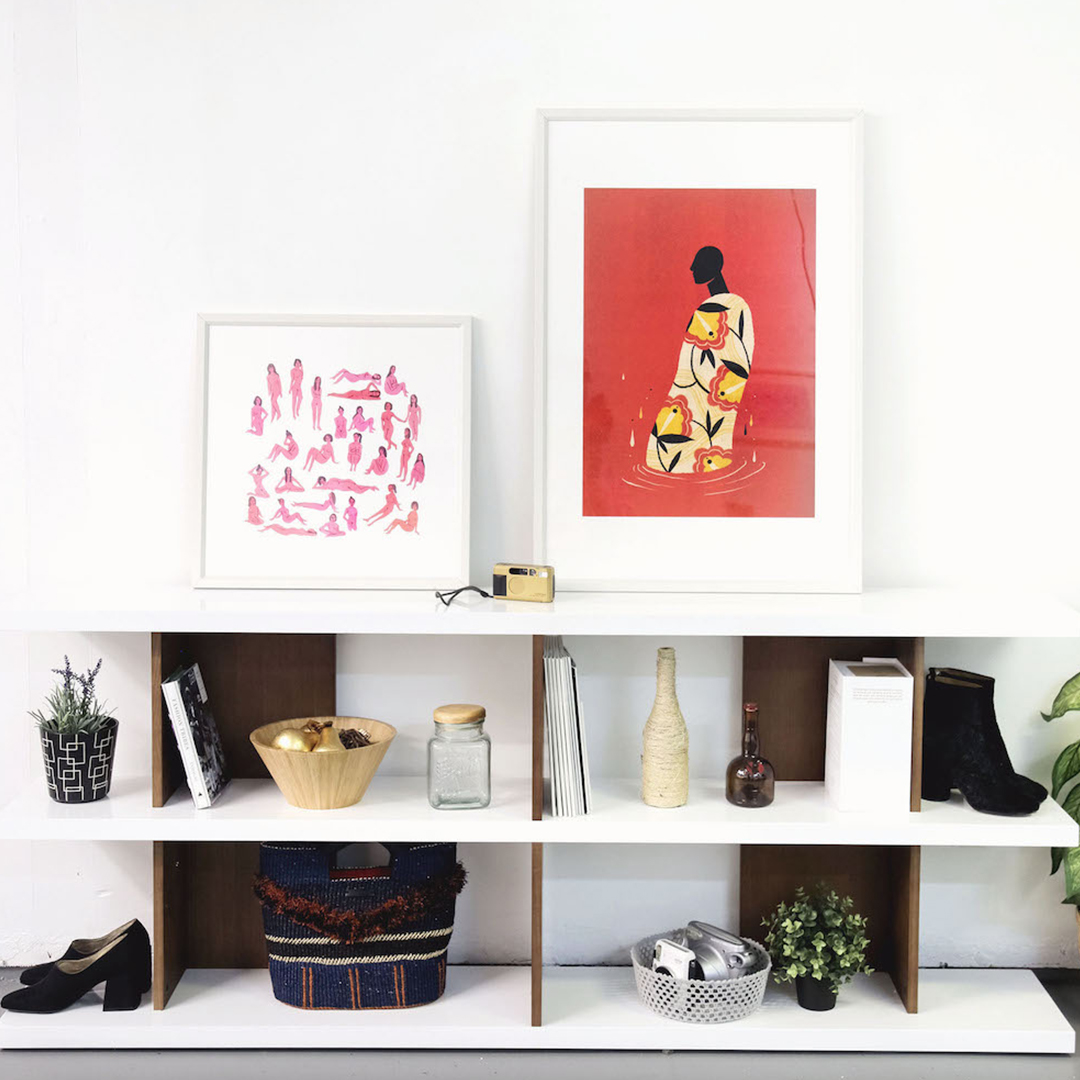 Naked Ladies Framed Print
by Leah Reena Goren
$98.00
Lagoon Framed Print
by Willian Santiago
$140.00
Lines Rug
by Patterns And Textures
$79.00
Kalemba I Framed Art Print
by Willian Santiago
$199.99