Laura Burhenn of The Mynabirds is a woman with so many projects and accolades under her belt that it's no wonder her new record is entitled Be Here Now.
It serves as a needed reminder for the artist/activist who has played with the likes of the Postal Service, Bright Eyes, and of course her own band The Mynabirds, as well as helped found Omaha Girls Rock (a non profit helping to empower girls through music education) and most recently wrote and recorded her latest album in just 2 weeks! Over the years, she's channeled much of her creative energy into creating and performing otherworldly folk and indie music, using her platform as a space to unpack weighty social and political issues.
We hungout with Laura in her seriously magical Echo Park home to find out more about how her spirituality and aestheticism informs much of what she does and who she is.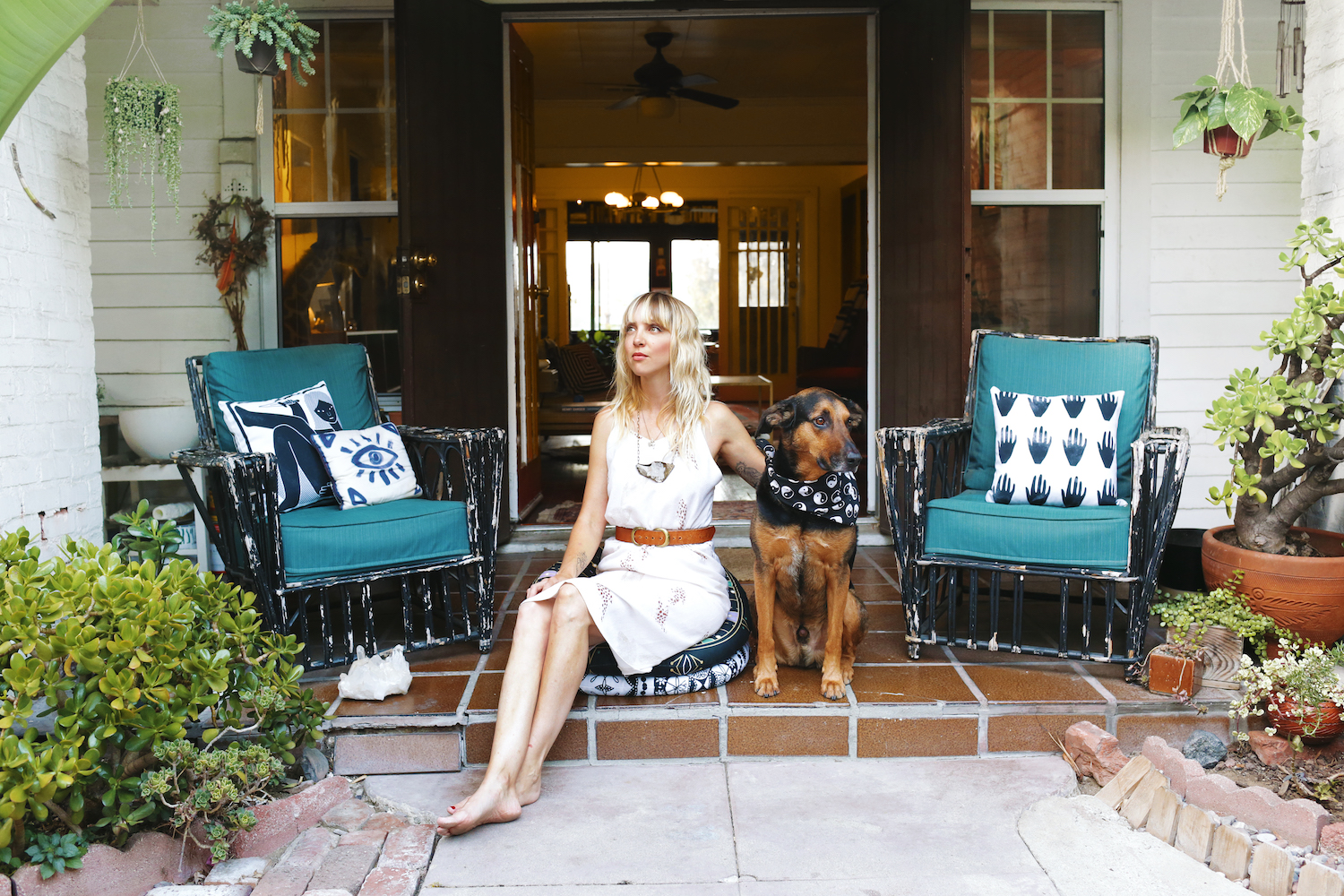 Hi Laura! You've got some music coming out this week, can you tell us a little bit about your new record? What's the vibe/theme of it?
My new album, BE HERE NOW, is coming out on Saddle Creek today— well, at least the first three songs from it are. (I'm releasing 3 songs each month starting today until the album is officially out on August 25th.) In late 2016, my producer friend, Patrick Damphier, found out he was being evicted from his beautiful warehouse studio in Nashville. After the 2016 election, it felt like a metaphor for what was happening in America—we were getting pushed out of this space where we felt safe, where we thought we'd be forever. So I asked Patrick if I could make an album in his space about that feeling, before he had to move out. I went to Nashville right after the Inauguration and the Women's March in January of 2017 and wrote and recorded a whole album in two weeks.
We wrote while reading the headlines in real time, soaking up all the social media feeds, in what I'm calling "Emotional Journalism." I wanted to be a conduit for how everyone was feeling in that tumultuous time, and it was incredibly tumultuous. There are saw toothed anger anthems, there's a song for refugees, which I sang with a choir of refugees (from Africa that have resettled in Omaha, Nebraska) and there are sweet dance pop songs, like "Cocoon," the first single, which is about tuning out all of the news completely and just feeling safe with the people you love. It's pretty political and emotionally all over the place, which I think mirrors what's happening in the American collective consciousness right now. I wanted to get the album out quickly, because I worried (and hoped!) it wouldn't be relevant 3 months from when we recorded it. But things seem to be getting weirder every day. So hopefully this will feel like an emotional release for everyone who listens—I'm pretty sure that making this record is the only way I didn't have a breakdown myself.
When we first talked about doing a feature on you, you joked about leaning into that whole 'Silver Lake Shaman' phenomenon that's happening right now, for real though, can you tell us about how health/wellness/spirituality play into your life, and even maybe your work?
I grew up in a very conservative Christian environment, going to church 3 or 4 times a week, where everything that happened had some spiritual divination attached to it. When I moved away from that in my teens, I started studying world religions and different practices of spirituality, eventually getting pretty deep into Zen Buddhism. I read and listen to a lot of Pema Chodron, especially on the road when I need to find my center and some peace with the groundlessness and constant change; the only constant in life IS change, as the Buddhists remind us. I think my own spiritual journey mirrors the journey of a whole generation—people who see truth in many spiritual traditions and want to make space in their daily lives to create their own meaning without being judgmental or hurtful to anyone else. So I do a lot of tarot readings for myself and my friends, I think it's a great mirror into our subconscious minds and a way to reframe our perspectives, see ourselves and our troubles from new angles.
As far as how that affects my music, I think I write music for many parts of life—dance songs, songs of healing, songs of indulgence and love. My new album is called "BE HERE NOW," which is borrowed from Ram Dass, and a reminder that despite the emotional rollercoaster we're collectively on right now, no feeling is final.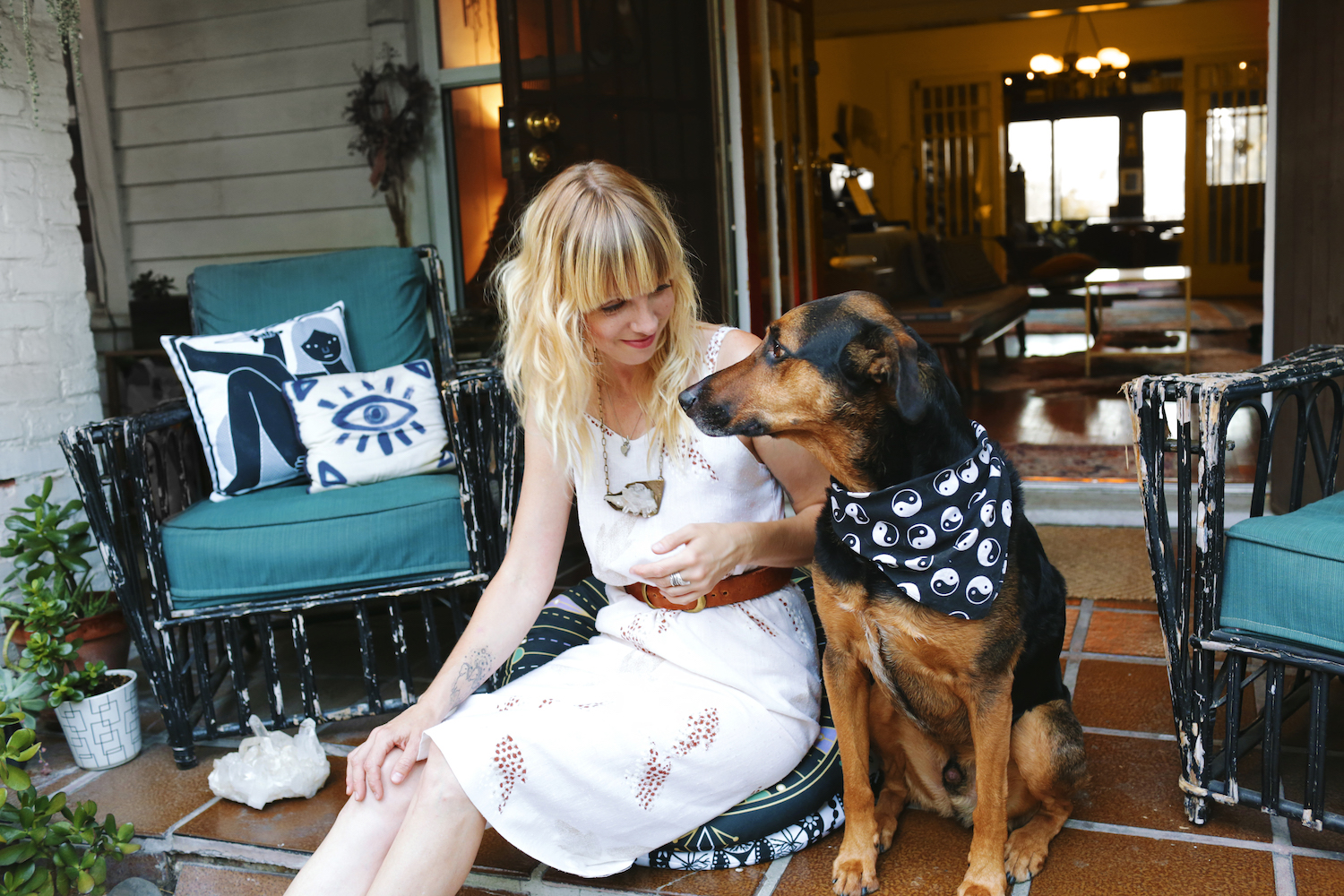 Your space feels like a legit artist retreat, how did you approach decorating it? What are some design/decor tips you've picked up while decorating your home?
Thank you! I've always had a dream of building an artist retreat, and I'm glad that it works out that space is in my own home for now. I'm lucky to live in a dreamy house in Echo Park with musicians and artists coming to stay with me for little stints, working on videos, screenplays, songs and albums, with two of my best friends (a musician and ceramicist/chef respectively), their son and a magical garden downstairs.
When I moved to LA three years ago, I had nothing—just some keyboards, my dog, Charlie, and a suitcase, and not much of a budget to spend on decor. Luckily I love to thrift, scour yard sales, flea markets and Craigslist, and I always try to pick up treasures on the road when I'm touring. My home is a weird collection of found objects and things that are special to me: a rabbit pelt given to me by my great aunt who bought it from a Native American man who also hand-whittled a flute for me or the crocheted hanging plant made by my friend Jimmy Tamborello (who I toured with in the Postal Service).
My dad was an engineer on a ship and traveled around the world, and those are the pieces I remember loving as a kid: the hand-carved coffee table from India, the rugs from Morocco, the Delft tiles from the Netherlands, the brass platters from Egypt. I have quite a collection of that stuff around. I like to feel surrounded by other people's good energy, and I think that comes across in the pieces I have in my home.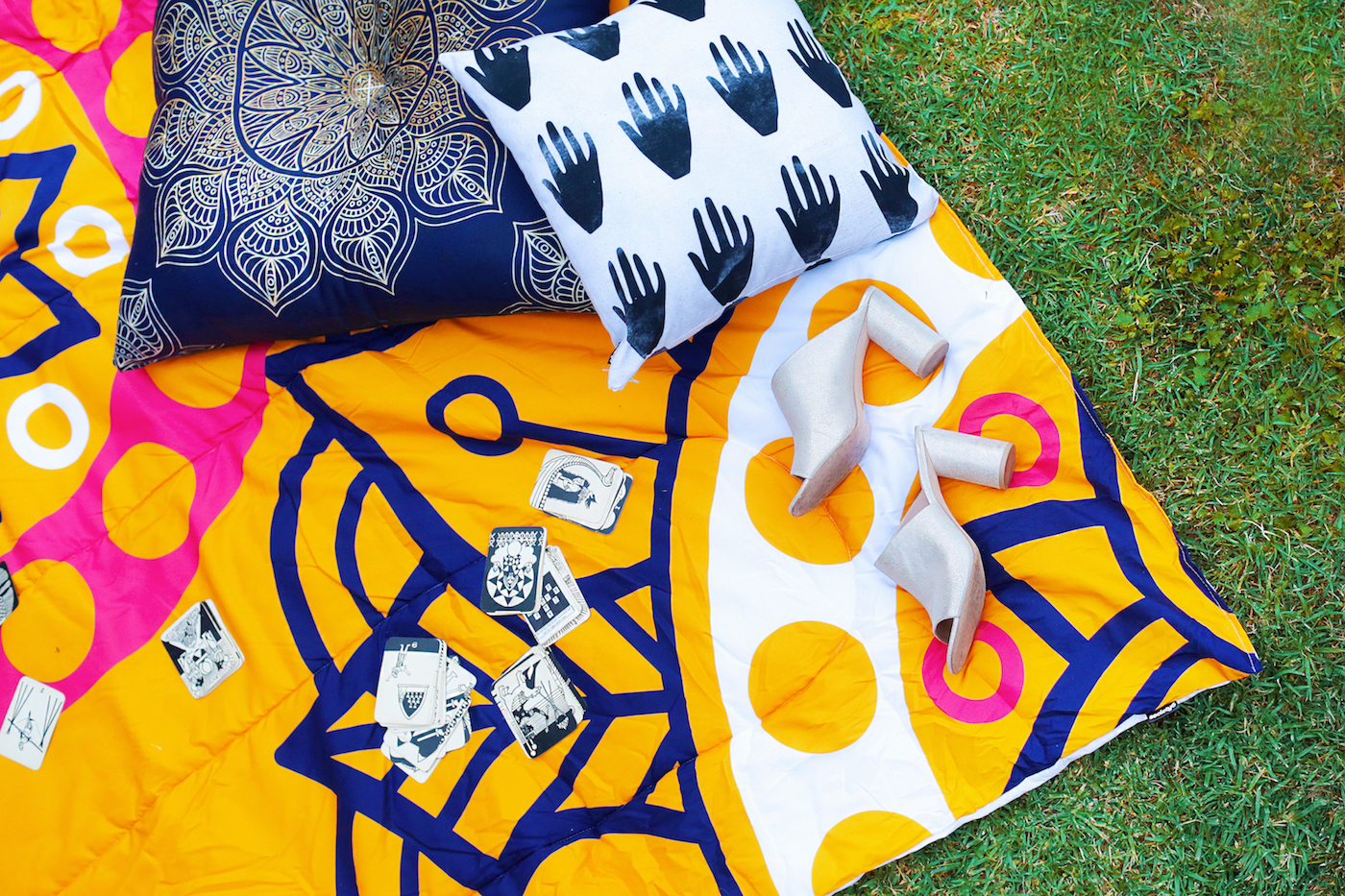 I've always known you to be a fixture in the female creative community in LA, how important are your female friendships?  
I could not survive without my women friends. As a kid I was more of tomboy and felt much more comfortable around boys, but when I moved to Omaha, Nebraska in 2009 I really started to understand the golden weight of having a strong community of women around me. I did my New Revolutionists portrait project and TEDX talk in 2012 as an homage to the incredible women I'd met in Omaha and beyond. I'm so lucky I've been able to find that kind of community so easily in LA. I was definitely nervous moving into a city that, from the outside, doesn't have the best reputation for being a healthy, supportive place. However, I've found that LA is surprisingly one of the MOST supportive cities and I've found there is an incredible group of women and trans women who have each other's backs. It's especially helpful when the "Handmaid's Tale" feels too close for comfort these days.
You travel a lot as an artist, how do you recreate that sense of home wherever you go?
I'm a true Taurus, so having a physical "home" space is really important to me. I'll pick an Airbnb over a hotel whenever I can on the road. But traveling is where my Zen work comes in, practicing the idea that home is a mindset. Meditating helps, as does a visit to an art museum in a new city. Oh, and old friends! Friends help me recreate home in every city. Catching up with old friends over wine or coffee is like coming home every single time, no matter where I am.
After watching a few of your music videos it's pretty obvious that you have a strong eye for aesthetics and the visual elements that complement your music, there's definitely a cinematic feel to it, can you talk about your role in bringing that vision to life? Also, what's up with that new music video you shot last week? When can we see it?
I love making music videos! I'm a very visual artist; even a lot of my songs are based in visual imagery, telling stories as I see them unfold in my mind's eye. Last week I shot 3 music videos in 2 days, which felt appropriate given that the album was written and recorded in just 2 weeks. The first two videos were directed by Jason Lester and will be out in July and August respectively. The funny thing about both of those is that I had them in my mind, exactly as they turned out, when I was writing the songs. It's incredible to me that Jason was able to get inside my mind and recreate those visions I had perfectly. Either I could see the future when I was writing, or he's just that great of a listener. Either way, I'm excited to share them.
Next Thursday, I'll be releasing another video by Lavinia Jones Wright, which we made in conjunction with Future Eyes during the super bloom in the spring. I wanted something that perfectly captured the feeling of "Cocoon," the first single off the new album, which is about turning off all the news and feeling safe with someone you love even as the sky is falling. She really caught it so beautifully, and we were lucky to work with my friend Jaime O'Bradovich to color it, who is usually off doing really impressive work for people like Beyonce and Kendrick Lamar.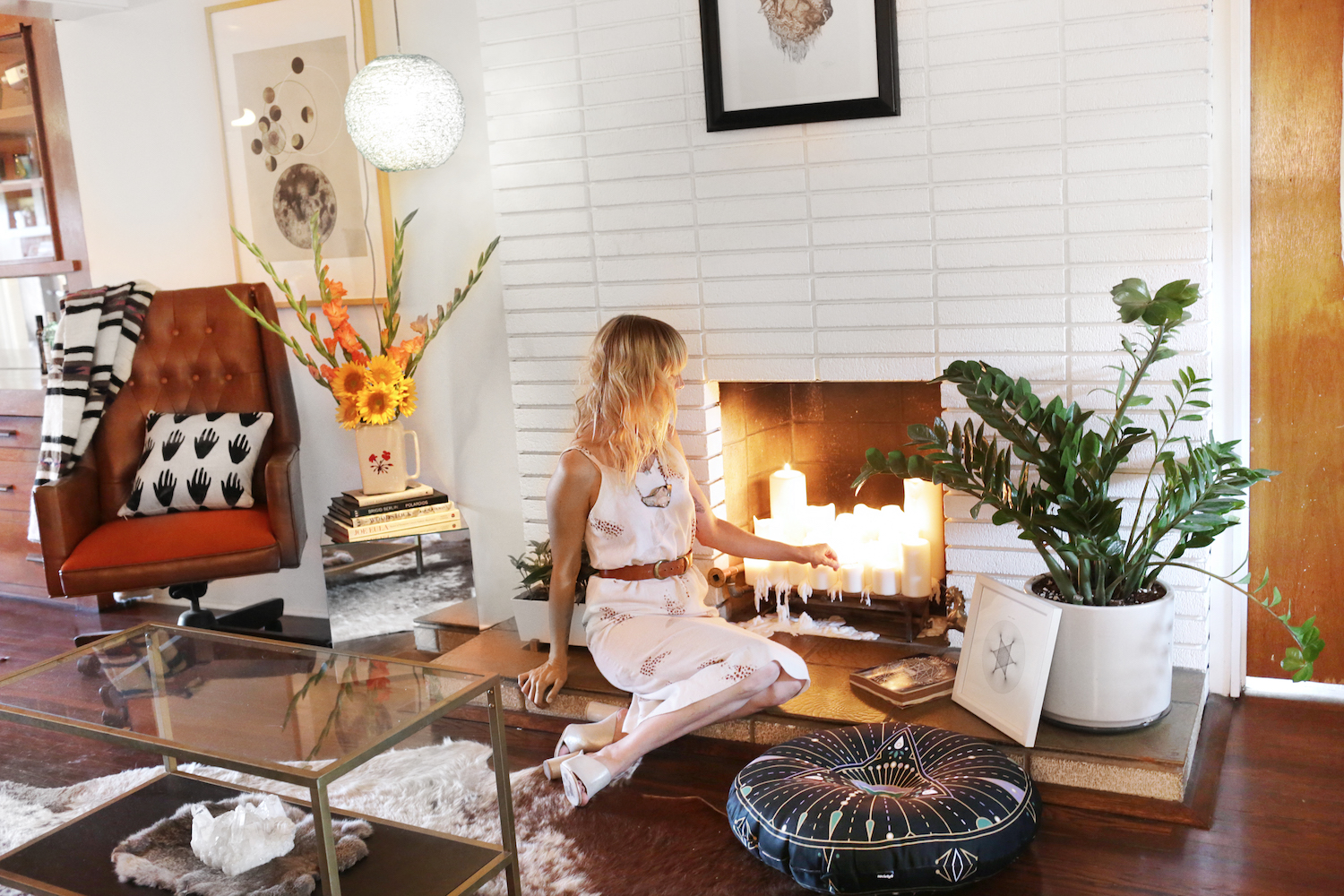 Ok, so your style game is strong, I feel like you can pull off pretty much anything. How did you cultivate that? Is your on-stage style different from day to day?
First of all, thanks. I like to say that consistency is overrated—I was a kid who never wore anything when I was supposed to. The second I got my ballet slippers for dance class, I wore them around the farm I grew up on until they were mud-covered and full of holes. I always loved a good pair of combat boots with a dress, and I have really fond memories of going to a matinee movie with one of my best friends in high school in prom dresses, just for fun. Jumpsuits are my staple favorite these days, denim especially. But I'll gladly wear gold boots out on a Tuesday night hike if that's what I'm feeling. I feel uncomfortable wearing all new or all vintage at once, and try to mix and match pieces, which is very much in line with the way my home is decorated.
On stage I've been lucky to collaborate with some great designer friends of mine. Emma Erickson (from Omaha) has designed and made my stage clothes for the last two album cycles. And I've proudly worn these powerful crystal necklaces my sculptor friend Debra Baxter (from Santa Fe) has made.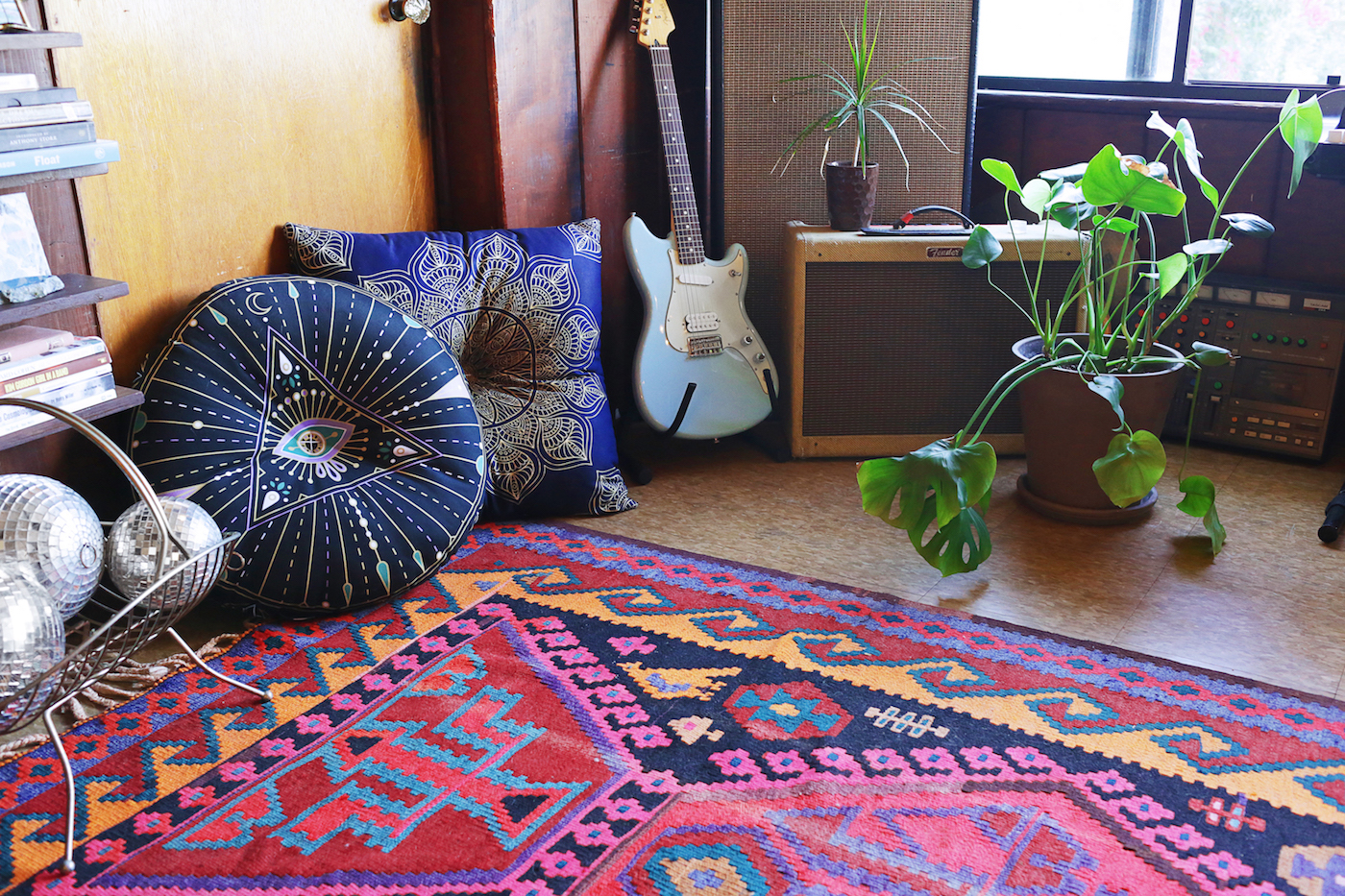 Your previous work has been pretty politically-charged, are you doubling down on that in light of today's current political climate? / What role do you see artists playing as voices/advocates for social issues?
This new album is decidedly political. I vacillate back and forth between wanting to jump in the fray and tear somebody's throat out for trying to take rights away from LGBTQ friends, for continuing to acquit cops for murdering black people, for trying to take away healthcare from the poor and most vulnerable, to wanting to just tune it out, turn it off, and check out. But it would be very privileged of me to do the latter, so I've got to speak up, use my voice however I can.
When I'm feeling exhausted by it all, I try to remember that when someone sings along with me, we're doing important work together. I've been lucky to sing at some incredible rallies recently: the Standing Rock rally in LA, a benefit for the ACLU and I even got to sing "This Land is Your Land" with Bernie Sanders in Omaha in April. I'm proud to do that work and be a part of these movements. But at the same time, I'm also proud to have someone play my songs in their headphones and hope that when I sing for someone else, they feel empowered and supported. Sometimes the biggest, most important work we can do is one on one, reminding each other that we matter, that we are loved, and that we must keep going, together.
What are your plans for the new record? Are you headed out on the road at all?
I'm having an album release show/party in LA at the Bootleg Theatre on August 25th and I'll likely be touring North America this fall and into next year, but the touring shows are TBD. I'll be releasing a bunch more videos, including a mini-documentary on how the song "Hold On" (the song I wrote for refugees) came to be and I'll be doing some Facebook Live events nearly every Friday from today through September. I'll be playing some songs live and having conversations with friends in my living room about politics and life. I'm really excited to try some new things with this album. There's so much uncertainty in the world — from the music industry to American and global politics, it's important to come together and just be present in one place for a few minutes. You know, just trying to BE HERE NOW. 😉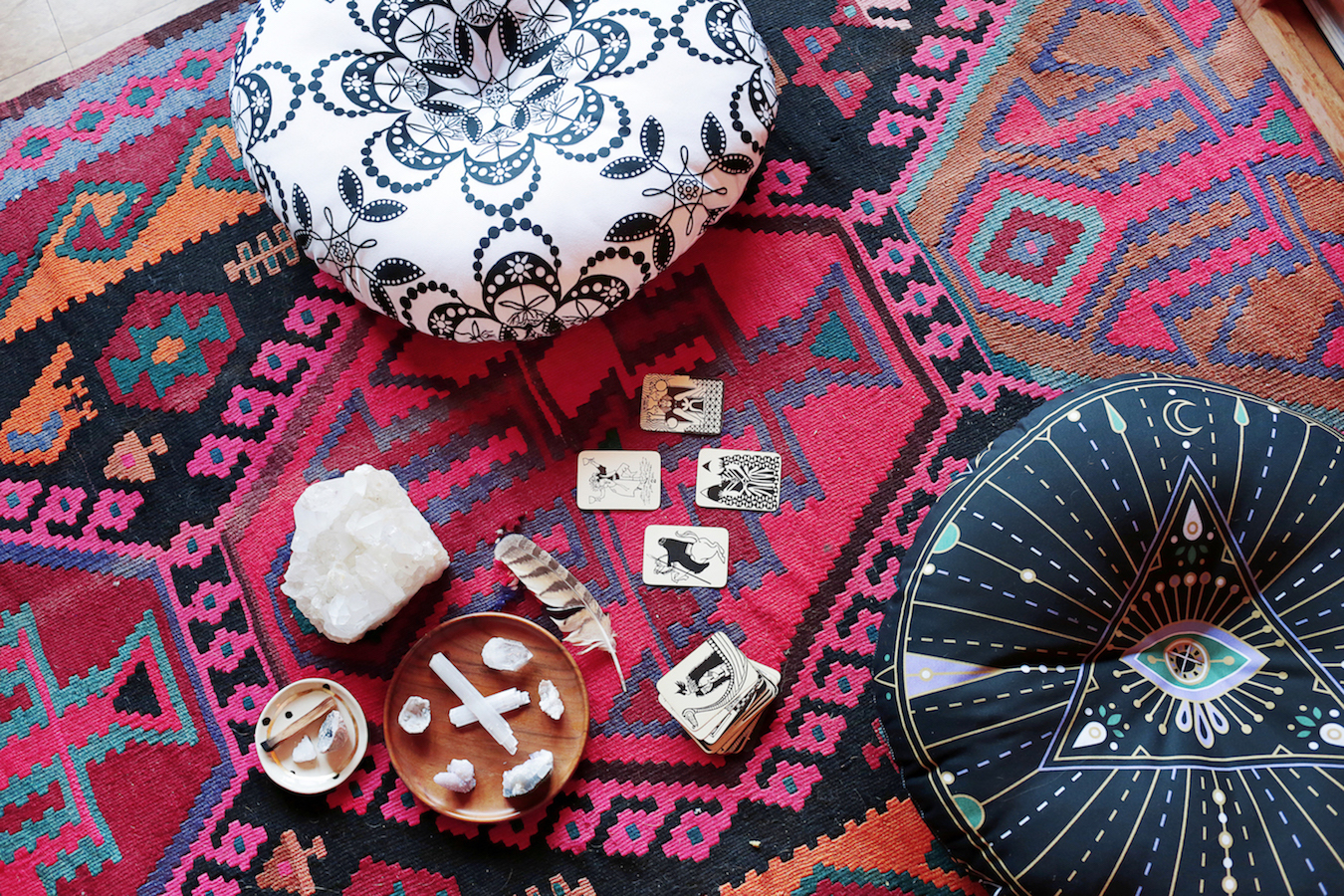 Earth : Moon Framed Print
Mandala Comforter
by Thanos Charisis-Photography
$139.00
Gold Mandala Floor Pillow
Milkweed Mandala Floor Pillow
Evil Eye Mandala Floor Pillow
by Cat Coquillette
$79.00