From big travel plans to weekend long festivals, this 90's staple isn't back without reason–they're plenty practical.
The 90's are riding a nice, long wave of growing popularity. We see that in the slow build (and now surge) of retro and memphis style inspired artwork from Society6 artists alone. On top of that, carrying the necessities is…a necessity. But why would a buyer carry less if they could just carry more with a backpack? The answer lies in convenience.
Banner artwork (above) by Hillary White
Why are people buying fanny packs?
The most practical need for a fanny pack is that they're a hands-free way to carry the basics safely out of the house. Nevermind all the awesome designs you'll offer your customers. Fanny packs can't compete with the space of a backpack, tote or duffle bag, but it's often the downsizing that customers prefer. It allows them to hold sunglasses, phone, ID/passport, money and chapstick. They don't need all the extras. They're also a little safer to keep the important things on a customer's body.
Common motives to purchase:
Non-bulky way to carry the important things with you

They're great for travel of any kind

Riding bikes & electric scooters

Allows women to skip a purse

Ideal for festivals because you can dance with them

Going out for the night

Exploring cities or urban environments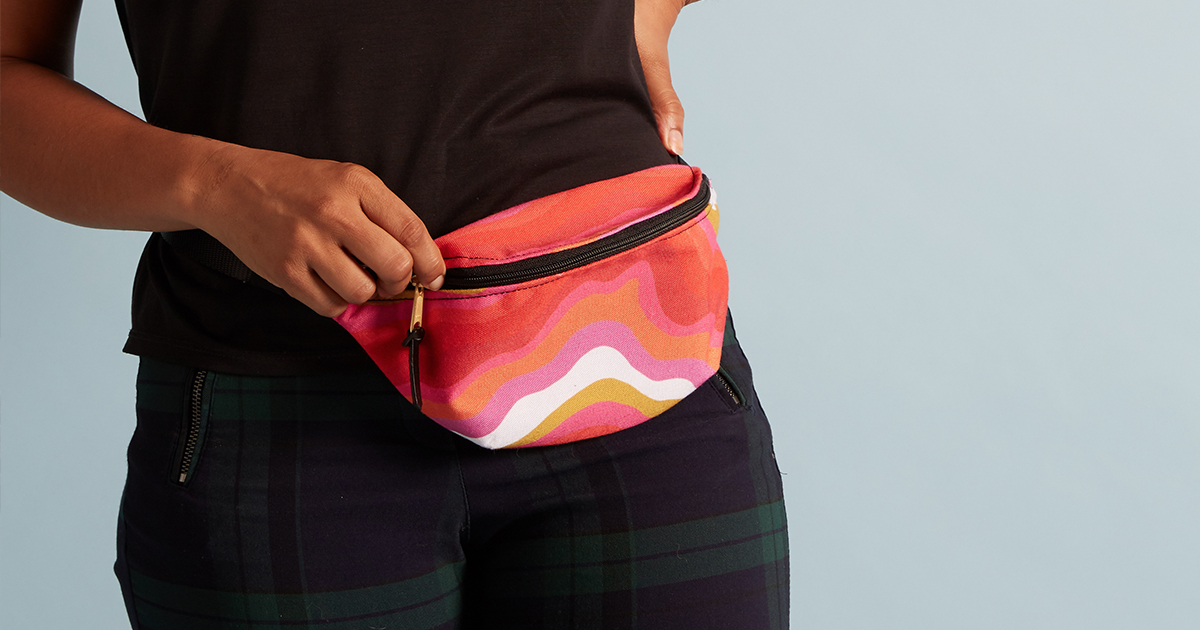 Who is buying fanny packs?
Looking at the above list of why customers are buying fanny packs, we want to put that info into context. That way you know who to consider messaging to.
Types of fanny pack buyers:
Travelers and vacationers
Festival goers
Fans of the 90's and retro
Urban explorers
Mostly women, but not exclusively
Video or event production people
When do people need fanny packs?
Looking at Google Trends, you can quickly identify seasonality for "fanny packs" by knowing search volume for that term over the year. High season is summer, followed by what marketers identify as festival season. Below we break out peak seasons and share some additional context driving this product's popularity in that time.
The best time to promote fanny packs is the summer. Customers are spending a lot of time outdoors. They're traveling. They're going to music festivals. They're looking for hands free solution to being outside a lot. Summer is when the convenience of a fanny pack pays off the most for your buyers.
The second best time to promote fanny packs is festival season, which overlaps spring and summer. "Festival season", while longer, is a more specific use case for a fanny pack, which is why it lands at number two. Practically speaking though, what are people doing at festivals? Dancing. Arms up in the air. Until their legs fall off. The bulk of a backpack is annoying and the convenience of a fanny pack forces you to just hold the essentials. It also helps customers focus on the important thing at a festival–the music!
Also, the window for festival season is actually pretty long, which is great for marketing purposes. It usually kicks off in March with SXSW, but basically runs throughout the whole of spring and summer. After August, you can see a drop off correlating with the end of summer.
September through February of the following year sees a dip, but is still fairly consistent. There's obviously a downward trend in popularity after summer, but to be fair, summer and festival season is a lot to live up to. What's great is that fanny packs don't exactly fall off the map. Consider that a lot of times, wherever you live, the opposite season is motivating travel to another part of the world. Which means you always have a summer customer.
How do I promote fanny packs on social media?
The two most popular ways to rock a fanny pack are on the hip and over the shoulder. Again, there's a lot of practicality in owning a fanny pack so don't be surprised if you continue to see them popping up in their social feed. If you're able to produce some social content with your own fanny packs, here's what's popular within the world of hip and shoulder bags.
Position your fanny pack over a shoulder (front or back)
As a variation to being traditionally worn on the hip, a lot of customers are wearing fanny packs over their shoulder. Most notably, this keeps the important things (phone, keys, cash, id) close to your person. No one is getting in your fanny pack if it's worn across your chest.
View this post on Instagram
View this post on Instagram
View this post on Instagram
Help your fanny packs pop with complimentary color blocking
If your background colors are solid and complimentary to your fanny pack, you're allowing the fanny pack to shine similarly to art on a white gallery wall.
View this post on Instagram
View this post on Instagram
PRO TIP: Always re-share content you're tagged in! If it doesn't fit your feed, publish to stories. UGC, or user generated content, is gold for marketing. Nothing validates your product more than someone else vouching it for you. Don't miss this opportunity to turn a fan into a repeat customer.
Use our pre-written captions for social media
Struggling for words? You can never go wrong with providing your customers with practical education. Here's some captions that you can use to promote fanny packs. Feel free to change these up or use as-is. They are meant to take the edge off the copy process. And of course, use emojis liberally.
New product in my shop:
These aren't your "dad on a family road trip" fanny packs. 90's fashion is obviously back and it's…uh…plenty visible in my @society6 shop. These definitely aren't your average fanny pack either. Just made some new ones available. Check them out via my link in bio!
Gift your thrift shopping friend:
Buying for your festival loving, thrift shopping, extra life living friend takes thought. Let's make that easy–fanny packs via link in bio. You can't buy these off some shelf and you know they'll look even better than what they found at Goodwill anyways. Again, check the link in bio. Did I say fanny via link in bio? Fanny packs. Link in bio.
Running a promotion:
So you've been window shopping for a while, looking for your moment to find the right rad fanny pack. Well, :tada: surprise! It's your lucky day because you can snag yourself that fanny pack you've been eyeing for ##% off today in my artist shop. Link in bio.
It's festival season, folks:
It's festival season, folks! And how are you gonna throw your hands up in the air as instructed if you're lugging around, well, luggage? Pack the essentials—phone, wallet, keys, and sunnies—in a fanny pack. My fanny packs. I'm selling them on @Society6. Link in bio.
Going out…again:
The weekend is coming. Again. And you can't be the one killing the vibe—again—because of your bulky bag bumping into your fellow revelers. Stay light on your feet, and on the dance floor, with my fanny packs. I'm selling them on @Society6. Link in bio.
Hot town, summer in the city:
Hot town, summer in the city, back of my back, carryin' plenty–well, actually carrying just the essentials–which is actually not carrying plenty at all. And if round-the-waist isn't your vibe, sling one of these babies over your shoulder. Keep phone, shades, keys and hard earned $$$ safely close to your chest. Check my fanny packs in my @society6 shop. Link in bio.
Lisa Turtle would wear at prom:
Lisa Turtle totally approves. I mean, AC Slater does too, but we all know she'd wear this to prom and still make it look good. That's a reality I'd gladly live in. Fanny packs for sale via link in bio.
Did someone say San Junipero:
Did someone say San Junipero? I will watch that episode once for every fanny pack sold. Kidding, but also kinda not. Shop my fanny packs via link in bio. #superfan
Wrapping up
Fanny packs were fashion staple in the 90's and they've made a comfortable comeback. They're great for summer, traveling and making the festival rounds. Feel free to reference any of your fanny pack product pages for an official description.
If you have any additional tips or tricks that have helped you sell fanny packs, please leave them in the comments below!