Take one look at Ramona Rosales' vibrant photos and you'll be instantly immersed in that sunny Southern Californian vibe. 
The L.A. native started out with a Polaroid camera as a child and has since become photographer to the stars. She's probably already photographed your favorite celeb (her clients include the New York Times, GQ, Billboard Magazine and The Hollywood Reporter to name a few), all in vivid color and with a hint of humor. Here, photographer duo The Maxwells caught up with Ramona to talk more about her style, love of Polaroids and how the photography world has changed in an increasingly digital world.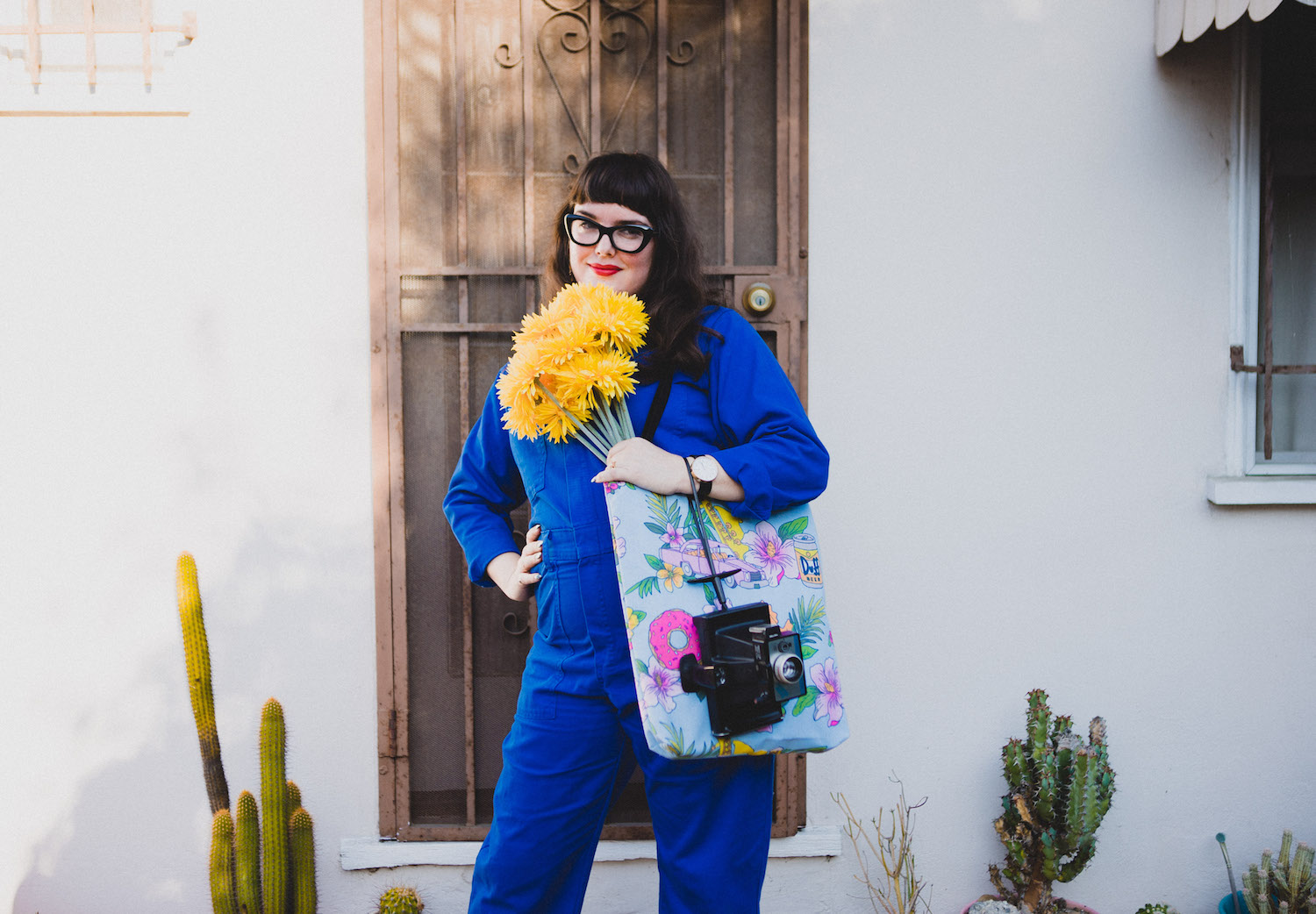 When did you take your first photo?
I think I was about seven with a Polaroid camera.
Woah, you started early.
Yeah, yeah. My parents were in college when I was born so they took photos of me a lot and we had a dark room at the house so I got to play with that. They let me kind of play with cameras, but it wasn't until junior high school that I took it more seriously.
What's the best part of being a photographer?
It's something where I feel like I can create something from scratch and know that I can get from start to finish. It doesn't mean I will be successful every time but it's something I know I can make and I have confidence in that I can make it and still be inspired by the process in it and just having fun like that. It's not going to an office every day; you're somewhat your own boss even though with clients you have parameters. But for the most part, I try to take projects that give me the freedom to do what I want to do and do it in the way that people identify my style or identify my work.
How would you describe your style?
I think everyone usually goes the more colorful description and definitely color is my main jam. But I guess style-wise, that one's a hard one to put, I guess because there are so many facets to the work. There's the editorial work vs. the commercial work vs. the personal work. I guess in the personal work it always comes back around to color study and challenging the way we look at color.
Are there any days where you're like, why am I doing this, Lord help me?
There's definitely the more challenging days but what I do to balance that, and I haven't done as much as I like to, but is to take the time to do personal work and that's where you remind yourself why you're doing this. You have to have that balance.
How has the photography world changed since you started?
It's rapid fire. There haven't been any standards or any type of structure. When I was in school I was still shooting film and only a few years out of school is when digital really took over. Also a lot of changes in the editorial world in terms of how they hire people and what types of assignments they were actually giving so I was in flux for many years and I was also kicking and screaming. I did not want to go digital at all and I eventually did because it was kind of a survival of the fittest at that point.
If I wanted to continue to do work and be able to make money, I had to do the digital thing to work with those editorial clients, and those editorial assignments translate to commercial assignments later. I told myself "I'm never gonna get rid of my film cameras. I'm never gonna get rid of my Polaroids." I love this stuff so much that I'm gonna continue my personal work that way, and I still sometimes shoot digital with personal work, usually as a backup tool, but really the big change is how people are being found.
The next layer of it is social media and how a lot of people depend on social media to get work, whereas before there was just meeting people one on one and showing your work in a book and showing people how you work on set so they know how you work and how you interact with people. You ask me that a year from now and everything is going to change more. It's this constant, constant cycle of change. I don't remember a time when there wasn't constant change.
Do you feel like it's changed specifically for women at all in the industry?
I feel like there is definitely the conversation that stuff has changed, but at least from my personal approach, I never like being referred to as a female photographer. I just like to be referred to as a photographer. Especially since I don't necessarily see my work as having a feminine point of view or feminine leaning because there would be plenty of people that would see my work and think that a guy had shot it.
But I still feel like it's my own personal view or approach and I guess I just have always been very neutral when it comes to that, but I'm glad that people are taking a different approach in the way they hire. Whether or not they're hiring specifically a woman for that, well if the photographer is right for the job then fabulous, what does it matter if its a man or a woman or someone who is gender neutral. I've always said I'm a photographer, not a female photographer.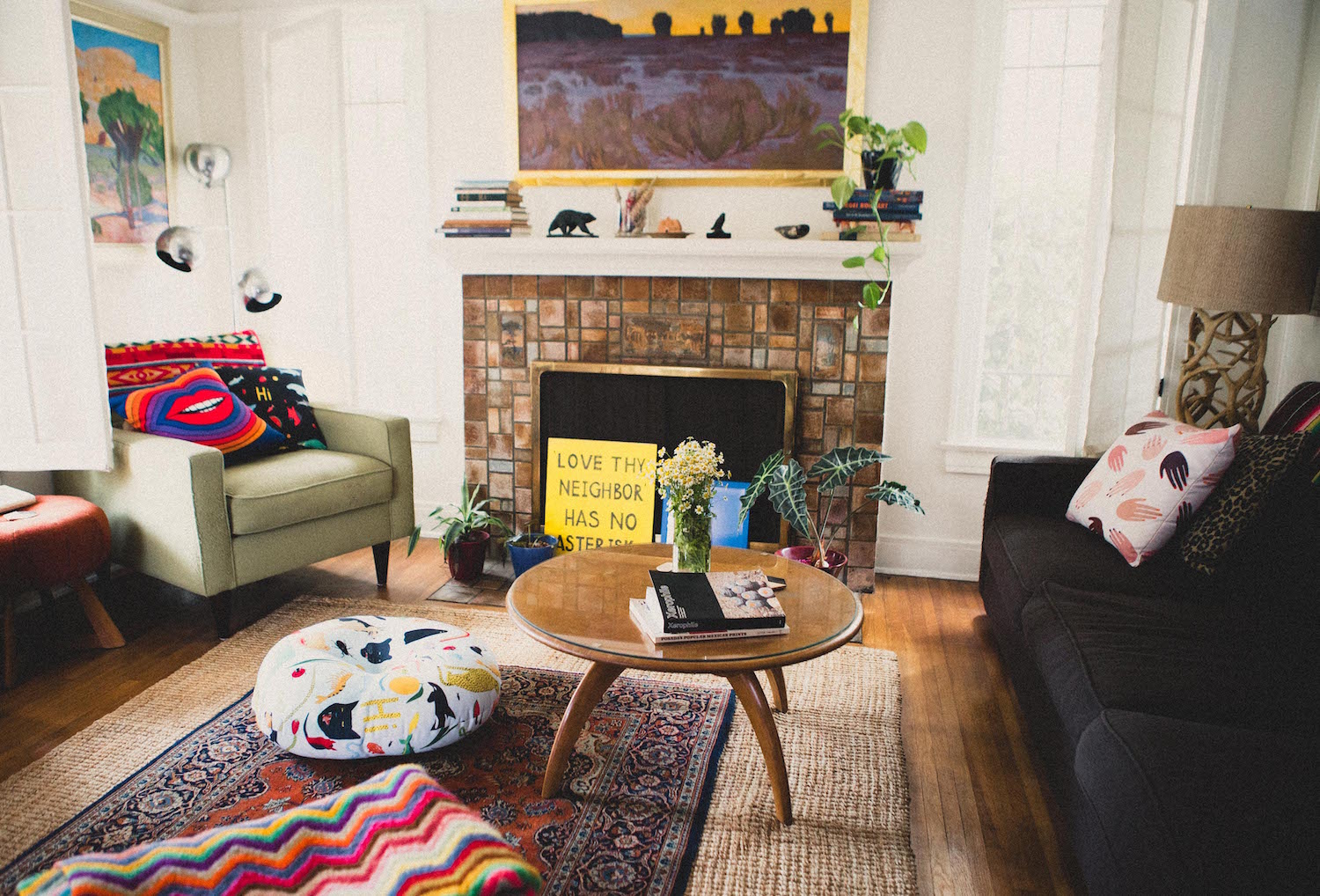 How much of your work do you do from home?
I do most of my pre-production and post-production at home. Personal projects, of course, happen here, but everything else is on location. So I have my office here and that's where all the pre-production post-production magic happens.
What have you done to create an environment that you can work well in here?
Well, I surround myself with a lot of color and life and things that inspire me, and a lot of that is in antiques or in my thrift store finds, my husband's artwork, textiles, I love it all. So, it's generally just surrounding myself with that stuff. As much as I like neat and orderly things, the stuff around me, there's a lot of it, but it's neat and orderly as much as I can make it.
Your husband Eric is also an artist. Does he work from home as well?
Yes, his studio and workshop is here.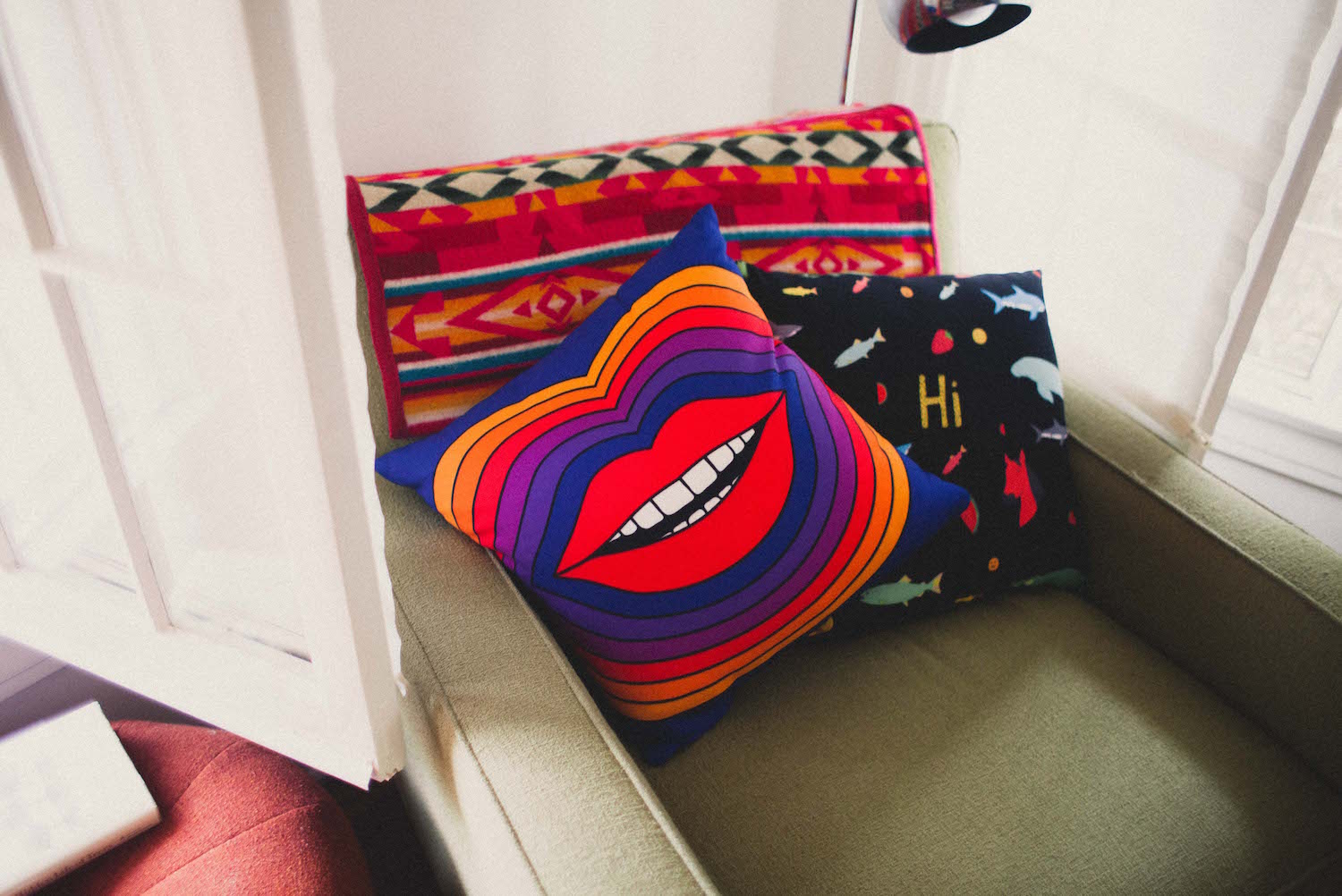 How do you divvy up your space and not drive each other crazy?
Well he has the entire studio garage to himself, except for the seamless' that live there, and he has his own office so we have the perfect harmony in here. We knew when we first were living with each other in another house how much space we needed to do that, for each of us to have an independent office and a workspace for him. I don't necessarily need a workspace for here for shooting even though I shoot here, but he needs it for his actual painting and storage. He does take up a lot of real estate on these walls though.
Do you have any tips on separating your work life from your home life?
I'm still learning about that. Being that most of the shoots are outside of the house there is definitely that, but it's managing time. It's going, "Ya know its 6 o'clock. I'm gonna quit retouching, or researching and actually make dinner." It does make it difficult to say no to yourself to do work.
There's always more you could be doing.
Oh, absolutely. We're workaholics. Ya know, if you really put it down to it, we probably work over 120 hours a week from start to finish whether we're in the office all day or he's making frames. The actual shooting part of it is usually 10-15% of that. Most of it is just all the pre and post stuff that we're stuck here. It makes it definitely tricky to go "Well, I could do it here," or I know people that do their offices outside of it and I think they are able to manage their time better because it's "you leave the office and you're done." But then there is something really nice about rolling out of bed and going right to the computer.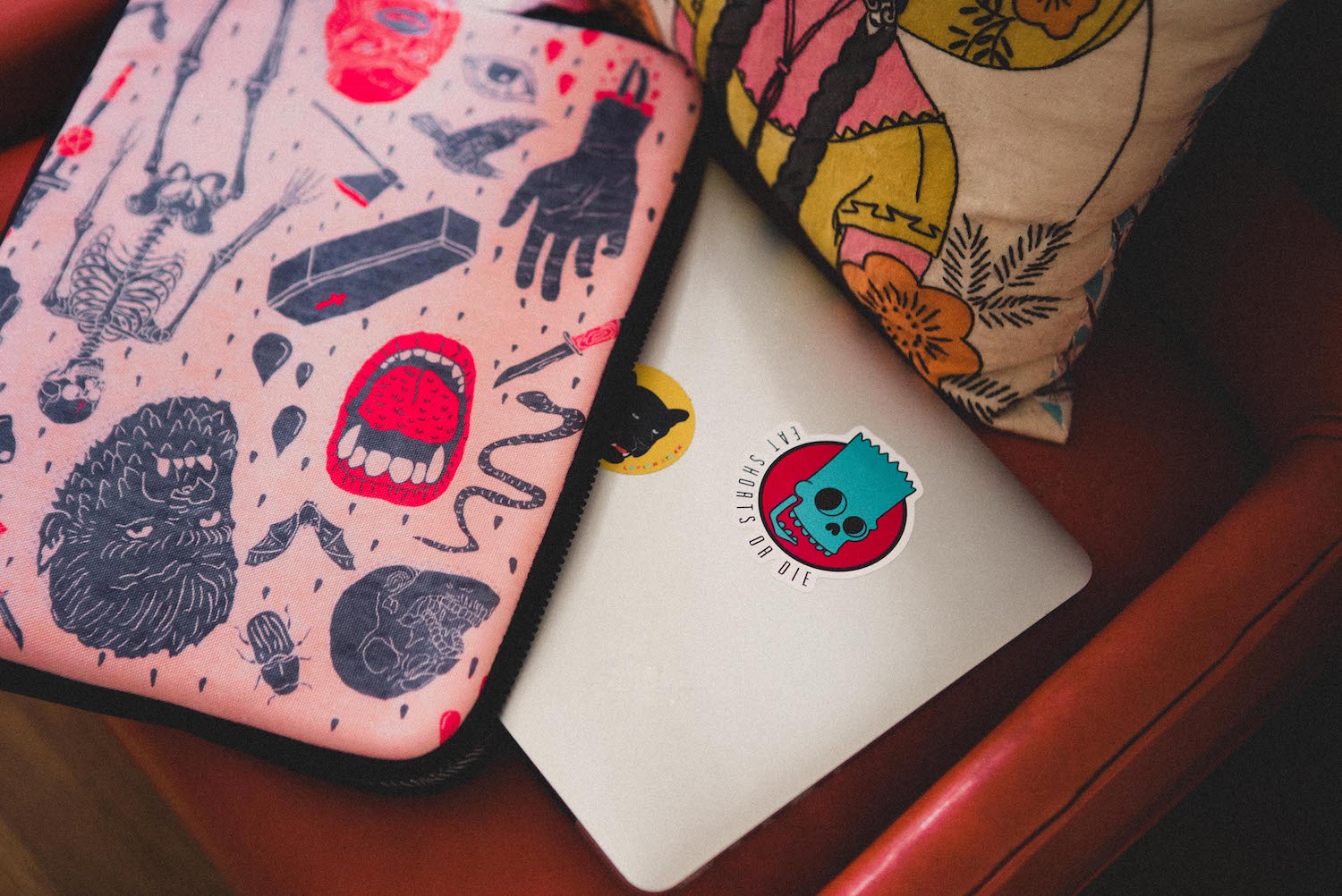 Being a photographer, you probably have a lot of equipment you keep around but doesn't really fit with your decor. Where do you shove all these very important but not so cute items to hide them while also keeping them organized?
There's one closet that is dedicated to that and the rest lives in the car permanently. Just the c-stands, sandbags, apple boxes, and the grip. Stuff that's heavy or would ding up the door and is not easy to store in the closet. But yeah, its all at max capacity right now. I can't have any more gear because nothing else can fit in that closet. And if I were to get a smaller car, gonna have to get rid of some stuff.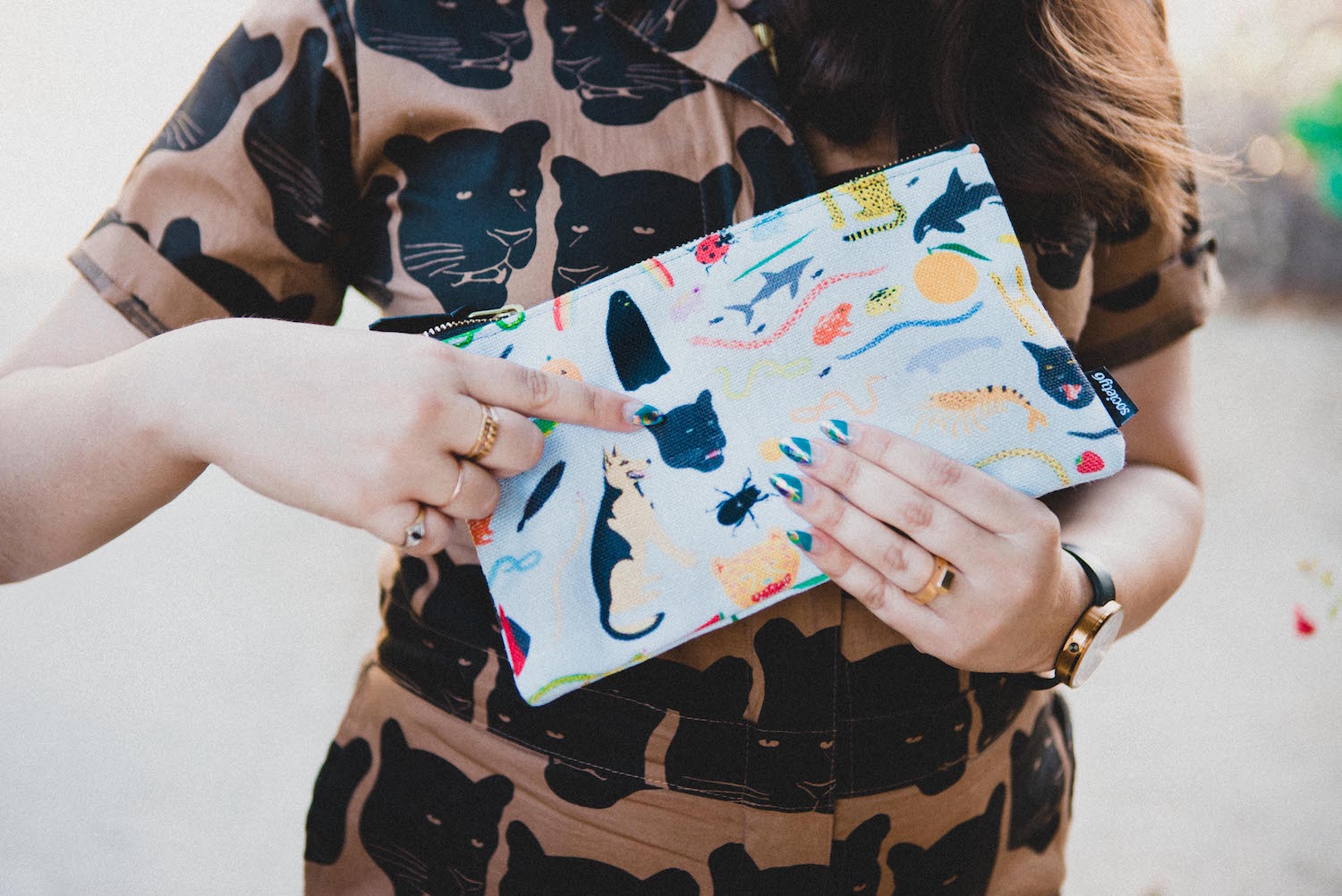 What's on the horizon for you? Any projects you've been dreaming about working on?
There's always the urge and want to do personal projects. I definitely want to do another Polaroid project. I'm still kind of plotting out what I want to do with that. I love doing go-sees, when I just have a model agency send me 10 girls, no hair or makeup, I have a rack of clothes, and I set up something in the house. They spend maybe 15-20 minutes with me and it's like a quick test for me, and they get work from it too, but then I get this exercise of shooting multiple people in one day just coming as they are, which is always a challenge. Sometimes I have to do someone's hair or I have to do someone's makeup really quickly, but usually, I just shoot them fresh-faced. I put a cool shirt on them or a cool dress and then shoot them within a set that I build and kind of make it a series and they're great, it's a nice exercise.
Do you have any last tidbits of advice for other aspiring photographers?
Always stay persistent, don't get distracted by what other people are doing, and just try to focus on what makes you happy and what keeps the creative juices flowing; do what you can to always stay inspired…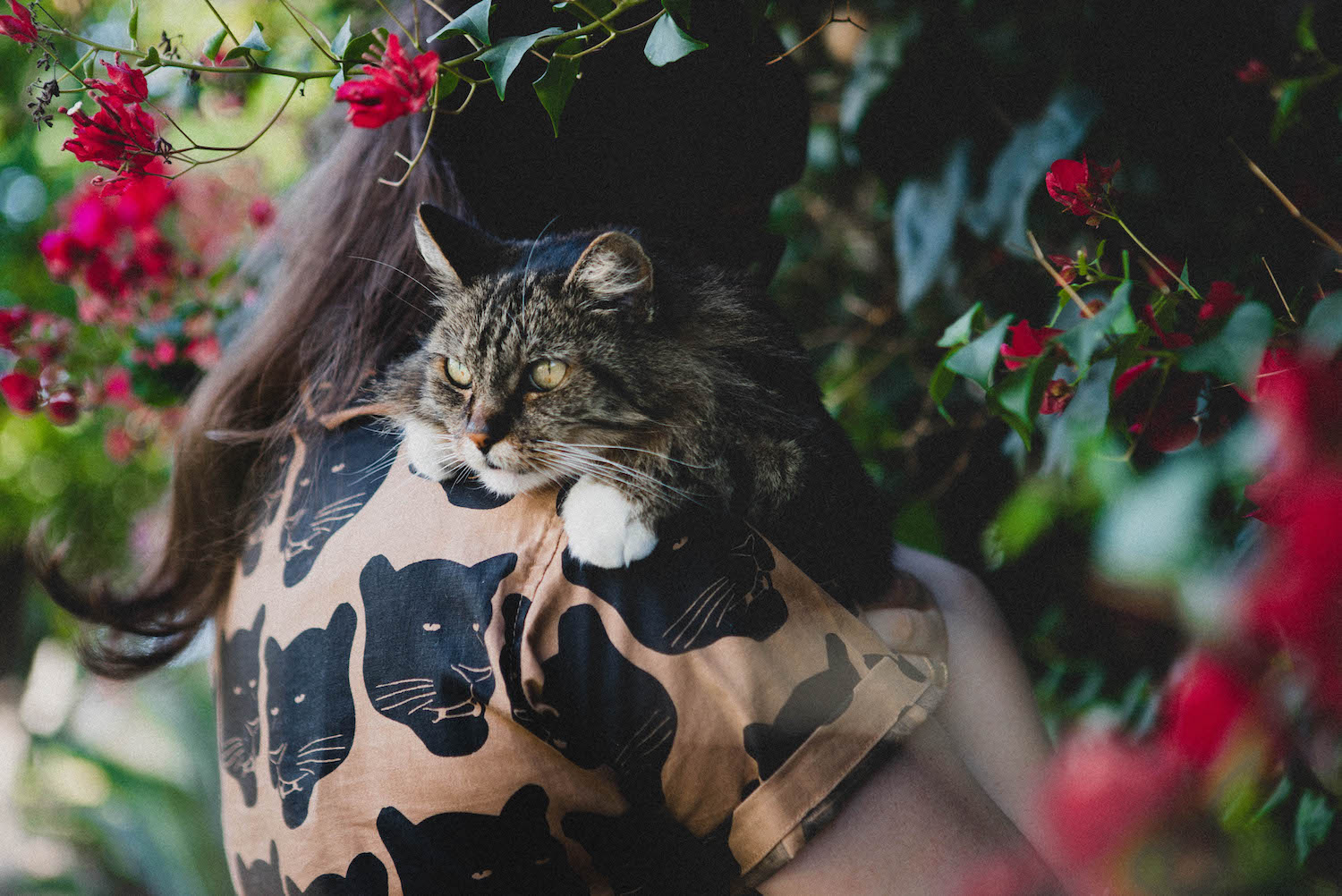 All Together Black Throw Pillow
Everyone is Invited Carry-All Pouch
Summer Botanical Garden IX Backpack
by Burcu Korkmazyurek
$69.99
Whole Lotta Horror Laptop Sleeve
Everyone is Invited Floor Pillow