If you haven't checked out our latest Art Quarterly, you're missing out.
Each of the 50 artists inside will prob blow your mind, but today we're talking to Miami-based collage artist Richard Vergez. Collage is often a medium of excess, but Richard's M.O. is powerful minimalism—his stark collages speak volumes and his ambient musical compositions feel effortless. Read on to find out more about his hands-on process and his belief in the universal power of nostalgia.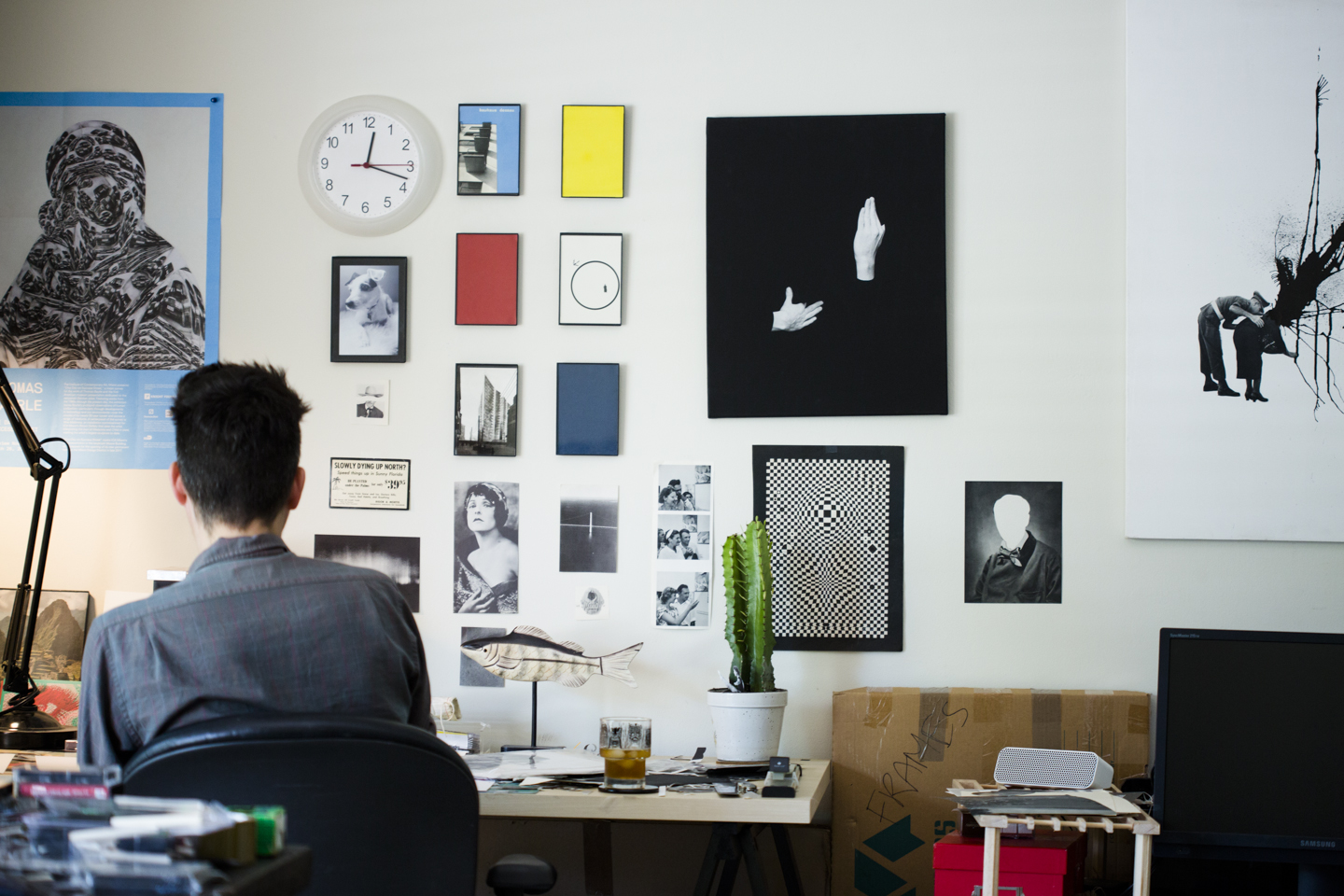 You've lived all over the country and landed in Miami. What drew you to Florida?
I was born in Philadelphia, grew up in New Jersey, then lived mostly in South Florida until transplanting to New York for a few years, then back to Miami. I was never drawn here, in fact I've always felt a heavy disdain for the culture here, even when I was a lot younger. That probably inspired me to create the work I make today, focusing heavily on surrealism and otherworldly states. I operate in a vacuum here, my work is mostly recognized in other places. Miami is a very superficial place and I've always felt like an outsider here, which I'm content with because it lets me create my work without any local influence. My friends and family are here, so for now it's just a stopping off place.
To an outside observer, the work you do (both your collages and your music) could seem deceptively simple. Do people ever discount or ignore the tasteful nuance it takes to create simplicity?
I've heard that few times, people that say "I could've done that, it's only 2 pieces and they're not even cut out right." Or "it's just one note for half an hour." For the most part though I think those looking for this type of work commend it as such. In the case of an outside observer, I feel that my work is able to transcend and not just appeal to those interested in minimalism. I think we are all looking for simplicity in our lives, no? I've always been a proponent of choice-making over artistic ability when making work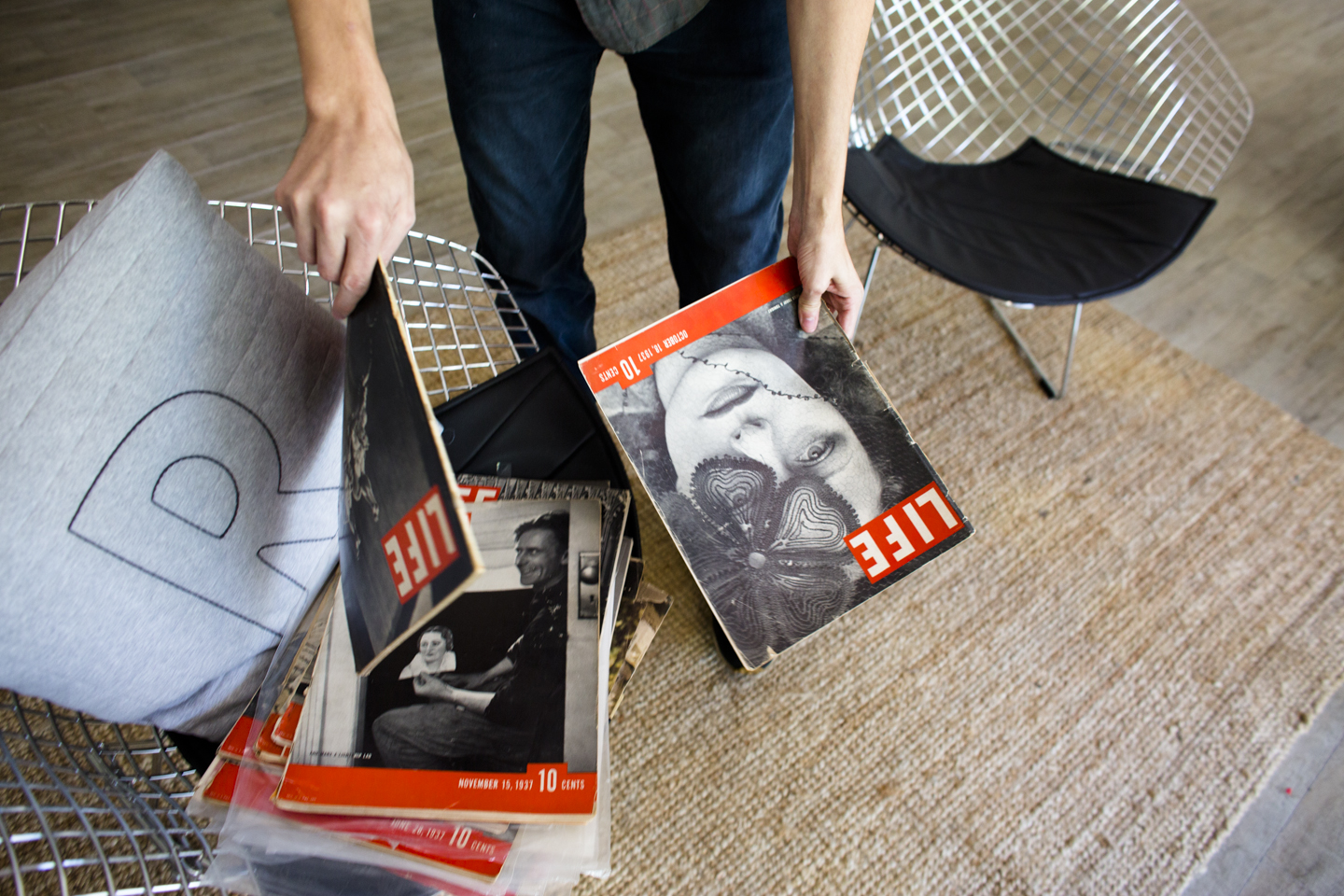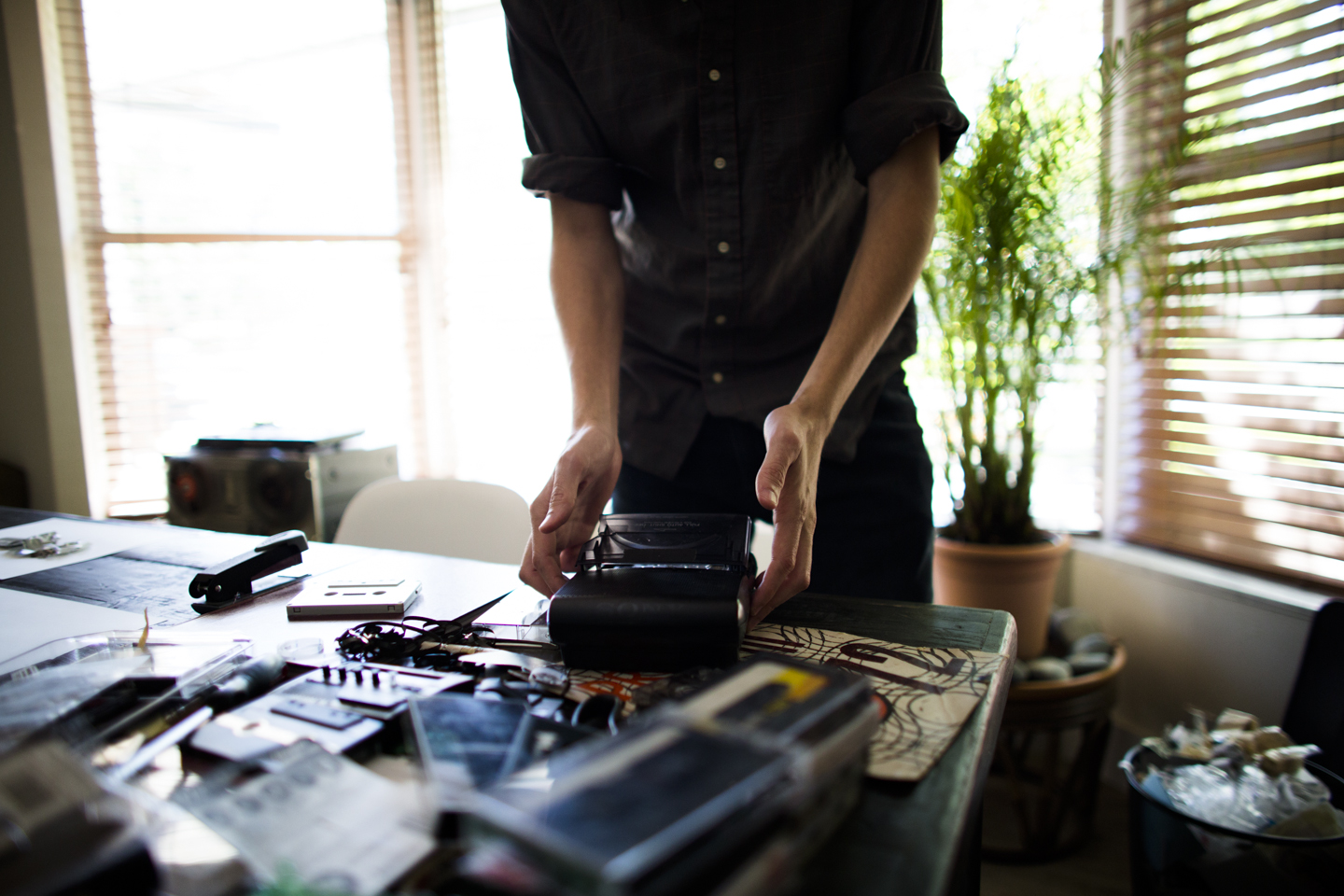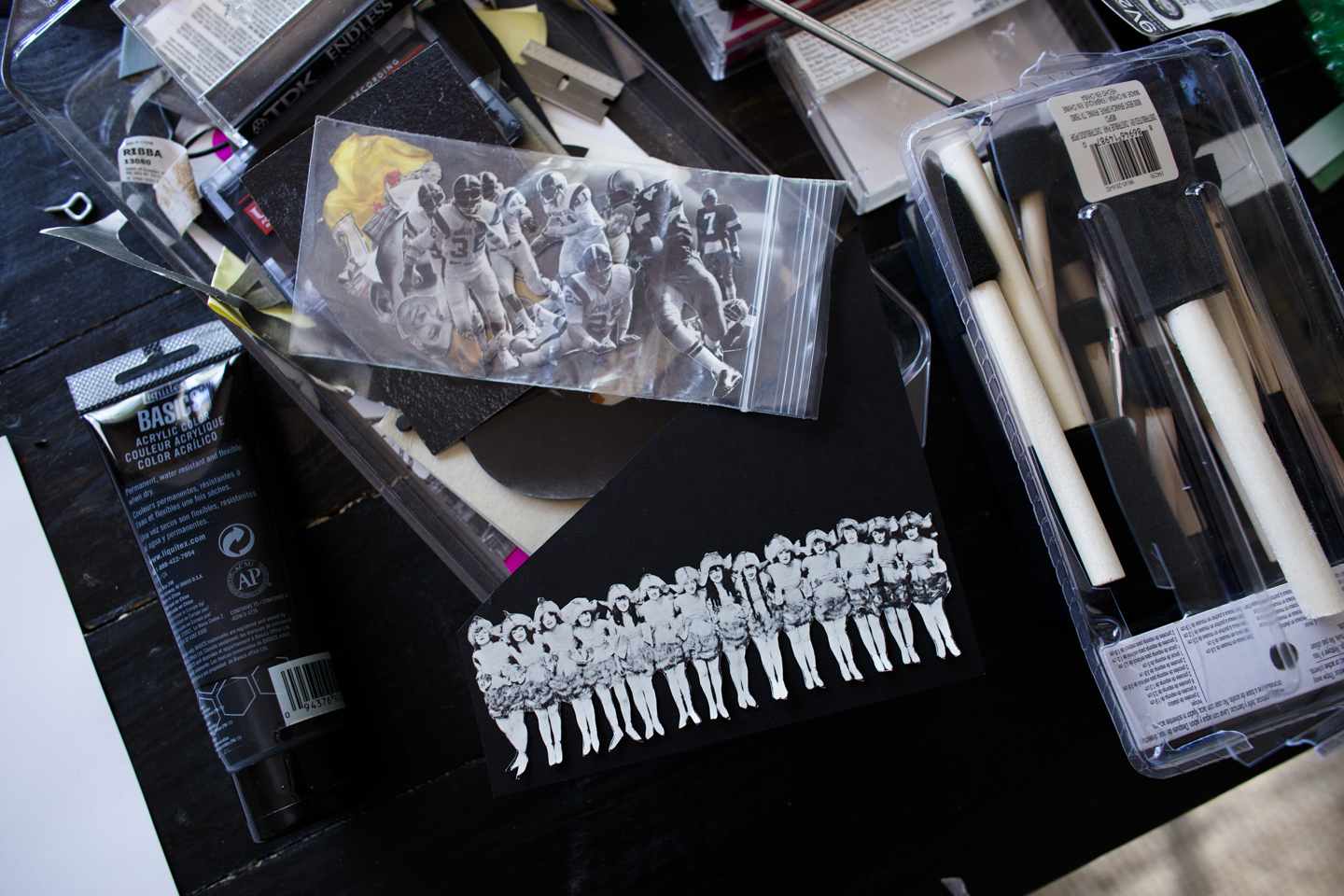 Would you consider yourself a curious person?
Very curious, yes. There is so much to discover in the mundane.
As someone who spends their days as a graphic designer, is it refreshing to do your so-called "personal" work old-school style with your hands? What does the act of physically cutting, placing, pasting give a piece that a computer can't?
Yes indeed, it's very therapeutic in a way. Most of my time is spent rummaging for and cutting out bits I could potentially use. So it's very nice when a piece comes together out of sometimes hundreds of bits. Almost anything is possible on the computer, but when working with your hands and physical media, you are limited and that shapes the work. I also split my time making loops out of old cassettes for sound collage, a similar process to that of my visual work.
How often do you create a piece?
I usually have a few going at a time, but never like to spend too much time on one piece. I try to create something every day, whether it's a finished piece or some ideas in my sketchbook. I gained that discipline back in 2010 when I took part in the project of making something 'cool' every day and posting them all on flickr. It really helped me develop my work and establish an audience.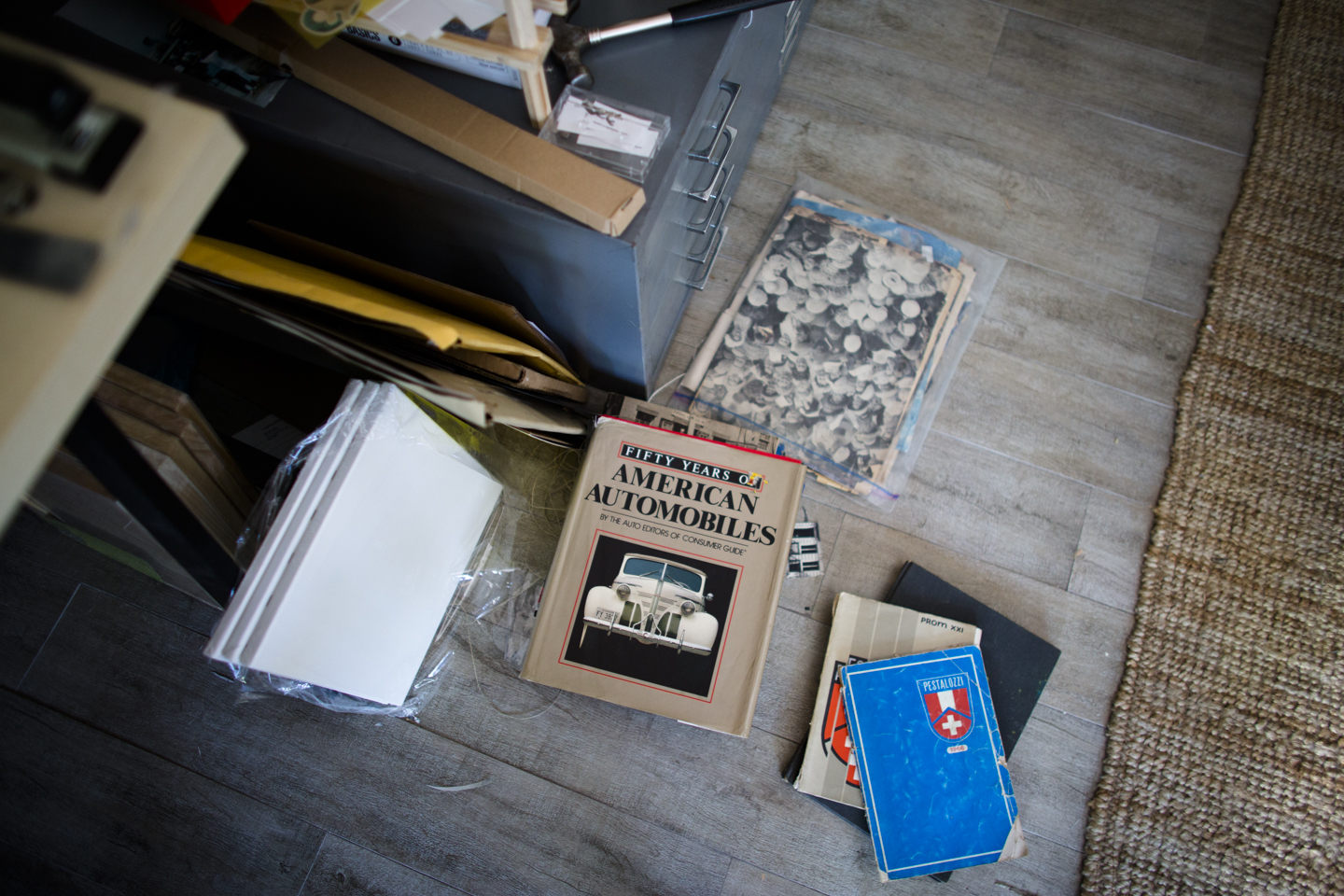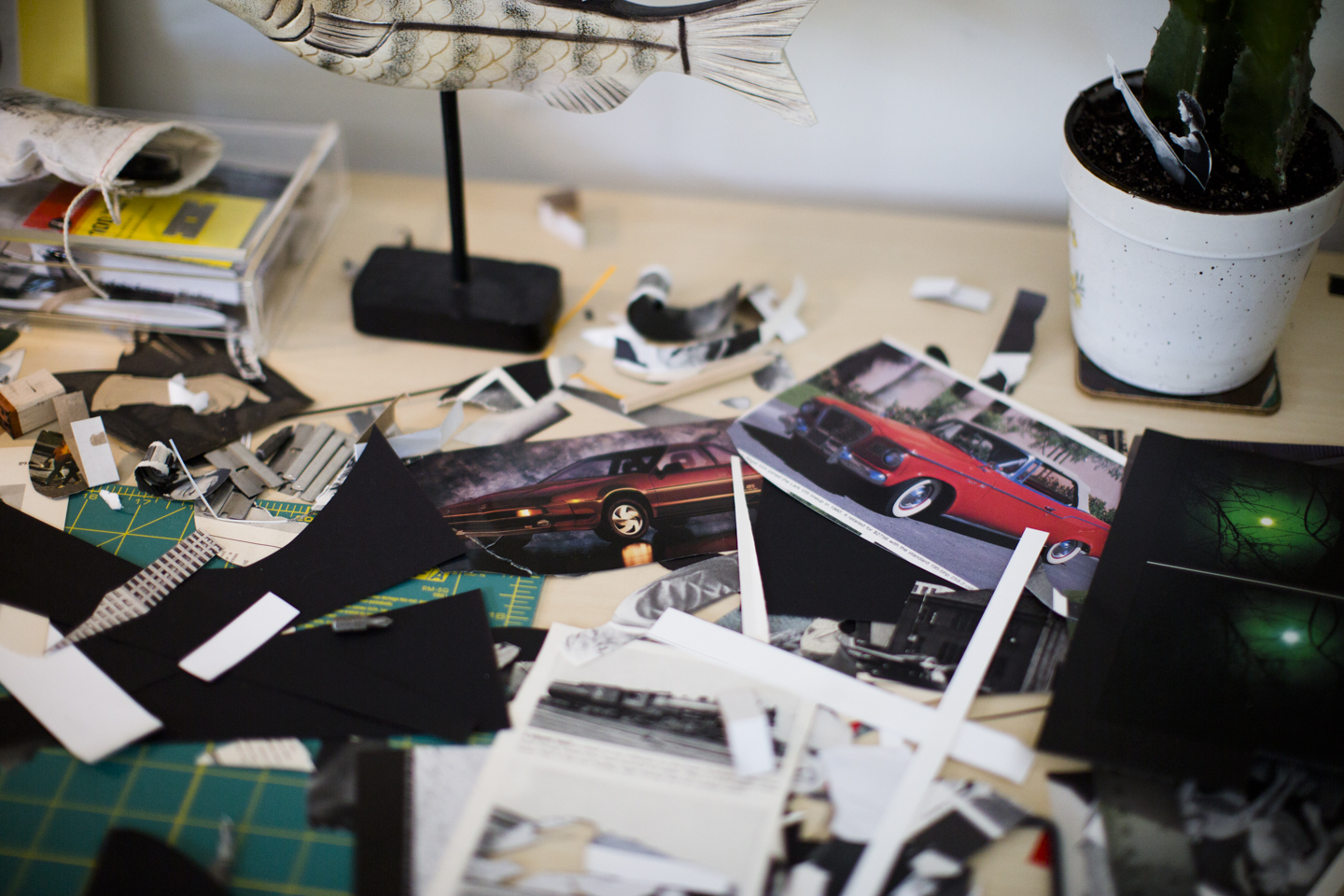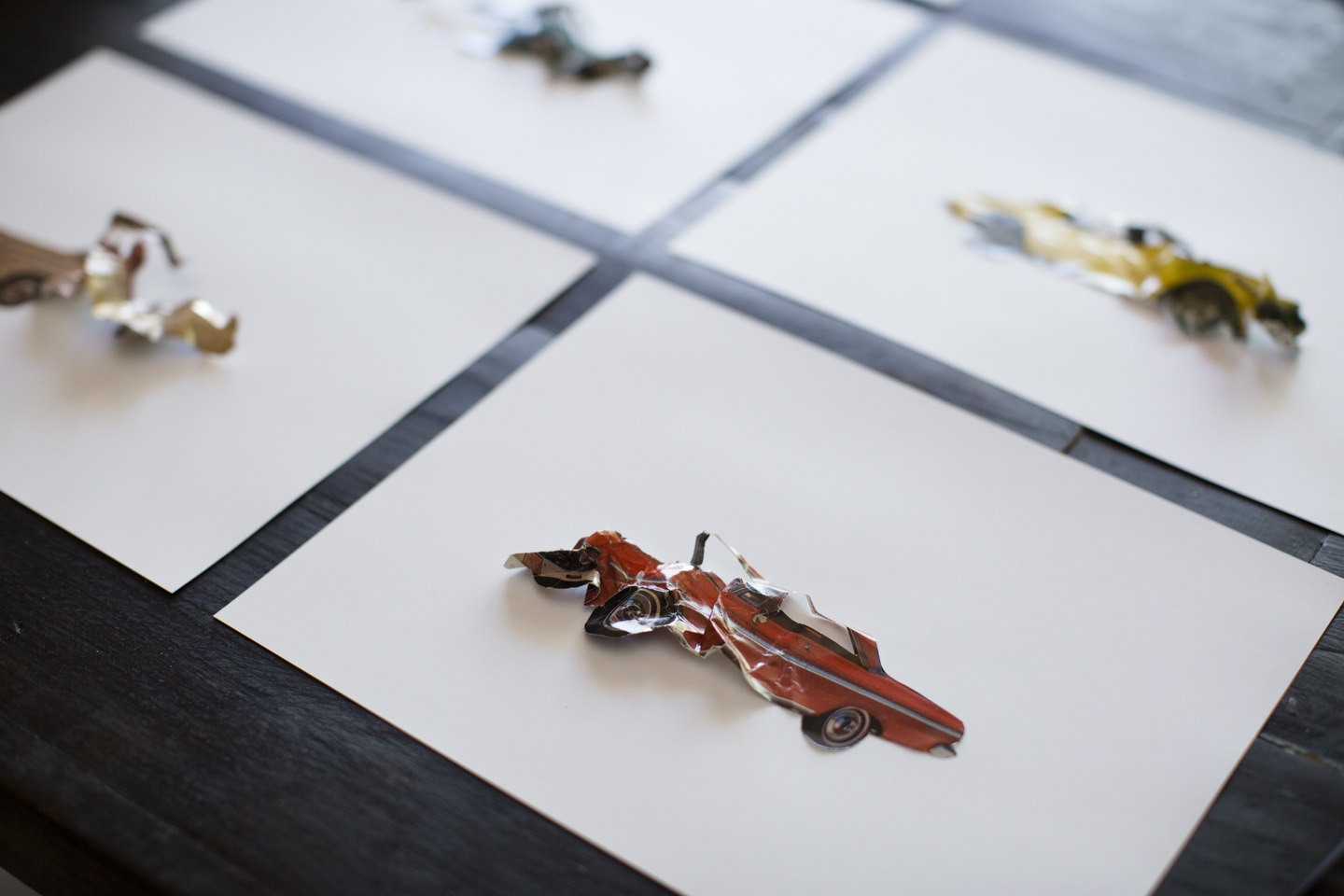 Your collages seem to have a lot of figures from the 50's and 60's—how do you use nostalgia as an artistic weapon or tool?
Aesthetically, I am drawn to the quality of the images from that era. They feel very timeless. Nostalgia also plays a big role in my work. I'm very much interested in half-remembered childhood memories and hypnagogic states. We all have them so we all can relate.
The use of color in your pieces is obviously very intentional. When do you know when you want to incorporate a particular hue into a piece?
My color palette is inspired by Constructivism and Bauhaus design, so those are the colors I'm drawn to. I like to use sharp reds because they contrast nicely with black and white and muted paper tones. Or blue to recall the sky or water, probably a subconscious influence from living in Florida.
Do you listen to any music when you work on your artwork? If so, what?
Yes always. Sound keeps me company. Mostly ambient music because it helps me concentrate and create a mood for the work. I'm an avid record listener too but I actually keep the two separate, opting instead to stream something digital or play tapes where all I have to do is press a button as opposed to looking for a record to play. I would rather concentrate on the collage making! NTS radio is my go-to for streaming or tapes of early 80's electronic music.
Perhaps this is a loaded question, but do you find any kind of existential identity in being a Cuban-American? Does your particular blend of cultures influence your personality or beliefs about the world?
Of course, it's a good mix. I wasn't born in Cuba but I have the knowledge of the background of what my family went through when they fled during Fidel Castro's reign to come to the US. Exploration of this is reflected in certain pieces of mine depicting humans interacting with voids or an unknown abyss. Often times it is a pessimistic view of the world. Making art brings me to a happy place.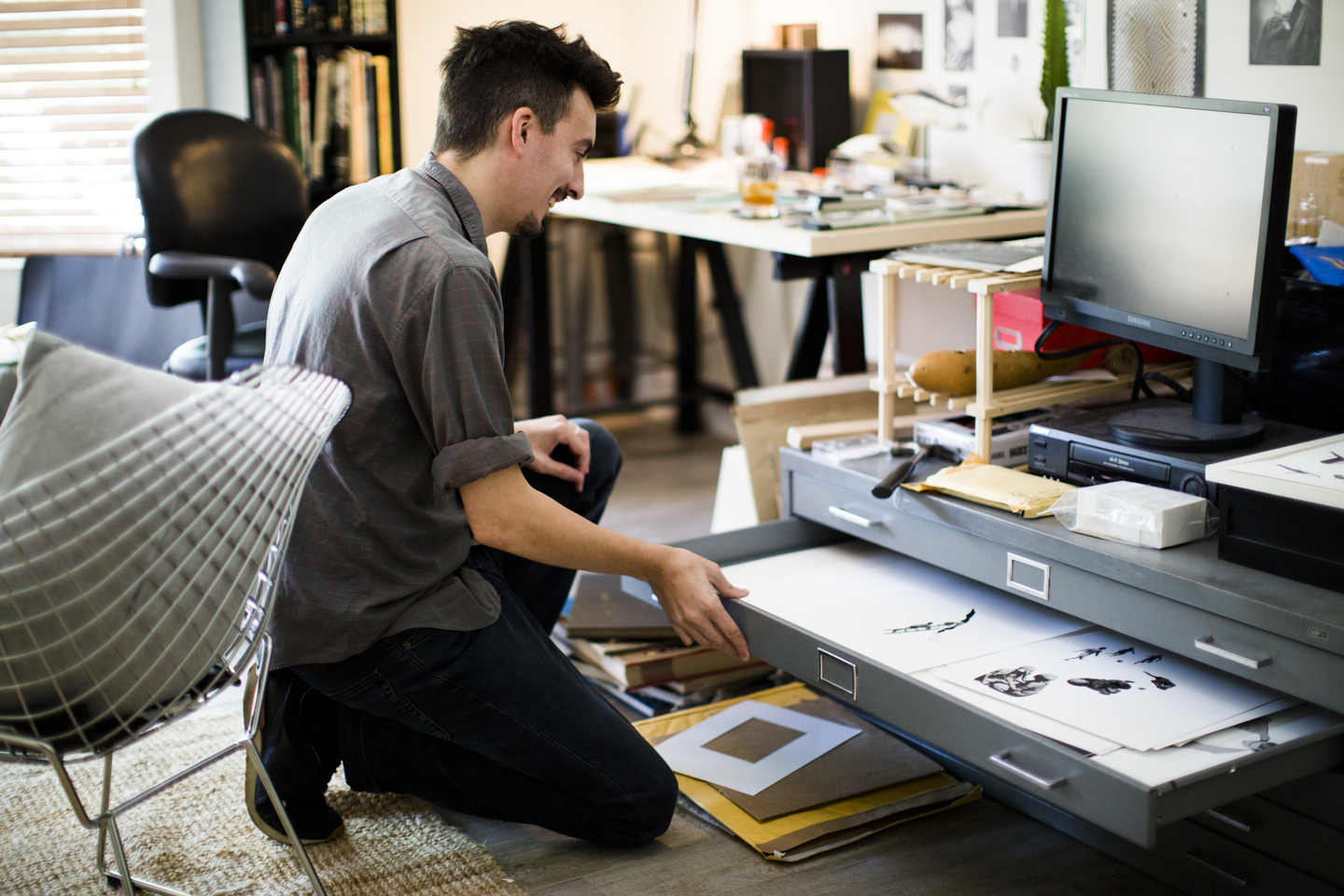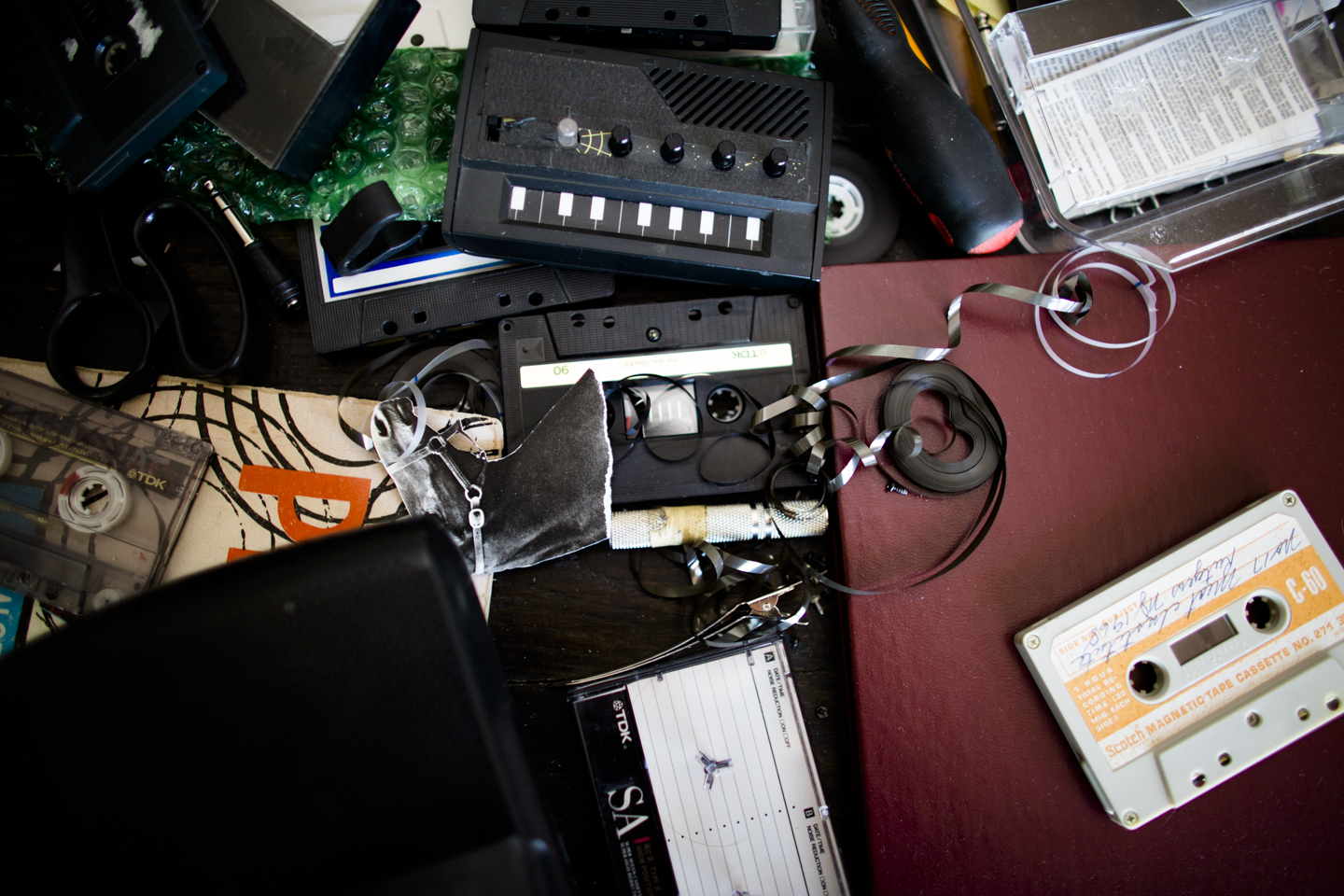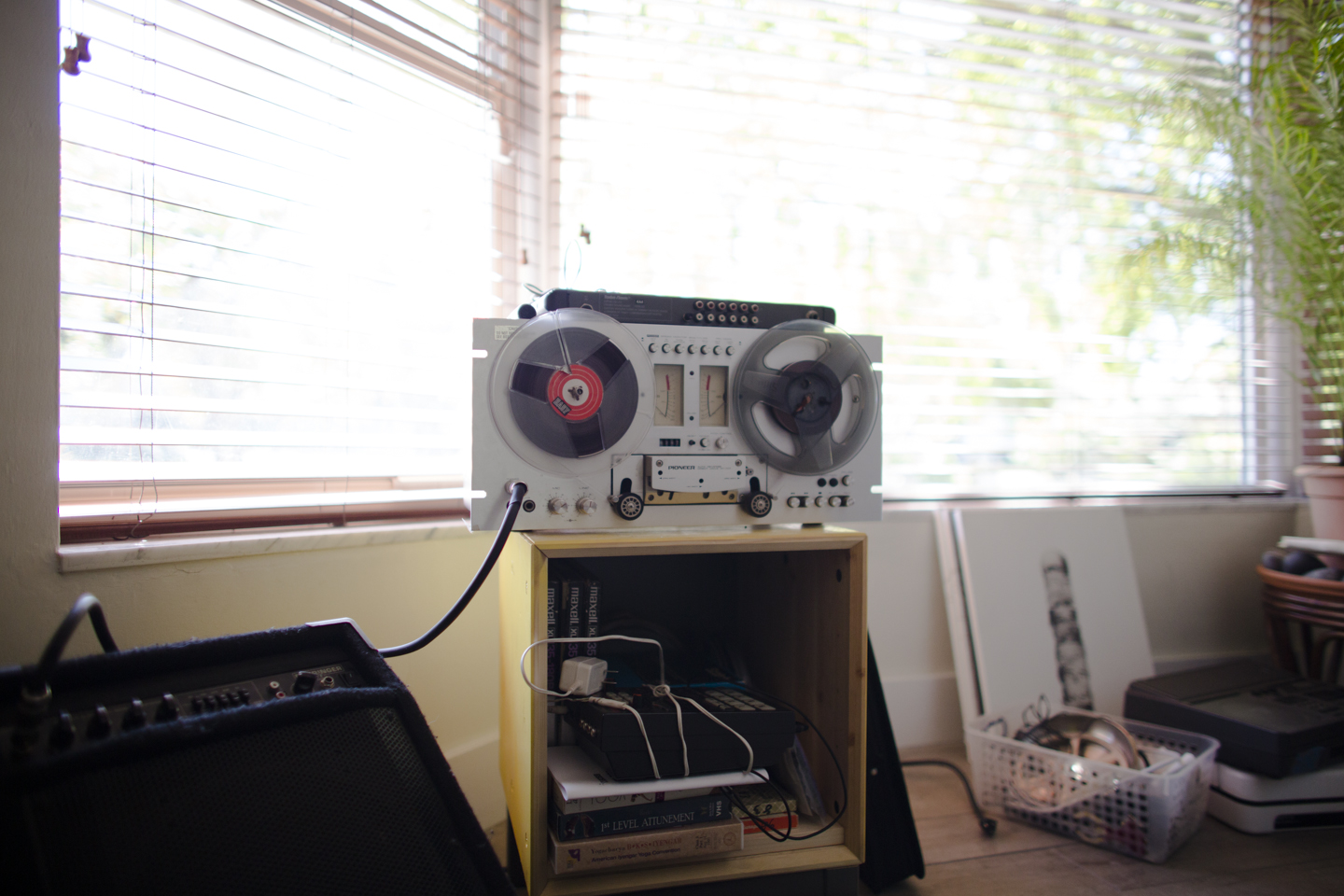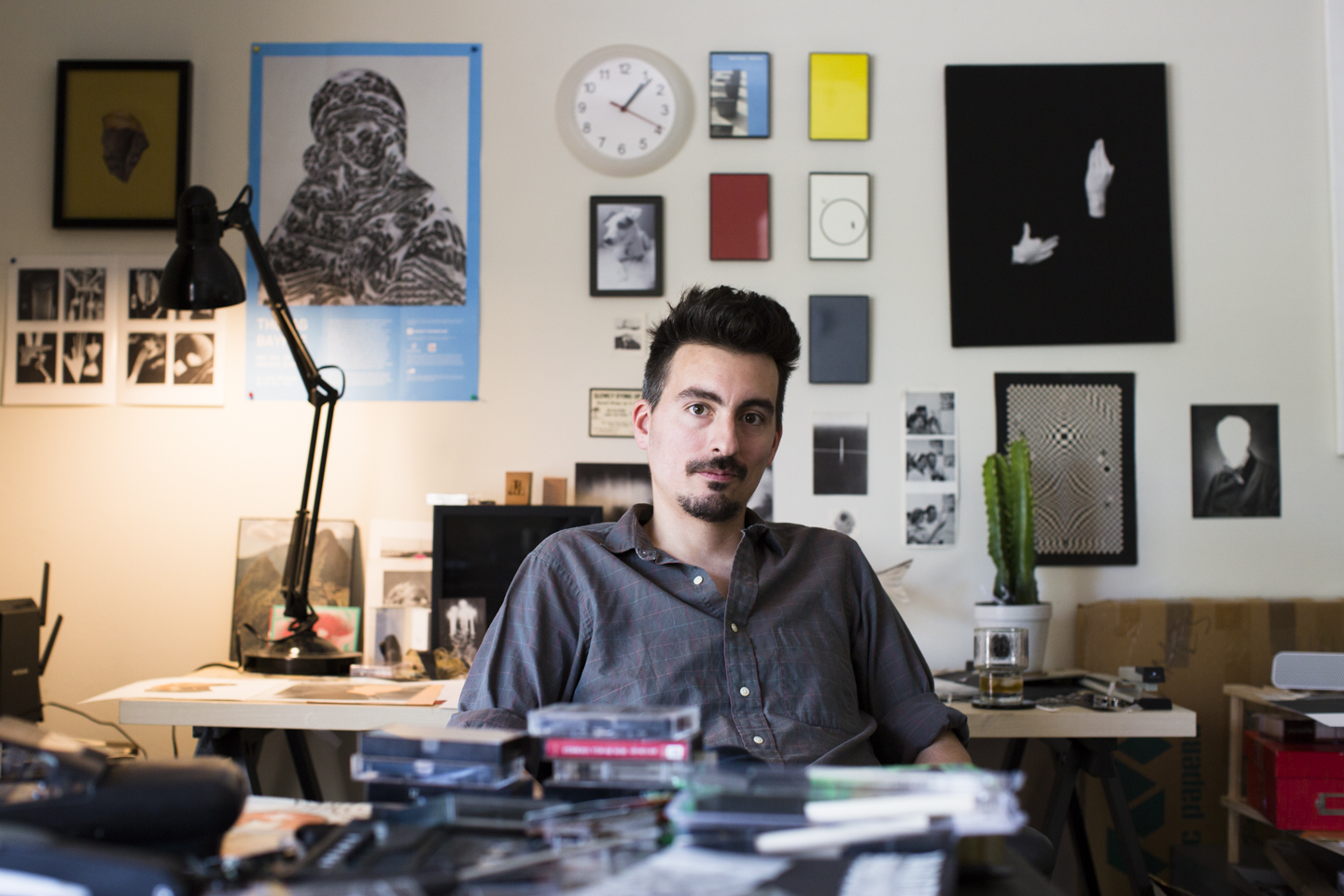 Looking From A Hilltop Throw Pillow
Riders On A Form Beach Towel
Cool In The Pool Shower Curtain
Circle Of Friends Tote Bag