The wait is over! Our latest edition of our Art Quarterly has arrived.
Perfect bound with a black foil stamped cover, our First Edition printing of the Winter 2017 Art Quarterly is a substantial 9 x12 inches. It features original artwork from 50 diverse Society6 artists, off-set printed in rich color across 130 pages.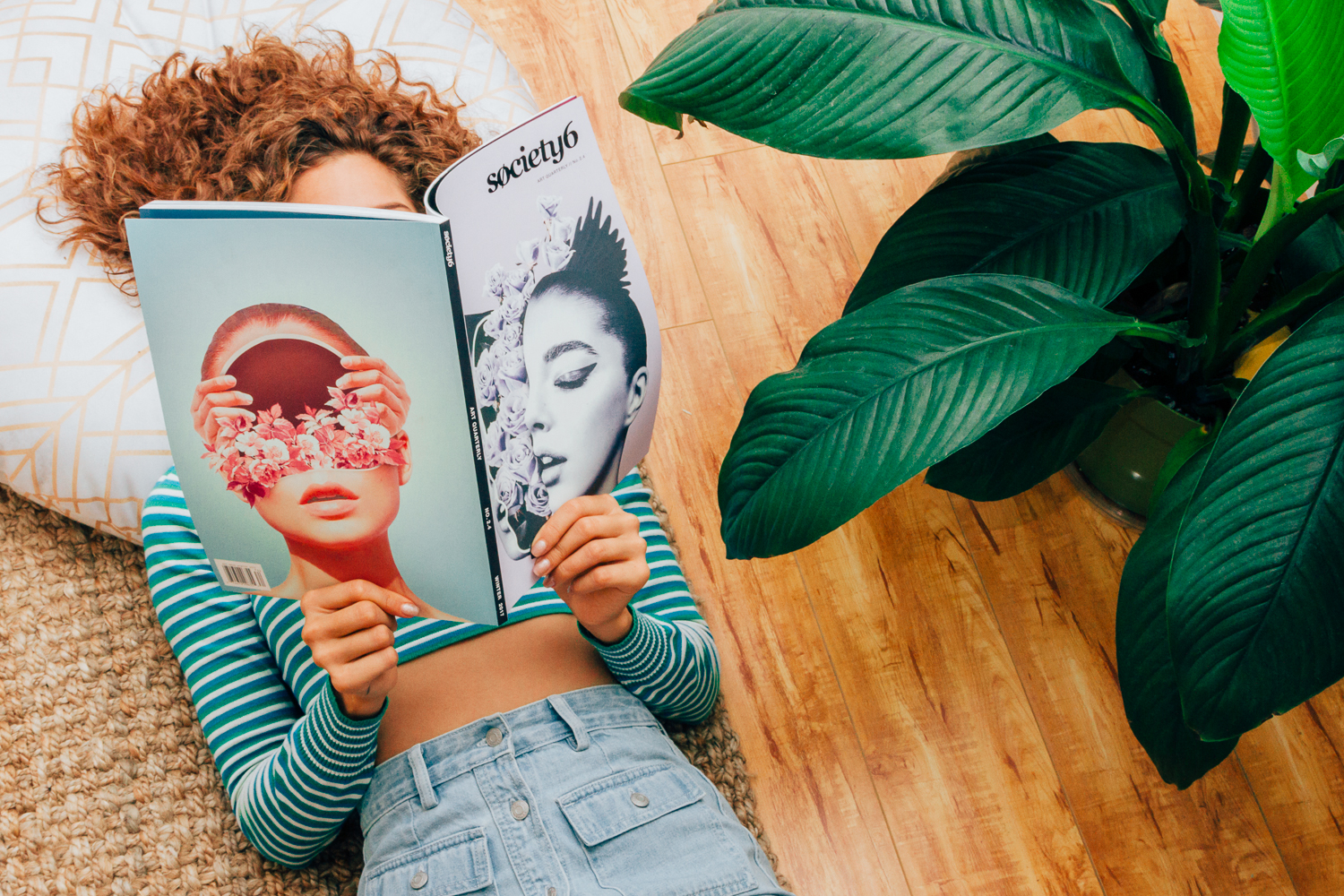 Our dedication to our artists goes beyond facilitating the sale of their work on various products. Whether through collaboration, exhibits, social media, features, emails, collections or videos, we strive to propel your work in front of as many eyes as possible.
The Society6 Art Quarterly drops 4x a year and includes new work from active Society6 artists. Emerging artists will sit alongside community veterans in a celebration of the diversity in media, style and subject represented within the S6 family. With thousands of artists uploading daily, we may not be able to fit everyone in, but we're thrilled to establish one more way to spotlight our talented members.
And now, let's introduce the artists of Society6 Art Quarterly No. 2.4 in order of appearance:
Anneamanda – Sasha Rinaldi – Agnes-cecile – Skitchism – Daniela Ruiz De E – Wasted Rita – Heather Goodwind – Bob Schneider – Barlena – Jakub Rozalski – Zsalto – Kim Leutwyler – Danny Ivan – Nicole C – Exit Man – Ivan Belikov – Chiara Lombardi – Mason Denaro – Winya – Abbey Lossing – Mercedes – Hillary White – Carp Matthew – Bethany Young Photography – Hypathie Aswang – Alfredo Ponce – Ilham Rambe – Wharton – EwKaPhoto – Blossom Patent – Anai Greog – Andbloom – Davide Bonazzi – Bjorn Griesbach – NGHBRS – Carlos ARL – Dahhh – Madelyne Joan Templeton – Dylan Morang – Andrea Hrnjak – Fernanda Schallen – Katie Aki Holloway – Deusexmuraena – Dip Dripper – Audra Auclair – Young Daniel Cant – Richard Vergez – Niky Motekallem – Ryo Takemasa – Jim Mahfood
These art books are exclusively available through society6.com in extremely limited quantities. Grab one while you can!