In the midst of our busy lives, taking care of ourselves often takes a backseat.
While we're out here studying, chasing down our dream jobs or literally chasing down our children, nourishing our bodies and souls often seems like a complete luxury.
That overwhelmed, dissatisfied place was exactly where Daily Harvest founder and CEO Rachel Drori started, but she definitely didn't stay there. Once she realized that eating nourishing food was something that made a huge difference in the way she felt—mind and body—there was no going back. Daily Harvest was born out of that desire to feel good (and look good doing it!).
Here, we sit down with Rachel to find out more about her priorities and passions and also get a peek inside Daily Harvest's beautiful Manhattan office.
Daily Harvest is such an incredible resource for nourishing, delicious food for people on the go. What sparked the idea to create this brand?
I started Daily Harvest because I was hangry. I was hustling at work, and like so many busy people, I didn't have enough time to recipe plan, prep and cook three healthy meals every day. At 3pm, I'd find myself grabbing a quick, convenient fix—usually a handful of trail mix or a bar—instead of nourishing my body with the good, clean food I knew I should be eating.
We're busier than ever. We work, we socialize and we are tied to our phones. I knew there had to be a way to make clean, nourishing food not only accessible but also realistic for today's world where we all feel stretched thin.
So, I began bagging up fruits and veggies and stocking them in the freezer on Sunday to have nutrient-packed smoothies and bowls throughout the week. I couldn't believe there wasn't anyone out there who was doing this for me—I wanted my Sundays back—and with that, Daily Harvest was born.
Today, Daily Harvest is taking care of food so that food can take care of the millions of other hangry people out there. We're turning every freezer into a replenishing pantry of delicious, nourishing food that fits the needs of life today.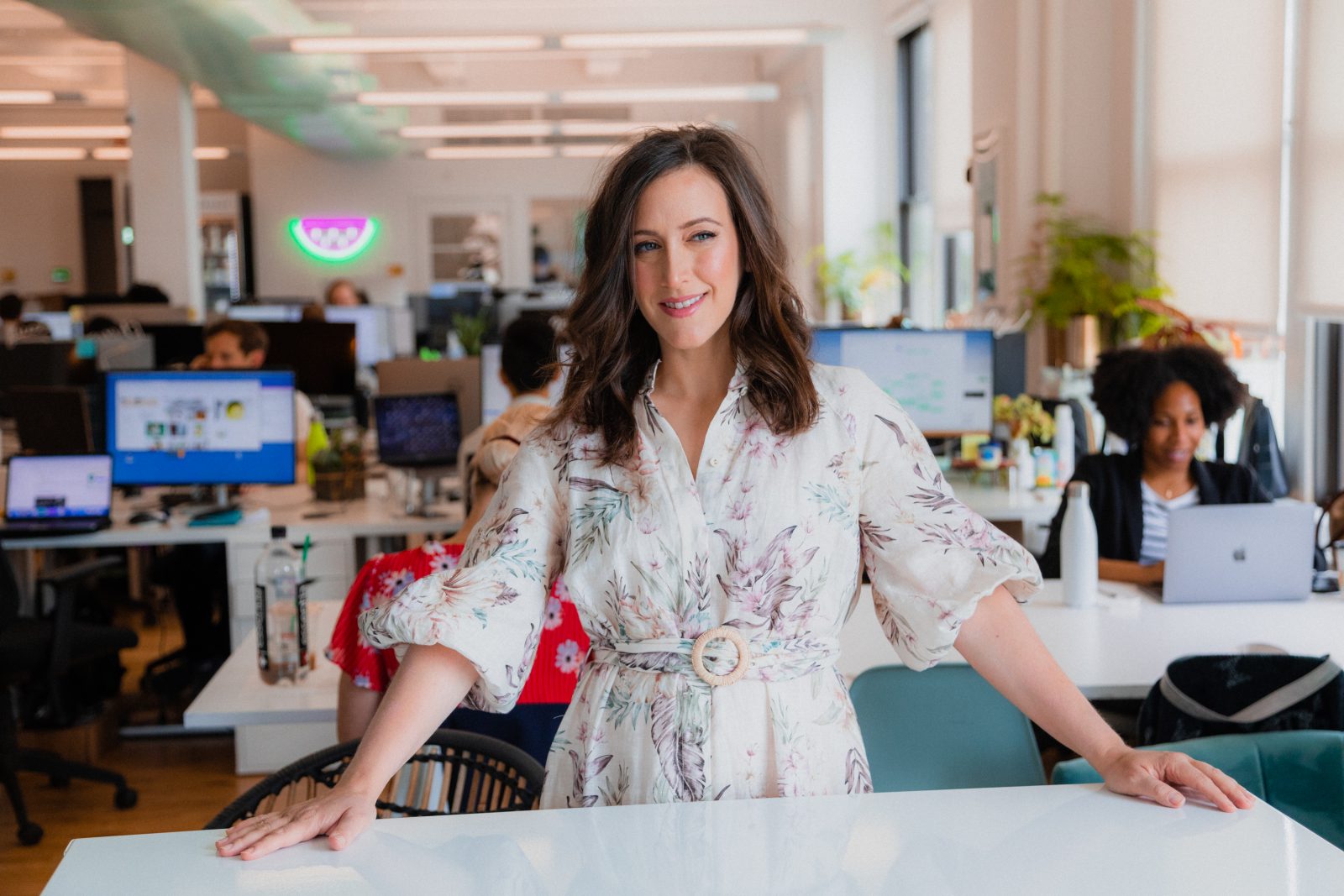 "I practice self-care by having self-compassion. A few years ago, I let go of the societal ideal of "doing it all" and stopped feeling guilty that I couldn't be in two places at once."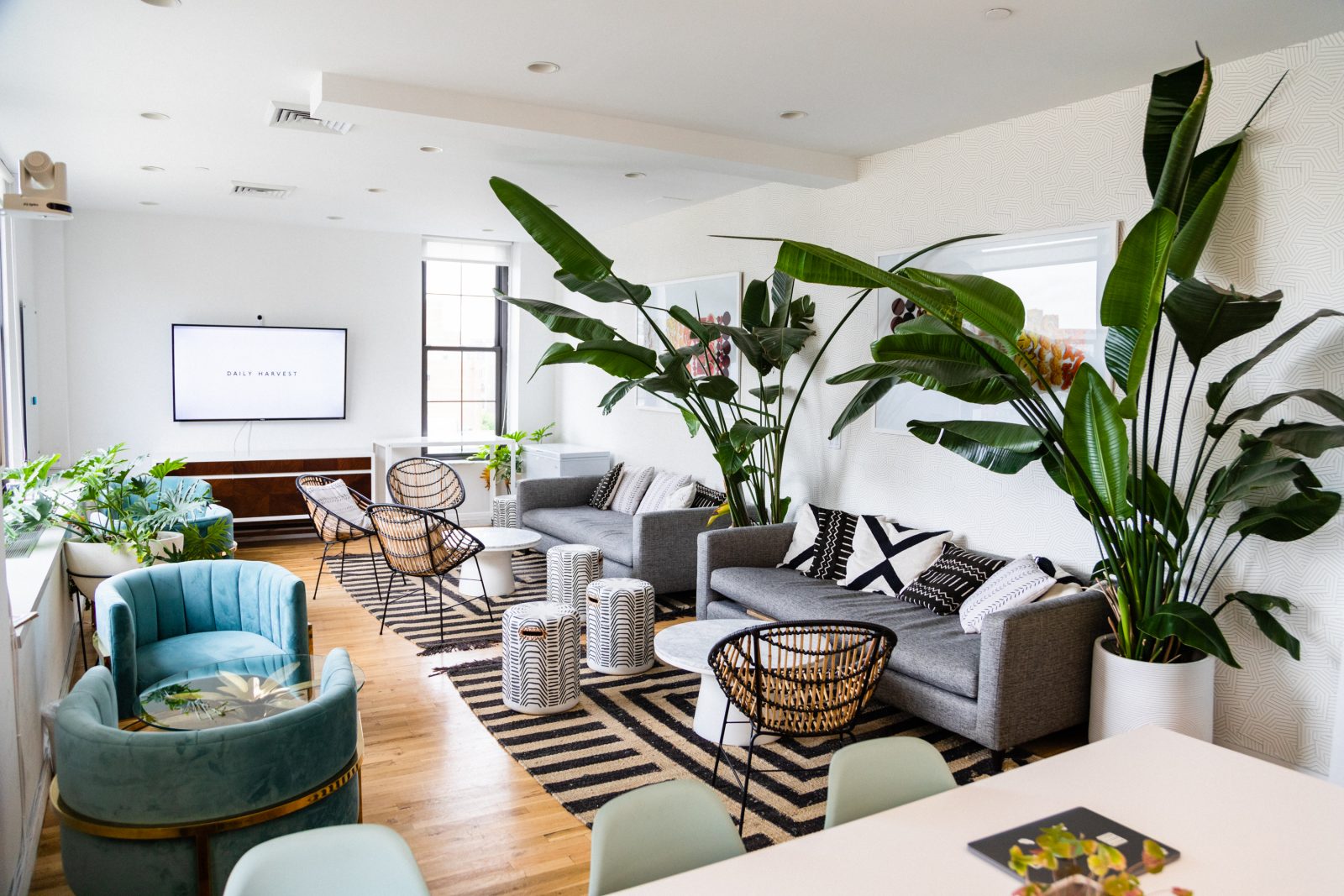 Before creating Daily Harvest, what is the saddest lunch (or breakfast) you had ever eaten? The other day I just ripped off a piece of definitely-not-new French bread—no butter, no jam, just bread—truly sad.
Birthday cake at 3pm! We all have whirlwind days where we grab food that lacks the nourishment we need at the cost of instant gratification (even though we know better). That's why I started Daily Harvest, to help people nourish their bodies with delicious, thoughtful food that won't slow them down.
The concept of "self-care" is all over the place these days, but it means something different to everyone. Do you consider "self-care" a splurge or an essential aspect of life?
For me, self-care "self-care" means prioritizing your own well-being and happiness, which is an essential aspect of life.
What are some of the ways in which you actively choose to take care of yourself?
I practice self-care by having self-compassion. A few years ago, I let go of the societal ideal of "doing it all" and stopped feeling guilty that I couldn't be in two places at once. Instead, I started focusing on my own self-care essentials, which include:
1. Quality time with my kids: Every night, I'm home by 6pm for family dinner and to put my kids to bed. I believe in quality time over quantity and ensure these cherished hours are free of interruption, distraction and devices.
2. Nourishing my body: I created Daily Harvest to help people—those who know they should be eating well but somehow don't—practice self-care. Our food is built entirely on fruits and vegetables and delivered in a format for real life, making it impossibly easy to nourish your body with good food that helps you be your best. We use whole and organic ingredients and never use additives, preservatives or fillers.
3. Maximizing my workouts: from running a business to raising kids, I'm extremely busy, so I've found ways to do short, yet effective exercise. I love Naturally Intense, which is an 8 minute weight workout led by Kevin Richardson. It originally sounded a little too good to be true, but actually helps me feel strong and is do-able with my schedule.
"Our food is built entirely on fruits and vegetables and delivered in a format for real life, making it impossibly easy to nourish your body with good food that helps you be your best."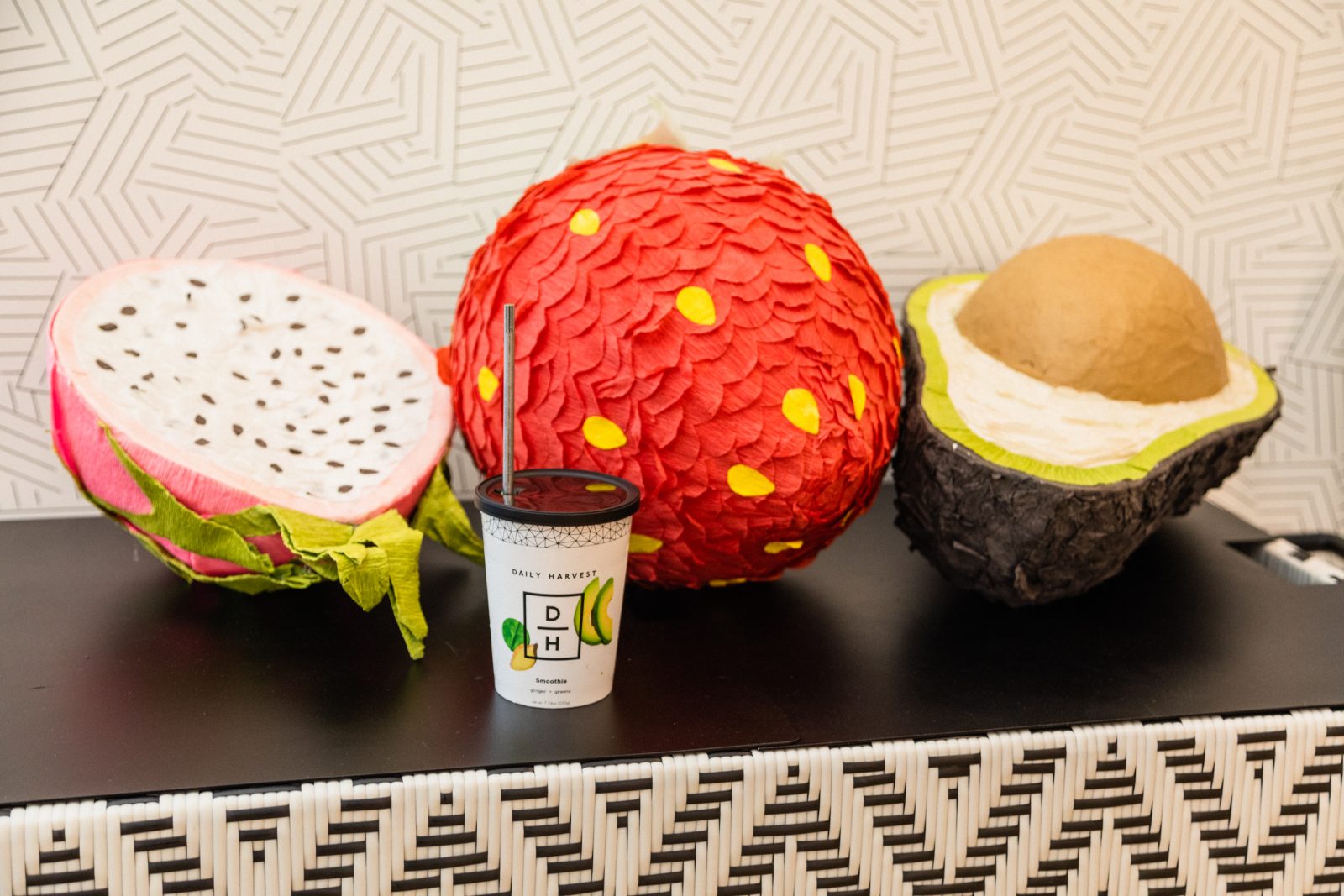 All of the design at Daily Harvest is so beautiful, what importance do you feel that aesthetics play in your life and your work? Do you find that you work better in spaces that "feel" better?
The Daily Harvest brand is designed to embody what we stand for—it's clean, modern and transparent because that's what our devotees deserve from the food they eat. Instead of using branding to create a distraction, we let our food be the focal point. It's essential for our office space to reflect this same brand ethos but also for it to be an open, comfortable and bright space that nurtures productivity.
Being not just a CEO, but a human being in general, I'm sure prioritization is a huge part of your life. What advice would you give working professionals who are struggling to "do it all"?
Stop feeling bad because you can't do it all. In my experience, there are real tradeoffs between work life, home life and self-care. Once you give yourself permission to prioritize (and possibly linearize) and stop trying to be everything to everyone, you will be a better at multiple roles.
Additionally, when prioritizing, what things should never take a back seat?
Nourishing your body with whole, unrefined foods! We believed Hippocrates was right when he said, "let food be thy medicine". Eating more organic fruits and vegetables will nourish your body and help you be your best.
Part of Daily Harvest's mission is to help create more time for those who are busy, busy, busy. What would you do if you were magically granted an extra hour in your day void of any responsibilities?
Spend time with my family! My husband and I love to go on little adventures with our two boys so we'd use an extra hour for exploring parks and playgrounds, leisurely walks through the city and family trips to our neighborhood grocery store.
And finally, I'm sure people often reach out with kind words about how Daily Harvest has truly helped their lives. What are some of the compliments that have stuck with you and keep you motivated?
We are in constant communication with our customers and love hearing how Daily Harvest solves their needs by offering delicious, nourishing and convenient options that fit right into their lives. Our customers inspire us and drive our business. We collaborate not only the food we make, but the experiences we offer; their feedback is used to continually inform and improve everything we do. See below for real feedback from our customers:
"I'm a mom of 3 boys (ages 7, 4 and 2), and I have not been good at feeding myself in the mornings. We're always rushing around getting ready to head somewhere. Daily Harvest smoothies and bowls have been a dream come true for me."
"I love Daily Harvest!! I recently had a cancer recurrence and your smoothies are helping me fight inflammation while giving me energy. Also, love the prep time is nonexistent!"
"I want to express my undoubted and extreme gratefulness for Daily Harvest. I'm a huge supporter of healthy nutritional eating and find that balancing school, work and swimming make it hard for the correct meals for me to be prepared in a short time which leads unneeded quick and unhealthy food. After the first taste of Daily Harvest, I knew that this was the best investment I could make.
"You guys rock. I'm currently living with and care-taking my 95-year-old folks and my mom still does some cooking so I don't really have my own kitchen right now. I was really struggling to eat in my own way (low carb, high fat, nutrient-dense, variety, etc.) and take lunches to work, and you guys solved everything for me! I love that you use creative flavors, yet don't over-salt or over-sweeten — I can add my own things, and mix / match! Keep it up!! THANKS!!"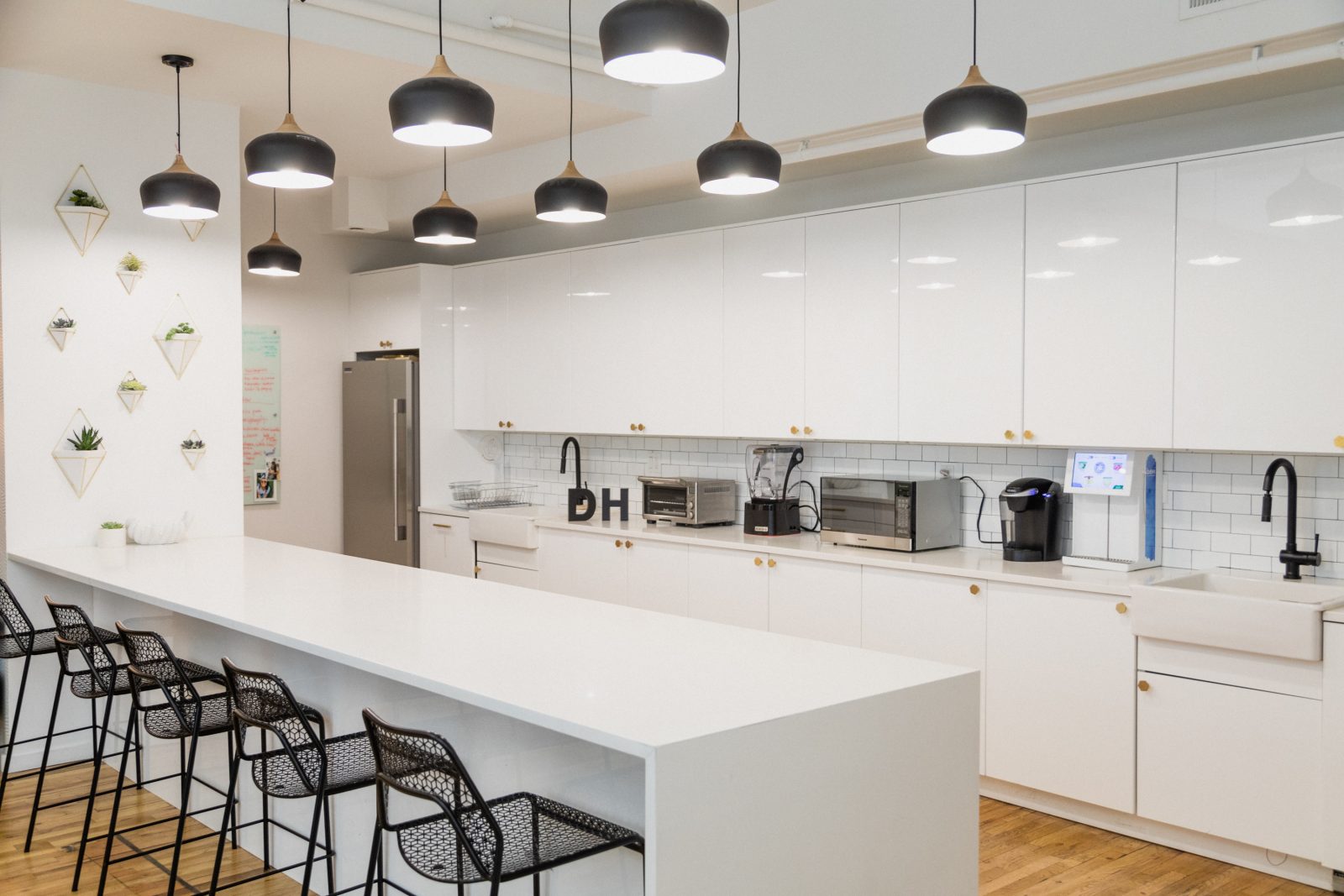 Photography by Jonathan Schoonover
Peek the exclusive art prints by Tatjana Zlatkovic we created with Daily Harvest here!