Finding the perfect gifts for everyone on your list is no easy feat.
There are so many factors to consider, from the recipient's aesthetic inclinations, hobbies and interests to less exciting matters of money. We get it–sometimes it feels impossible to find something that is both super thoughtful and affordable. So, we asked interior design blogger Anita Yokota to share her fave holiday gift picks that are chic, functional and sure to be in rotation all year round. Peek her gift guide below!
Guys, are you in the throes of the craziness of the season? The great thing about the holidays is the fun of being with our friends and family. The downside is deciding what to get them, especially if they seem to have everything already or even worse (!) are perpetually picky.
I am so excited to share my Society6 roundup of gifts that I am 100% positive someone in your life will absolutely love!
I am all about easy gifts for the people I love and adore. Two secrets to successful gift giving: 1) It has to be functional. What is the point of a gift if it is only pretty? Easily forgotten later, I guarantee it. 2) Aesthetically in line with the recipient's style. Why give your hipster co-worker something your older neighbor would love instead? Make sure you match the gift to the right person.
I love that Society6 has hundreds of unique, original artwork and gifts for everyone you know. We are often so stressed about finding something one-of-a-kind and functional, and I was so happy to find that Society6 offers so much in that respect.
My middle daughter has wanted a skateboard all year! And when I saw this rad red skateboard with a fun saying, I knew this was hers.
Next up on my gift list is my tween daughter, who loves playing card games. I love the fact she and her friends get off their devices and get addicted to playing card games. These cool playing cards will make her want to stay off her phone and have good old fashioned quality play time for sure!
They're also just perf for any rad game night you are going to host year round. This is what I am talking about when picking out a great gift! Functional, one of a kind and it promotes great memories!
And of course, what gift is complete without some kind of inviting wrapping paper? I am not the best gift wrapper by any means, but another pro tip is to make the effort to get quality and cute wrapping paper. Visually, it gives instant appeal and levels up the anticipation of your gift!
I was ecstatic that Society6 offered the wrapping paper I was looking for! Something unique, one of a kind and great quality. Not paper thin where it rips the minute you bump it with with another gift under the tree.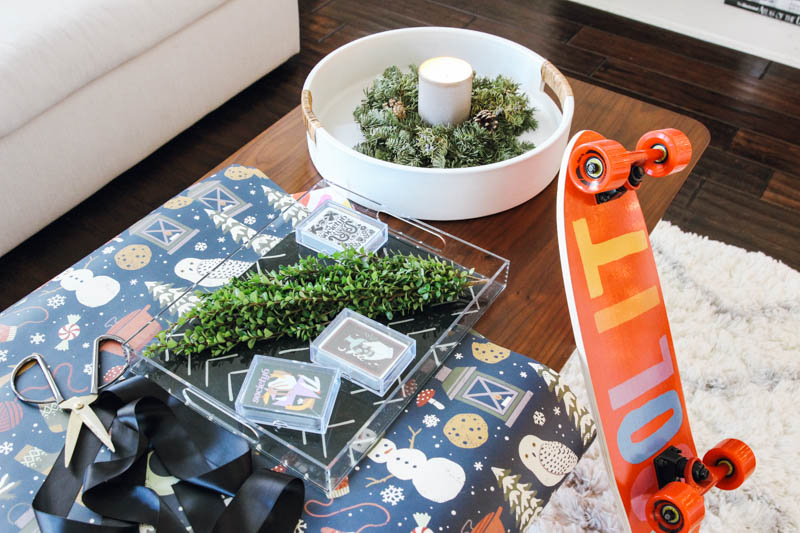 A bonus item that caught my eye immediately were these new acrylic trays and boxes! These are the best gifts for the decor enthusiast in your life. And I won't tell anyone if that person is yourself.
I love acrylic decor because it makes anything look light and ethereal. It also shows off whatever it's holding. And on top of that, it won't break easily like glass! With three kids, those glass trays always are a bit worrisome.
I loved this black mud cloth design–I am always looking for decor that looks great throughout the whole year, and this tray design fits the bill. For now, I can add a candle and holiday greenery in to make things festive. After the holidays, it'll be perfect for holding books, candles, beads and even our TV remotes for our family room. Anything is possible with these cute trays!
So what do you think? Find anything you or your loved one would like? I am sure you can't go wrong with the multitude of choices on Society6. Good luck with your holiday shopping! 
Nursery Rhymes Playing Cards
by Matthew Taylor Wilson
$15.00
Poison Bottle Deck Playing Cards
Mudcloth Big Arrows in Black and White Acrylic Tray
Winter Night Wrapping Paper
Sunset Stripes Wrapping Paper
by sunshinecanteen
$12.00
Colorful Mess Wrapping Paper
by Viacheslav Vystupov
$12.00