Bathrooms are deceptively important rooms in one's home.
Think about it: between showering and bathing, tooth-brushing, face-washing, primping and–ahem–all the other things that go on in there, you're probably spending a lot more time in there than you realize. That's why it's important to be sure your bathroom is a space in which you actually enjoy being, and one easy way to make a major statement in there is with the perfect shower curtain.
There are a lot of simple ways to improve the design situation in your bathroom, from swapping in fresh towels to switching up the paint color, but considering how much real estate your shower curtain takes up, investing in one that's just right for your space can create potentially the most visual impact. If your shower curtain is due for an upgrade, but you're not quite sure which direction to take, consider the tips below before you buy. Just be forewarned that once you spruce up the space, you'll probably find yourself spending even more quality time in there.
Think of It as Art
Especially if your bathroom is short on square footage, and therefore you don't have much in the way of wall space to decorate, having your shower curtain act as art is a totally clever solution. That said, this a chance to get really creative with the design you pick. Try out a bold, graphic abstract print or an illustration that pays homage to your spirit animal. Get weird! Let this statement piece be the starting point for the rest of your space and inspire the whole color palette and mood. And the best part — it can cost you a whole lot less than buying art.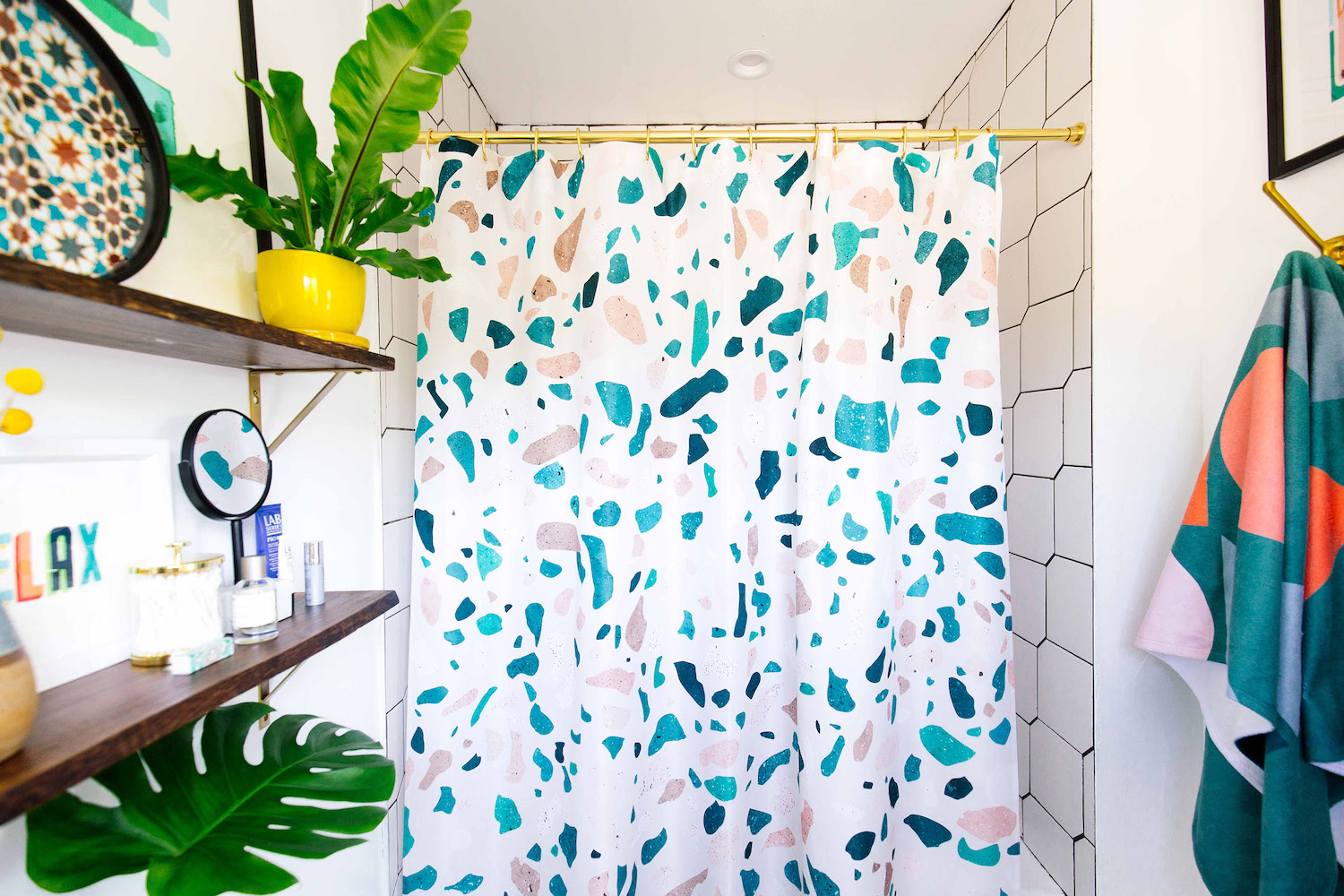 Keep It Coordinated
Sure a classic white shower curtain can be great, but depending on the other design elements in your bathroom, you could potentially do a lot better. Think of it as another textile in the room, so just like you'd want your towels to play into your desired color scheme (if you don't know, now you know), the shower curtain can work the same way. Whether you've got a certain motif going on, or just a general color palette, why not have your curtain coordinate?
Size Matters
For itty bitty bathrooms, a pro tip is picking out an extra long shower curtain which can be hung closer to the ceiling to create the illusion of height. If you're somewhat handy, it's simple enough to raise your existing rod up a few more inches — if not, just outsource it! Another option to fake your way to a larger-looking bathroom is by picking a solid shade that matches with your wall and ceiling color, as to not break up the space and make it look smaller. This is a case where white tends to work extremely well.  
Written by Ashley Tibbits
Curious Shower Curtain
by Sarah Eisenlohr
$69.99
Yellow Modernist Shower Curtain
by Madeline Louise
$69.99
Terrazzo Turquoise Pattern Shower Curtain
Little Things Shower Curtain
ROCK COLLECTION Shower Curtain
SUN TILE GREEN Shower Curtain
by holli zollinger
$69.99
Modern Scandinavian Shower Curtain
by Season of Victory
$69.99
DON'T TELL MAMA Shower Curtain