Rugs are like squares—or rectangles, or circles, or hexagons—of pure magic: They're a chic and effortless way to pull a room together, add depth and texture to an open space, anchor your furniture, and even improve your home's acoustics.1
But an ill-fitting rug can be an interior design disaster: A rug that's too small can look downright comical (and sorely out of place), while too large of a rug can make your space appear cramped and cluttered. Rug sizing is crucial to ensuring perfection for your space. Before buying a rug, it's important to make sure the dimensions work best in your desired room.
This rug size guide is part of your solution. Keep reading as we review typical rug sizes so you can confidently transform your floor space.
Common Rug Sizes
| | | |
| --- | --- | --- |
| Small Rug Sizes | Medium Rug Sizes | Large Rug Sizes |
| 3' x 5' | 5 'x 8′   | 8' x 10' |
| 4' x 6' | 6 'x 9' | 9' x 12' |
Your best bet for determining the rug size you require is to use the tape trick: Place painter's or masking tape on the floor around the pieces of furniture legs you'd like your rug to rest upon or around the open space you'd like to cover. This will help you visualize how a rug will appear in your area regardless of room size, and the dimensions you should search for when exploring styles.
Naturally, you'll find variations to "typical" rug sizes, particularly if you're perusing rugs in a brick-and-mortar boutique off the beaten track or checking out the finds at your local arts and craft fair. Generally, though, standard rug sizes are as follows:
Small Rug Sizes
Small rugs are used for myriad purposes, from dividing different spaces in an open-concept area to serving as an accent that magnifies your design choices.2 Regardless of the rug placement, they're usually defined as any rug that comes under 5', and their dimensions are contingent upon your chosen shape. Smaller rugs can also be great for layering rugs. Here's an example of common small rug sizes:3
Rectangle rugs: 3' x 5' and 4' x 6'
Round and oval rugs: 4' in diameter
Octagon rugs: 4'
Square rugs: 4' x 4'
Semi-circle rugs: 2' x 4', 3' x 5,' or 4' x 6'
These sizes aren't the extent of choices you'll find. You may discover what's identified as a "small" living room rug coming in at 5.25' x 7.55', for instance, or one that comes in at 2' x 3,' which might be a perfect accent rug for your home office or master bathroom.4 Knowing these standard rug sizes can help you shop and budget.
Standard Medium Rug Sizes
Medium-sized rugs are an optimal choice if you don't want a rug to dominate your bare floor space or if you're working with a smaller space. Standard medium rug sizes are generally within this ballpark:
Large Rug Sizes
Large area rugs, like Persian rugs or modern, patterned beauties, operate almost like an extra piece of furniture (in a good way) or dramatic piece of art in a large room. These rug sizes may fall between:
Rug sizes can go even larger than this but these are the most typical large rug sizes.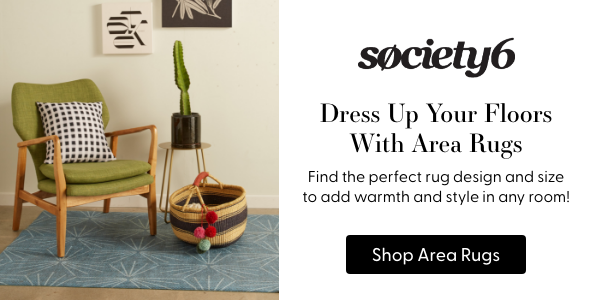 Best Rug Sizes by Room
Thank the stars for the broad (and seemingly countless) range of rug sizes available because each room may benefit from a unique size. Below are our top tips for determining area rug sizes according to each section of your home.
Bedroom
The best rug size for your bedroom all boils down to the look you're keen on achieving.
Some may choose a runner at the foot of their bed to add dimension to their space or as a cushion beneath a bench or chest. Others may place a large rug underneath their bed to give their feet some love when they rise in the morning and harmonize the room.
If your wishes fall into the latter category, select your rug according to the size of your bed:
Queen: 8' x 10'
King: 10' x 14'
Happen to have a spacious bedroom with a dresser, a vanity, and/or more? A large area rug that accommodates all of your furniture may amplify the cohesion of your space (and keep your toes warm during winter).
Living Room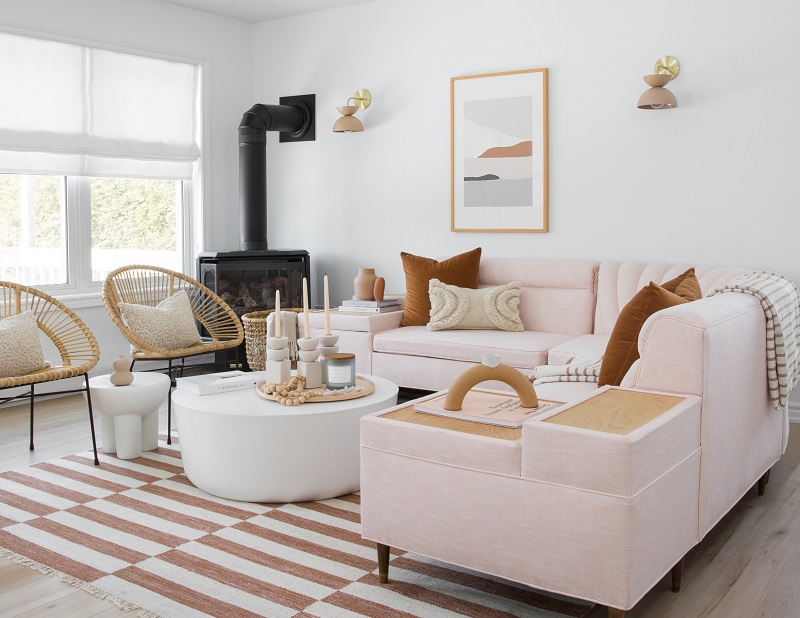 Your living room is where most of your living likely takes place; as such, your rug should be durable enough to handle foot traffic, spills, and all the fun stuff that comes with daily being.
The size of the rug you select for this area should be determined by your furniture and its set-up; its shape should reflect your furniture's style and how your pieces are arranged (although there are no hard and fast rules for decorating, period).
Still, design experts recommend:
Leaving at least a foot of rug at the end of your sofa – A rug shorter than the width of your sofa will diminish the aesthetic of your space and may appear haphazard (not in a good way).
Measuring the perimeter of your room – A rug that's too large, to the point that it hits the walls of your living room, will shrink the appearance of your space. Instead, you may want to leave bare space between the edges of your rug and your room's walls and door(s). 5This insertion of blank space follows the same logic as putting some distance between paintings and posters on a gallery wall: The emptiness draws more attention to the art displayed. A 12 to 18-inch "break" around the perimeter should do the trick.
To accomplish all of this, you may need an 8' x 10' rug, but this depends on the size of your living room.
Dining Room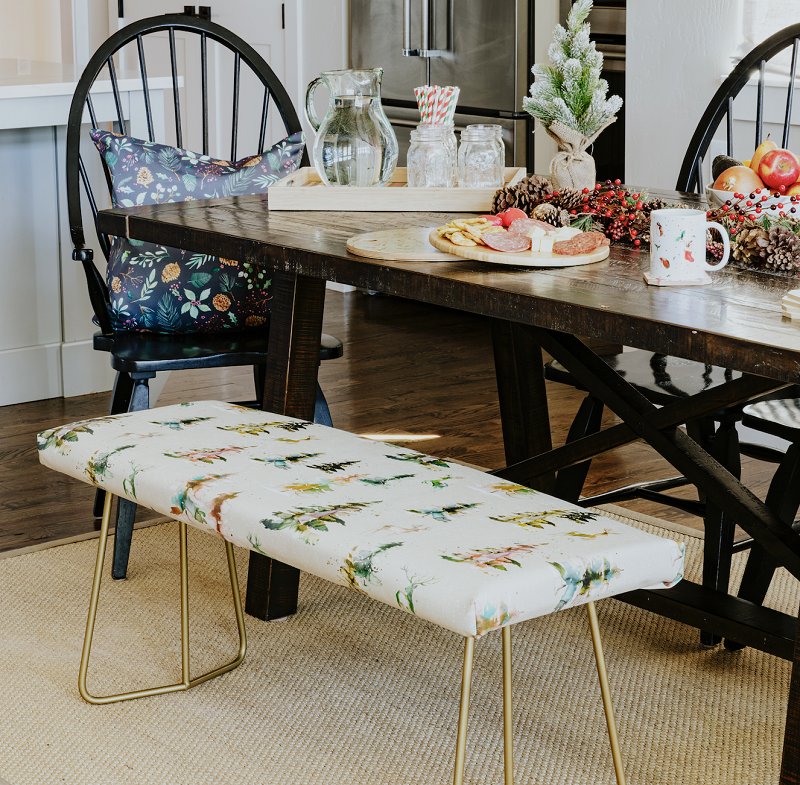 Similar to your living room, the rug you choose for your dining room should permit your dining table and chairs to rest comfortably on top of it. (Who hasn't sat at a dining room table with too small of a rug underneath it and felt their chair wobble on the rug's edge?) To this end:
Place your dining room table and chairs in the arrangement you envision and provide ample space for the chairs to slide in and out.
Select a large enough-sized rug that echoes the shape of your table—a rectangle rug for a rectangular table, a round rug for a round table, and so forth. Alternatively, select a different shape to infuse your space with contrast and intrigue.
Depending on the size of your dining table, you may find that the perfect sized rug is somewhere between 6' x 9' or 8 x 10'
Find a Variety of Rugs at Society6
A rug sizes chart is a solid start to scoring a sense of what's available on the market. Still, a rug size guide can only go so far: Unless you're procuring your furniture and designing your home based on the rug(s) you're wild about (which is totally cool and done often), you'll have to unearth your tape measure to determine the right sizes to suit your space, personal style, and interior design objectives.
Society6 is here to help you determine precisely what that style and those aims are all about. We have a bevy of dynamite rugs to compliment every corner of your abode, regardless of what you're searching for. Plus, our rugs are made with a dreamy polyester chenille blend that will bliss out your feet and please your pets.
Elevate your space with all the joys that can be found only at Society6.
Sources: