Luisa Salas (aka Hola Lou) creates something new every day.
Whether it's a doodle in a sketchbook, one of her signature abstract paintings or a larger-than-life mural, she seamlessly blends saturated colors, organic shapes and touches of her lush surroundings in Cancun, culminating in a style that, quite simply, exudes positivity. We commissioned Luisa to create the stunning cover art for our newest Art Quarterly 4.2 and caught up with her to talk everything from the ins and outs of her creative process to taking much-needed nature walks.
You worked as a graphic designer for various brands over the years. What inspired you to pick up painting again and dedicate yourself to your art?
I felt like during that time of my life, I had slowly been losing my essence–who I was and what I liked. After sticking to brands' guidelines for years, it became really easy to ditch trying to do better for myself. I had my kid and remember feeling completely lost, 'till I decided it was enough. Although I couldn't really stop graphic design because it was my main source of income, I worked during the day, played with my kid in the afternoons and painted every single night until it was more than obvious that I was getting serious about shifting towards art.
What draws you to the organic shapes and graphic colors we see in your works?
My interest mainly lies in what my current home offers: contrast. If you've been to the Caribbean you know that contrast is a constant everywhere you look around here. To be completely honest, starting out with bold shapes was a mere representation of what I saw in the artwork of my son Lori, who was three at the time I started painting again. I could see how carefree he was–he didn't have any objective and wasn't concerned with what anyone would think of his painting. This was without a doubt what I needed to do. I needed to be free again so I started out on the path he unconsciously showed me.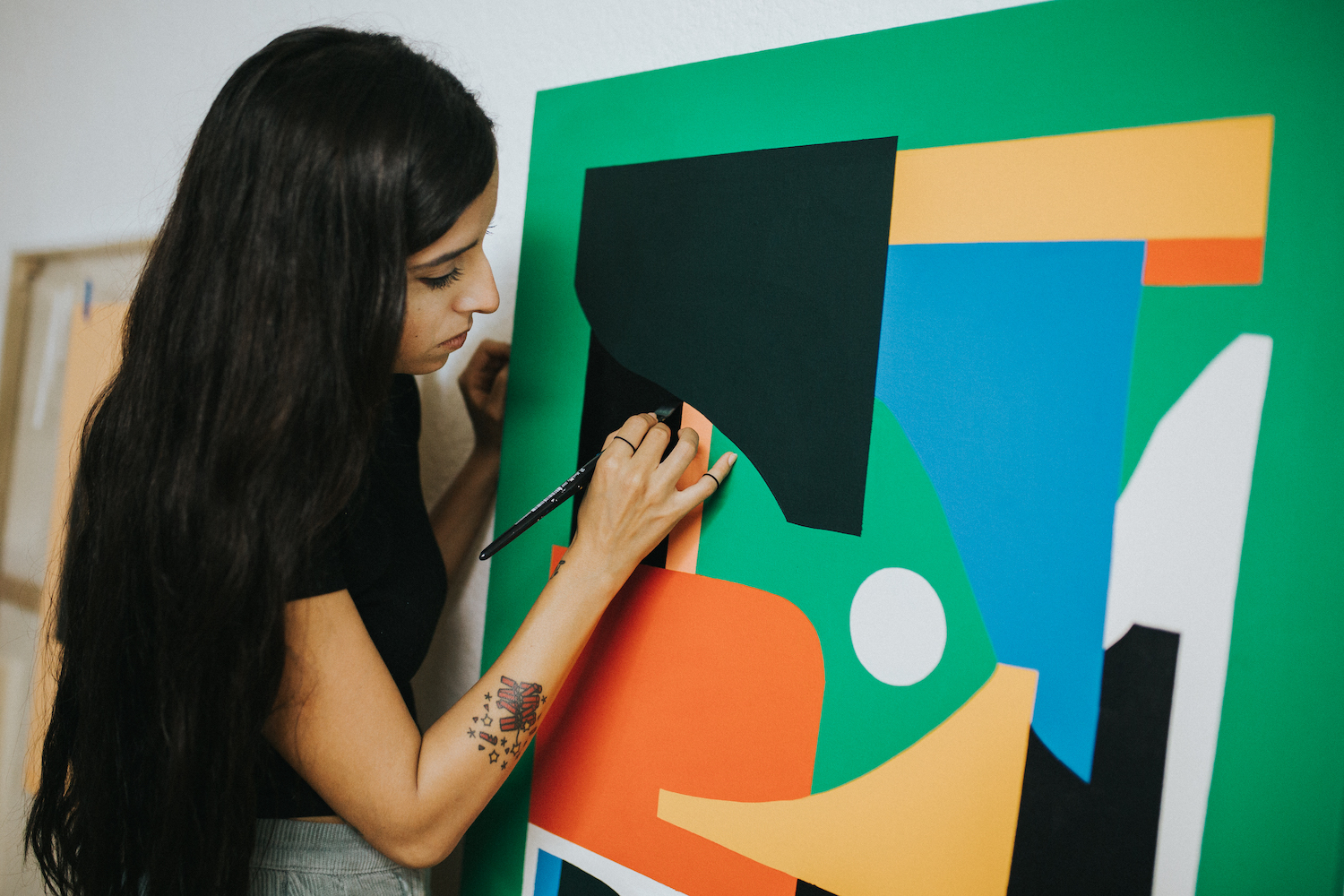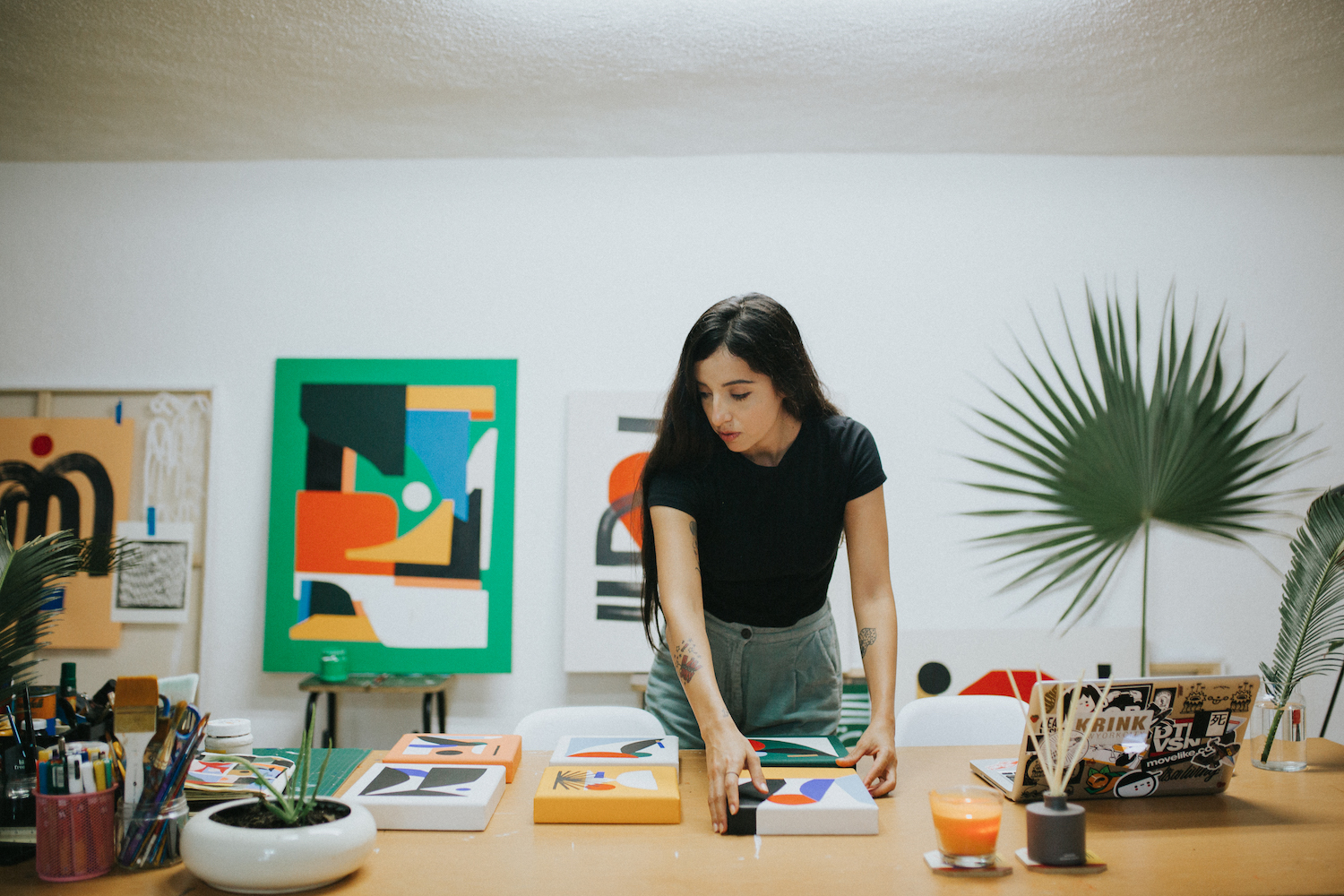 You've described your work as "simple bold," embracing a back-to-the-basics aesthetic. Can you tell us a bit more about how this informs your approach to your art and life?
After picking up painting again, I knew I had to be true to who I was, what I loved about life and what I consumed as a designer. I had to be honest with myself and discovered that I am a pretty simple person. I tend to dress in basic colors, I'm super easy-going and laid-back and I'm astonished by how complex and bold simplicity can be. Simplicity is more about being true to myself, because that's the best version of myself that I could ever offer.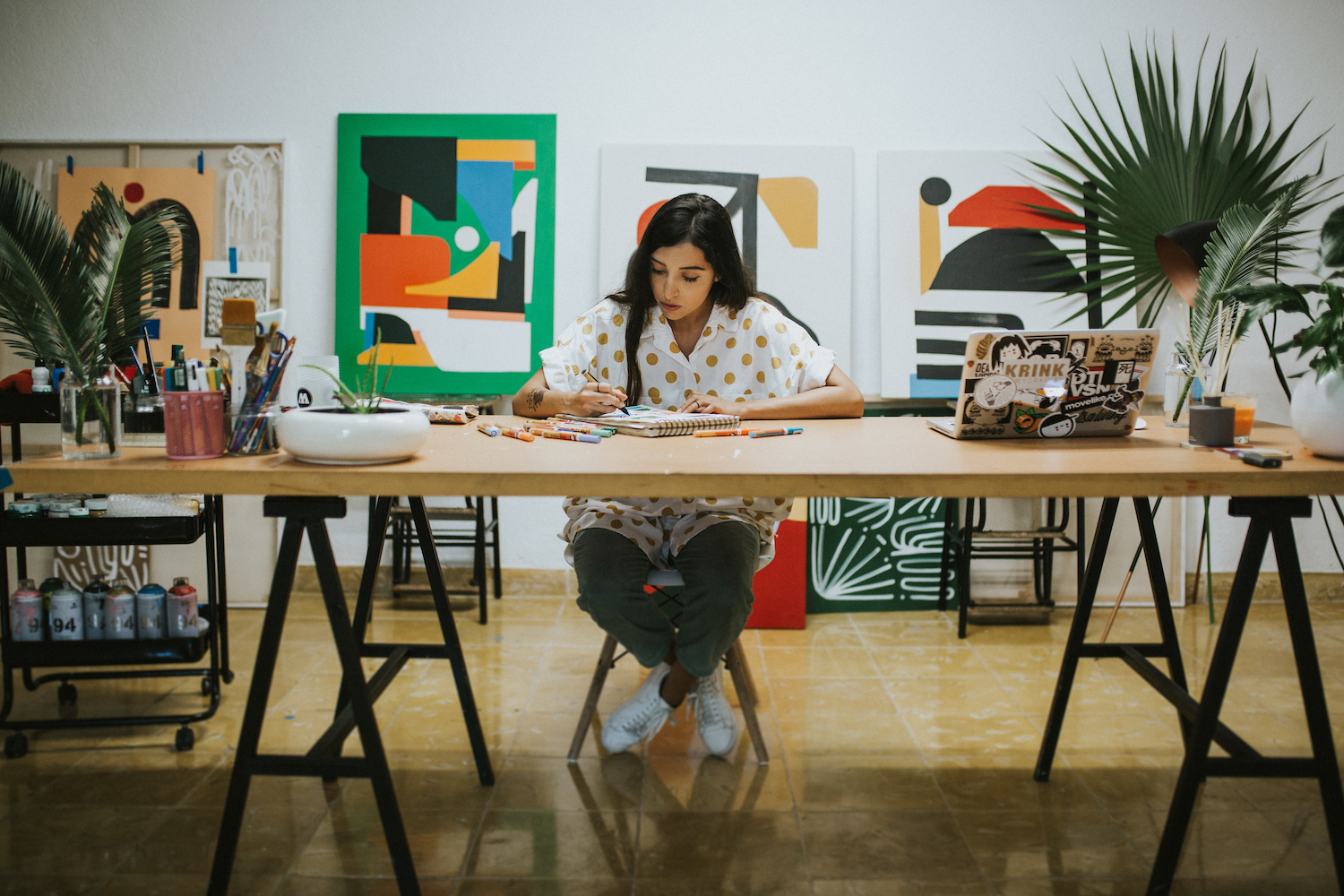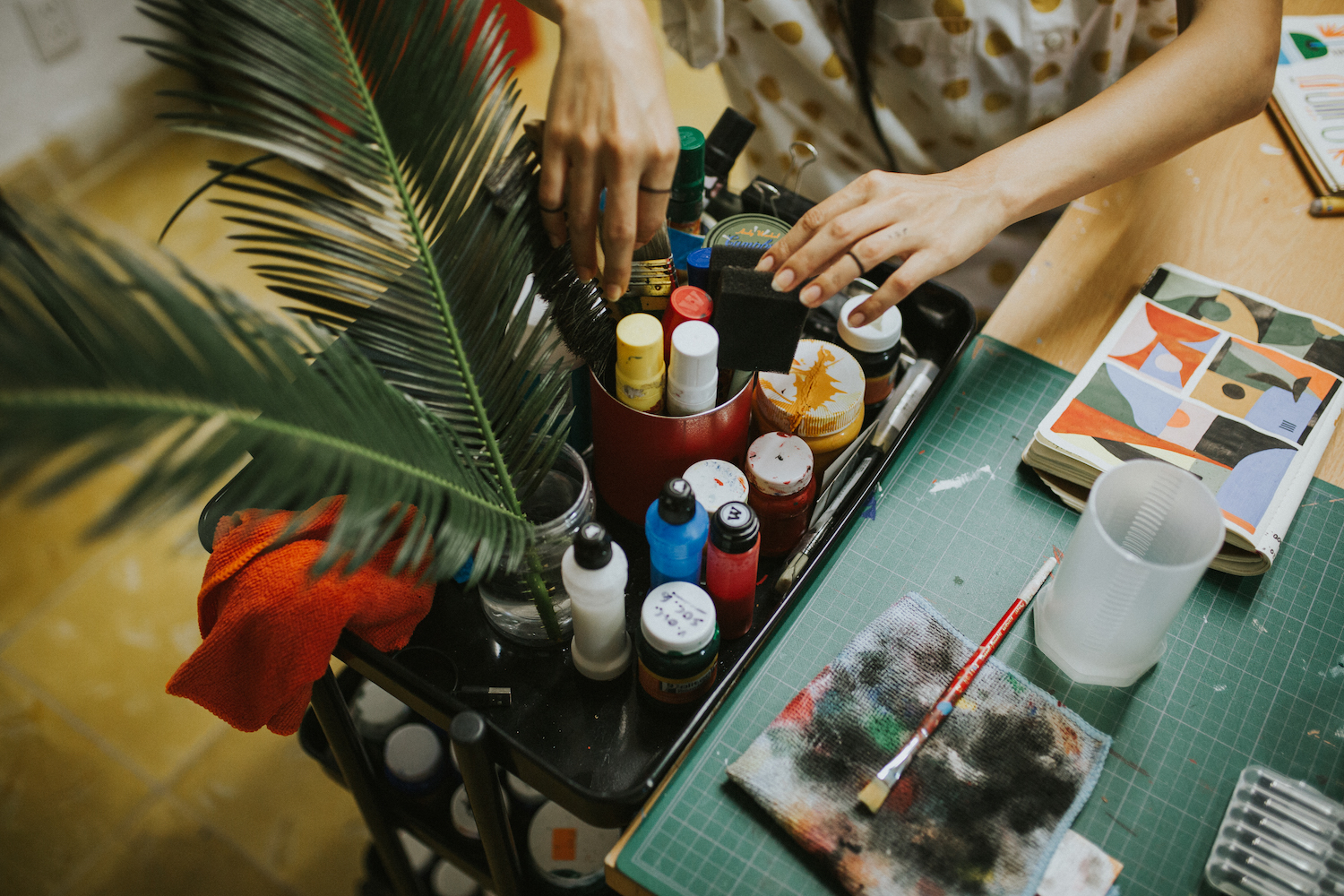 I've read that you're very much inspired by your environment. How do your surroundings in Mexico come through in your works?
In every sort of way, but mainly colors, because in a place like Mexico's Caribbean, the blue sky is always super saturated, plants and birds are literally any color you can think of and houses are painted in pink, orange, blue, you name it. I'm also very drawn to the social contrasts that this place offers. Tourists and locals look completely different, but it's exactly those differences that make everything super interesting to my eye.
Speaking of surroundings, can you tell us a bit about your neighborhood and work space?
My favorite thing about my neighborhood would be the jungle-like parks that surround downtown–they are full of life. I don't have a separate studio. To be honest, Cancún is a rather difficult city to find open, bright spaces to work in so I mainly work from my home. I managed to steal the living room space for canvases and a big wooden table holds my iPad, computer and cat!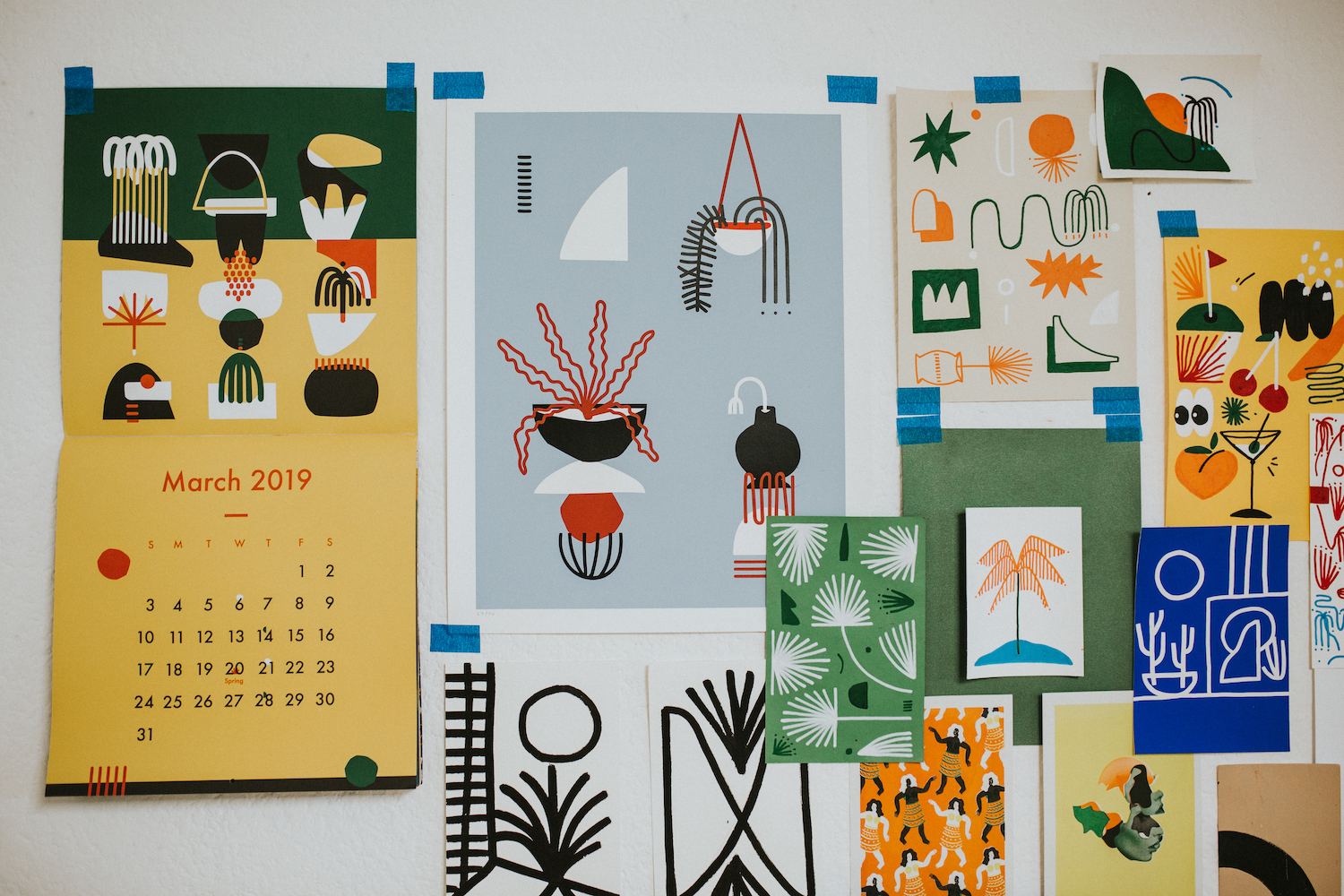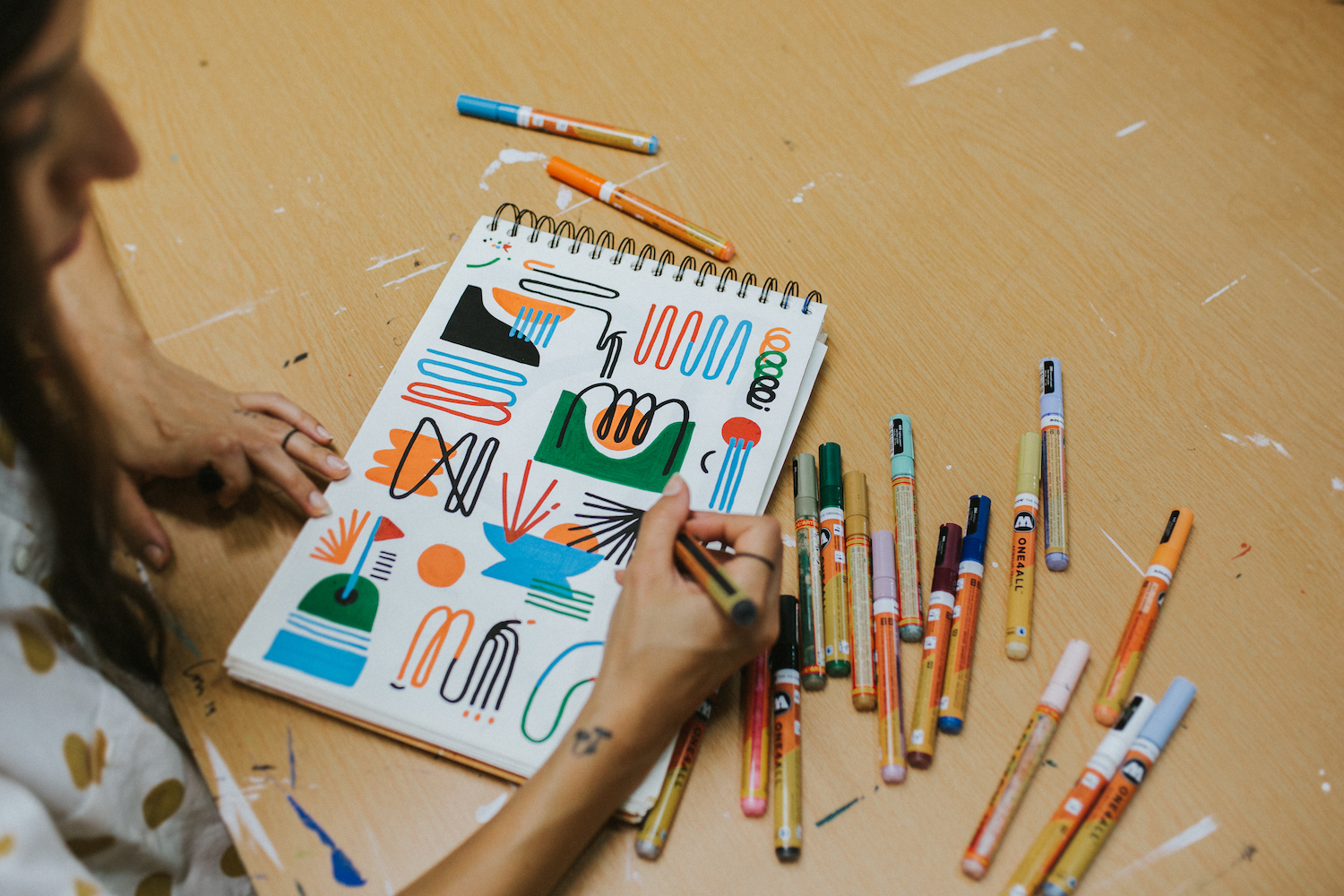 You blend both digital and analog techniques, often drawing or painting forms before transferring them into Adobe Illustrator. Do you prefer one method over the other, and how do these practices influence each other, if at all?
I absolutely love to jump directly into fun surfaces like an Ipad Pro, but to be fair, I KNOW that results will be much better and accurate to what I have in mind if I first draft for a while on my good old sketchbook. I guess it's a matter of how I'm feeling and what the objective of the day is, but I would definitely say every single step of the whole creative process is equally important and complementary to one another.
Your works exude positivity–is that intentional? What do you hope people take away from your work?
I honestly wasn't planning on it at the beginning, but as time went by and more people told me how happy my artworks made them feel, I soon realized it was some sort of "call" I had to pay attention to, so I definitely shifted into always trying to show that positivity in every piece I work on. I hope to share a small piece of the vibrant scenes I experience here everyday and take people to a place where they were really happy (like the beach). But at the same time, everything I do is a window to my life and I turn sad situations into something beautiful and vibrant. I hope my art keeps showing that confidence and possibly even serves as a catalyst for change in people.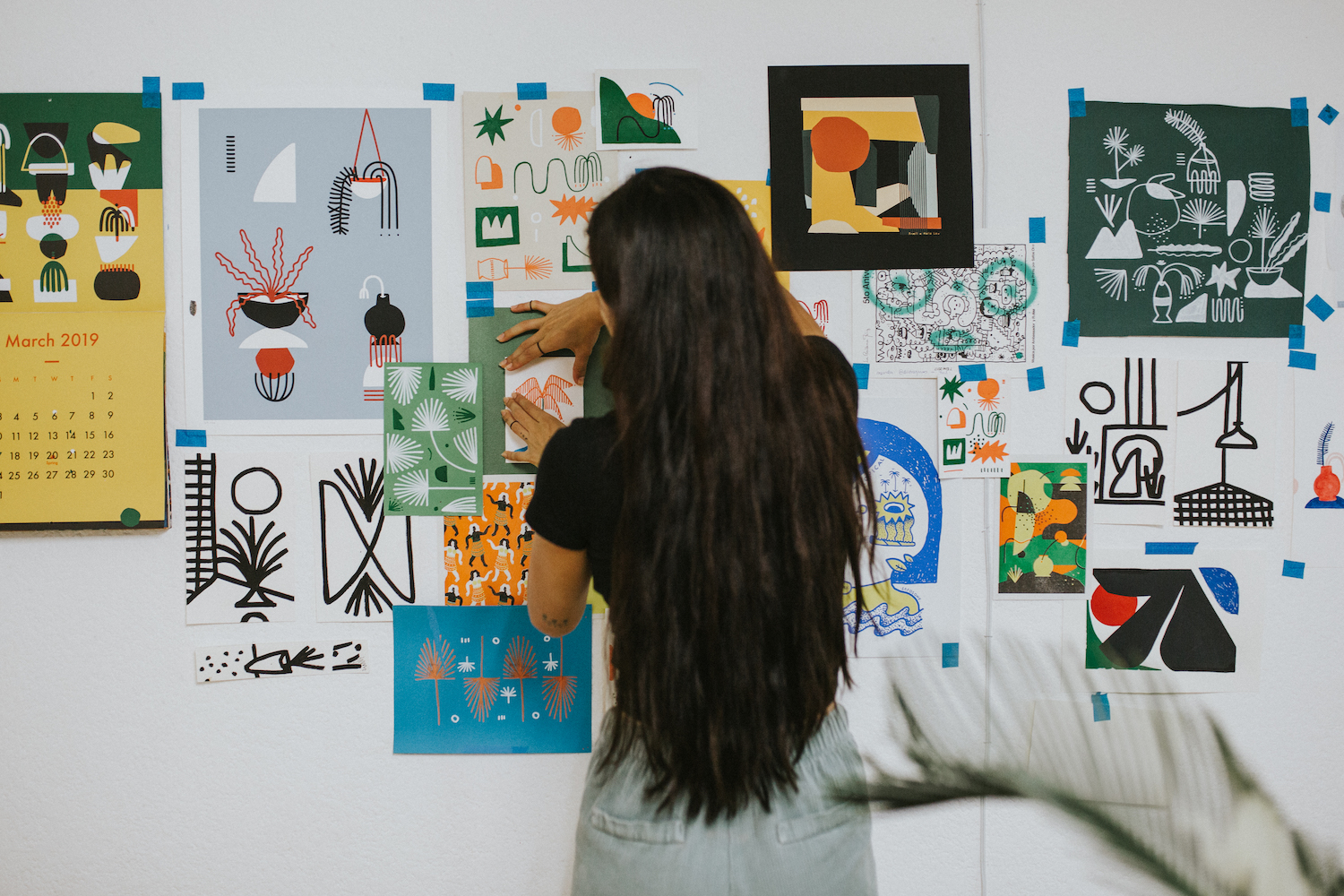 How do you get creativity flowing when you're feeling a little stuck?
I would say it's pretty healthy to go out, breathe fresh air and walk somewhere new. It doesn't have to be a place where you will spend any money and it doesn't have to be the most beautiful landscape you've walked through. It's just a matter of opening up your eyes and soul to the small details that spark creativity. In my case, going out for a walk with my boys is not just a random thing to do–it's a serious health routine I follow.
You've had the opportunity to collaborate with brands like Nike and West Elm. What's a dream project you'd love to tackle in the future?
There's a million things I could think of, from traveling across the globe for my mural practice while getting to know more kickass people, collaborating on a major clothing edition or even producing my own branded products. At this point in my career I feel like the possibilities are endless as long as I put my mind, focus and soul into it without stopping. I love to work with big brands, but few things are as rewarding as being contacted by people for your own work and being told how much they appreciate it.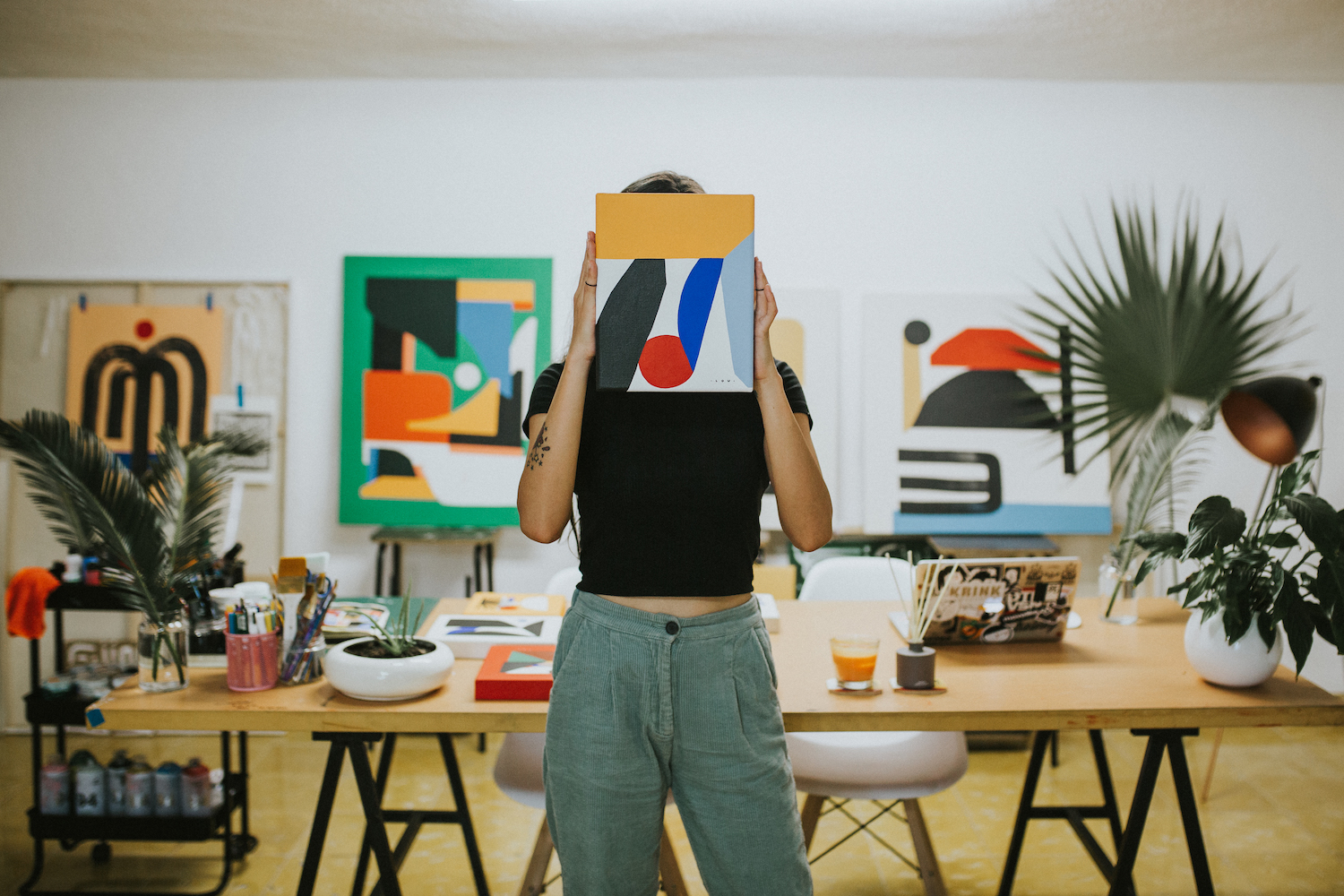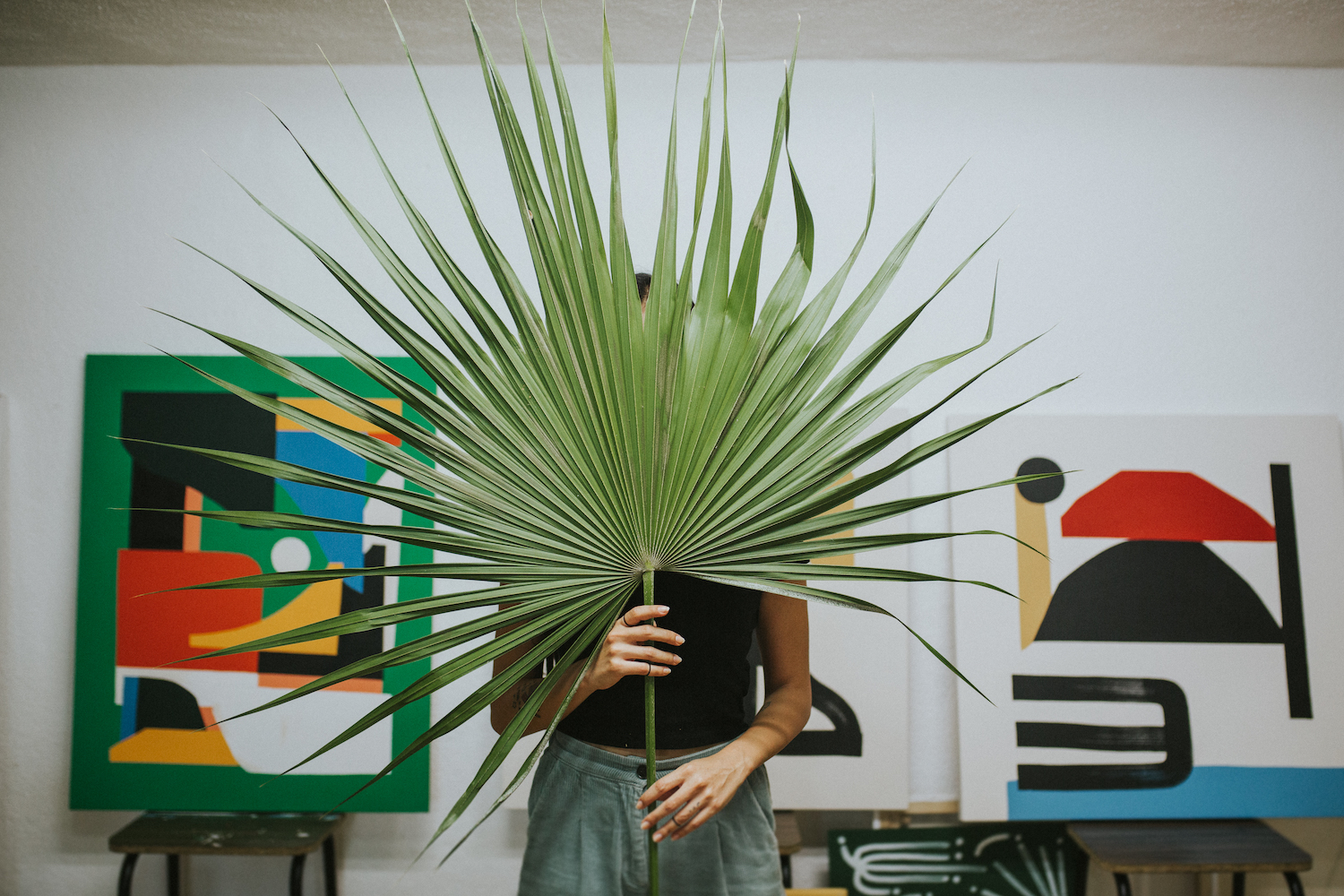 How do you continue to push your practice?
I very much enjoy finding new color combos and I adore playing with them as much as possible. When I first started painting I knew I had to push myself to paint bigger canvases, use different types of paper, find my favorite brushes and doodle on photos I took. Life has guided me into a situation where I get to experiment on every single surface I could've ever imagined (even using spray cans for a 90-meter wall!). Even if I don't like it, even if it's not painting or design, I keep creating new stuff everyday.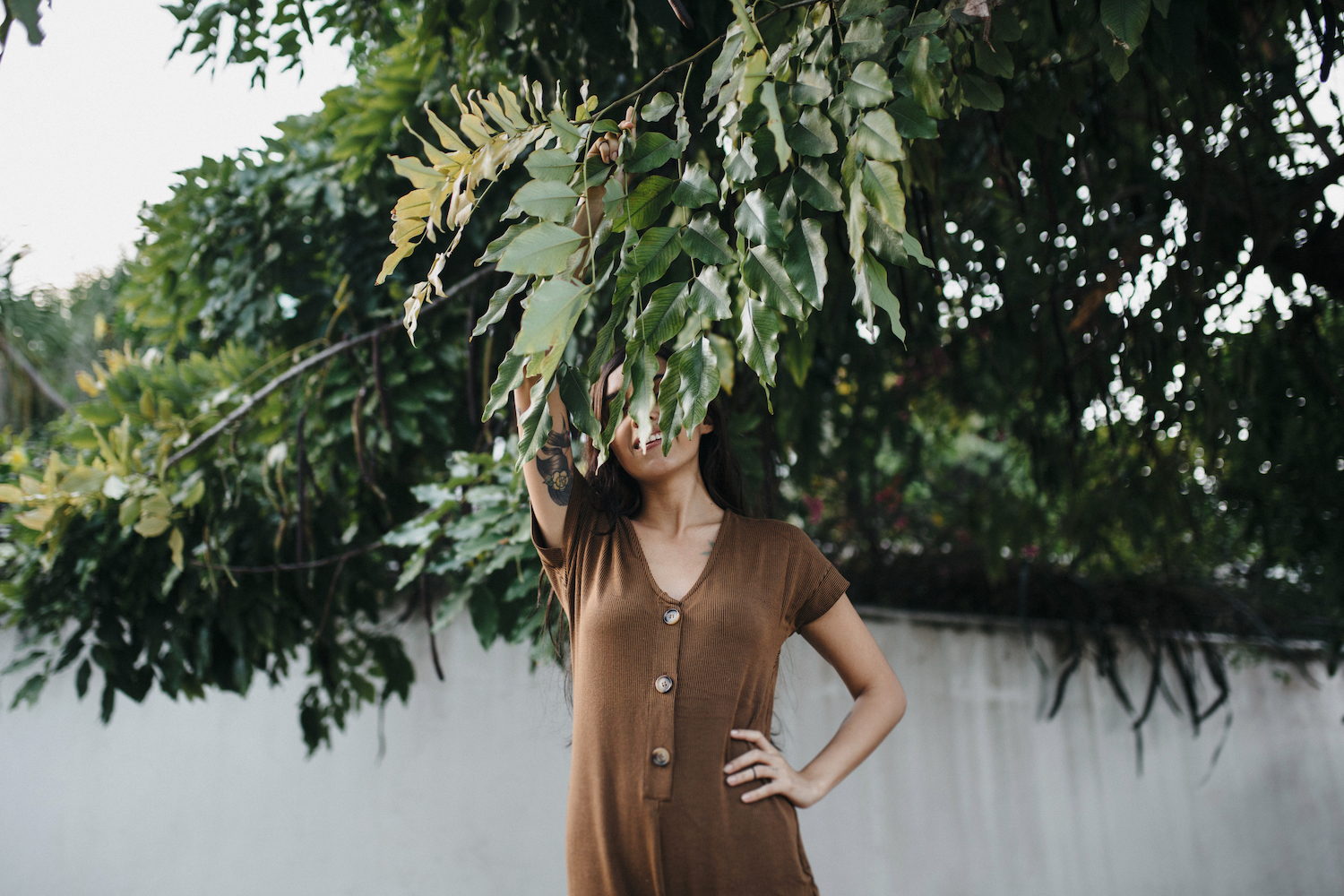 Seaside Winter Wall Tapestry