Lose yourself in the world of Herikita for just a minute. This timelapse vid takes you behind the scenes as the Bogotá-based illustrator does her thing.
"I do things with my hands that I imagine in my head, so people can see it too," says Herikita of her paintings. She focuses on what she knows best–womanhood and the female experience– be it aspects of body positivity, fertility, or surrounding yourself with the ultimate girl gang. Herikita has shown her works in Paris, Berlin, Istanbul, and Copenhagen, to name a few, and has produced illustrations for the likes of Chanel, I-D Magazine and Rookie Mag. And we here at Society6 love her so much we featured her in our latest Art Quarterly No.3.2 and first-ever women artist summit Girls Art Now, which featured panel discussions around what it means to be a woman artist in 2018. Talk about girl power, huh? Read on as Herikita talks her artistic process, inspiration and Cinderella's mice.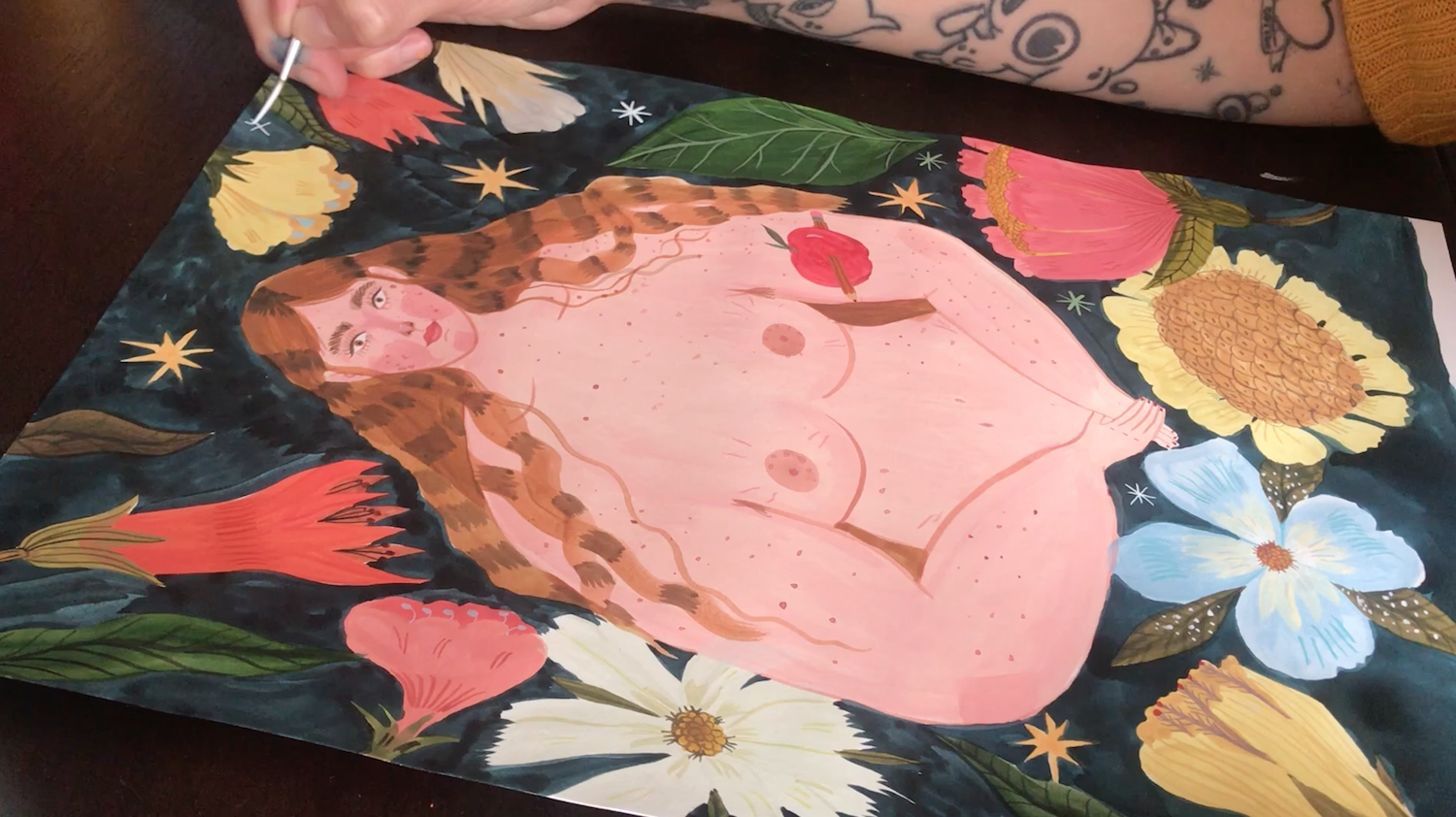 Where are you based? What kind of art do you create and is art your full-time gig? 
I live in Bogotá, Colombia. I have always felt a need to tell my life to others. I also always felt a need to paint, to make visible what I see inside my head, and to make it visible through my hands so that others can see it.
In my work, I speak about women and about myself because it seems to be what I'm most interested  in — it's what I know the most. I speak about my childhood as a girl. This is my full-time job– this is what I was born to do.
Can you describe the creative process you recorded? What is the backstory for this piece of artwork?
First I made a sketch, then I painted with ink and acrylic on paper. The subject is a girl obviously, and all the girls that I paint are me, in many different circumstances. The painting is called I Decide What to Grow in My Body. I firmly believe in the legalization of abortion, since abortion will always continue to happen even in clandestine and unsecured ways.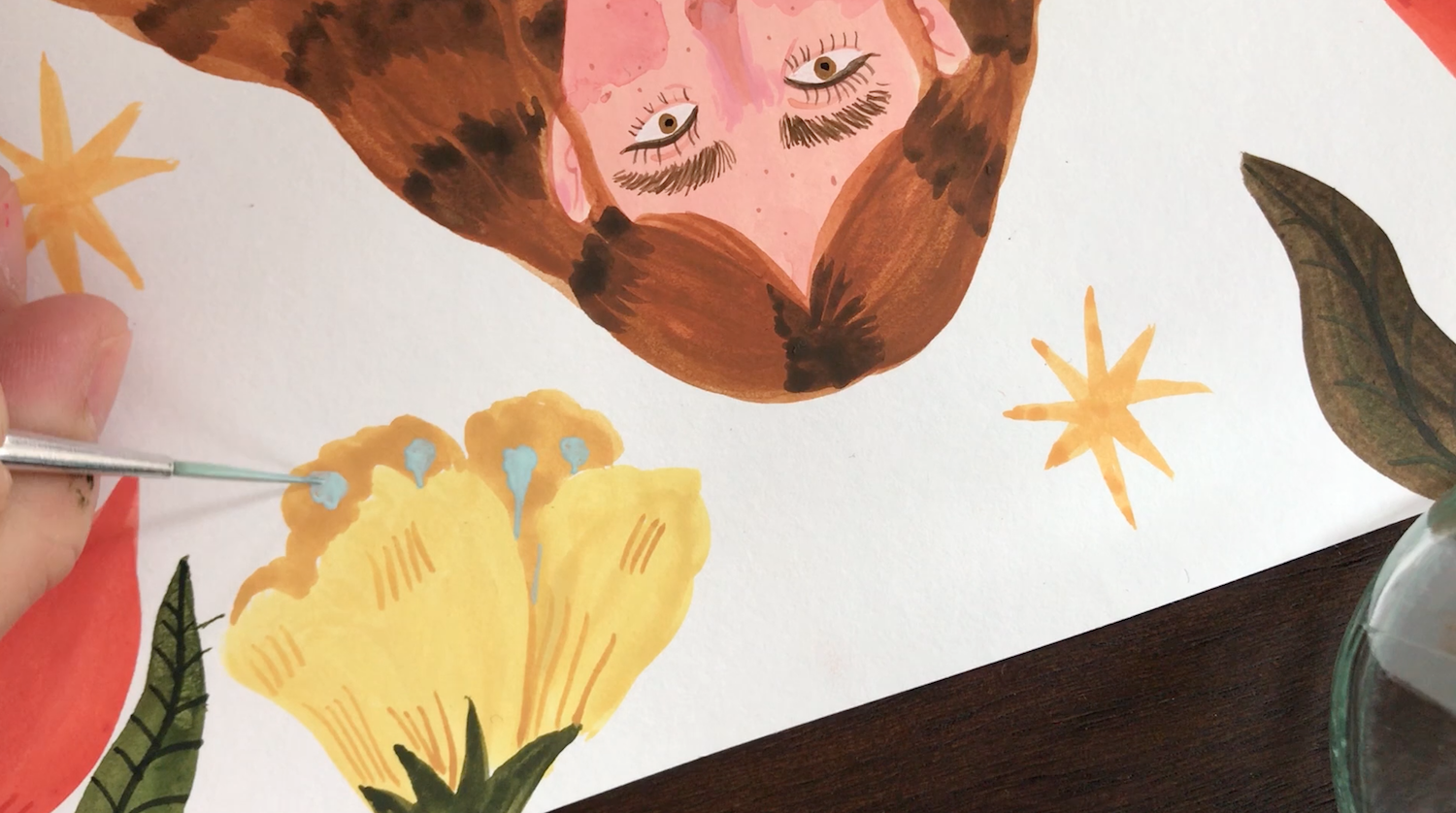 What's something you've learned about yourself while creating art?
I've learned that something can be terribly wrong and suddenly get fixed.
What music or playlists are you listening to while you create?
Janis Joplin, The Doors, Kate Nash, obviously, and Mystery Jets.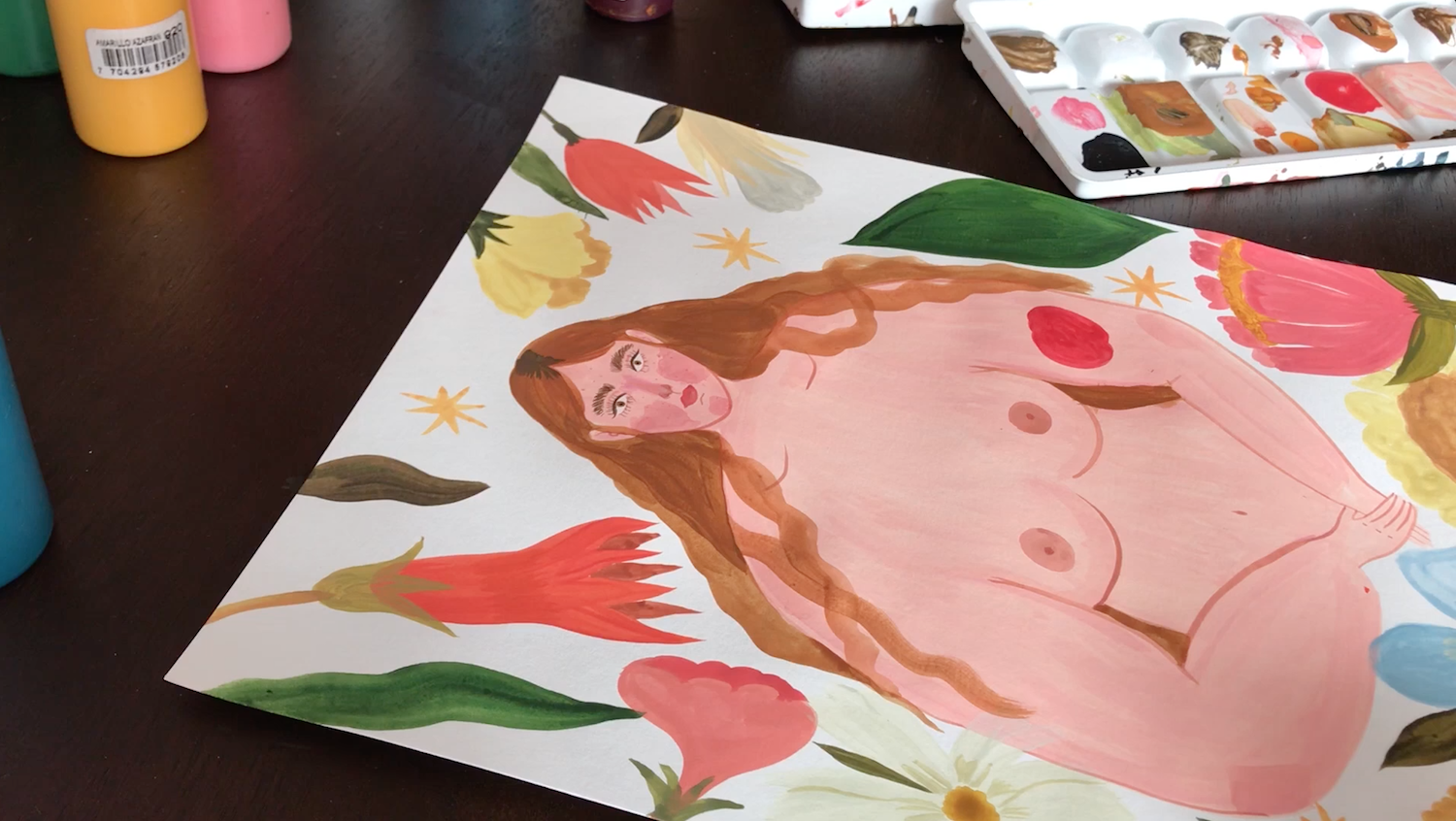 We need you to brag a little bit. What are you most proud of accomplishing as an artist? Big or small. 
YIA Young International Artist in Paris with Son Espace Gallery.
Any parting words for customers or fellow artists?
I work at midnight like Cinderella's mice, almost always, when everyone is sleeping and something pops into my mind. I'm the queen of bad days, but some days I have nice days. "Nobody loves me," I think all the time, and this phrase plays in my head with the part of the Cinderella soundtrack when her stepsisters destroy her dress. Maybe it's something, maybe it's nothing. I think that accidentally I recorded an UFO, or maybe it is just the reflection of my loneliness in the sky.
If you want to contact me for work or something cool … just do it!
Light My Fire Canvas Print
You Can't Sit Throw Pillow