Move over, pumpkin spice.
This autumn-spiced wine-poached pears recipe by Dine x Design's Kristin Guy is as fancy and delicious as it sounds. And most importantly, it's incredibly easy! Check out the full recipe below to get in the fall spirit.
It is officially fall! And where some of you might be booking it to your nearest pumpkin spice latte of choice – there are other ways to infuse the spirit (and smells) of the season into a decadent sweet treat…like wine-poached pears with fragrant autumn spices! Oh yes.
Most people think of mulled wine as an old fashioned grog best saved for grandparents and the coldest of winter. Not true! By making your own spice blend, you're going to end up with a sophisticated and incredibly easy dessert that will have your friends begging to come over for fall celebrations.
These pears get a kick of aromatic spice and earthy red wine which is the perfect accompaniment to a savory and sweet bed of herb and honey mascarpone. Did I mention it's also gorgeous?! Jewel tones for the win, not to mention this dessert really brings on the sweater season vibes in a hurry.  So get ready for your entire house to smell like autumn and pull out those spoons to dig into some delicious fall flavors.
Autumn-Spiced Wine-Poached Pears
Ingredients: 
Autumn Spice Mix
2 cinnamon sticks

3 whole star anise

10 cloves

1 tsp whole peppercorns

½ tbsp dried orange peel

1 tsp whole allspice
5 oz honey
2 pears (Anjou, Bartlett or Bosc)
1 bottle of merlot or cabernet
8 oz fresh mascarpone
Fresh thyme & honey for drizzling
1. Peel pears, cut in half and remove core/seeds with a spoon or melon baller. In a saucepan, add spice mix, wine and honey. Bring to a boil and add pear halves, reduce heat to medium and simmer for 20-25 minutes until soft. For even color, turn pears over half way through.
2. Remove pears from pan and place in the refrigerator to cool for at least one hour. This can be done a day ahead–just store them in a sealed container–which makes this the perfect do-ahead holiday recipe that is easy to serve yet impressive to guests. Reserve a small amount of wine mixture with spices removed for plating.
3. In a shallow bowl, scoop generous amounts of mascarpone. Drizzle a little bit of honey and using the backside of a large spoon, smooth mixture into a disc shape bed for your fruit. Sprinkle fresh thyme over mascarpone and add pear halves and drizzle with a small amount of spiced wine.
4. Top with edible flowers or additional herbs such as sage or additional thyme.
Almost too gorgeous to eat…almost. Enjoy!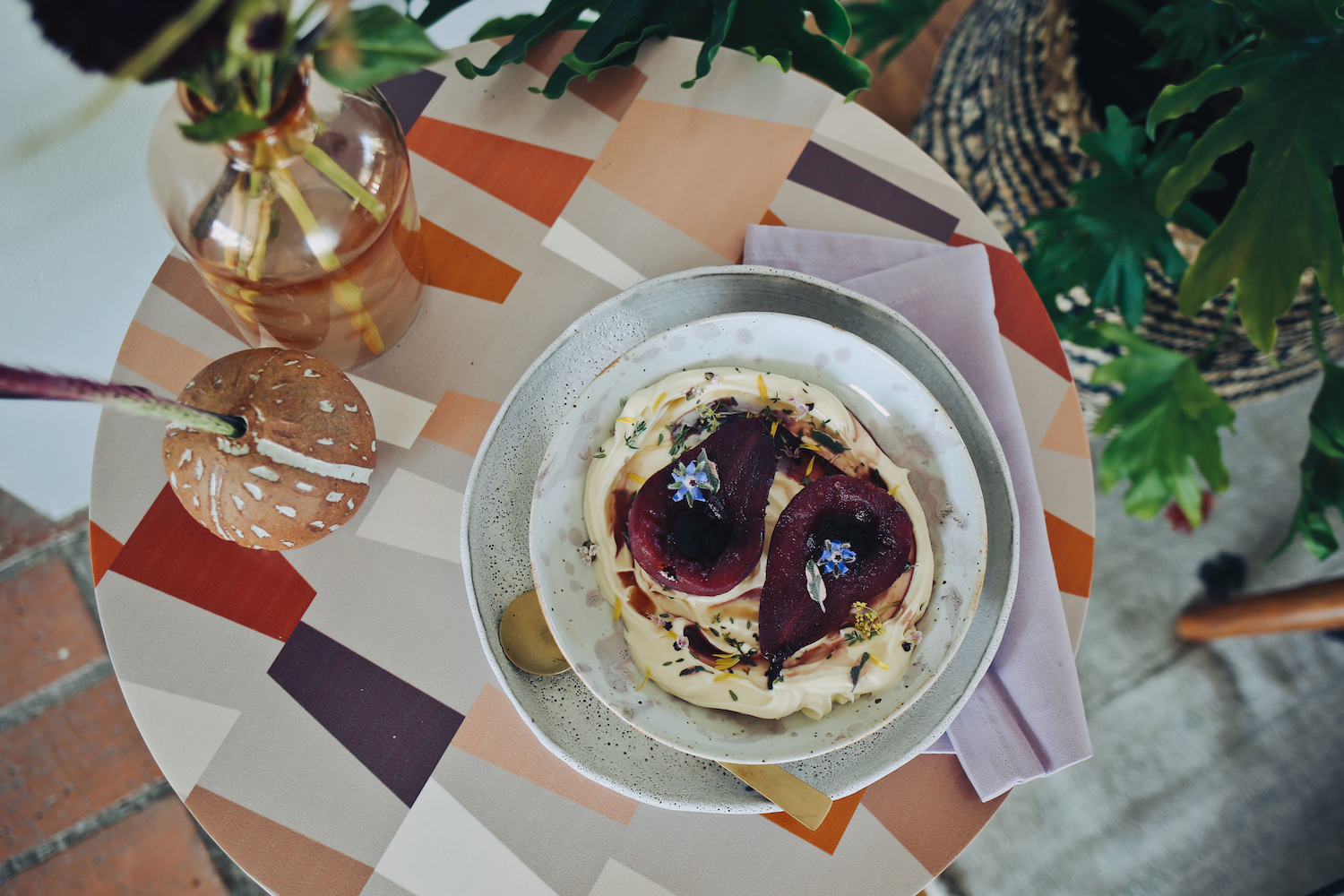 Inverse Cutting Board
by Fernando Vieira
$25.00
Modern minimal forms 24 Coasters
Abstract Geometric 12 Serving Tray
by The Old Art Studio
$37.00
Neutral Geometric 03 Side Table
by The Old Art Studio
$159.00
Sailing In Pink Winds Cutting Board
by Fernando Vieira
$25.00
terrazzo style pastel dots Cutting Board
by No Accounting For Taste
$25.00
Abstract Composition 09 Coasters
by Nileshkikuuchise
$12.00