Promos are an excellent way for you to incentivize customers to visit and purchase from your shop.
The Society6 team keeps our artists in mind as they curate a strategic promo schedule meant to attract customers looking for a great deal during key shopping periods. Along with the work we do to let customers know about our sales, it's just as important for you, the artist, to share these deals with your audience to build awareness around your artwork and products.  
Below, we'll highlight some of the key actions you can take to drive more traffic to your shop by using our on-site discounts to turn your online audience into customers!
1. Engage your followers on Social Media
This one may seem obvious but it's truly one of the most important steps you can take to increase your opportunities to make more sales.  If utilized efficiently, you can do a great deal of advertising without even having to pay for it! Social media also provides an amazing opportunity to interact with your audience on a more personal level. This  can help you to open up a space where you can let them know about anything new you've been working on, and encourage them to shop your items, especially while there's a sale going on.
We make it easy for you to have high quality product images without having to purchase any products! While viewing a product in your shop, you have the option to either right click and save the preview image from our site or take a screenshot. Combine your preview images with the PNG promo overlays we provide in the artist heads up for an easy promotional post. Sharing these previews along with a short description about the artwork and any site-wide sales on your products can really entice your audience to shop with you.
Remember to stay true to your brand as you market your business. Check out this blog for more tips on How to Promote Yourself in your Own Style and check out a few examples from our artist community below.
2. Create Email Campaigns That Grab Your Subscribers' Attention
Email campaigns are another incredibly effect way of marketing your business online. They allow for more flexibility since you're able to add multiple product links and images that will appeal to your audience and make accessing your shop much easier.
Email marketing is engrained in the consumer mindset as an acceptable way to hear about promotions from businesses. With time, your email list will grow and you'll also pick up new tips to fine tune your campaigns along the way. To help you get you started, here are some key tips to keep in mind while creating your email templates:
Highlight our site-wide discounts as an incentive. It's likely that some of your audience will remain unaware of the items you have on sale until you share the news!
Include links to your social media and add snapshots of your IG feed so people can get a quick sense of your content.
Let subscribers know that current discounts are available for a short amount of time. Customers tend to act faster when they know the clock is ticking.
Provide links directly to product categories that are on sale.
These are just a few of the many ways you can build an attention grabbing email campaign that drives traffic to your products on Society6. You can find more on this by checking out our blog post on email marketing here.
3. Merchandize your Shop in Alignment With Our Promo Schedule
You're able to control the department or specific product customers see when they first land on your storefront. You can also select whether to display popular, new or random products. This not only allows you to highlight new work or products you're excited about, but it gives you the opportunity to align your storefront products with active Society6 sales.
The best way to display a wide variety of artworks in your shop is to adjust your sort settings to display one item at a time. For example, if there is an active sale on tote bags, select that item to be shown first by default. When customers enter your shop, they will get a better sense of their design options and the discount will be an added bonus!
Simply navigate to your shop (society6.com/username) and click on "Edit Shop". Then adjust the settings to your liking.
Note: 
We share our current and upcoming promo schedule in the weekly Artist Heads Up email we send out which gives you plenty of time to make any adjustments to your shop. You can also view our upcoming and current promo page anytime
here
.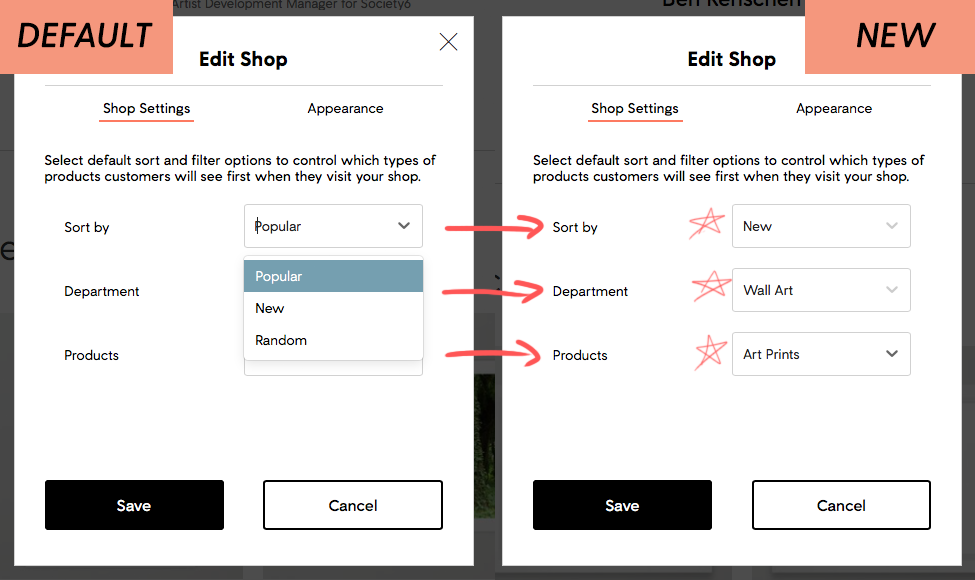 4. Maximize Your Earnings With the Artist Affiliate Program
While putting the previous 3 tips into practice, make sure that any links you share to your Society6 shop are using your unique affiliate link! This allows you to make an additional 10% on the net sale of every item in a customers order, even if it isn't from your shop.
Below we've outlined how to use your custom affiliate link.
If your shop link is society6.com/username. The custom affiliate link is ?curator=username.  Here's what the artist would share if they wanted to use their affiliate link:
Artist Shop Example:
society6.com/username?curator=username
Product Link Example:
https://society6.com/product/portuguese-neighborhood1740074_print?curator=username
Pro tips:

Add your affiliate link to your social media bio
Include your link in Instagram stories while doing self promotion
Update any blog or website links that you have leading to your Society6 shop
If you haven't already joined our Artist Affiliate Program, you can learn more and sign up here (its quick and free!). Adding your affiliate link to your shop URL and to any product links you share is an easy way to earn more on sales your refer!
These tips will remain relevant year round, so we hope you will put them into practice as a way to drive more traffic to your shop during important promotional periods.