Introducing: Recessed Framed Prints!
A sophisticated addition to our wall art category, our recessed framed prints feature your artwork set back in the frame for a deeper, shadowbox design. Plus, you can set your own price by adjusting the markup in Artist Studio!
In this article, we'll cover all the technical details required to start selling recessed framed prints in your artist shop.
Activating Recessed Framed Prints
To make your experience easier, some designs will be automatically enabled on your behalf. If you have framed art prints enabled, we've automatically applied those designs to recessed framed prints due to their similar aspect ratios and product details. Visit your Artist Studio to review and enable any additional artwork that you want to offer on this product.
Reminder: We launch new products to artists before making them available to customers in order to allow for merchandising and time for artists to update their shops. At first, recessed prints will not be included in the "Wall Art" dropdown in the main navigation on our site. Once it launches to customers, you'll be able to find it there.
Creative Asset Details:
Pixel Dimensions: 4000 x 5000
DPI:

300dpi

Supported File Types:

JPG or PNG
Brief Product Overview: 
Product Name: Recessed Framed Print
Product Category: Wall Art
Material: 

Acid-free and lignin-free 100% cotton rag paper
Printed with gallery-quality inks using the finest giclée print technology
Shatter-resistant acrylic
Activating recessed framed prints is easier than ever, especially if you already have framed art prints enabled. If you have artwork enabled on framed art prints, those designs will be automatically enabled on our all-new recessed framed prints. To review, visit your Artist Studio and click on "My Products." Then, click on "Recessed Framed Prints" under "New Products" at the top of the page. Any creatives that have been automatically enabled will appear under "Enabled."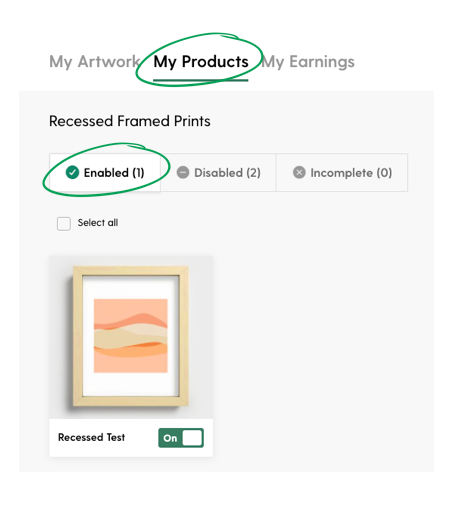 If you have assets that fit the requirements for recessed framed prints but weren't automatically enabled, they will appear under "Disabled." To view and enable those creatives, navigate to the "My Products" section of your Artist Studio and select "Recessed Framed Prints" under "New Products." You can "Select All" and then click "Enable" to activate all of the designs that meet the asset requirements at once.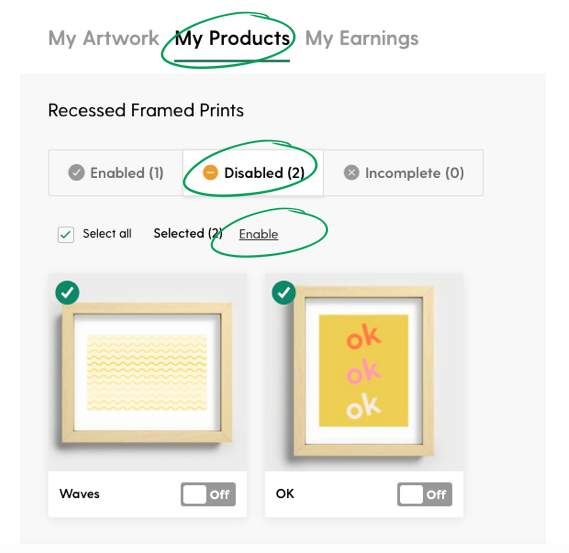 Any creatives that are missing assets that meet the recessed framed print requirements will appear under "Incomplete." You can quickly upload a new asset by hovering over the design and clicking "Upload."
Special Considerations for Editing Recessed Framed Prints
The orientation of your uploaded asset will determine the orientation of the product. In other words, uploading a vertical asset will result in a vertically-oriented product and uploading a horizontal asset will result in a horizontally-oriented product. 
Recessed framed prints will default to a 10% markup but you can easily adjust it at any time. To change your markup on all recessed prints, navigate to your Artist Studio and click on the "My Artwork" section. Then, click on "Set Store Markups" in the upper right corner. A pop up will then appear where you can adjust the markups on all markup-able products, including recessed framed prints.

If you would like to adjust the markup for a specific artwork, navigate to the "My Artwork" section of your Artist Studio and click on the artwork you'd like to adjust. Scroll down and select "Set artwork markup," which is located on the left hand side.  A pop up will appear that allows you to adjust all markup-able products for the artwork you've selected.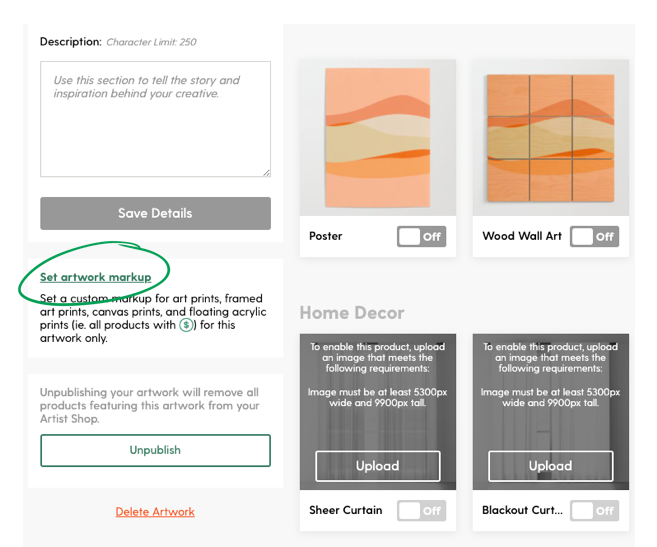 Official Recessed Framed Print Description
Our Recessed Framed Prints add a museum-like depth to your favorite artwork with its shadow-box frame design. Choose from four different frame colors: black, white, maple or walnut to match your unique decor taste. Recessed framed prints are available in six different sizes.
Four frame colors available

Shadowbox frame design creates a museum-like depth to your artwork

Artwork printed with gallery-quality inks on acid-free and lignin-free 100% cotton rag paper

Finished with a lightweight, shatter-resistant acrylic

Hanging hardware included

To clean, wipe gently with a slightly moist sponge or soft rag

To dry, use a soft, lint-free rag

Every order is made just for you

Product Note: Color variations between on-site previews, your screen and printed artwork may occur

Sizes Available (refers to size of artwork):

8″ x 10″ // 20cm x 25cm
10″ x 10″ // 25cm x 25cm
13″ x 19″ // 33cm x 48cm
20″ x 20″ // 51cm x 51cm
18″ x 24″ // 46cm x 61cm
24″ x 36″ // 61cm x 91cm

Frame Dimensions:

9.125″ x 11.125″ x 1.625″ (8×10)
11.125″ x 11.125″ x 1.625″ (10×10)
14.125″ x 20.125″ x 1.625″ (13×19)
21.125″ x 21.125″ x 1.625″ (20×20)
19.125″ x 25.125″ x 1.625″ (18×24)
25.125″ x 37.125″ x 1.625″ (24×36)