Let there be light control.
No home is complete without a great set of window curtains. Whether your customers are looking to control the light in their homes or just keep prying eyes out, you can start selling two different types of window curtains–sheer curtains and blackout curtains. Knowing home decor continues to be a popular and growing category for Society6 shoppers, we recommend making these available if your creative is a good fit for window curtains.
In this article we'll cover all the technical details required to start selling high-quality sheer curtains and blackout curtains in your artist shop.
Note: If you're currently selling window curtains, upload your asset at the updated pixel dimensions to  blackout curtains on the same creative to continue selling them. We will be phasing out the current version of "window curtains" from artist shops with the launch of this product.
Activating sheer curtains and/or blackout curtains
To give your customers the best possible offering of window curtains–sheer or blackout–we do not automatically activate this product on your behalf. If you need additional control over designing your various curtain types, you can download the template below, which works for both sheer and blackout curtains.
Creative Asset Details:
Pixel Dimensions:

5300px (w) x 9900px (h)

DPI:

100

Template(s): Photoshop (psd)
Orientation: Portrait
Product Category: Home Decor
Final Product Sizes: 50″ x 84″ (127cm x 213cm), 50″ x 96″ (127cm x 244cm)
Review and position creative on curtains prior to activating. Hover over your avatar (top right of site) and click on Manage My Posts. Find the creative you wish to apply to window curtains and click the vertical ellipsis, then click Edit products. Filter by category Home Decor to show your window curtain suite.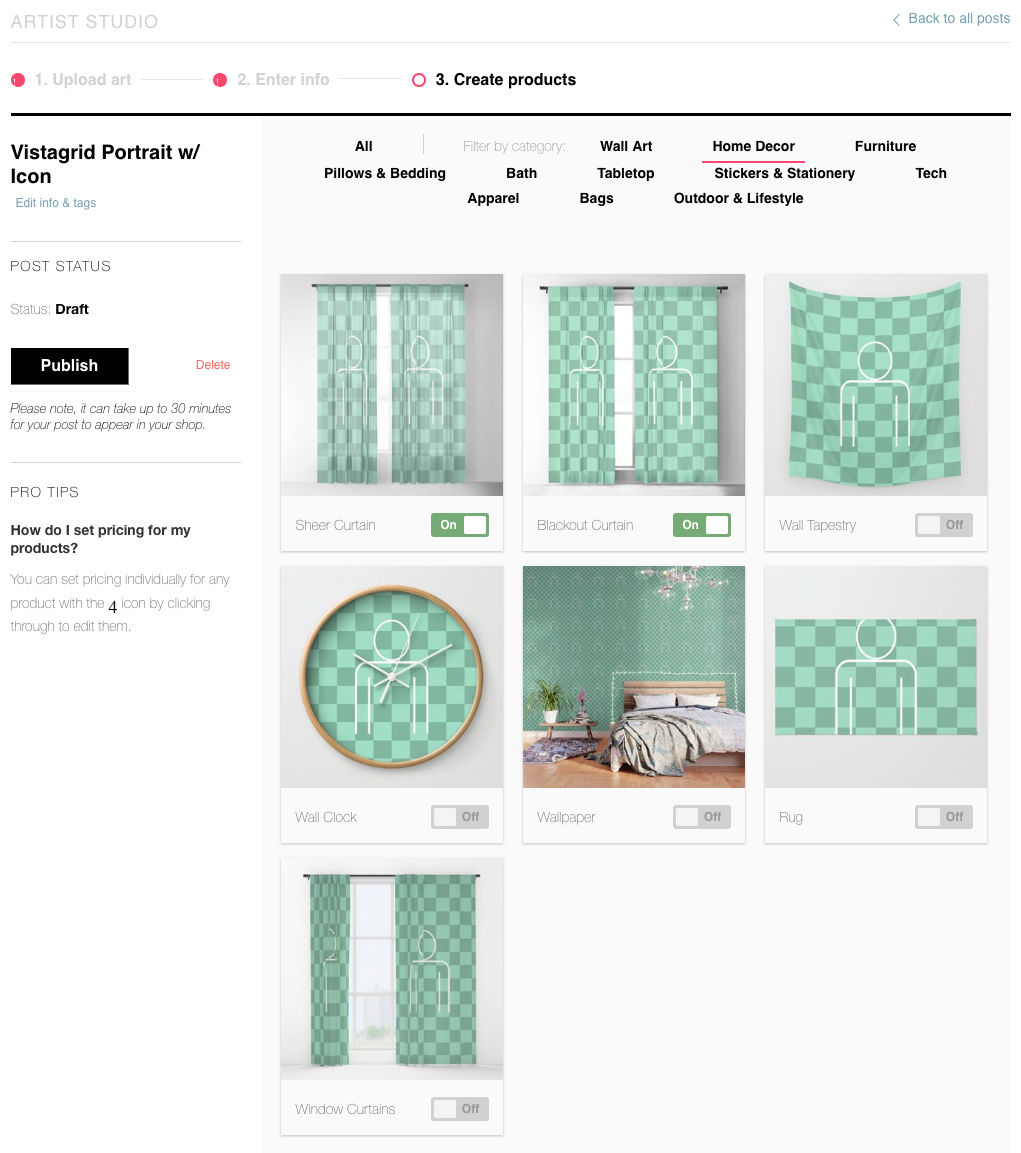 Blackout curtains are replacing window curtains (kind of)
Activate blackout curtains in your artist shop to continue selling window curtains. We'll be phasing out our current version of window curtains with the launch of blackout curtains. Any links that were shared to your current window curtains will automatically forward to your new blackout curtains associated with the same creative. If you do not activate blackout curtains, window curtains will no longer be available in your shop. You may still see Window Curtains in your Artist Studio until we've fully deprecated that version of the product. This note does not apply to sheer curtains as it is a separate product.
Here's what's happening:
We're requiring a larger asset–not by much–to improve print quality and reduce returns due to low-resolution
We're introducing a second, taller length (96in, 244cm) for rooms with taller windows and ceilings
Special considerations for editing sheer & blackout curtains
The suggested safe area accounts for the top and bottom of the shorter window curtain (84in, 127cm). The top of every curtain has a 4″ hanging pocket for a curtain rod as well as fold-under stitching at the bottom. Make sure critical design elements don't wrap around the top or bottom of the 84in (127cm) curtain by staying within the "safe area". The taller curtain is 96in (244cm).
The shorter window curtain (84″) will be cut from the center, middle of the taller window curtain (96″). Make sure your design placement accounts for this consideration.
You can only edit a single panel. If a customer orders a double panel, we will print duplicate curtains using the same creative. We do not mirror the creative.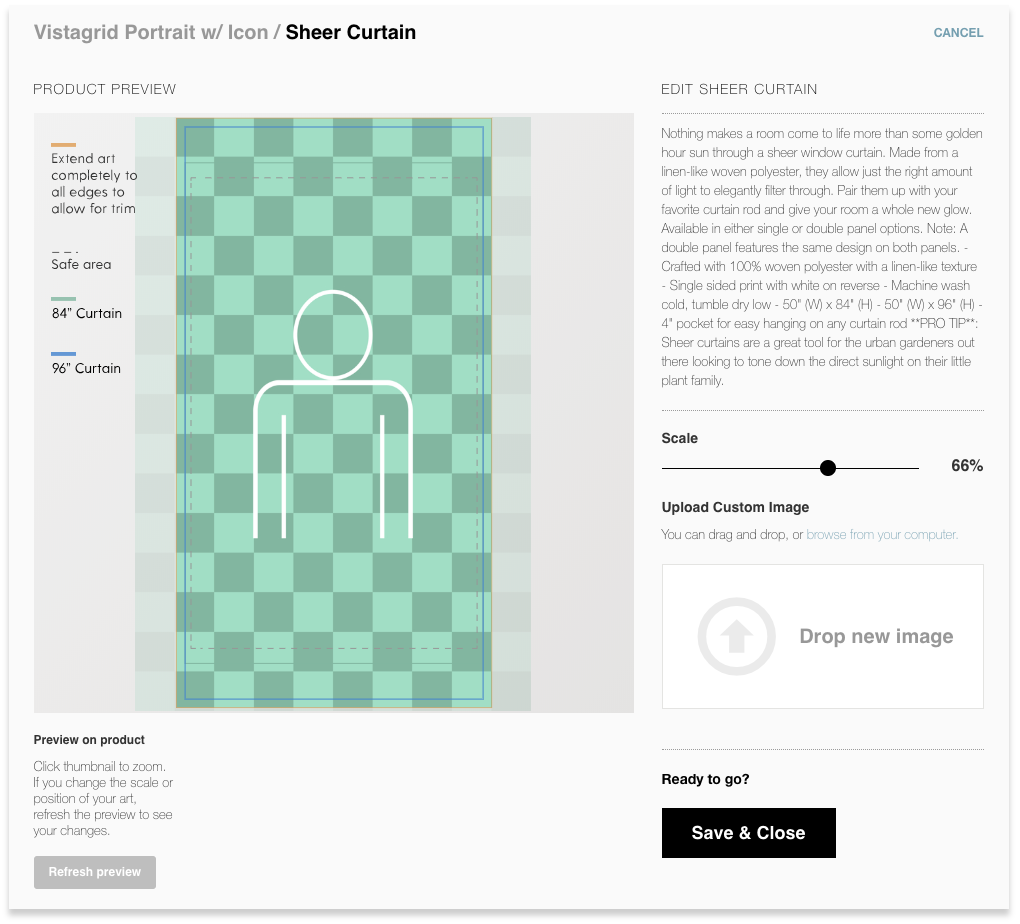 Using the window curtains template
Download the necessary template.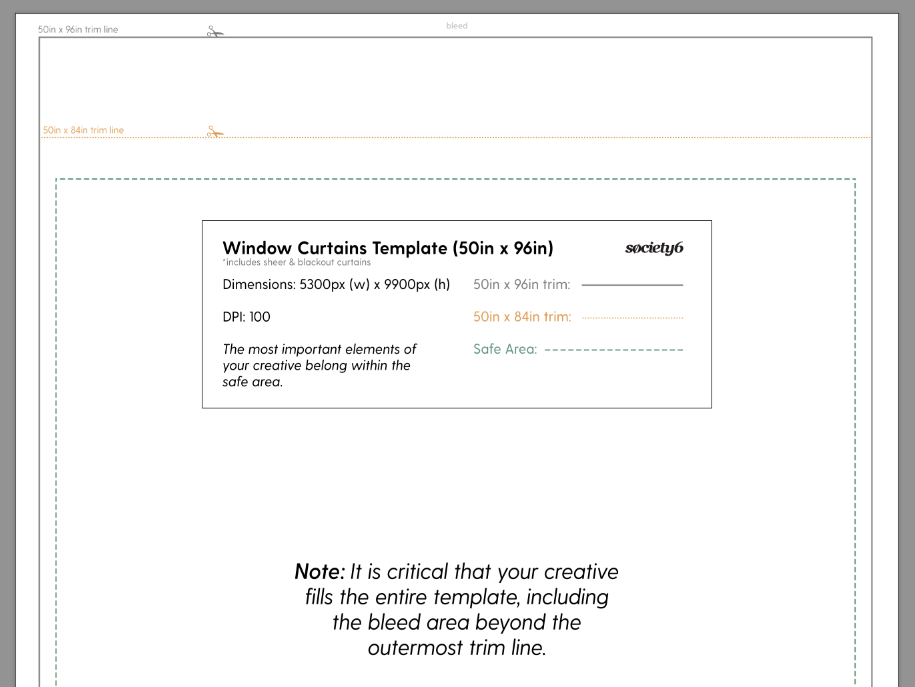 Your artwork needs to fill the entire canvas of the template. This includes the bleed, which is critical for printing. The bleed allows for subtle, but standard margins of error in the printing process.

Keep critical creative elements within the "safe area". This is particularly important for any floating designs (with solid color backgrounds) or typography. If you want your creative to intentionally reach the edge of your window curtains, it must also reach the edge of the bleed (as seen above).
Before saving, hide the Info Overlays layer. Save as the highest quality .jpg possible.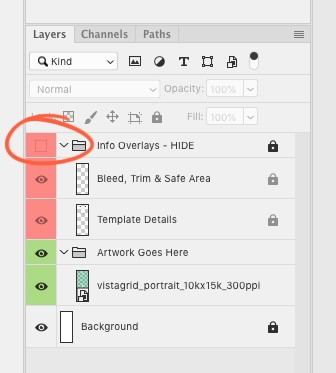 Product details for sheer & blackout curtains
Sheer and blackout curtains can be found under Home Decor. Customers can hover over Home Decor in the main navigation menu to find Sheer Curtains & Blackout Curtains. Both products can be found under Home Decor in your artist shop as well.
Official
Sheer Curtains

Description:

Nothing makes a room come to life more than some golden hour sun through a sheer window curtain. Made from a linen-like woven polyester, they allow just the right amount of light to elegantly filter through. Pair them up with your favorite curtain rod and give your room a whole new glow. Available in either single or double panel options.
Crafted with 100% woven polyester with a linen-like texture
Single sided print with white on reverse
Machine wash cold, tumble dry low
50″ (W) x 84″ (H)
50″ (W) x 96″ (H)
4″ pocket for easy hanging on any curtain rod
PRO TIP: Sheer curtains are a great tool for the urban gardeners out there looking to tone down the direct sunlight on their little plant family.
Official
Blackout Curtains

Description:

Invite the sun inside on your terms. Our blackout window curtains are a denser alternative to your standard window curtain, blocking out most light and proudly featuring your favorite designs. Whether you live in a busy apartment or a peaceful neighborhood, it's always nice to have the option to shut out the sun and relax inside by the candlelight. Available in either single or double panel options.
Crafted with 100% lightweight polyester
Single sided print with white on reverse
Machine wash cold, tumble dry low
50″ (W) x 84″ (H)
50″ (W) x 96″ (H)
4″ pocket for easy hanging on any curtain rod
PRO TIP: For those using blackout curtains for their midday naps, complete the nap-time kit by getting some matching throw pillows and throw blankets for ultimate sleepy bliss.
We're excited to see what you create for this home decor staple! If you have questions or comments about sheer or blackout curtains, feel free to leave them below!