The customers have spoken, and a well designed yoga mat is the perfect compliment to their practice.
Society6 yoga mats were a quick hit. If you draw any parallels between the benefits of art and yoga, a yoga mat is probably the perfect surface for you to design. You likely appreciate the calming nature or release that comes with creating. You also understand the importance of a creative flow, which again, is incredibly familiar to the customers you're designing for. This product was an instant hit so you really can't go wrong if you intentionally design for yoga mats.
In this article we'll cover all the technical details required to start selling high-quality yoga mats in your artist shop.
Activating yoga mats
To give your customers the best possible offering of yoga mats, we do not automatically activate this product on your behalf. If you need additional control over designing your yoga mat, you can download the yoga mat templates below.
Creative Asset Details:
Review and position creative on yoga mats prior to activating. Hover over your avatar (top right of site) and click on Manage My Posts. Find the creative you wish to apply to yoga mats and click the vertical ellipsis, then click Edit products. Filter by category Outdoor & Lifestyle to show your yoga mats.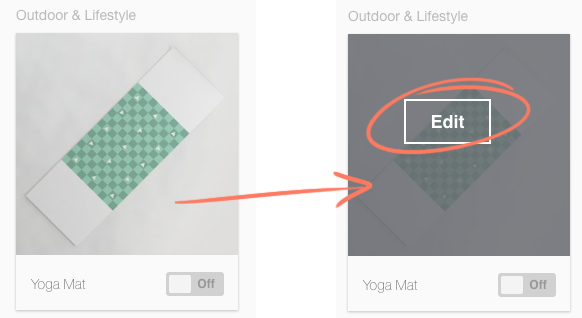 Special considerations for editing yoga mats
Your default creative impacts the product editing experience. The orientation of your yoga mat canvas within the product editor is determined by the orientation of your default creative (aka your originally uploaded artwork).
If your default creative has a Portrait ratio, your product editor will present a portrait canvas: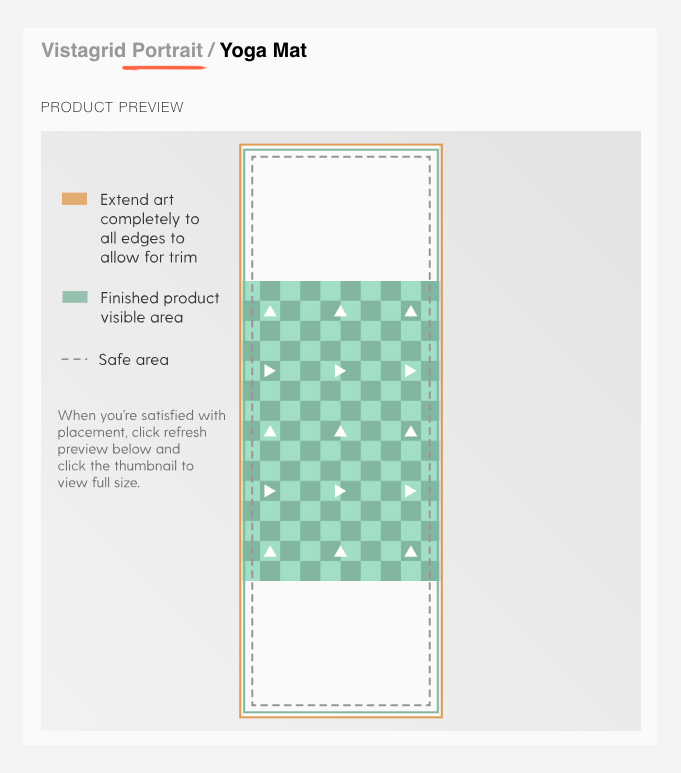 If your default creative has a Landscape or Square ratio, your product editor will present a landscape canvas: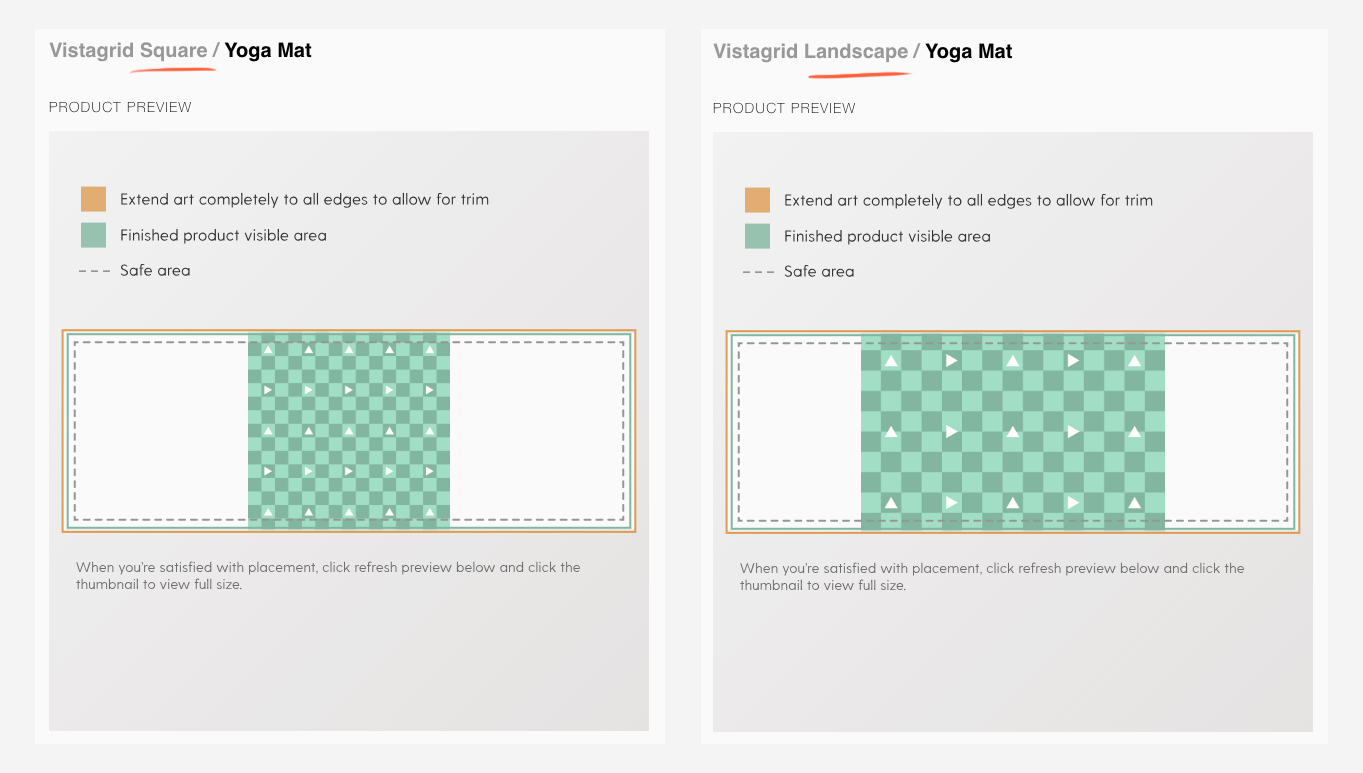 Using the yoga mats template(s)
Download the necessary template(s).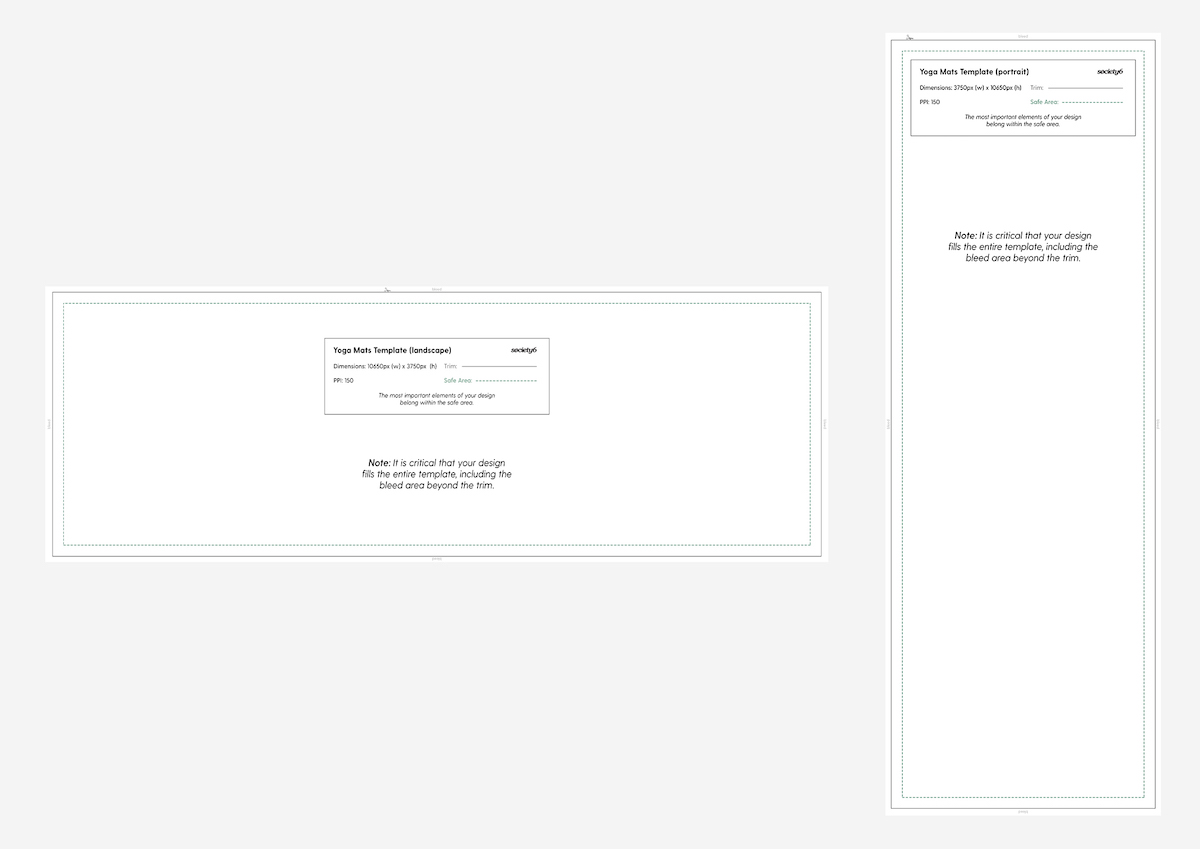 Your artwork needs to fill the entire canvas of the template. This includes the bleed, which is critical for clean printing. The bleed allows for subtle, but standard margins of error in the printing process.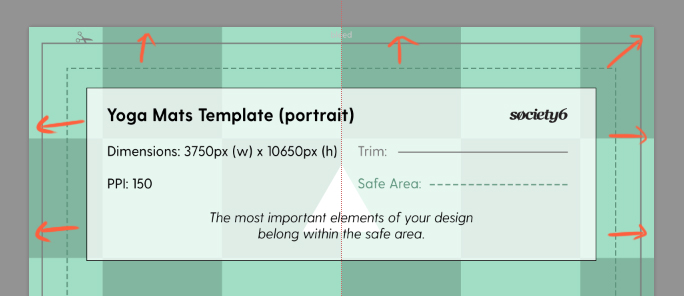 Keep critical creative elements within the "safe area". Depending on the artwork, there's a good chance you want to give it room to breathe. This is particularly important for any floating designs (with solid color backgrounds) or typography. If you design your creative to intentionally reach the edge of your yoga mat, it must also reach the edge of the bleed (as seen above).
Before saving, hide the Info Overlays layer. Save as the highest quality .jpg possible.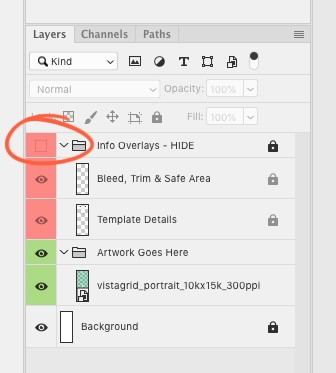 Product details
Yoga Mats can be found under Apparel in the main menu for customers. Hover over Apparel in the customer-facing navigation menu, and you'll find Yoga Mats at the bottom. We expect to update this to be consistent with Outdoor & Lifestyle in the near future.

Official Yoga Mat Description:
Strike your sun salutation in style. Our yoga mats are lightweight, yet durable. Just toss it over your shoulder with the handy carrying strap and you're on your way. With so many designs to choose from, you're sure to find one that will have everyone in your studio's head turning.
24″ wide x 70″ long x 1/4″ thick
Includes 1.5″ woven polyester carrying strap
Heavy duty, but lightweight at 3.6lbs
Latex-free and free of heavy metals
PRO TIP: Combine your yoga mat with a matching tote bag to form the ultimate yogi starter pack. And remember to keep breathing and stick with it, yoga is a marathon, not a sprint.
Where to find yoga mats in your artist shop
Via the left rail in your artist shop, customers can find your yoga mats under the Outdoor & Lifestyle category.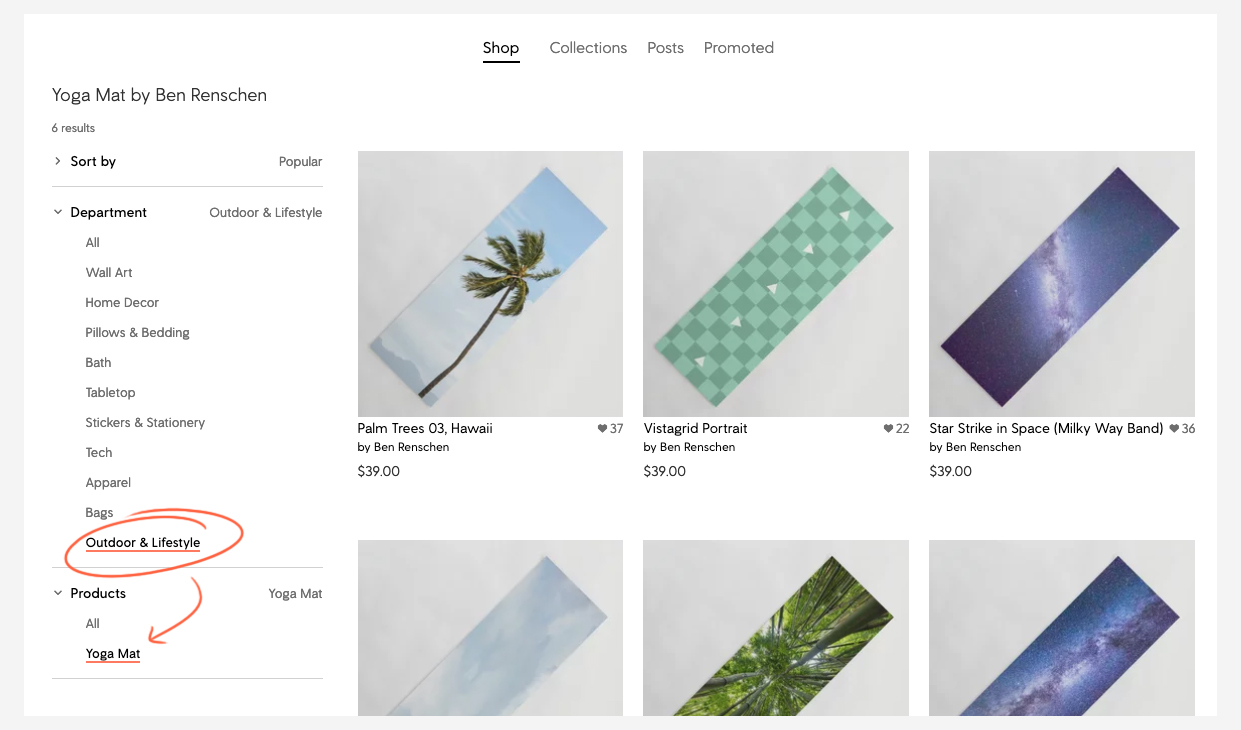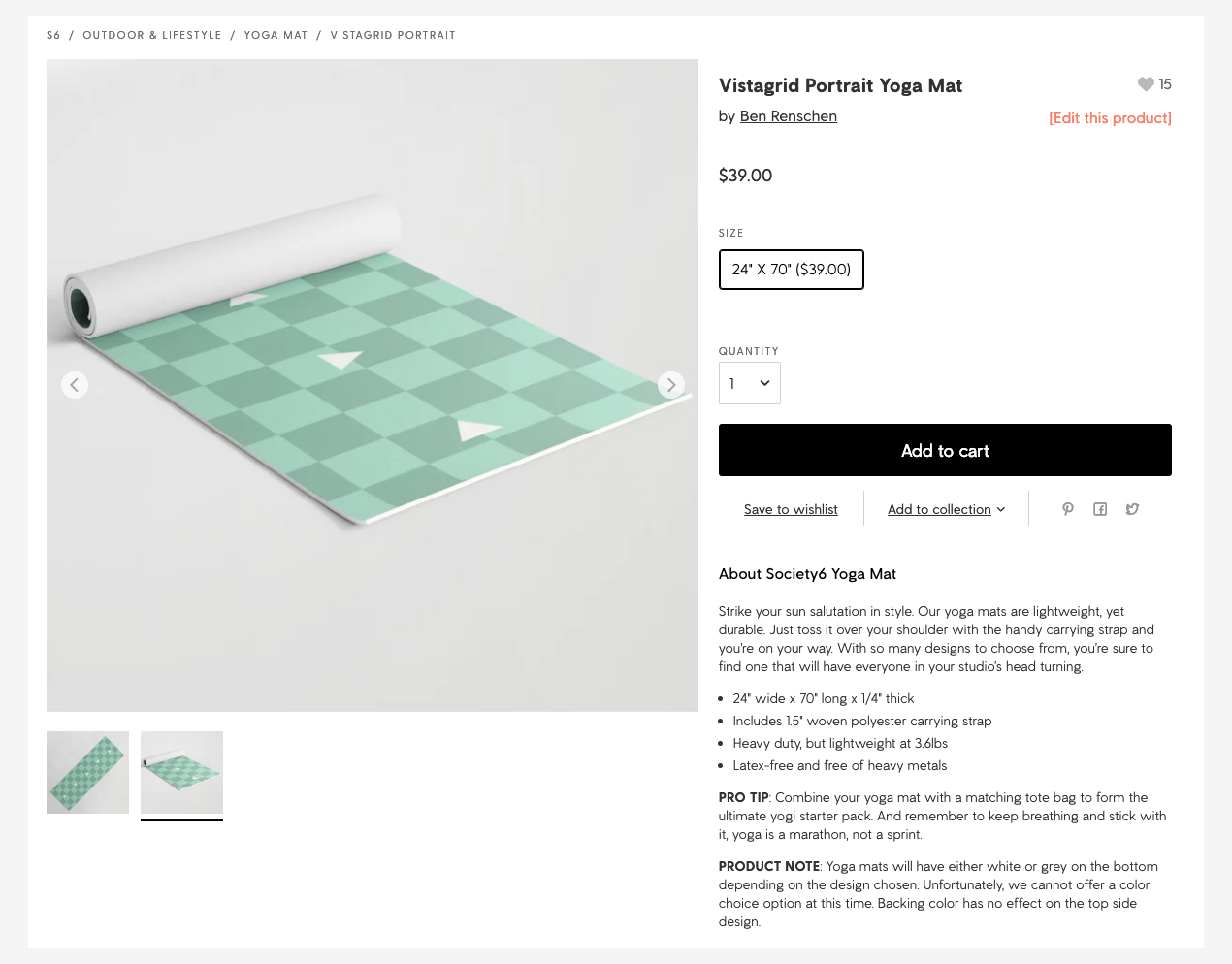 Yoga Mats were quickly popular and we look forward to seeing what you create! If you have questions or comments, feel free to leave them below!