You'll have a live Society6 shop by end of this article!
If you're reading this, it's because you're highly creative and ready to start generating income from your artwork. This article will answer all your "how do I sell my artwork" questions and, by the end of it, you'll have a Society6 shop that you can start promoting today! Feel free to scan through and jump to the sections that you need.
What you'll need to setup your Society6 shop:
PayPal account

Square avatar image

Cover image (1000 x 100px)

Artist Bio (about 50 words long)

Ready-to-upload artwork
All Artists are welcome! We are an open platform and anyone who has artwork to sell can start selling today. If you're interested in making money from your artwork, you're in the right place. Join us!
Create your Society6 account
The process to register is super quick and easy. The most important thing here is to choose your username/URL carefully as you won't be able to change it moving forward. Here's how to get setup. We highly recommend our Artists receive the S6 newsletter. It's full of product announcements, tutorials, videos, artist features and more.
Add your profile info
Once your account is setup (woohoo!), you want it to look enticing for customers. Think about your branding here. You'll want this to feel cohesive and distinctly you.
Let's add your avatar (square), cover image (1000px x 100px) and written bio. Click on the avatar in the upper right. You're now back on your shop's homepage.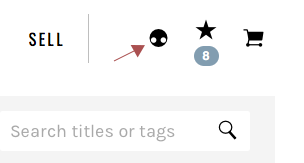 You'll notice the "Edit Profile" button below your [empty] banner. Update each item accordingly. For tips on your bio, check out this article on writing a great bio for yourself.

Verify your PayPal account
If you're not already on your shop's homepage, click on your avatar in top right to navigate to your new shop page. You'll see a welcome box suggesting you "Get Verified". Click on "Get Verified" and go through the verification process on PayPal.
The process will incur a $1 transaction. This is for us to confirm that your PayPal email address is real–and that you are who you say you are. This is not a sign-up fee.


UPLOAD YOUR ARTWORK
Uploading process
Click on SELL in the upper right of the navigation menu. Then, drag and drop your artwork into the "drop zone". We recommend uploading your artwork at the highest quality possible. Your max file size is 150mb.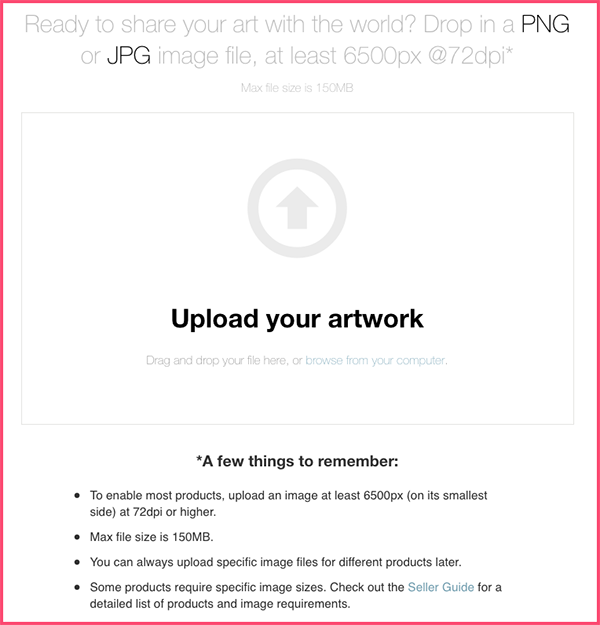 Enter related info
You've put in the time to create your artwork, now we want it to be discoverable. Once you've uploaded your artwork, make sure you add relevant titles, tags and descriptions. Check out these tips on How to Get Found in Search.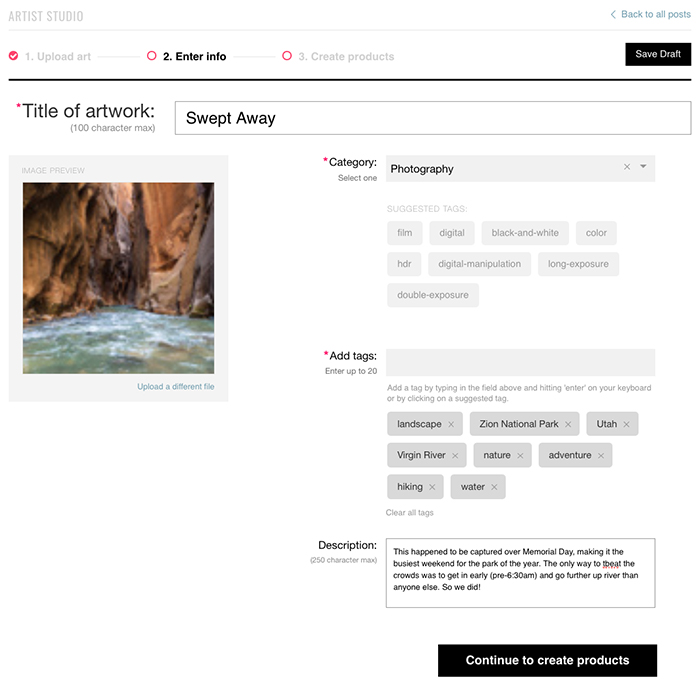 Activate your products
Based on the pixel dimensions of your uploaded artwork, we automatically apply your artwork to as many products as possible. At this point, you can quickly scroll through all available products and toggle them ON if you like how they look.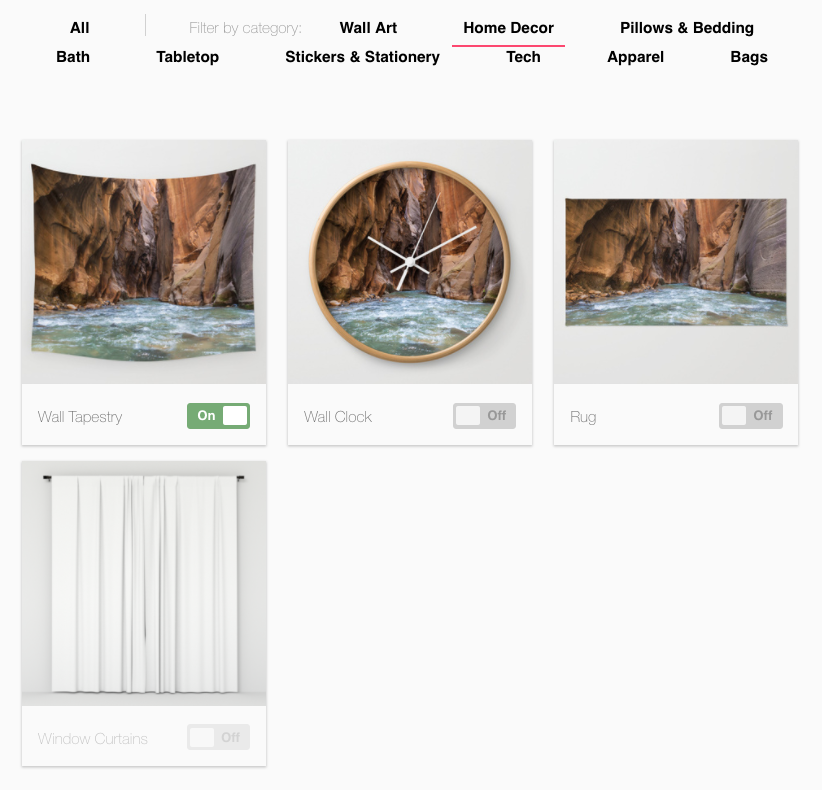 EDIT YOUR PRODUCTS & ROYALTIES
Editing individual products
You can quickly edit the position of your artwork on any product with our easy-to-use drag and scale tools. From the Create Products page, roll over any product you wish to change and click Edit. From the Product Edit page, you'll see your artwork as it appears on that product. You can reposition and scale as necessary, then Save & Close.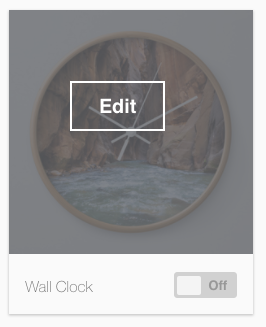 Uploading Custom assets
If you'd like to create a custom asset for a specific product, here's our pixel dimension requirements for every product on Society6. When you have your custom asset ready, drag and drop your new image over the "Upload Custom Image" section on right, position your artwork with our drag and scale tools, then Save & Close.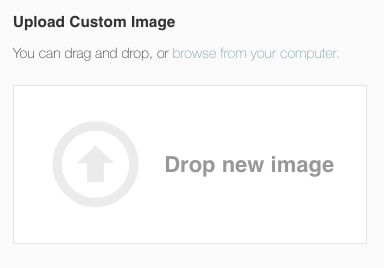 Editing royalties
You can adjust your markup on any products with a dollar ($) symbol. That's Art Prints, Framed Art Prints and Canvas Prints. They're listed right at the top. Here's a list of what you'll earn for the sale of all other products. Simply roll over any of those products and click "Edit". You'll see on the right side that you can edit your "Markup". This is how much money you make every time this product sells. Click "Save & Close" when you're done.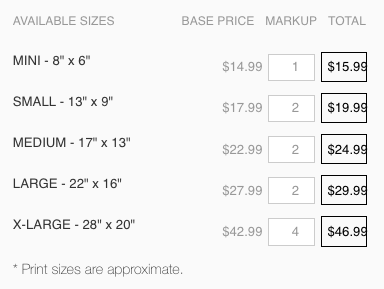 PUBLISH & PROMOTE YOUR ARTWORK
Make your artwork available for sale
The only thing left to do is make your artwork and/or products available for sale! Once your products edits and royalties are to your liking, click the Publish button on the left side of your Create Products page.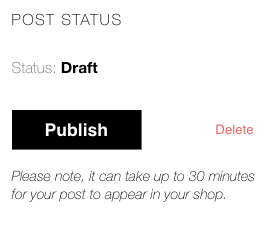 Promote your shop
As soon as you're ready, it's time to shout it from the mountains. Let people know you're open for business! We recommend having at least five pieces of artwork to fill out your shop so there's a little something for customers to explore.
Here's a series of tips on how to take advantage of your shop once you're up and running. Check out the Learn to Sell section below for a ton of great places to get educated.
Bookmark our Promo Schedule
We like to give our Artists a heads up on upcoming promotions so you can prepare for them. You'll get an email reminding you.
Visit our promo schedule and bookmark it.
BOOST YOUR SALES & SKILLS
Read our Seller Guide
To further support your journey to becoming a working Artist, we publish weekly business and creative education. Check out the Seller Guide section of our blog. Whether you're just getting a side-hustle going or looking to leverage a large social following, dive in if you want to get a jump on improving your sales and skills abilities.
Learn to sell your artwork with the Seller Guide.
Join our Facebook Group, The Society6 Artist Hub
We post our weekly education, art & product tutorials, #WIP challenges, Artist features, new product announcements, site updates, promotional schedule and more.
Requirements for approval: You must have at least (1) five unique designs available for sale and (2) answer all three required questions before you'll be considered for approval.
New members are added every Monday/Tuesday. Make sure you check out our Community Guidelines on arrival. They're in the Photos section of the group. This is not a self-promotion group. Any self-promoters will removed expeditiously. This is how we protect your ability to access the most important Society6-related info!
Visit our Help Center
We answer a lot of the most commonly asked questions in our Help Center. If you still have questions, you can always contact us via s6.co/contact.