More is more when it comes to the stunning Colorado Springs home of Arianna Danielson.
The interior stylist is no stranger to going bold–she effortlessly blends luxe velvets, saturated colors, shapes in all sizes and to-die-for vintage finds–which is why we thought she'd know a thing or two about the season's biggest trend, maximalism. Take a peek inside her 4000 sq. ft. home below for fresh interiors inspo and her tips for getting the look!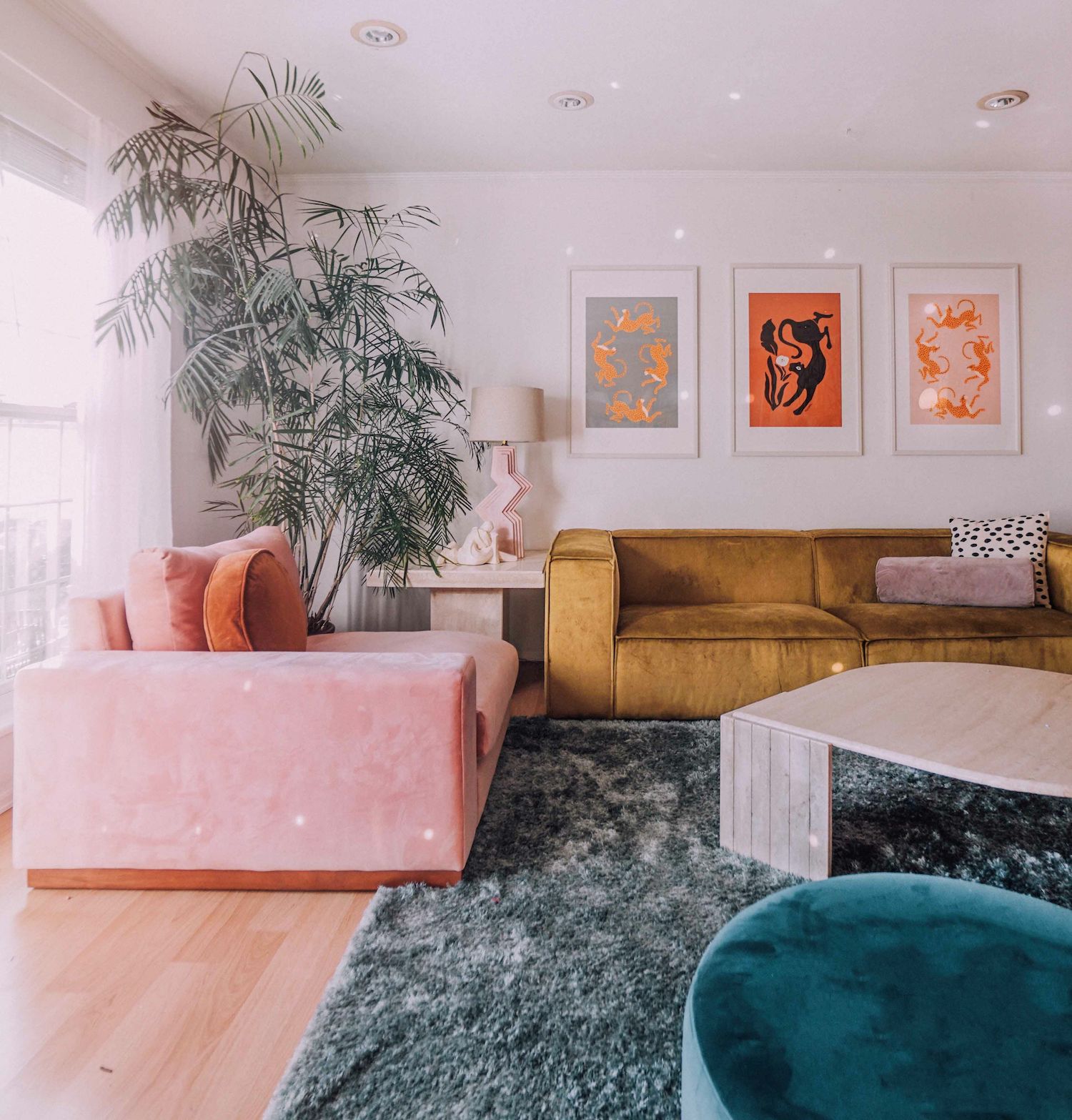 Describe your home decor style. Where do you find inspiration for your space?
It's hard to describe in a few words, but typically I say eclectic contemporary! I find inspiration in shapes and colors and those are my favorite elements to use when working on our space.
You've said you don't like to follow any of "the rules" when it comes to decorating, and that if you love a piece, it stays. What qualities do you look for when it comes to the artwork you hang on your walls?
When it comes to art, I'd say it's the same as my house! I love quirky pieces that utilize shapes and colors. When I was looking through Society6's art selection, I filled my cart with the pieces I wanted, and when I looked back, I realized that I had picked all Megan Galante artwork. I love her animal prints and she's definitely a favorite. I'm excited to grab some more pieces of hers!
"[Maximalism] is not about filling your home with a bunch of "stuff" but showcasing all the things that bring you joy."
The maximalism look is not for the faint of heart. What advice do you have for someone who wants to try out this trend?
Don't do it if you aren't surrounded by things you love! Bring in pieces that are definitely worth it and don't force it. I love a lotttt of things and I think our home reflects it well! Even still, I leave things behind that won't work and that's okay. It's not about filling your home with a bunch of "stuff" but showcasing allllll the things that bring you joy.
What's your favorite room in your home and why?
Definitely our bedroom. My husband and I have been married for eight years, and everywhere else we lived, we never put any effort into our bedroom. Once we moved into our forever home and added two kiddos, I knew I wanted a sanctuary for us to retreat to! We are blessed with a really large master bedroom that we painted all black and it's the most sultry and relaxing space for us to enjoy after we put the kids to bed.
You've done a lot of DIY projects and vintage shopping for your space. What are some tips you have for others who are also looking to blend a bit of the old with the new?
Be patient! Thrifting and vintage takes time when it comes to finding exactly what you're looking for. Don't settle, and just hold out. I try and hit up my favorite thrift and antique stores weekly in an attempt to check some elusive pieces off my vintage bucket list. Slowly but surely, I'm getting there! Also, thrift online. I check all my favorite online secondhand apps daily to make sure nothing is slipping through my fingers!
What's one thrifted find you can't live without?
I'd say our living room coffee table! I found it on Facebook Marketplace–it's vintage solid Italian marble and I've never seen one shaped like it!
And which DIY project in your home are you most proud of?
I'd say any of my painting projects. I love utilizing paint and I think it's a perfect and affordable way to make a huge statement! I've painted a couple color blocks in our bedroom and a large blocked mural in my son's nursery and they will always be my favorite!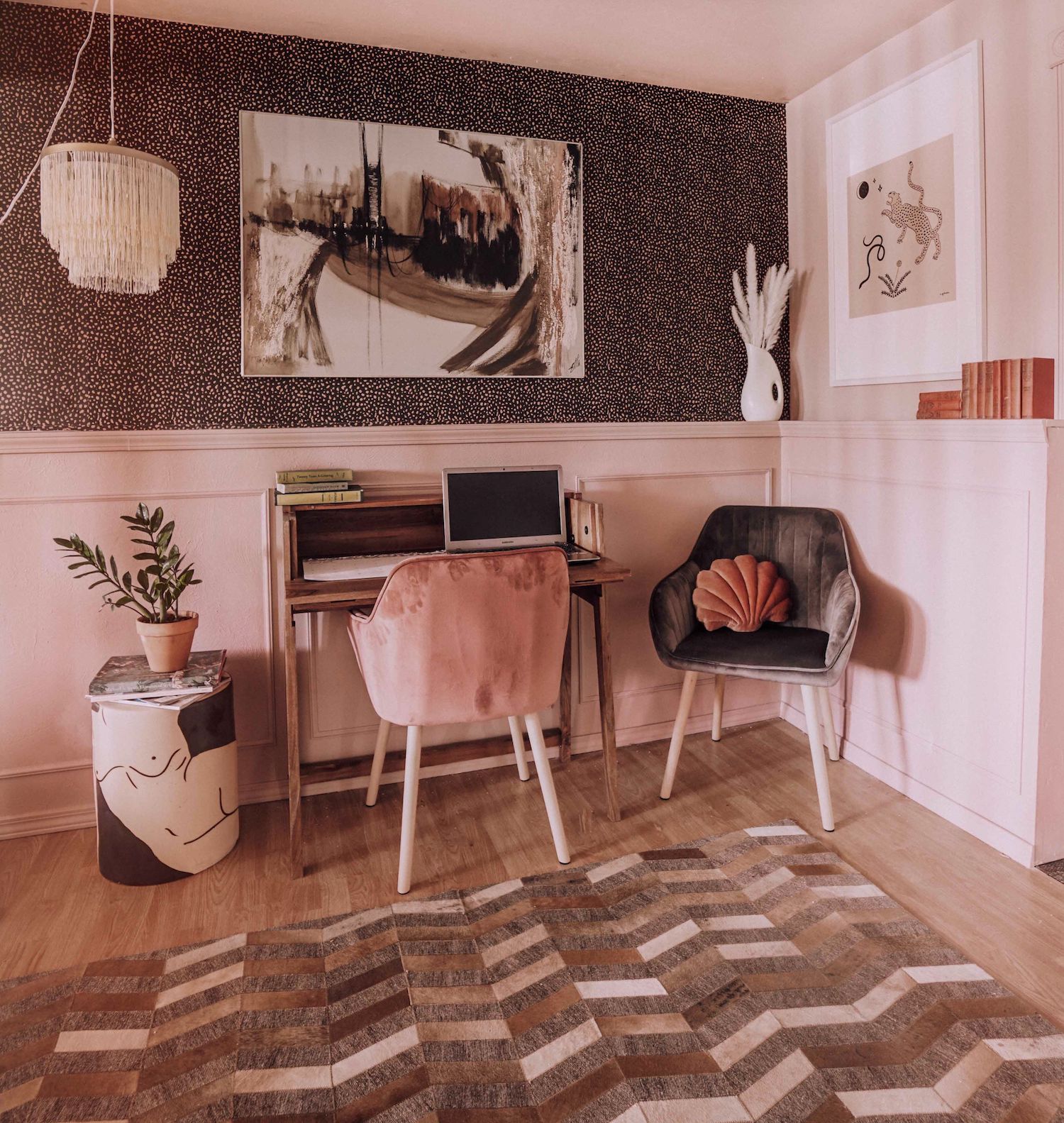 "I find inspiration in shapes and colors and those are my favorite elements to use when working on our space."
How long did it take you to get your home to where it is today, and what room would you like to tackle next? 
We have been living in our home for two years and have made so much progress! It's a 4000 square foot home though and we still have a lot of work to do. We are currently in the middle of a long awaited kitchen renovation and it's going to be so amazing. I can't wait to debut it!
Terrazzo Pattern II. Wall Mural
Color Study #6 Throw Pillow
Leopard Race - blue Framed Art Print
Panther Diem Framed Art Print
Leopard Race - pink Framed Art Print
Desert Prey Framed Art Print
abstract jungle 1 Throw Blanket
PEACH PEBBLES Rectangular Pillow
Rainbow Cheetah Throw Pillow