For New York-based tattoo artist Rosa Bluestone Perr, tattooing the body is like decorating a home.
"We can love our bodies and homes in many ways, including adorning them with beautiful things that make the space feel more like ourselves," she says.
Specializing in hand-poked tattoos, Perr adorns her clients with her delicate yet fierce designs through a unique approach aimed to demasculinize the tattoo experience. With a months-long waitlist and over 48,000 followers on Instagram, Perr has built an impressive clientele since 2015, including actress D'arcy Carden. Now, this popular artist is extending her craft to home decor. We chatted with Perr about translating her tattoo designs to art prints and other decor, her Society6 shop and what it's like working out of her sunny studio.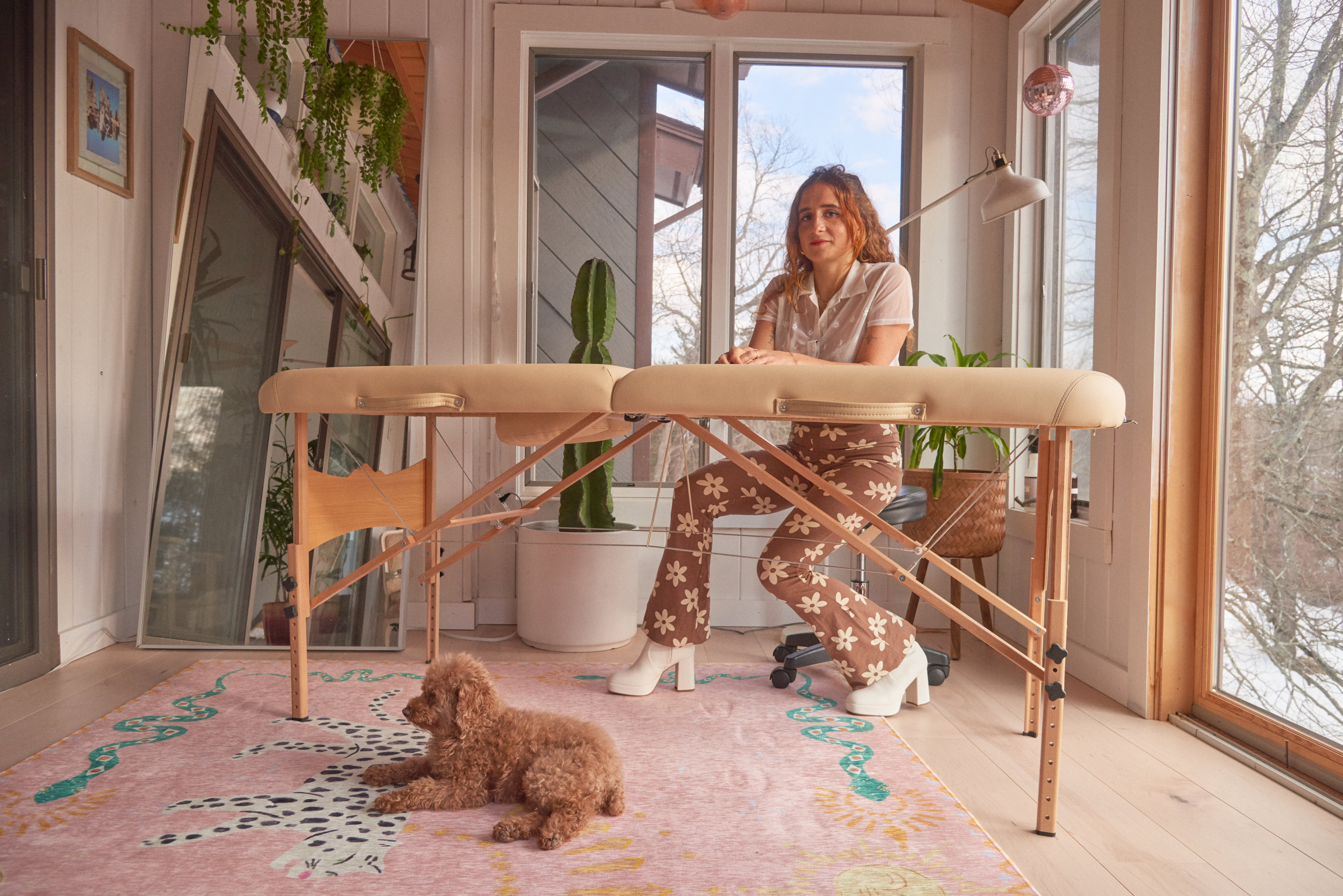 You are an artist of all sorts: prints, tattoos, embroidering and more! Can you share with us a memory where you felt inspired by art or to become an artist? Or an early memory in which you created a piece of art?
I grew up making art. My dad was an abstract painter, and as a child, my brother and I weren't allowed to watch a lot of TV. Instead, we shared a small desk and lots of art supplies. I have many memories of sitting for hours just drawing. I am grateful I had so much encouragement to creatively express myself from such a young age.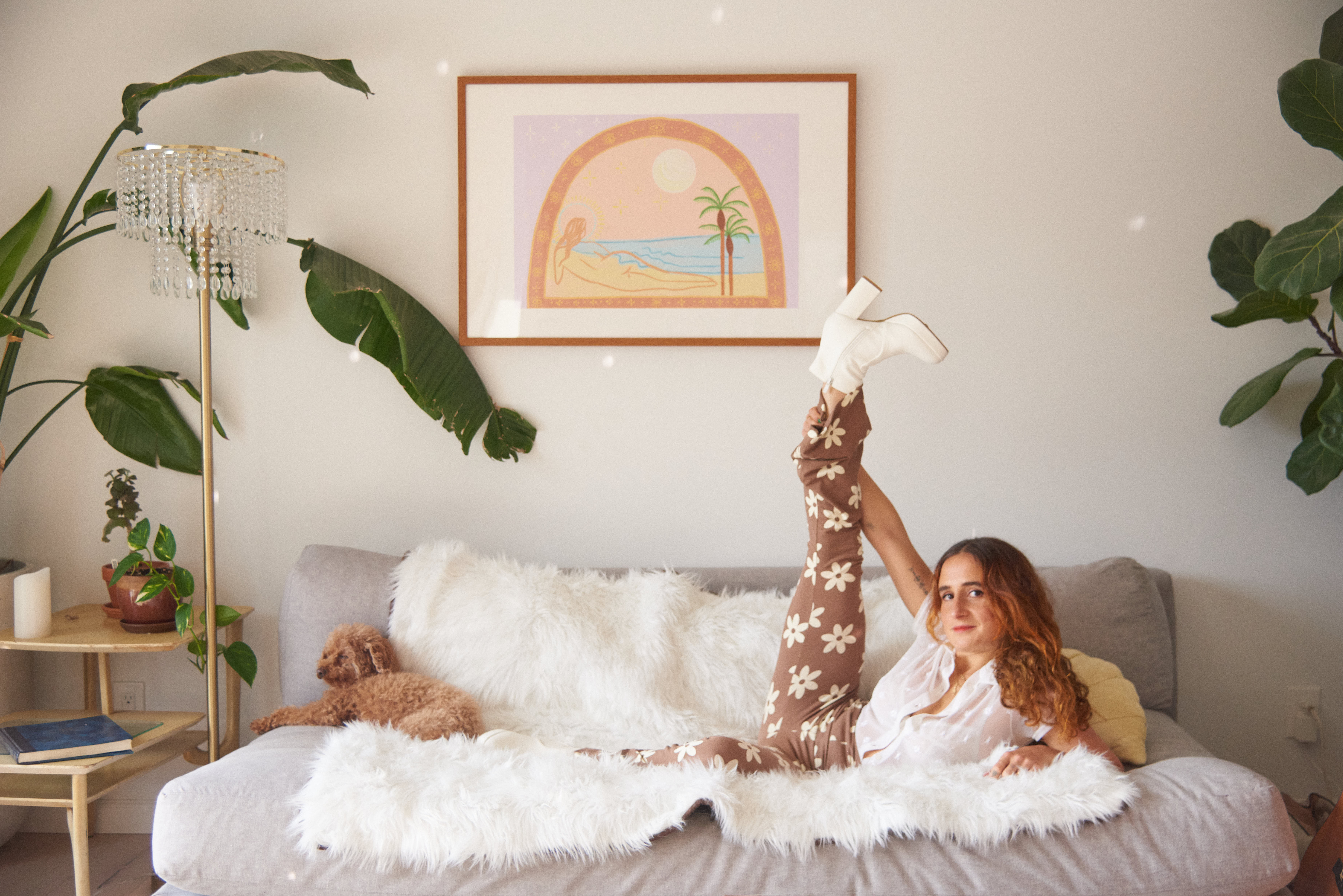 We also read that you were "raised by artists and activists who always encouraged creative expression." Who were these artists and activists that inspired you?
My dad was an abstract painter in NYC in the 70s. He came from an impoverished upbringing but got a full scholarship to NYU for art and made his own way. His art studio and home was a huge open loft in Greenwich village where eventually my brother and I grew up. Growing up inside my dad's art studio in the 90s was a magical and inspiring upbringing. The village used to be a hub for bohemian artists, and I went to public school in the neighborhood with the children of other artists, hippies and activists. This upbringing shaped who I am today. And the friends I made at PS3 are also artists and remain some of my best friends today. 
What excites you about your designs being translated into different mediums, such as prints, wall art and home decor through your Society6 shop?
Growing up, I mostly focused on painting. But once I started tattooing, I fell in love with the body as the ultimate canvas. The sharing of my art that occurs with tattooing is more intimate than painting in isolation. There is a bond that occurs with a client when I tattoo them, and I deeply value the exchange. Our bodies are our homes, and I think of tattooing as curating the walls of our bodies. For a long time now, I've been interested in returning to translating my designs into work that people can decorate their actual homes with. Rugs, specifically, have been a fantasy of mine—such a functional art form and more interactive than a print on the wall. So it's a dream come true when I see my designs come to life on the rugs in my Society6 shop.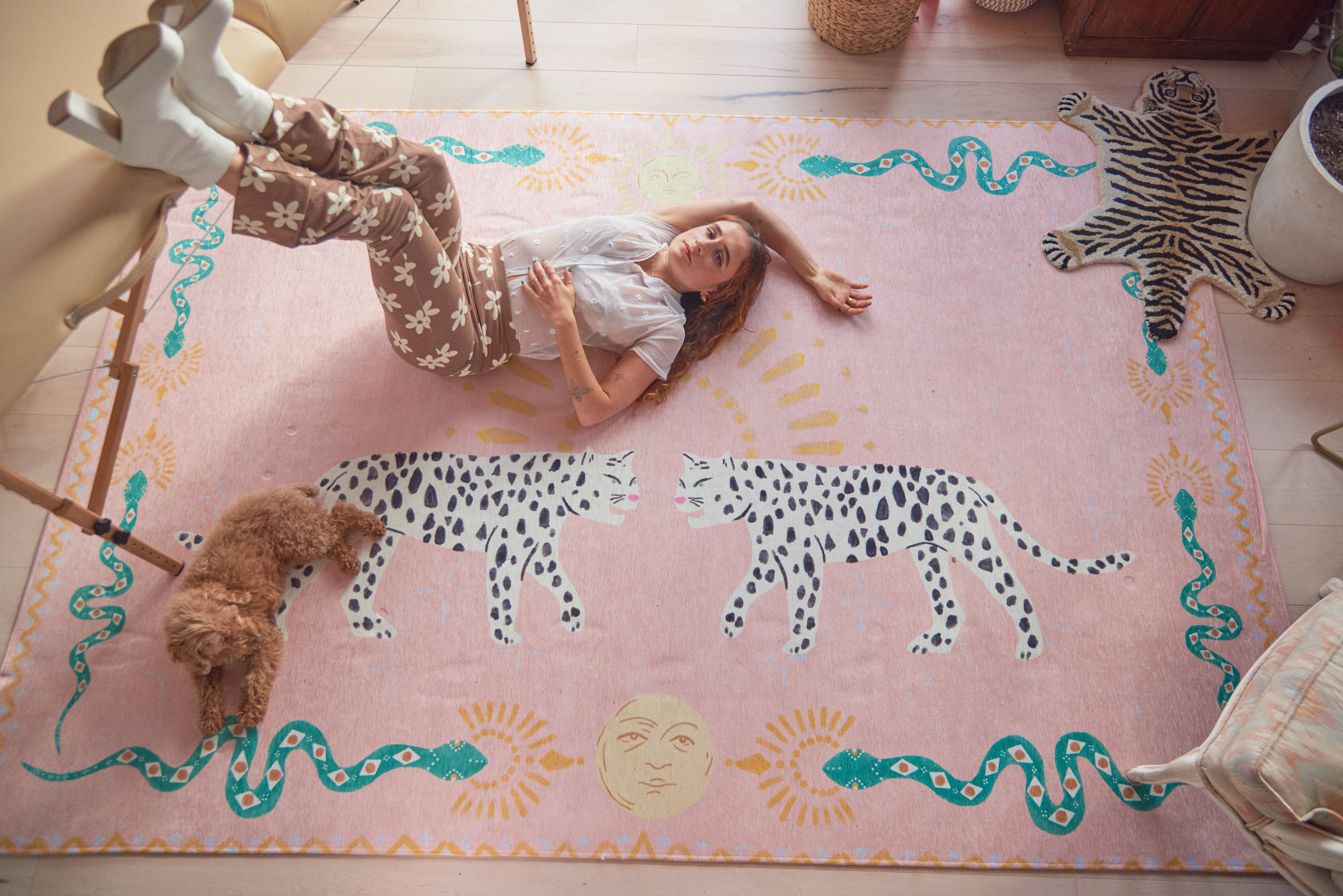 How does your style of tattooing compare to the style of your designs/prints?
Designing something for a body is different than for print or home decor. For a body, I keep things rather delicate. Tattoos live on someone's body forever. I take this responsibility and trust very seriously, so I design pieces that are simple and timeless, and I only use black ink in my tattoos. With home decor, there is more room for boldness and play, and I get to be much more playful with color. Growing up in my dad's art studio, I learned that the way you decorate your home is an art form, and I definitely live that way myself. I think as an artist you can't just limit yourself to one medium; I can't help but bring creativity to everything I do. 
What is your favorite print/design in your Society6 shop? Can you tell us a bit about what it depicts and your process for creating it?
My favorite design in my S6 shop is "Tigers and Snakes." I designed it as a textile, specifically with the rug design in mind. I love the border of snakes and the leopards walking towards each other and meeting in the middle of a halo of sun rays. Big cats are beautiful and fierce; snakes are scary yet stunning. I find these images to be powerful and use them often in my tattoo designs. I hope we can all aspire to be as confident in our own beauty and power as big cats in the wild. I enjoyed playing with symmetry and incorporating some of my favorite tattoo designs into the piece. Using these designs with color adds a whole new element to the work, and I love the way it brightens up a room. 
Your tattoo designs depict "empowering images of regal creatures and adornments spreading the message of self-love." Do you have a specific artistic approach to your print work?
I design tattoo pieces and work with clients to place those designs in a way that complements the human body. The joy and confidence new ink can bring is powerful. Self-love is the best gift we can give to ourselves and to others. When designing for home decor, I think about brightening and adorning a room that makes the dweller feel good and special and joyful. I believe the way we decorate our spaces is very important and has a huge impact on how we feel. I know for me, my home is my sanctuary and decorating my space is an art form as well as a form of therapy.
Can you tell us a bit about your studio? What sorts of art do you create in this space?
After living in NYC my whole life, I recently moved upstate to the beautiful Hudson Valley. My studio is a sunroom with windows on all sides. I can't think of a better place to get permanent art than a sun-drenched studio in nature. I love the peace clients feel when receiving a tattoo in this space. I feel so lucky to work here and to be able to share it with my clients. Often tattoo studios are dark and uninviting, but I wanted to create a space that was welcoming and mystical.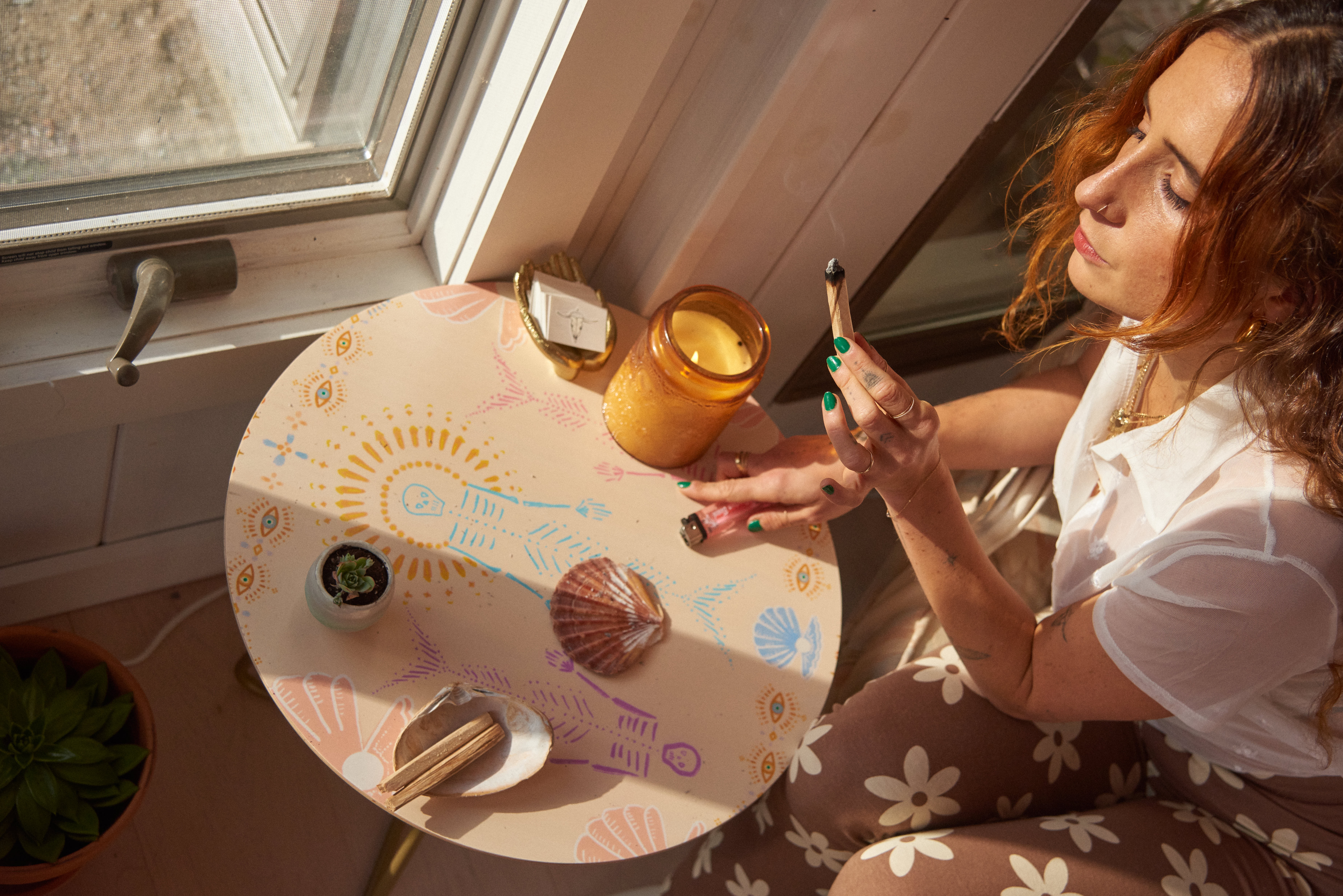 What are some essentials you like to have around when creating?
I am always burning candles, sage and palo santo. I love good, natural smells that transport and transcend. My space is also filled with plants that make me feel like I am in a jungle and a disco ball that casts twinkling lights across the studio. 
What time of day do you typically get most work done? Is one time of day better for different mediums?
I spend my mornings centering myself, getting in movement and sunlight and taking care of myself so I am ready to give the best version of myself to others. I feel most social in the afternoons, so I spend that time tattooing. Tattooing is about more than the art form for me; it's also about the connection with the client, and I enjoy the deep conversations and energy exchange that occur during sessions. On days I don't tattoo, I spend the afternoons designing. In the evenings, I set aside crucial time to wind down. I am a fish (hence the abundance of aquatic themes in my work) and feel most at peace in water. I take a bath most nights, and I find lots of inspiration and clarity strike as I soak in my candlelit tub. 
And lastly, what are you most looking forward to in 2022? Any new year's resolutions?
Every year brings new challenges and new changes to celebrate and be grateful for. I am looking forward to welcoming whatever 2022 has in store with an open heart and mind. I love to dance, but some days I don't get around to it. In 2022 I want to try to dance even just a little bit every day. The same goes for a meditation practice. I also tend to be a bit controlling, and I am working on letting go more often and practicing gratitude every day!
Photography by Daniel Fry
Shop featured products below and check out Rosa's Society6 shop to explore more of her work.
Snakes and Leopards Rug
by Bluestonebabe
Snakes and Leopards Throw Pillow
by Bluestonebabe
Mermaid Skeleton Pink Seashell Framed Art Print
by Bluestonebabe
Woman by the Sea Framed Art Print
by Bluestonebabe
Mermaid Skeleton Bench
by Bluestonebabe
Mermaid Skeleton Tile Recessed Framed Print
by Bluestonebabe
Mermaid Skeleton Pink Seashell Side Table
by Bluestonebabe
Snakes and Leopards Bath Mat
by Bluestonebabe