Southern California: loved for its sun, surf and of course…skateboarding.
We hit up the world-famous Venice skate park with Danielle, Tobi and Myriah to learn more about how they started skating together and what it takes to carve out a place for the feminine in a male-dominated scene.
How did you guys start skating together? 
Tobi: A group of us girls in Venice all loved skating but didn't have any girl friends to skate with. A handful of us met at a party and decided to go on a skate the following weekend. It was a blast! One skate together turned into more and before we knew it we were pulling more and more girls in to join. As it was building, those of us who originally got together decided to make something more official of our skates and nine months later, here we are. It's been such a fun, wild ride, so serendipitous and organic, we couldn't have asked for anything different.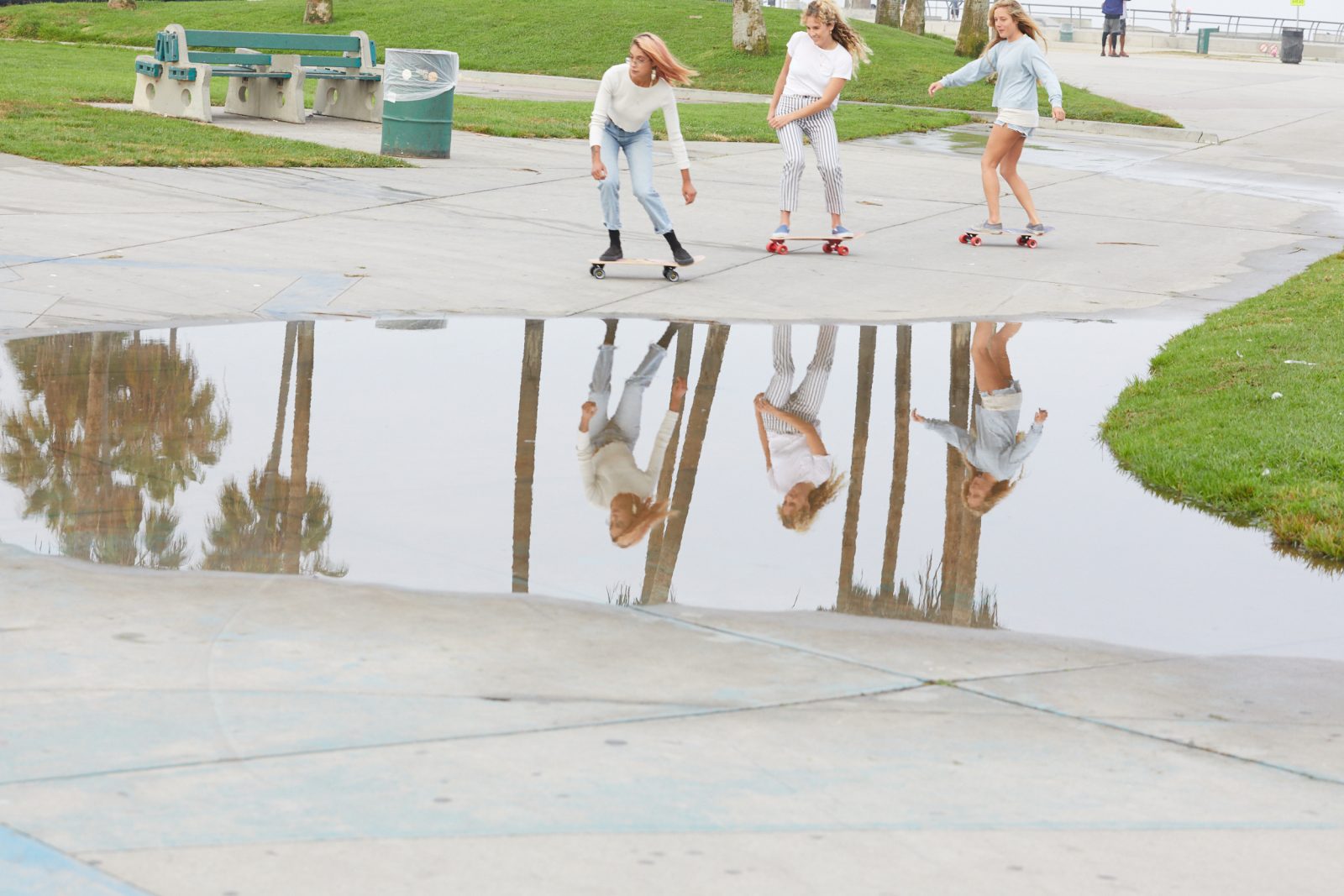 How is your skating community different from the other communities in your life?
Danielle: There is an exhilarating quality to it. When we come together to skate we're so present and in the moment. Skating forces you to focus on the moment because if you don't pay attention you're gonna get hurt, so there's a meditative quality to it. Also, the girls I skate with are so diverse and creative. It's super inspiring to be around all of them in such a supportive and encouraging environment.
Danielle, you're also a mother to a little girl—as someone who cares deeply about female friendship, what values do you hope to pass along to her?
D: Most of all, I want her to feel confident in her own skin. Authentic expression is so important. I want her to feel like she's proud of who she is, with all her unique flaws and strengths, and she doesn't need to compare herself to anyone else. If she can own that, then she can be supportive and kind to others as well. Its corny but true—all love begins with self love.
Speaking of, what does femininity mean to you? How would you encourage women to define femininity for themselves instead of listening to societal norms?
D: Society's "norms" are pretty twisted. But they do invite us as women to be strong through our vulnerability—to show who we truly are proudly and be leaders in breaking boundaries. Each one of us has a different style of expression and not being afraid to own that and be different forces people to open their minds to what it means to be feminine. Rising above challenges with an unwavering authenticity is what I call grace.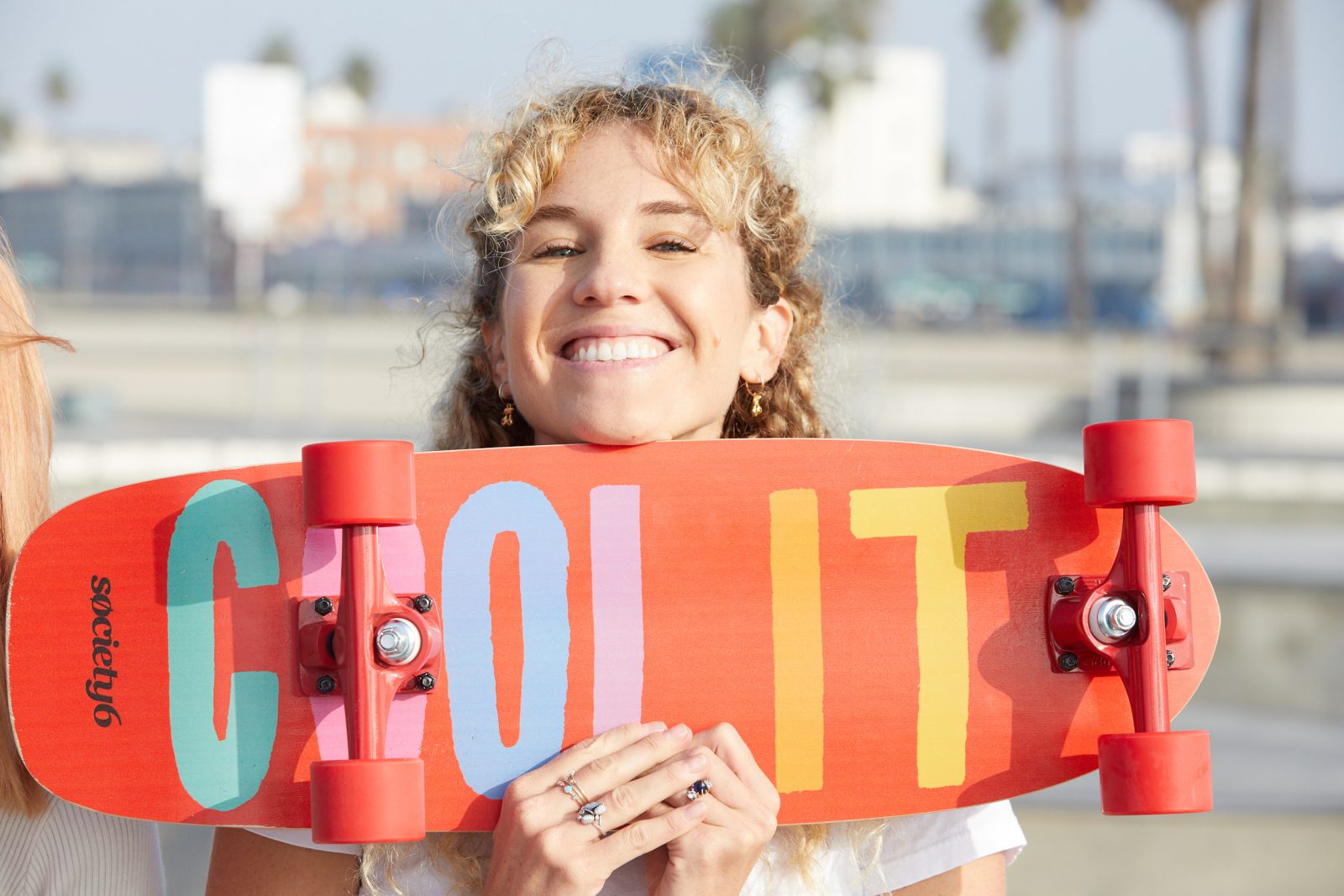 "Rising above challenges with an unwavering authenticity is what I call grace."
What is the biggest misconception about skateboarding?
Myriah: In my opinion a misconception with skating is the skill level needed in order to find joy. NO ONE instantly shreds. It takes practice, falling and getting back up. I picked up skating because I was very sick when I was young and it made me feel strong. No I wasn't dropping into bowls or hitting kick flips but the amount of joy I feel is none the less.
What is your favorite Skate Trick?
M: That I can do: No Comply impossible. That I may be able to do one day: Casper Flip.
Where are your favorite places to skate in LA/Venice?
T: The boardwalk was my first love, morning coffee skates are true heaven, especially in the winter. The boardwalk is also the location that brought us together and that leads us to the Venice skatepark. A lot of us didn't even dare walk in the park a year ago, and now we can't get enough of it! If you're into park skating, you can also find a lot of us at the Cove on Wednesday nights. As surf skaters on Carver boards, we also love a good hill or long buttery street with little driveway hips to play on. Santa Monica's hills are great for that as well as Mar Vista's quiet neighborhood streets. One of the best things about skateboarding is you can do it almost anywhere, a good ten to twenty minute break from work in my back alley is sometimes the best thing ever!
"Our goal is to create a positive impact by bringing together women and girls from all backgrounds and walks of life to form solid friendships while chasing the stoke."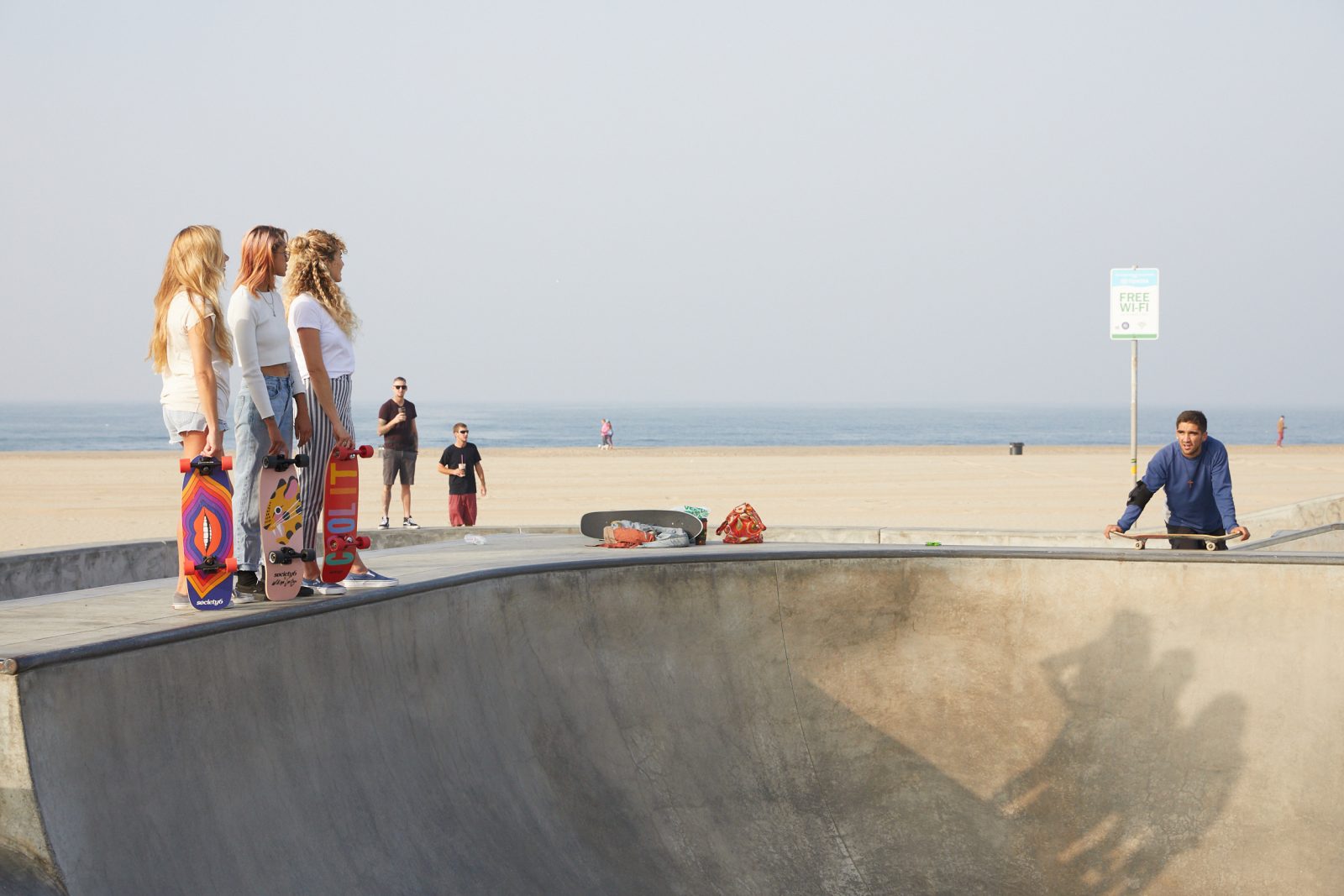 Photography by Nicole Lamotte
Shop our Special Edition Skateboards: