"90% of the work is done with 10% of the tools."
Lucky for us, full-time travel photographer, Luke Gram, saves us years of trial and error by showing us inside his camera bag and writing all about it. With so many photographers on Society6, I wanted an S6 Artist to share one of the most common topics among newbie and veteran photographers–"what are you shootin' with?"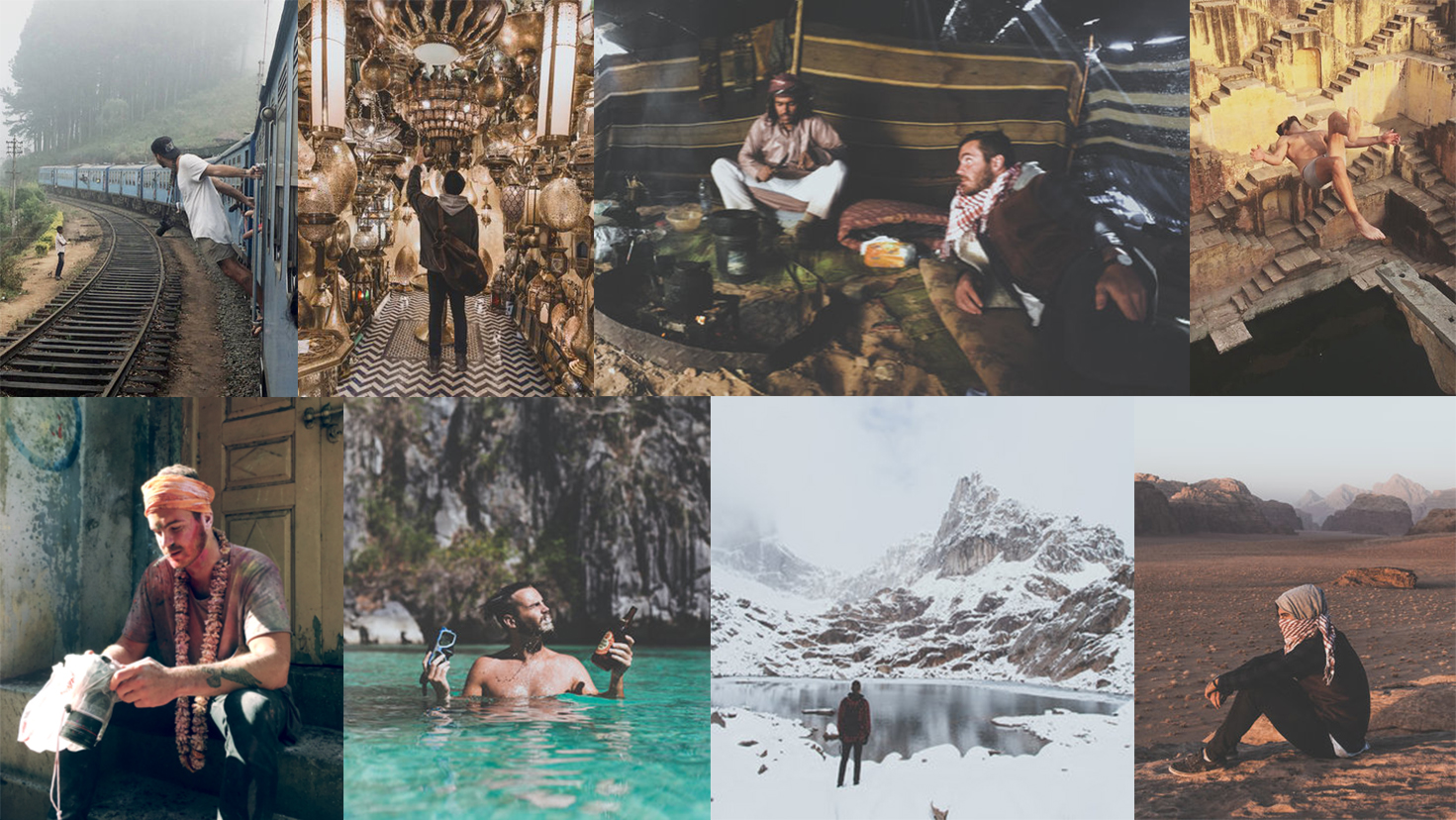 Luke's words: The most important thing any artist can be is prepared. Proper preparation is the first step in the artistic process, and it's one that seems to be glossed over too quickly by most.
An amateur painter's canvas will always be more beautiful than a professional who forgot his brushes.
As it is for most things–be it a mechanic, a painter, a photographer, a carpenter–90% of the work is done with 10% of the tools. I apply that philosophy to photography as well. And one thing everyone who travels with me says is that I pack as much for a 6-month trip as they do for a 2-week holiday. Being a travel photographer takes patience, careful planning, and the ability to reduce your life essentials into a small enough package that everything can be carried on your back.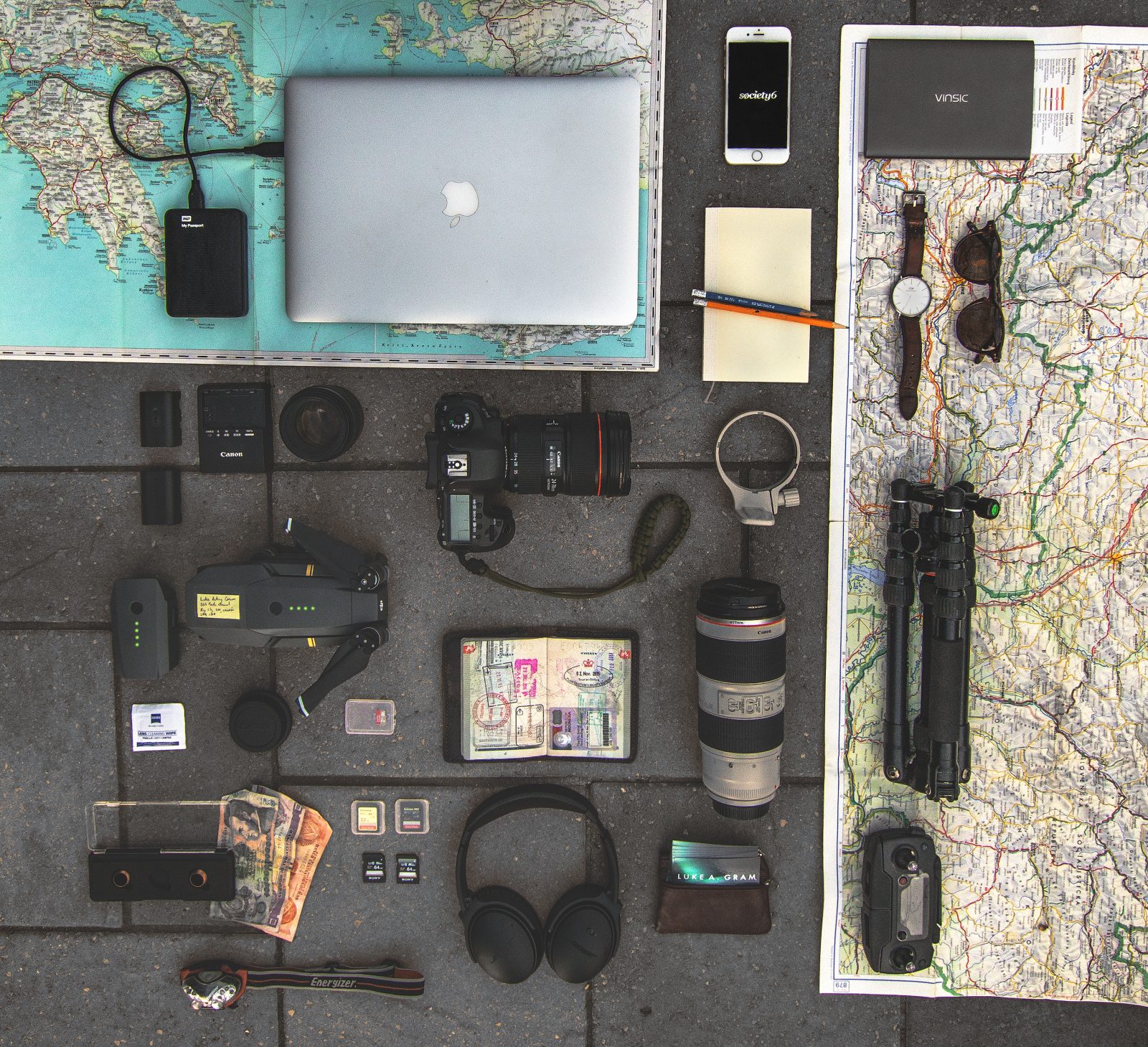 In regards to travel photography, I have always found that less is more. It takes numerous trial and errors in packing and preparation, hundreds of "shit I wish I had _______" moments, as well as moments of wanting to just dump out my bag and leave behind all the excess weight. After 3 years, 58 countries and 6 continents, I've managed to reduce my photo gear to what I find works best for me.
The bag I use to carry my gear is the Lowepro Flipside 400AW, and inside it you'll find the following:
Macbook Pro Retina 15"
Canon LP-E6N Battery (3x) + charger
DJI Mavic + controller + battery (2x) + extra propellers
Canon 5DSR
Canon 85mm f/1.4
Canon 70-200 f/2.8 L II
Canon 24-70 f/2.8 L II
Farm Fresh Speakeasy Sunglasses
iPhone 6
Bose Quiet Comfort 35 Noise Cancelling Headphones
Polar Pro DJI filters
Head torch
Front + rear lens cap + body cap
64 gb SD Cards (6x)
64 gb MicroSD (2x)
128 gb Compact Flash (1x)
WD 1 TB portable hard drive
Passport
Zeiss Lens Wipes
Popov Leather Passport Sleeve
Lens Wipes
Daniel Wellington watch
70-200 tripod mount
Midori MD Notebook A6
ObenAT-3535 Folding Aluminum Travel Tripod w/ BE-208T Ball Head
1. About the Camera Gear
The most important pieces I carry are quite obviously my Canon 5DSR and the lenses I use with it. Instead of having a variety of fixed focal lenses that would require constant changing, I made the (expensive) decision to upgrade to Canon L lenses that offer a wide focal range while still delivering the highest quality optics.
My two primary lenses cover a collective range of 24-200mm between them. Meaning, I only have to swap lenses if the situation changes drastically. Generally, walking through cities and most landscapes I utilize the 24-70mm, which offers flexibility for portraiture, wide angle landscapes, as well as closer up, intimate subject shots. For the far reaches I keep the 70-200mm in the bag as well, but I find the 24-70 covers 90% of the bases. My last purchase I'm going to make is a 2x extender–making my 70-200mm a 140-400mm (shooting twice as far). In the case of camera gear, money spent wisely is both an investment in gear and in your ability to use it efficiently.
2. Memory Cards, Storage & Computer
Coming off the heels of my camera gear is my computing gear, which is essential, as it keeps me connected to Society6 and my ability to manage my travel photography. The external hard drive means I can keep backups of photos incase of the unfortunate theft or damage of equipment that can happen while slugging your bag through airports, train stations, bus roof racks or wet boat floors.
I keep an abundance of memory cards with me always. This is one of the few exceptions to my "less is more" rule. I got caught short doing timelapses in Iceland and regretted not spending the money on more cards, so now I always keep more than I need, both for times when 5000 photos need to be taken for timelapses, or when there's times I cant dump my cards for weeks on end. Same goes for batteries, in this case, more is better. Nothing worse than missing a shot due to a dead battery.
"Iceland Timelapse"
3. Make sure you have "comfort" items
Little goodies such as my sunglasses and Bose headphones add a level of comfort that goes a long way. In 2 months in South America alone, I spent 114 hours on buses. In India, 97 on trains and 42 on buses. In the past 3 years, I've spent over 400+ hours in transit. It's these little comforts that help keep you sane.
Another vital item that I could not live without is my iPhone. I never buy sim cards, and I only use it on wifi, but its absolutely incredible how much you can do with it still. Now, I'm not talking about using it for instagram and facebook, but instead for using it as a swiss-army knife of technology. Wherever I am in the world I have maps, I have movies and novels, I book all my hostels and flights, I have records of my insurance and other important info, I can track when and where the sun will rise and set, I can track spending and move money from my banks. Most importantly, however, is no matter where I am in the world, I get to facetime my mom.
4. There's only one way to pack your camera bag
So, how do you prepare properly? Well, you don't. Or I didn't. That's the truth. You're going to forget something important, or wish you had this lens or that flash, or your bag is going to break when you're at 5000m altitude. But that's alright!
There's no cookie-cutter answer to how anyone can prepare for an artistic endeavor. The trick is to learn what works best for you and adapt as you go. Invest in your gear, both in quality and in care, and it'll pay itself off as your career grows.
Ultimately, you have to invest in yourself. Make smart purchases. Read reviews over and over. Ask questions. If you cheap out in your craft, it's going to show somewhere along the line of the process. You have to put the same amount of love and care into even the tedious and boring parts of your artwork – there's simply no way around it. I guarantee you that your favorite painter/musician/photographer spends more time than you can possibly imagine doing the small background tasks no one sees, yet that's why their end product is so finessed. Talent is only a small portion of the recipe to success – the rest is the blood, sweat and tears that sets devotion apart from hobby.
Photos courtesy of Luke Gram