So much to learn. So little time. Take your art skills up a notch with this review of the Top Ten best educational sites for Artists.
We asked Cat Coquillette, full-time traveler, S6 Artist and all around pro designer, to shed some light on her favorite sites to elevate artistic technique. So, she put together a Top Ten list that includes a review of the most popular sites–and a few hidden gems–so you can learn every new art skill imaginable.
One key factor for succeeding as an artist is continuing to grow your creative skillset. My portfolio has evolved tremendously over the past few years. I've improved my painting techniques, learned time-saving shortcuts, established a solid aesthetic, and kept up with market trends. Utilizing the right resources was key in this journey.
Here are my top ten recommendations for the best artist education resources out there, from hands-on tutorials to sites that will get your inspiration flowing. Whether you're wanting to improve your life drawing skills, get feedback from other artists, or feel inspired to try something new, these are the best websites to help you grow. After all, an expert in any field was once a beginner, too.
1. Skillshare
Cost: $15/month or $99/yr (much cheaper). Otherwise, our friends at Skillshare are hooking up Society6 Artists with this free 2-month trial to get you started.
Skillshare is an online learning community where you can enroll in online classes that help you hone your creative and business skills. This is a great resource if you're interested in learning or improving upon a particular skill like illustrating vector art, working with brush lettering, editing your photography, learning how to freelance, etc.
Your membership will give you unlimited access to all 17,000+ classes. Each class is broken down into sections with individual videos, so you can learn at your own pace. Students are encouraged to participate as well– there are open discussion boards so you can ask questions and project galleries where you can upload works-in-progress.
My top Skillshare recommendations: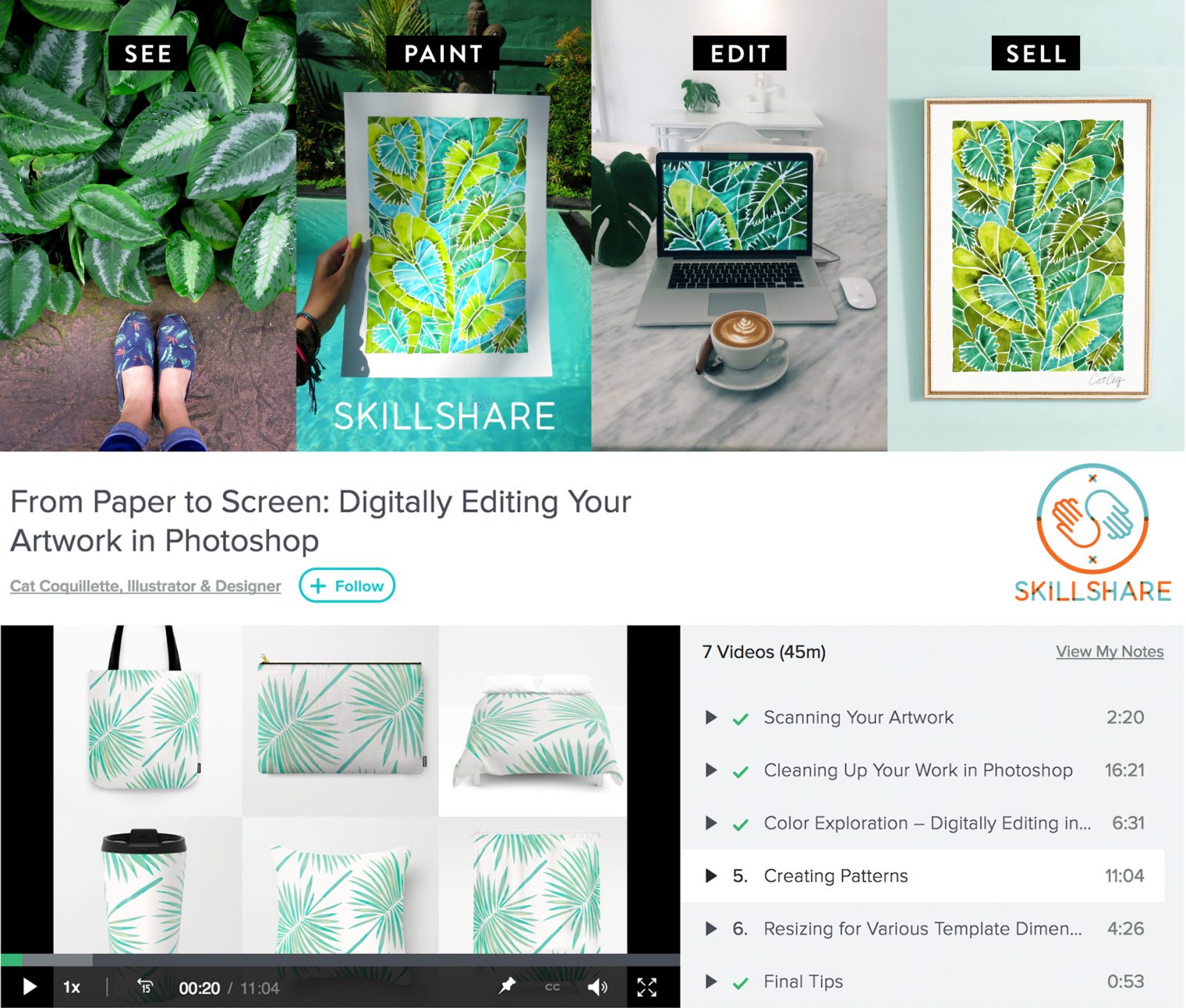 2. Pinterest
Cost: Free
Pinterest isn't just for DIY projects and recipes; it's a killer resource for all things art and design, too. Utilize their search bar to find everything from acrylic painting tutorials to learning specific drawing skills or basic artist resources. Because the platform is inherently visual, it's easy to quickly browse through and find what's relevant to you. Pinterest is also great for getting creatively inspired. I collect cool visuals in boards like Typography, Illustration, Branding, and Web Design. It's helpful when I want to reference ideas for a new project.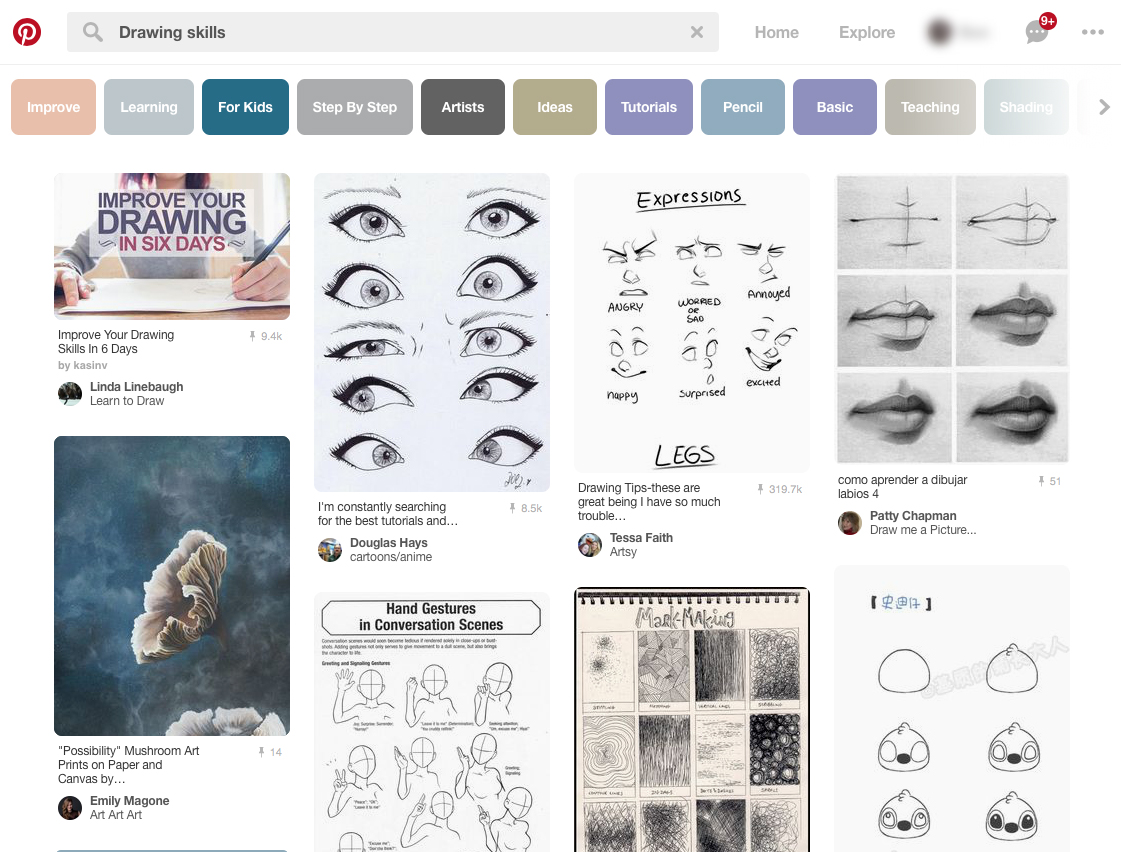 3. Lynda.com
Cost: $19/month. One-month free trial here.
Similar to Skillshare, Lynda.com is an online learning platform taught by industry experts and has over 700 courses on drawing and design alone. Lynda.com has been around for over twenty years and partners with over 10,000 organizations. If you're a student or employee, check with your school or employer to see if you have access to an academic or corporate subscription. If not, no worries– you can sign up for a 30 day free trial, too.
Lynda.com's drawing tutorials break down complex concepts like line, tone, value, perspective, and composition into ideas anyone can understand. Hone your fundamentals or take the 21-Day Drawing Challenge to improve your skills.
If you'd rather digest small bits of info at a time, check out Graphic Design Tips & Tricks Weekly by John McWade. This weekly series touches on all areas of design and helps designers sharpen their skills and create more powerful work, from typography and layout to color and logo design.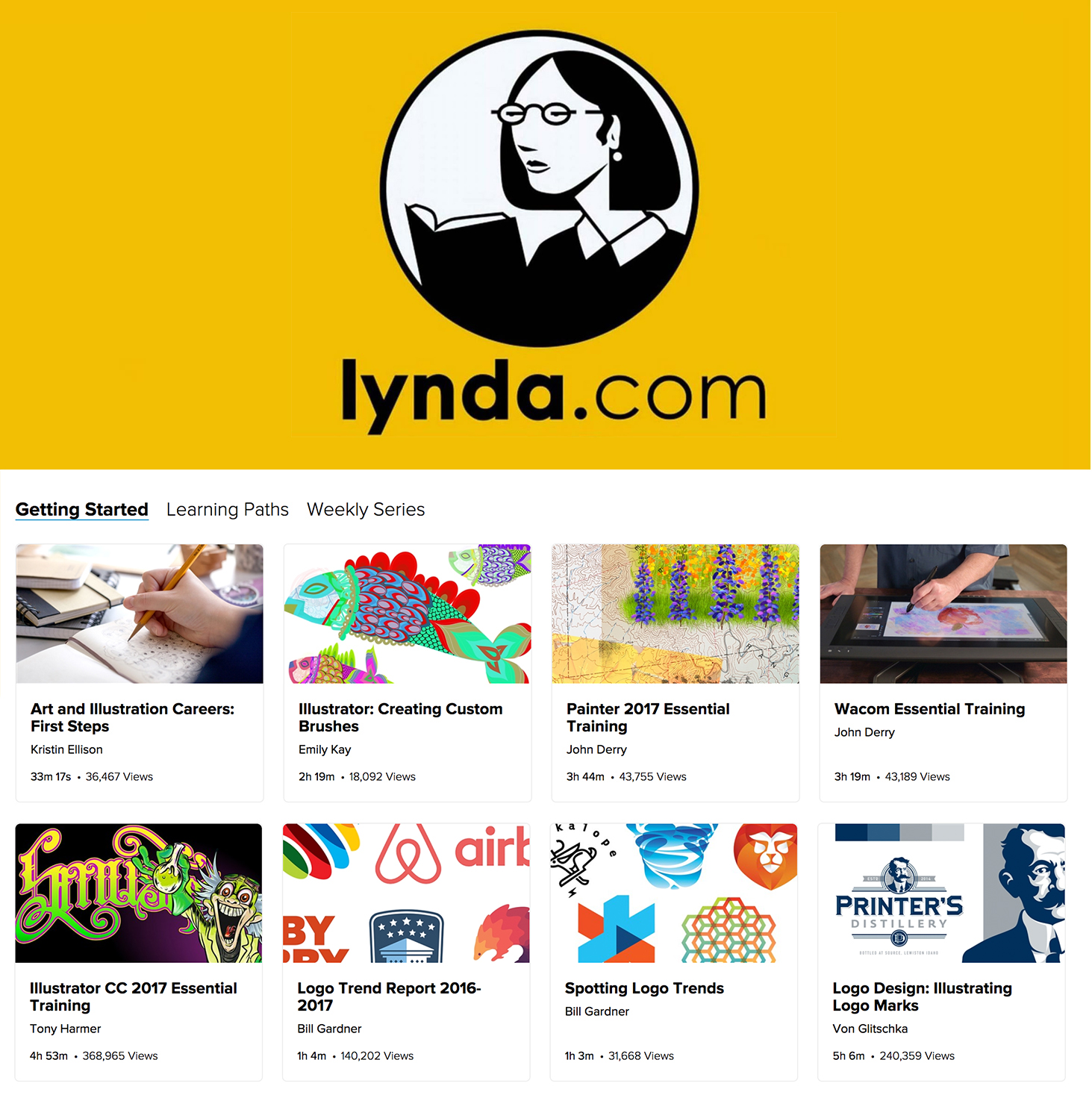 4. Youtube
Cost: Free
Youtube has loads of video tutorials on drawing, painting, graphic design, you name it. The best part: it's free! I typed in "learn to draw" and there were nearly 20 million results. Be specific with your keywords and you'll have no trouble finding the perfect resource for learning new skills.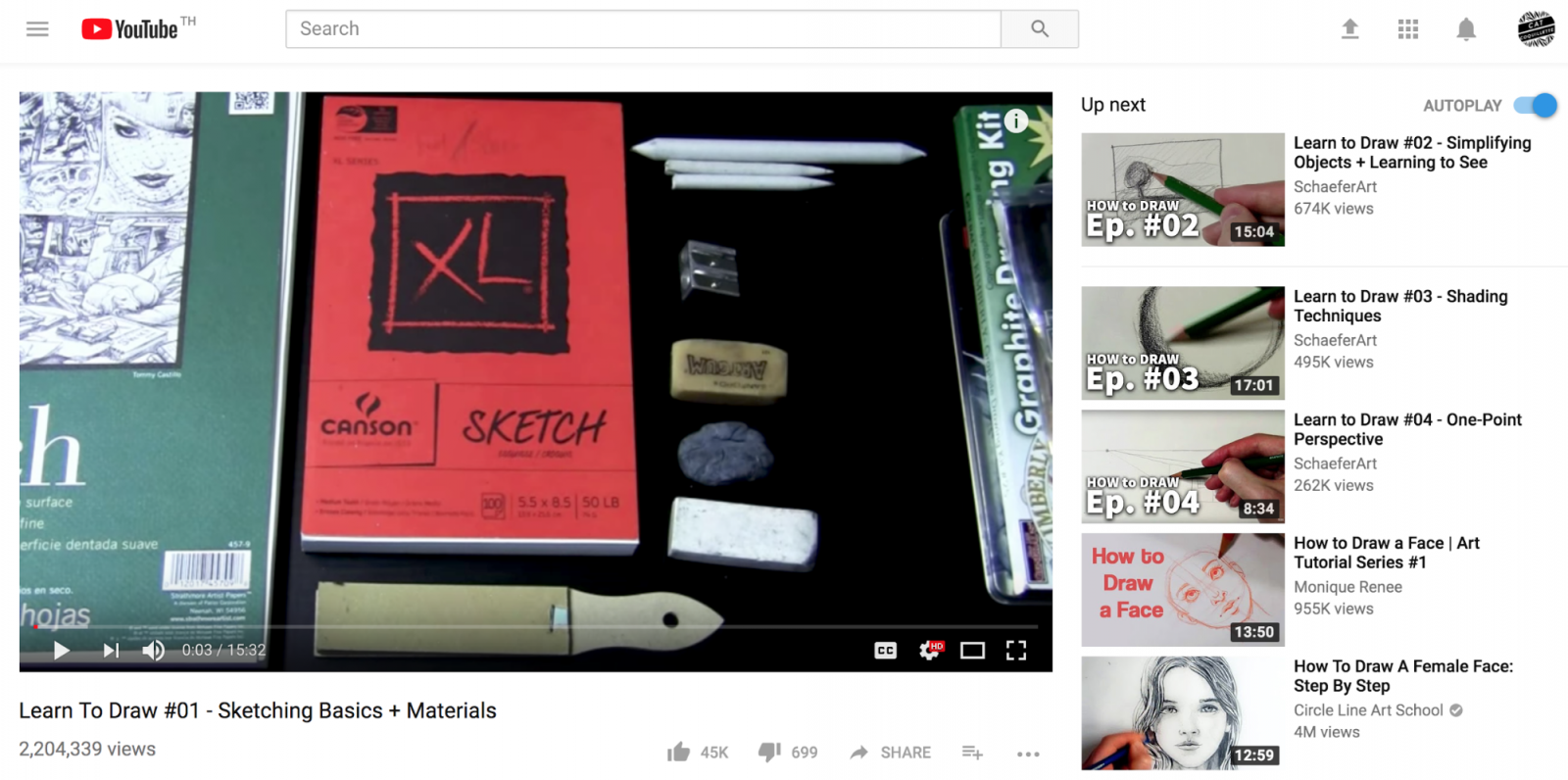 5. Brit + Co
Cost: Around $20–$40 per class, with some free classes available too
Brit + Co connects an online community of over 125 million people –primarily millennial women– who share an entrepreneurial and creative spirit. Their mission is to ignite the creative spark in everyone and they offer a wide range of classes to help you accomplish this. Instead of being a subscription model, you pay per class. (Usually around $20–$40 a pop.) All their classes are beginner-level and range from art and design to style and DIY home decor.
Some of Brit.co's most popular classes: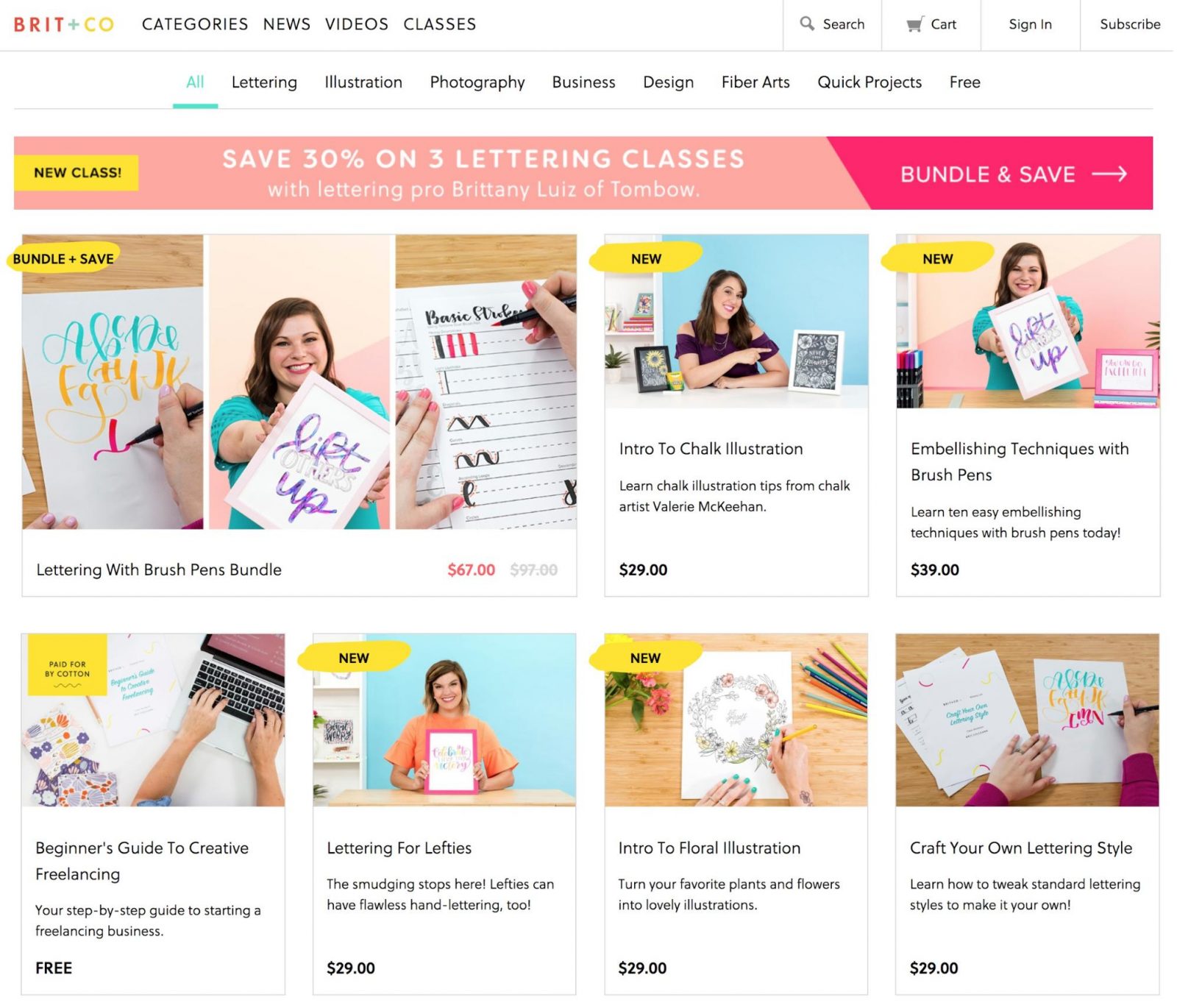 6. Fast Company Design
Cost: Free
Stay in the loop with all things design: news, ideas, and inspiration. Co.Design is a branch of Fast Company and, like their parent brand, provides the most up-to-date and newsworthy ideas in the art and design world. Co.Design is chock-full of design resources and content to get your creative mind whirring with outside-the-box ideas.
Some recent gems: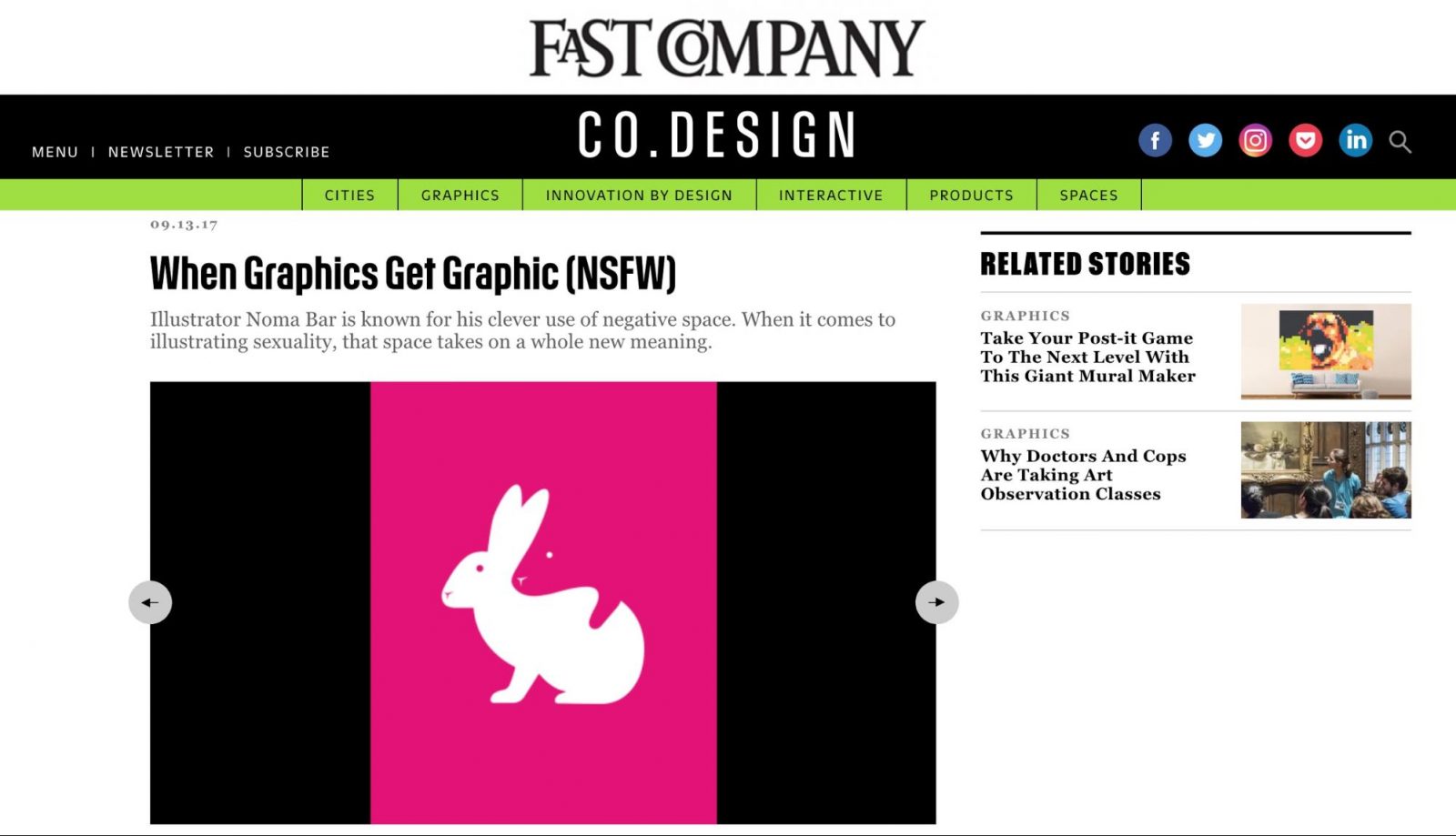 7. Deviant Art
Cost: Free
You're probably already familiar with Deviant Art, but did you know they have an entire section of their site dedicated to Tutorials? Even better: it's 100% free. You can browse by categories like photography, digital art, typography, etc. Their most popular resource? Tips for Drawing Hands, with nearly 60,000 stars.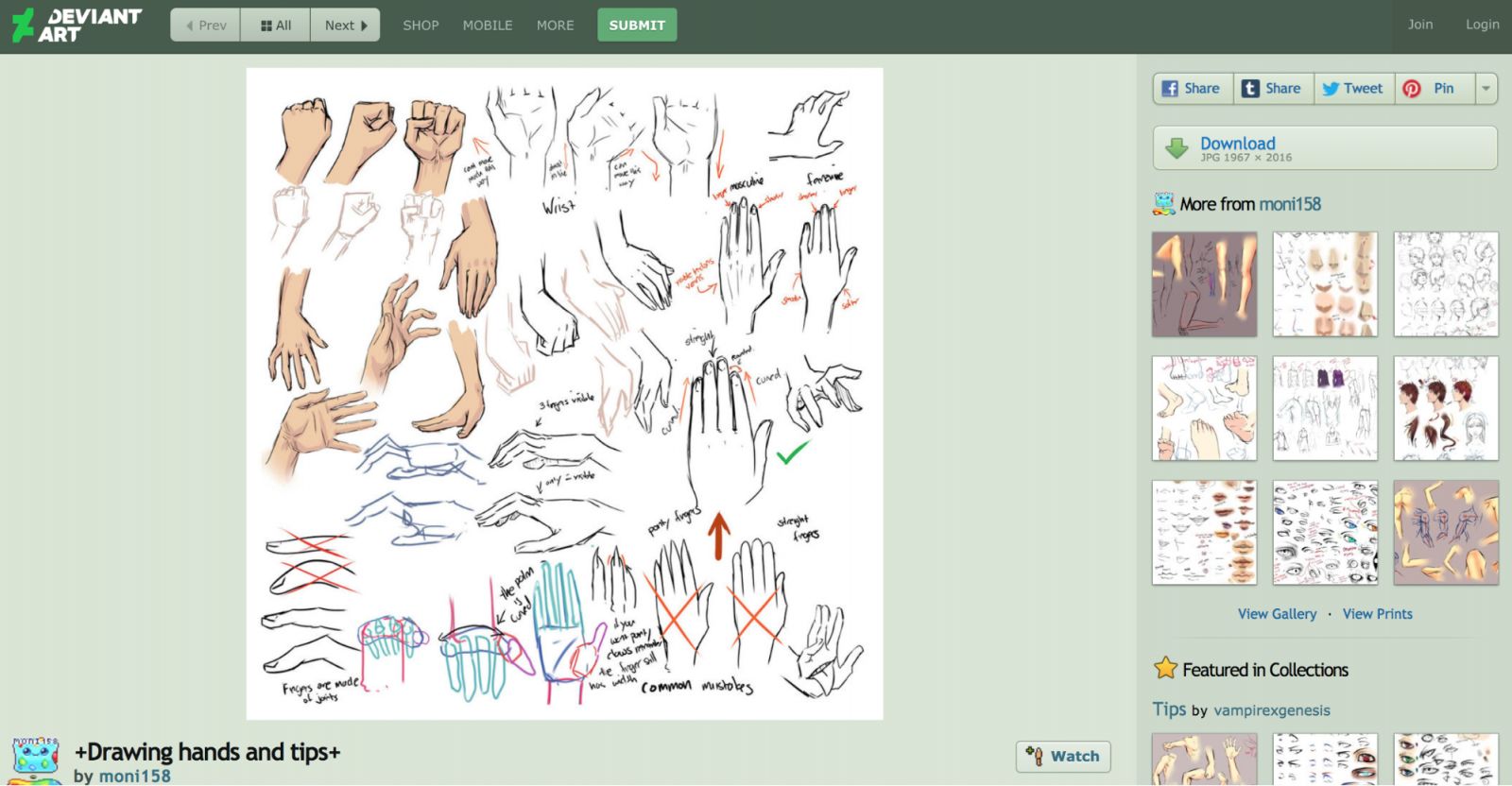 8. Envato Tuts+
Cost: $29/month for unlimited access, but there are 25,000 free tutorials with no membership required
Envato Tuts+ offers video courses and written tutorials to help you learn creative skills in graphic design, illustration, photography, music, web design, and more. Based around specific projects, they include step-by-step written instructions and screenshots to help you practice and master your skill. Their video courses are generally subscription-only, but the Learning Guides are free to access and can be incredibly helpful.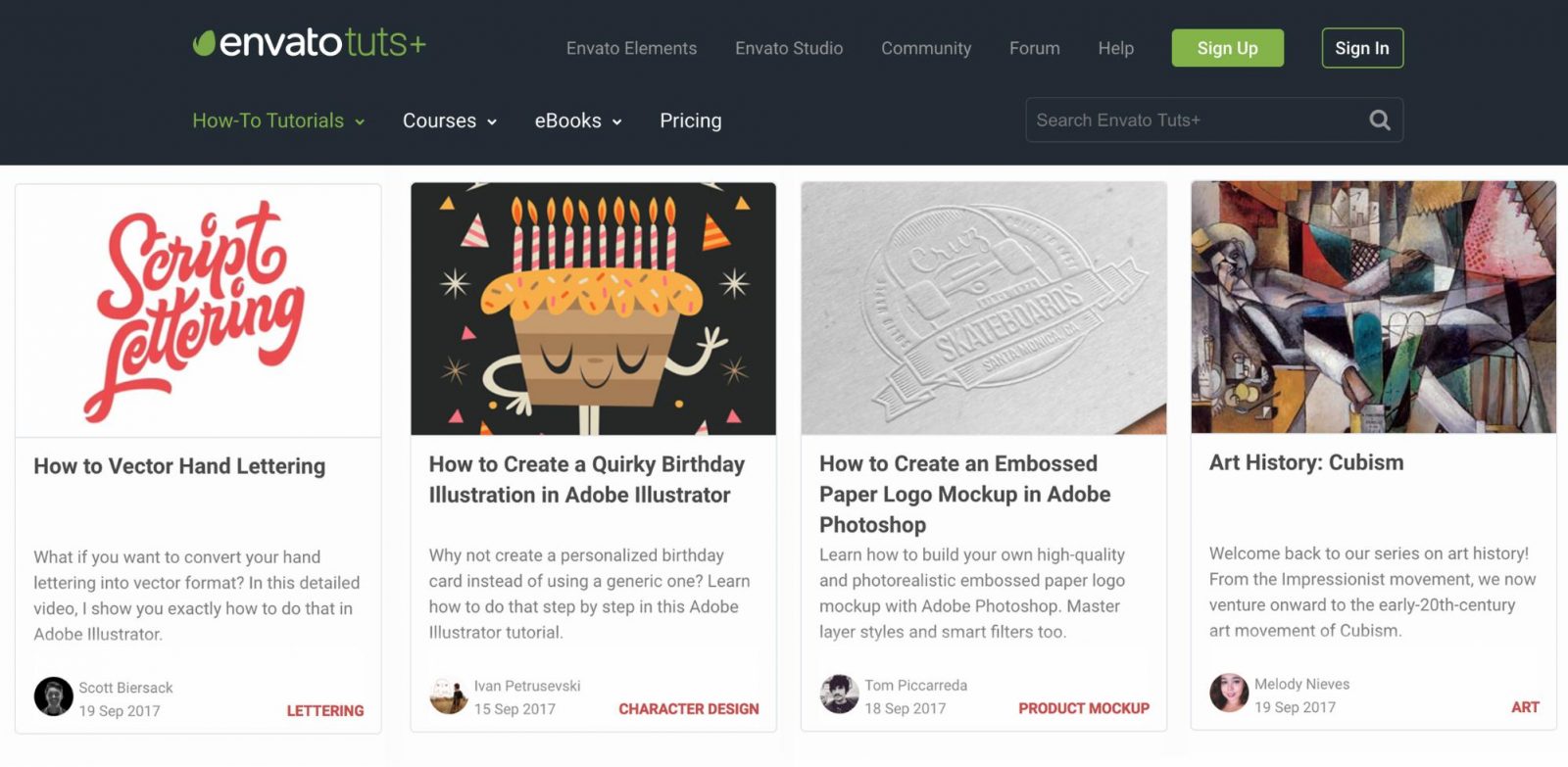 9. Rate My Drawings
Cost: Free
If you're looking for a community of artists to connect with, check out Rate My Drawings. It's an online drawing community that allows artists to draw on their platform and discuss their artwork. The big difference between their site and other community art sites? All drawings are made using the same tools (available on the site), so the only difference between artists is their drawing approach.

10. Drawspace
Cost: $10/month, with some free classes available, too.
If you're interesting in honing your realistic drawing skills, check out Drawspace. Their extensive website teaches you how to create realistic drawings. The learning content is divided into lessons ranging from beginner to advanced. As you progress, the lessons gradually increase in difficulty.
Skills you acquire as you go: linework, contour drawing, shading techniques, composition and perspective, color, etc. You can even enroll in free tutorials like Shade an Optical Illusion or Use Colored Pencils to Mix Colors.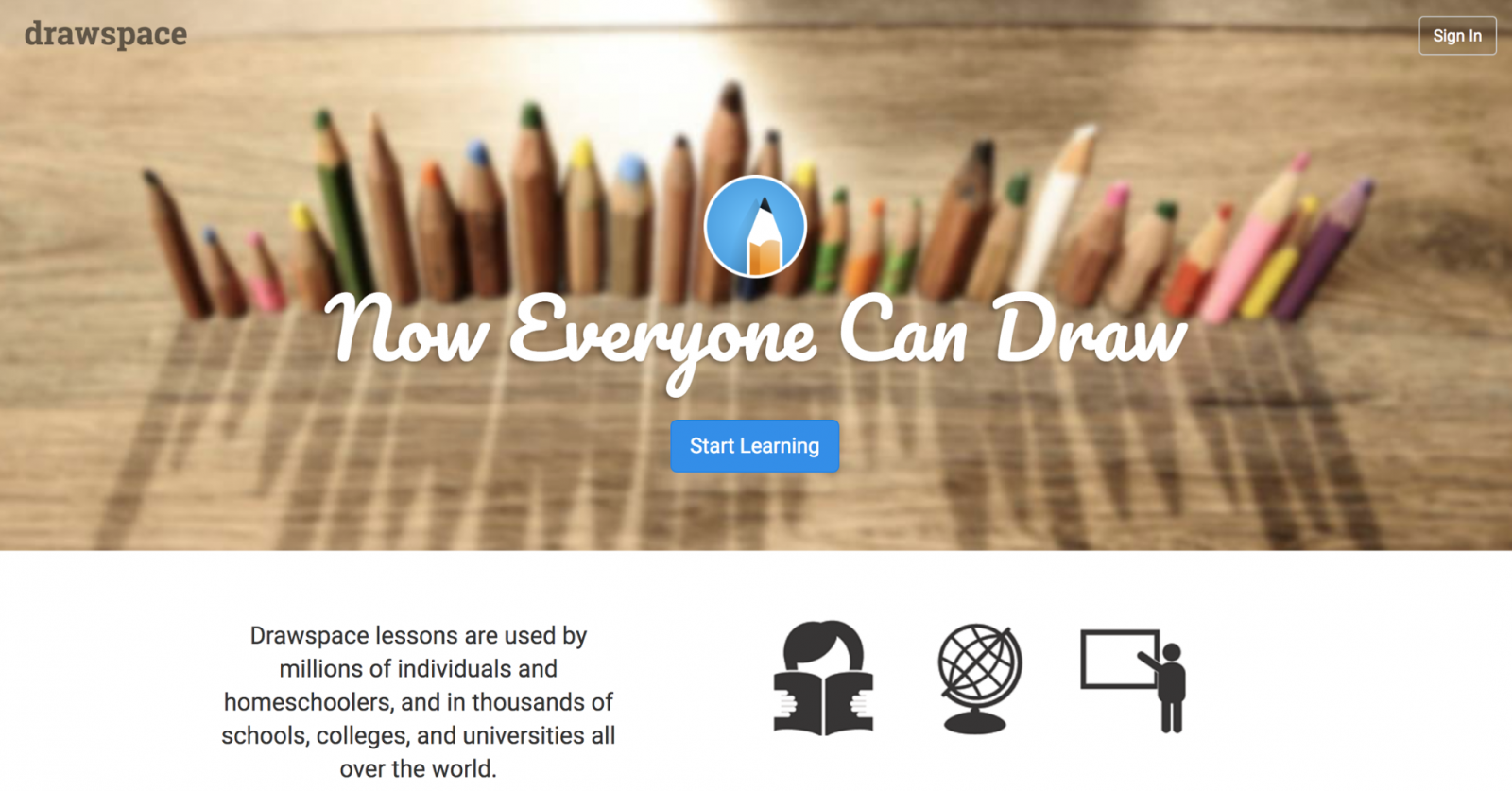 I hope this guide has sparked your curiosity, creativity, and drive towards self-growth. After all, life is about taking chances, learning new things, and having fun along the way.
Now go forth and prosper! 🙂