We asked busy mama Natalie Alcala, the founder and CEO of Fashion Mamas, to give us a mini tour of her new home in Silver Lake while revealing a few ways she makes working from home both cozy and productive.
When I was pregnant with my son Diego (who's almost four-years-old now!), I had nonstop energy and was hardly home, bouncing around the city from meeting to meeting and party to party. I'm going to be honest with you: this second pregnancy hasn't been as easy! Carrying a baby girl has me next-level exhausted, which is why I'm opting to work from home much more often.
I've always enjoyed the WFH life — even before motherhood  — because it allows me to concentrate on tight deadlines without distractions (I'm a writer by trade) and physically step away from a story or project when I'm experiencing creativity fatigue. (We've all been there.) With that said, here are a few items that I keep around my space to maintain a serene yet supportive environment.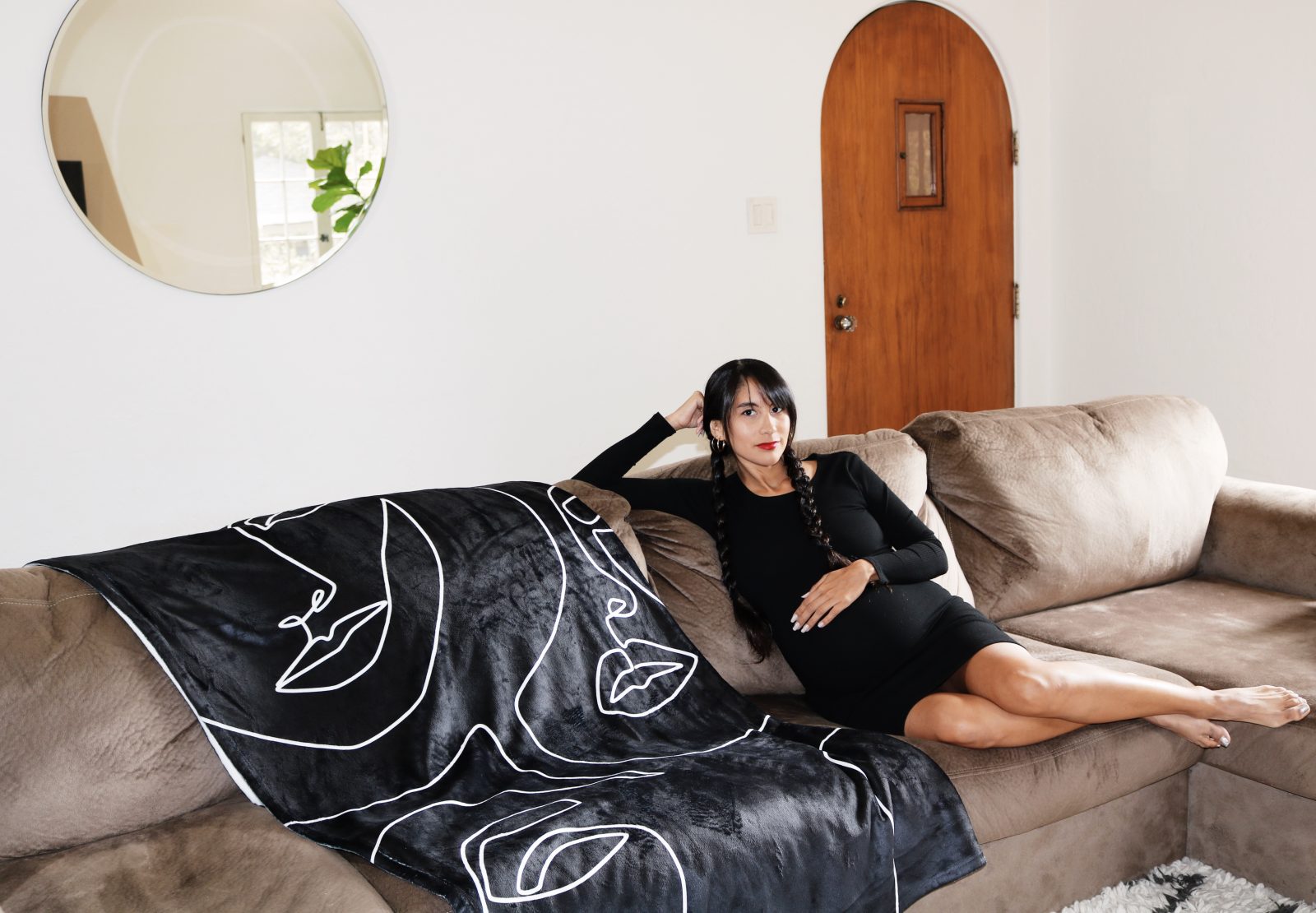 1. A super-soft throw
Although I have a formal desk at home, I spend a lot of time florating around the house from room to room, laptop in tow. (Who else does this?) My favorite room to work in is my living room, which is an airy space with a huge cozy couch and my beloved fiddle leaf fig tree, Miss Figgy. I love to let this incredible sherpa fleece throw blanket envelope me every morning as I type away for an hour before my son wakes up.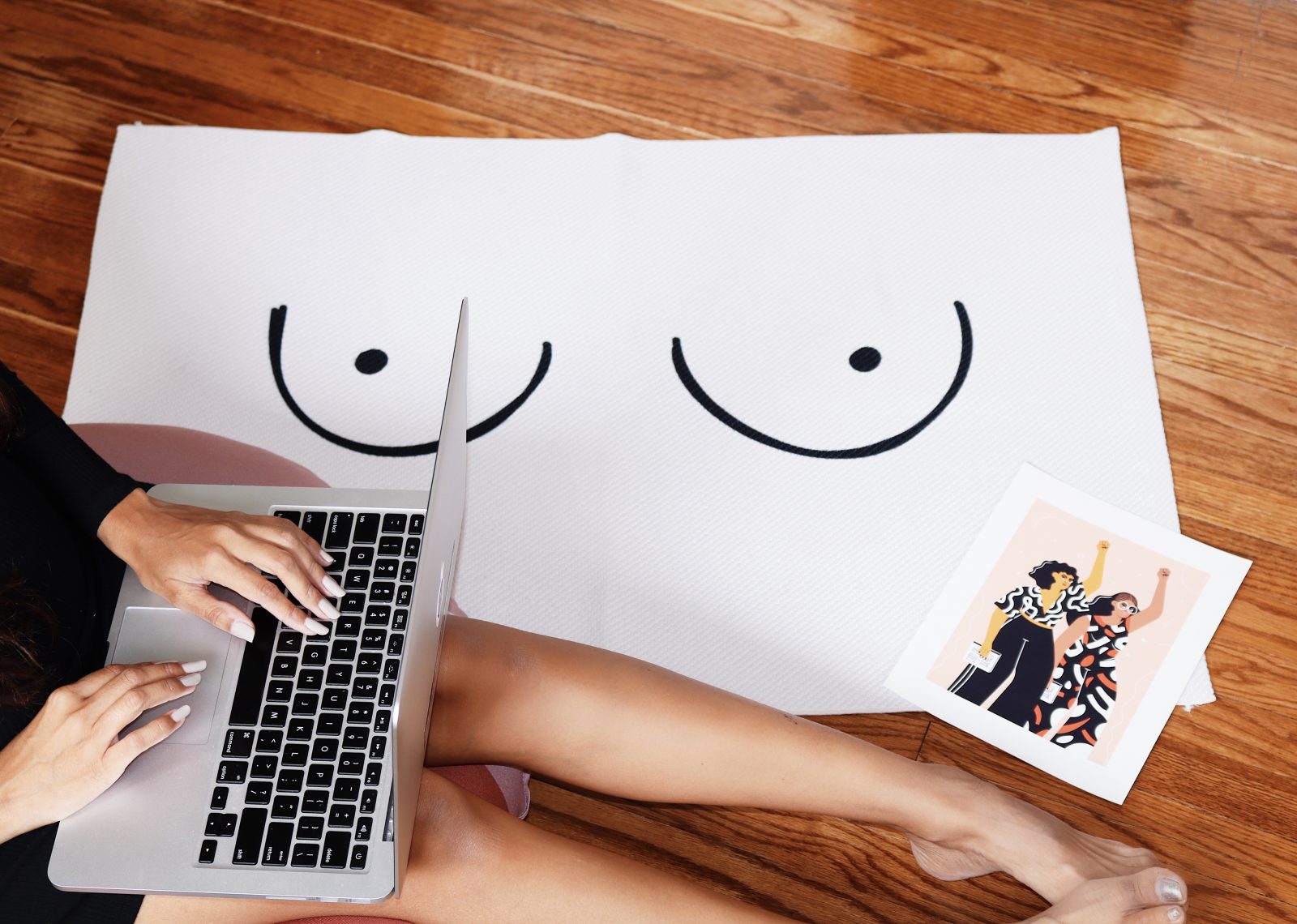 2 & 3. A cool floor rug and empowering piece of art
When I'm really in the zone on a particularly exciting project, I tend to sit on the floor and speed type until all of my ideas have been communicated. A cute rug like this one makes this productive moment less intense, and having a beautiful print like this nearby reminds me why I do what I do. Fashion Mamas is a community for dynamic mothers who work in fashion and creative industries, and every day I am focused on shining a light on these inspiring women.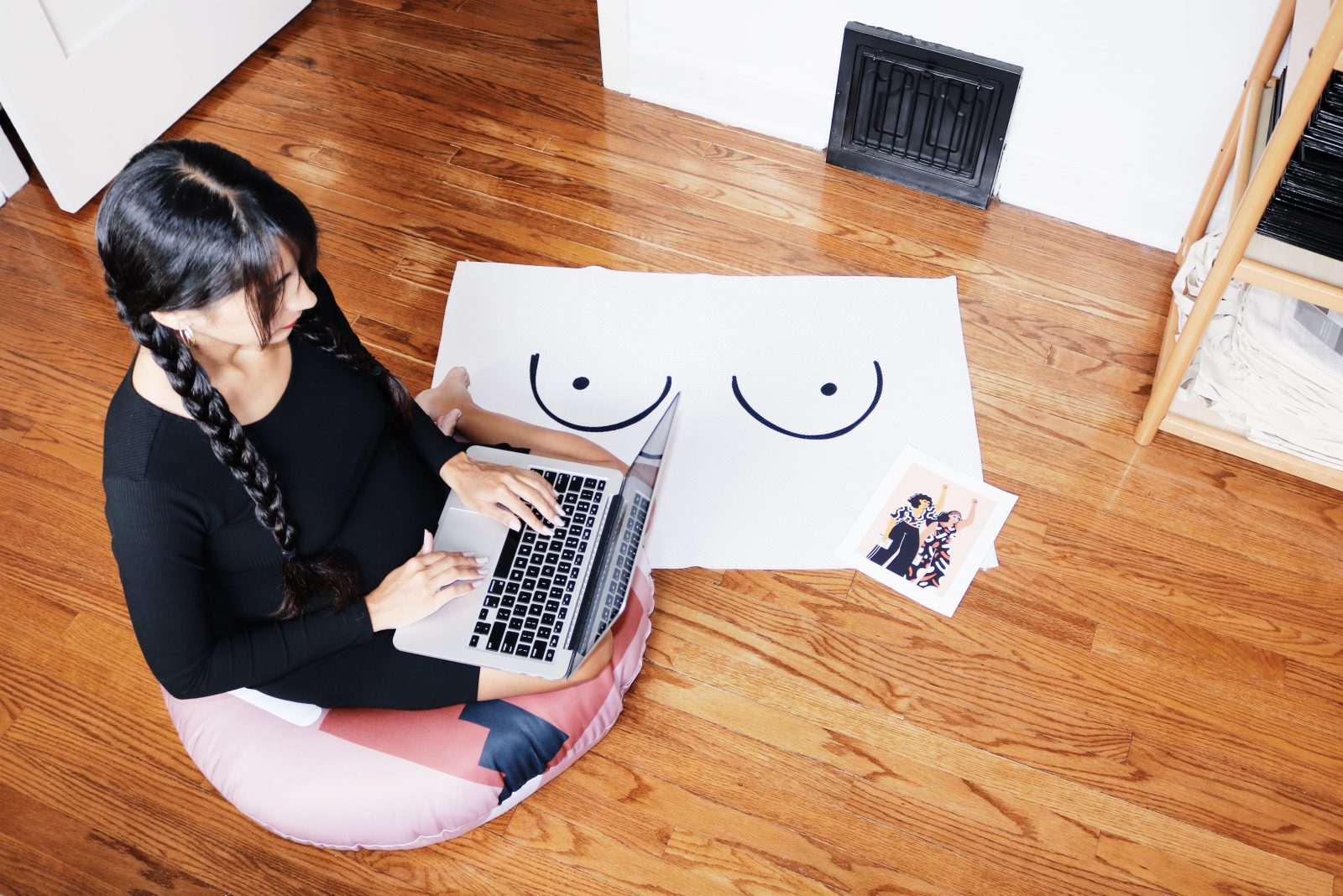 4. A comfy floor pillow
Now that I'm in my third trimester, I'm not able to sit on the floor for hours without some type of support, which is why this floor pillow has been my jam lately. Thanks to the center indent, I can sit on it to work for a much longer time than if I was on a regular pillow or on a pile of blankets.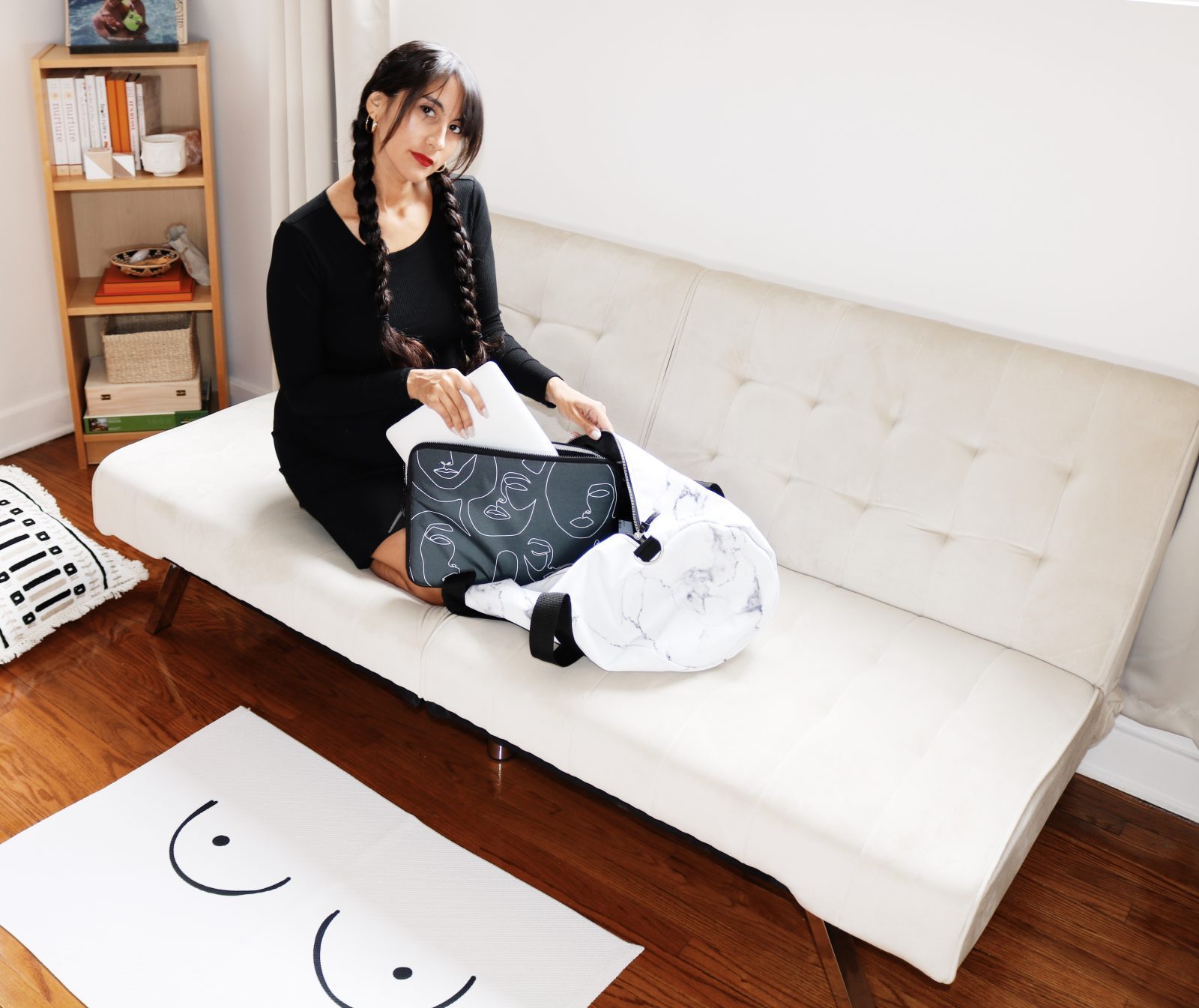 5 & 6. A chic laptop sleeve and carry-all bag
When I'm off to an in-person meeting or site visit, I like to bring my laptop in case I need to pull up a worksheet or draft something on the fly. I clearly can't get enough of the "Faces in the Dark" print, which is why this laptop sleeve has become my new favorite go-to. It perfectly fits inside this marble duffle bag, which also holds my wallet, phone, makeup bag, and a few toys that my son always manages to sneak in. I may use this duffle as a diaper bag, too, when my little lady arrives!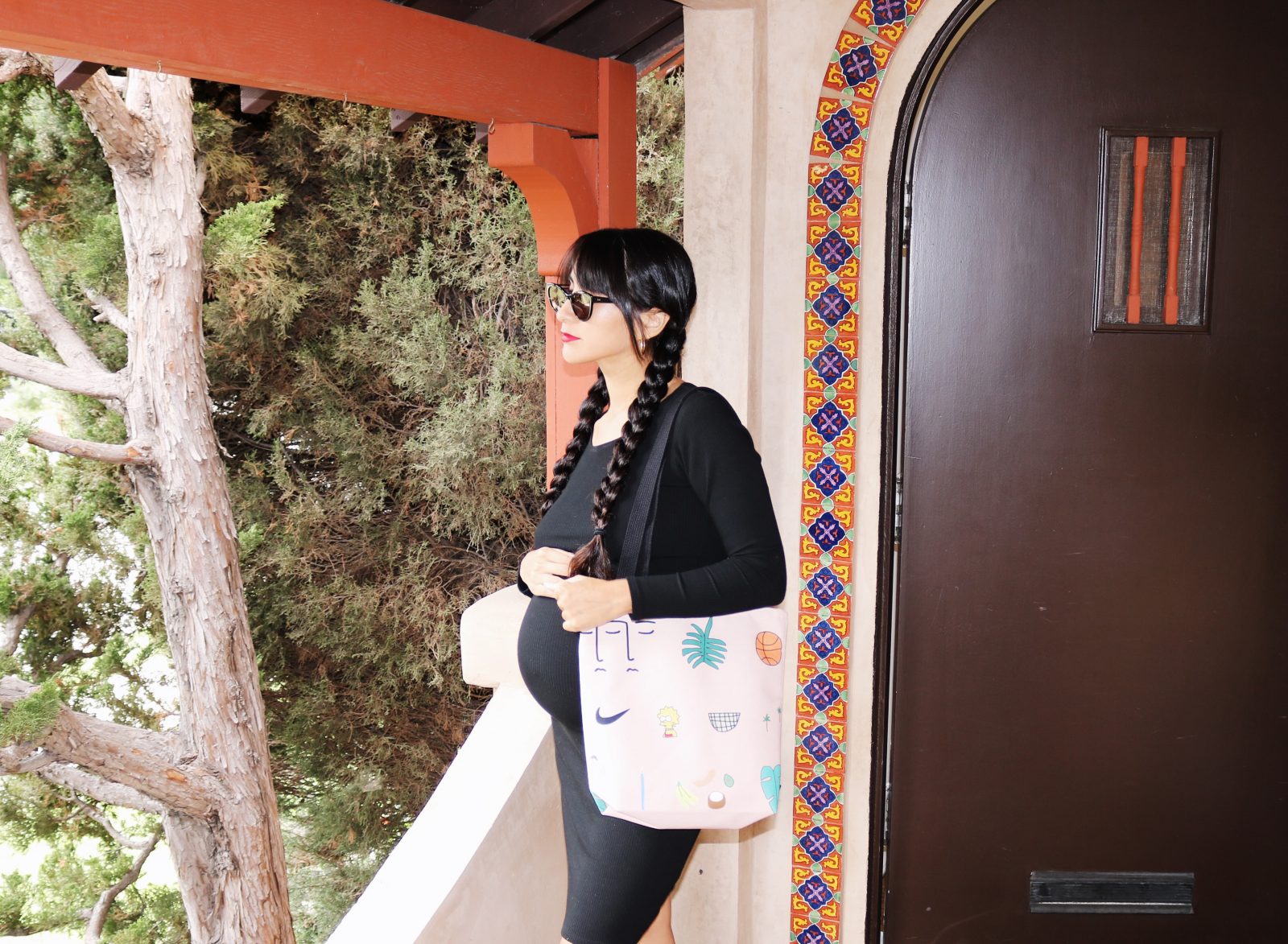 7. A grab-and-go tote bag
Remember those creativity block moments I mentioned earlier? When I need a break or some fresh air or simply some human interaction, I grab this conversation-starting tote bag and run (or in my case, waddle) out the door. Although it's large enough to carry all of my everyday essentials with some room to spare in case I need to do a quick grocery stop, it's still small enough to keep me from looking like "the mom who carries all the things." I'm just going to enjoy being minimal for now until I'm a mama of two who will be, indeed, carrying all of the things, all of the time!
You can follow Natalie at @nataliealcala or @fashionmamas
Photos by Vlad Galyuz
by Natalie Catalina Print Shop
$34.99
Feminism Is For Everybody Art Print
213
by Natalie Catalina Print Shop
$15.99
Shape Study #10 Floor Pillow
27
Faces in Dark Throw Blanket
553
by Explicit Design
$79.99
White Marble Duffle Bag
993
Faces in Dark Laptop Sleeve
553
by Explicit Design
$36.99