Much like the clothes we wear, the cars we drive, or even the pets we call our BFFs, the way you decorate your home can say more about your personality than you could ever put into words. Yet, choosing that decor isn't always as simple as it seems. How do you show your taste in a tapestry? How can you salute your interests in a painting?
Fortunately, the number of home wall decor ideas out there means you're bound to find the right fit (with a little fine-tuning, of course).
To make the process a breeze, we've compiled a list of wall decor inspiration to help you show off your true self—in any room of your home. By the end of this article, you might just want to start re-designing your friends' walls as well.
#1 For the Eclectic Ones: Curate a Gallery Wall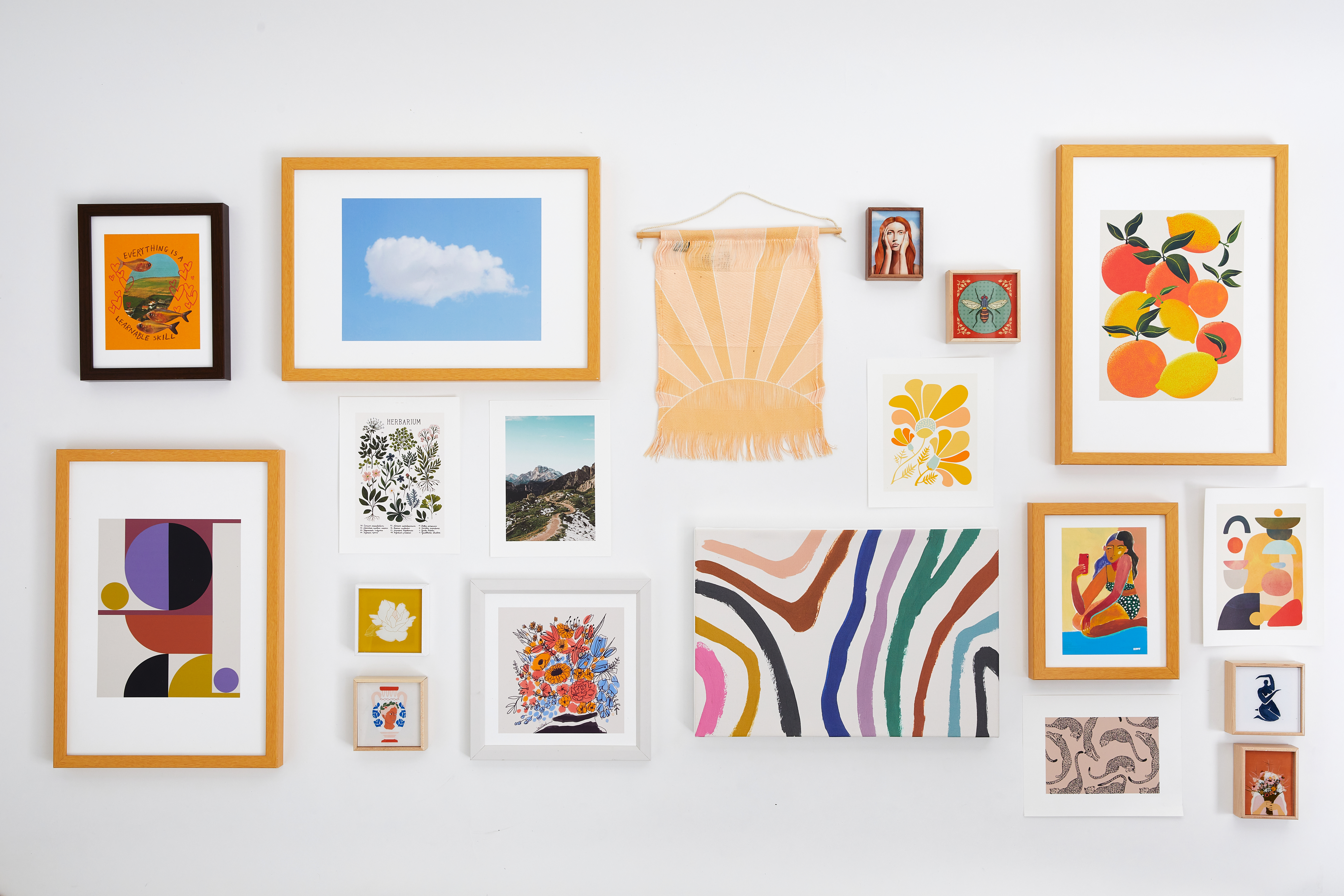 Ever wish you could display all of your favorite prints and pieces at once? If you enjoy a more eclectic look, opt for a gallery wall. A gallery wall allows you to display a plethora of artwork on a single wall, transforming your space into an art show. You can also swap out the pieces of wall art according to the season or year to shake things up. The creative take on this decor idea is that you can include varying wall art sizes and shapes.
Gallery wall ideas don't only paintings, either. Consider framing and including any of the following objects on your gallery wall for a personal touch:
Heartfelt notes and letters
Collected 2D objects—theater tickets, newspaper clippings, etc.
Childhood drawings
Magazines
Handwritten quotes
Recipe cards
Textiles
#2 For the Maximalists: Make the Most of Your Space with a Mural
If you want to fill a large wall space with color, consider going all-out with one of the wall decorating ideas that makes your wall the art itself: a mural.
Whether or not you consider yourself a painter, adding a mural to your wall can be a surprisingly simple task. These days, you can find plenty of eye-catching murals that you can simply peel-and-stick—making you capable of executing a mural that will make the room sing with style, regardless of your artistic abilities.
#3 For the Cozy Ones: Opt for Fabric Art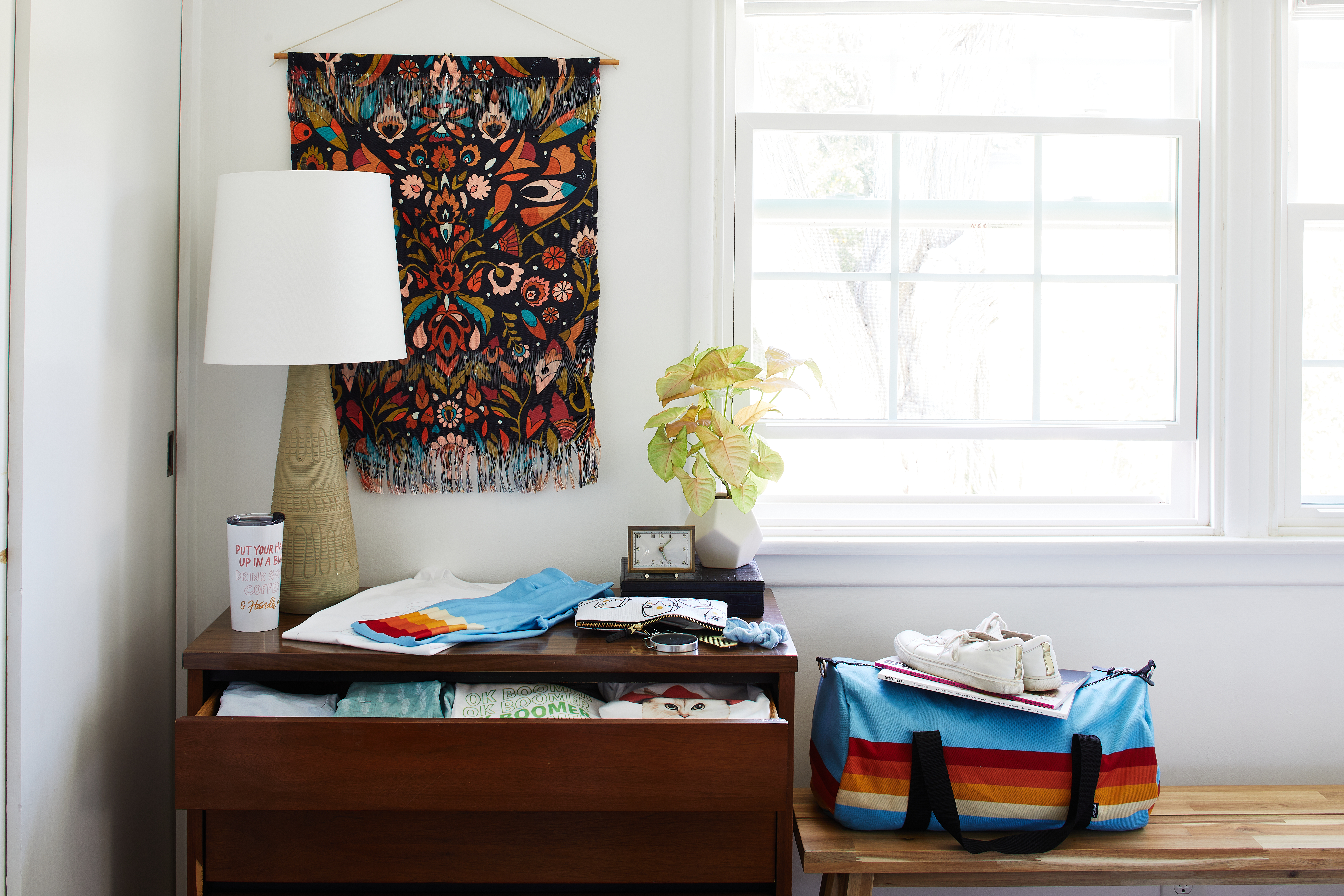 A wall art idea many can get behind is the use of fabric artwork, especially to decorate a large wall. Fabric helps to soften and warm our interior spaces and is relatively easy to hang. Wall hangings function well in bedrooms and living rooms, but we recommend keeping them out of kitchens and bathrooms, as proximity to humidity and oil can damage them over time.
Choose from any of these fabric art decorations next time you're drawing a design blank:
Wall hangings
Vintage scarves
Patterned rugs or blankets
Un-stretched canvas paintings
#4 For the Ones Who've Been Everywhere: Tap Into Your Travel Interests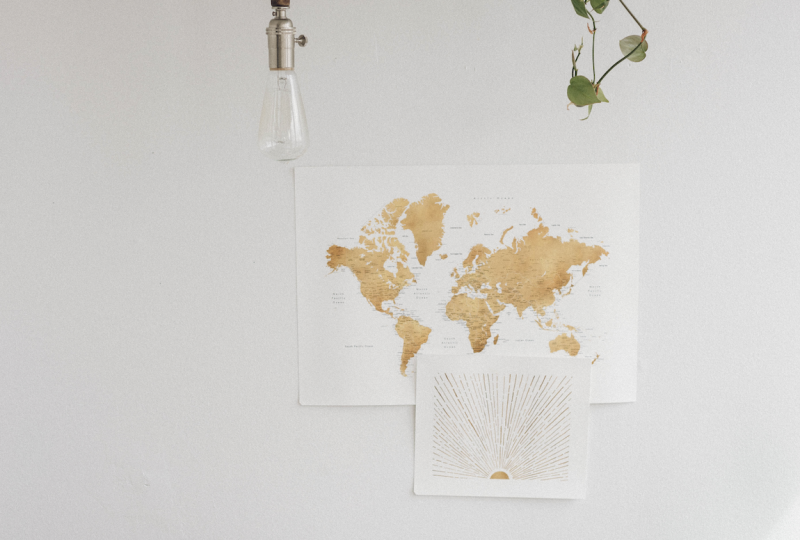 Always planning your next destination? Your home decor can serve as a fantastic way to commemorate your trips around the globe. Some wall decoration ideas that can speak to your travel addiction include:
A travel map – Display a large map of the world with pins of all your destinations.
Cultural objects – Show off crafts and art from a culture that's important to you.
Travel collage – Have a drawer full of boarding passes, museum tickets, and other scraps you've collected from travels? Try combining it all in a shadowbox frame for a DIY travel collage.
#5 For the Collectors: Show Off Unique Objects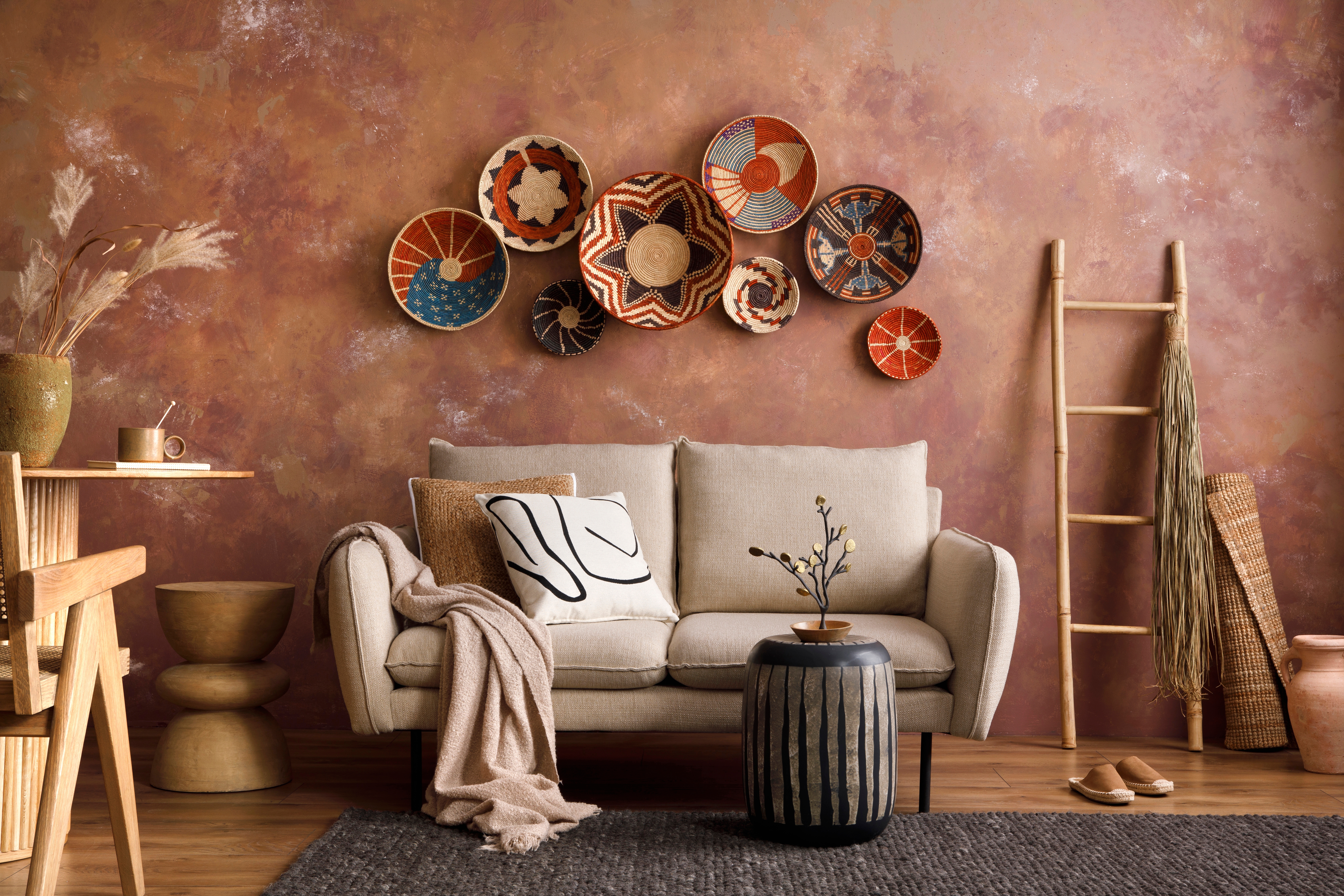 Whether it's ceramics, hats, baskets, or odds and ends you've collected from your time spent wandering through flea markets, placing objects directly onto the wall instead of on a shelf lets you admire them from a new perspective.
Spread out your pieces or contain them in clusters for wall decor that breaks out of the box. If you don't have hangable items such as baskets or plates on hand, check out your local thrift store to start your own collection.
#6 For the Bold and Brave: Go For a Large-Scale Painting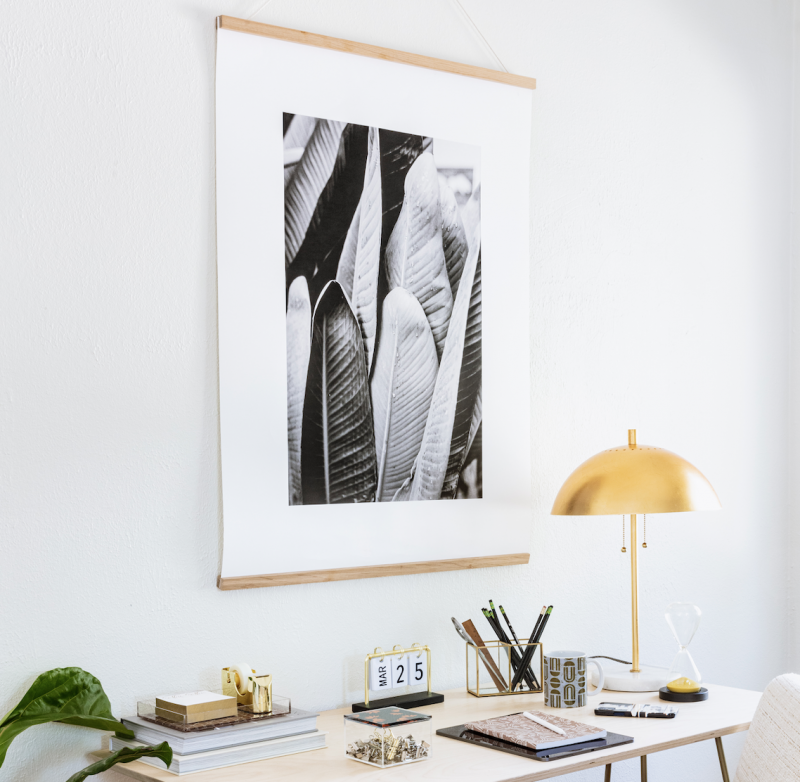 Sometimes there's no need to reinvent the wheel when it comes to wall art ideas. An oversized painting can breathe life into a room and easily fill a space without making it feel too cluttered.
If you're on the hunt for unique, captivating paintings that won't hurt your wallet, we recommend opting for canvas prints. Often more affordable than the original copy of a painting, they can show off the same dazzling design on a large framed canvas.
#7 For the Nature Lovers: Put Up a Plant Wall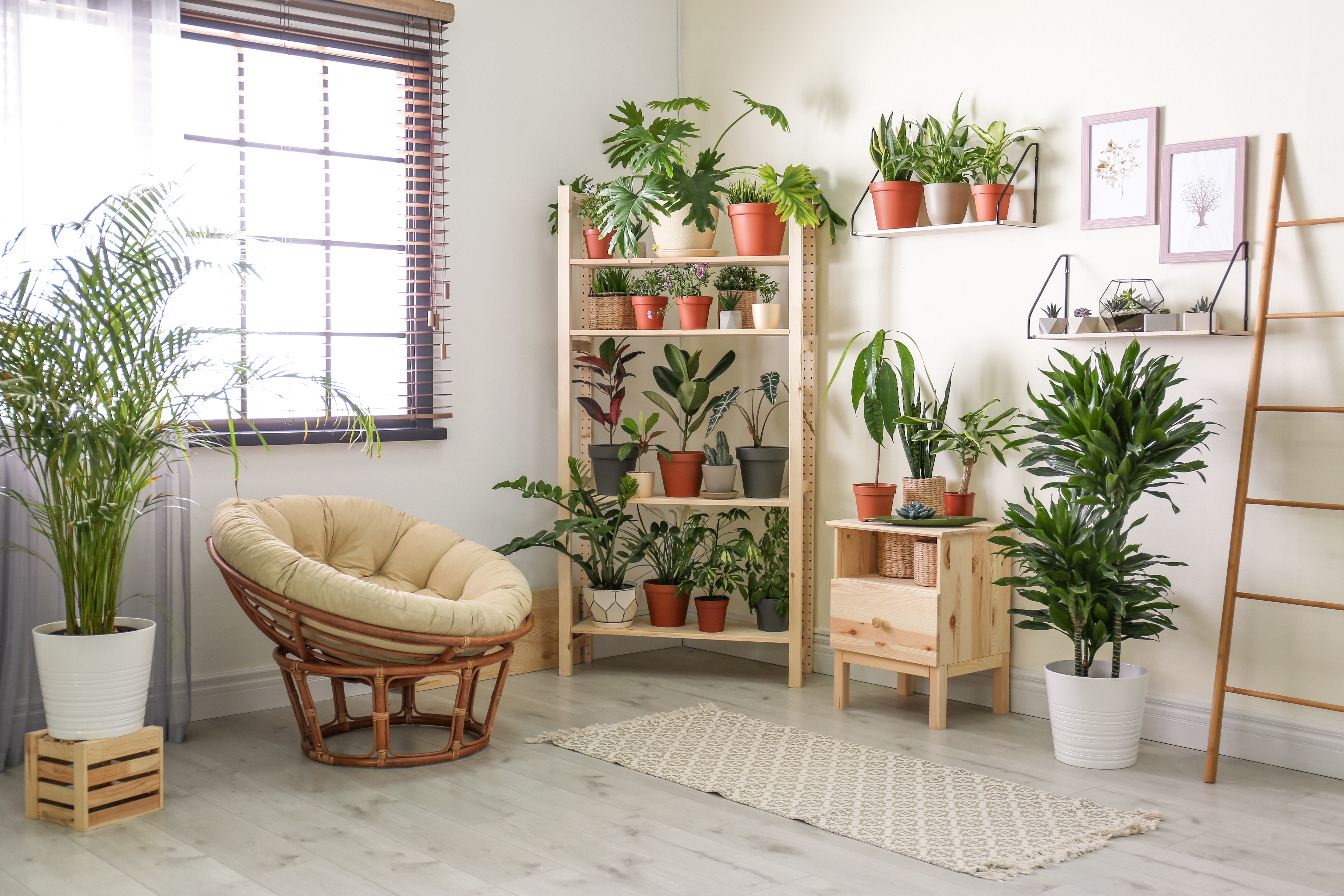 Houseplants, beyond aesthetics, have the power to affect our emotional well-being. Both the presence of plants and the act of caring for them can lower stress and anxiety and improve our mood.
Don't limit plants to tables and floors. Place your precious pots on shelves or even mount a smooth branch on the wall and hang macramé plant holders off of it.
If you're not confident in your plant-caring abilities and detest fake greenery, there's a solution. Opt for prints of pressed flowers or hang bouquets of dried flowers from branches to achieve a natural decor touch that won't require constant watering.
#8 For the Organizers: Tack Up a Corkboard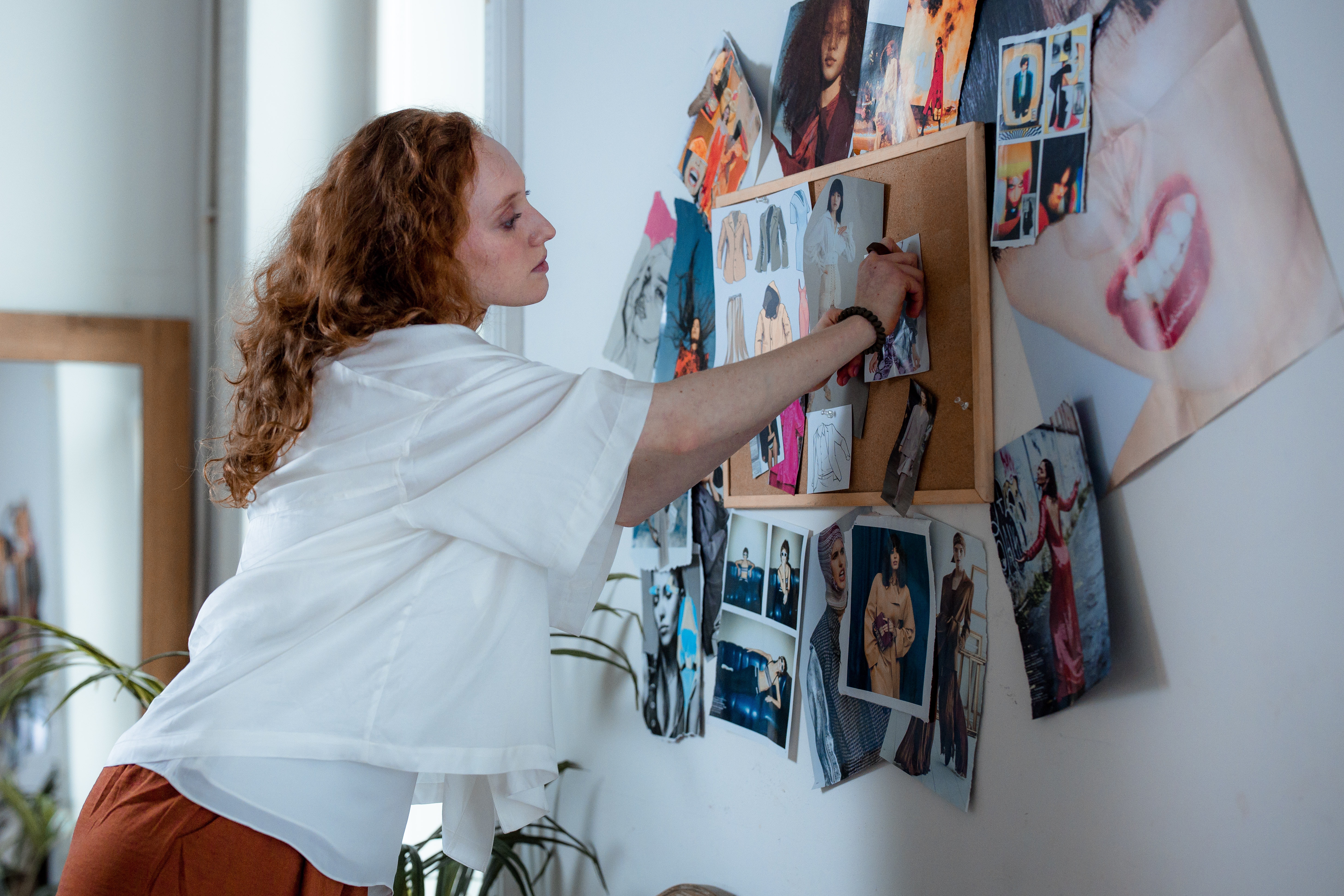 One of the more flexible ideas for wall decor, this option is perfect for an at-home office or study nook. Don't fret, your corkboard doesn't only have to serve as a to-do list holder. Keep yourself and your space fresh and organized by tacking up:
Calendars
Timetables
Habit trackers
Inspirational quotes
Posters
Photos
If you want to go bold, opt for cork that you can install from floor to ceiling. This will give you plenty of room to lay out all of your ideas and the freedom to customize your wall whenever you like.
#9 For Tiny Apartments: Double Your Space with Mirrors
Mirrors can open and brighten even small spaces, reflecting those precious rays of sunlight throughout our homes and making them seem larger than they are. Beyond their functional purpose, and helping us look our best, they're also a flexible interior design staple.
Consider any of the following mirrors to decorate that blank wall in your entryway, bedroom, or living room:
Floor-to-ceiling mirror wall
A single, oversized mirror
Several tiny mirrors
Curved or uniquely shaped mirrors
Mirrors with a vintage frame
#10 For the Indecisive Ones: String Up Clotheslines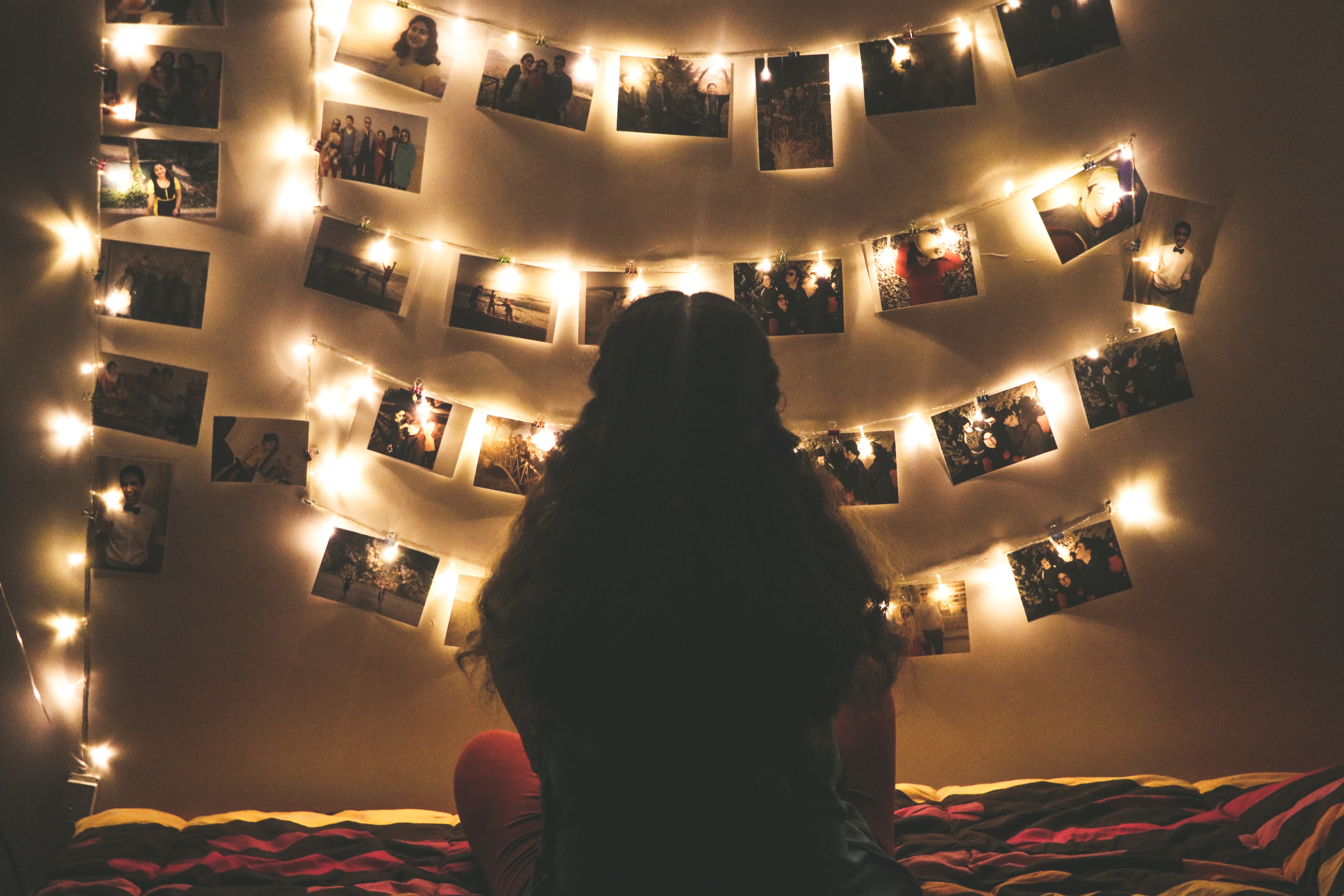 This idea might just be the easiest, cheapest, and most flexible way to decorate a wall. All you need to do is take one or several strings and attach them to a wall. Then, pin up anything you like with clothes pins.
You can include anything from dried flowers to photo negatives—and swap them out as often as you wish. Including a smorgasbord of objects will do the trick if you're going for an eclectic look.
#11 For the Bookworms: Display Your Collection With Shelving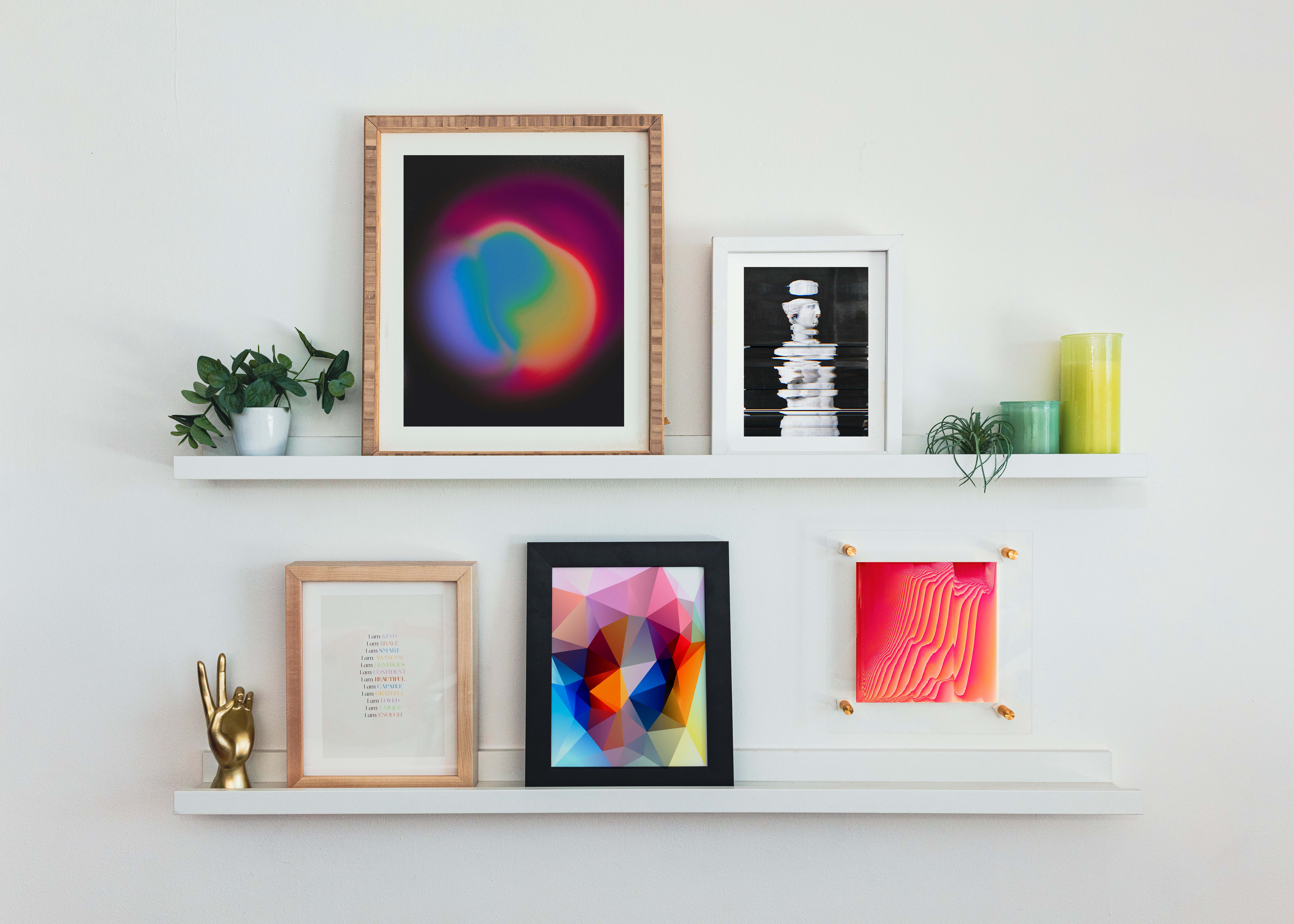 If you're searching for large wall decor ideas, an oversized art piece isn't the only way to fill a bare wall. From bookcases to floating bookshelves, shelving is a foolproof way to show off your most prized possessions and fill up wall space. They don't only have to contain books, either. Diversify your bookshelves and cases with:
If you don't have an entire wall to fill or a large space to work with, you can always opt for a floating shelf or two alongside a smaller bookcase.
#12 For an Antique Look: Bring Back the Wallpaper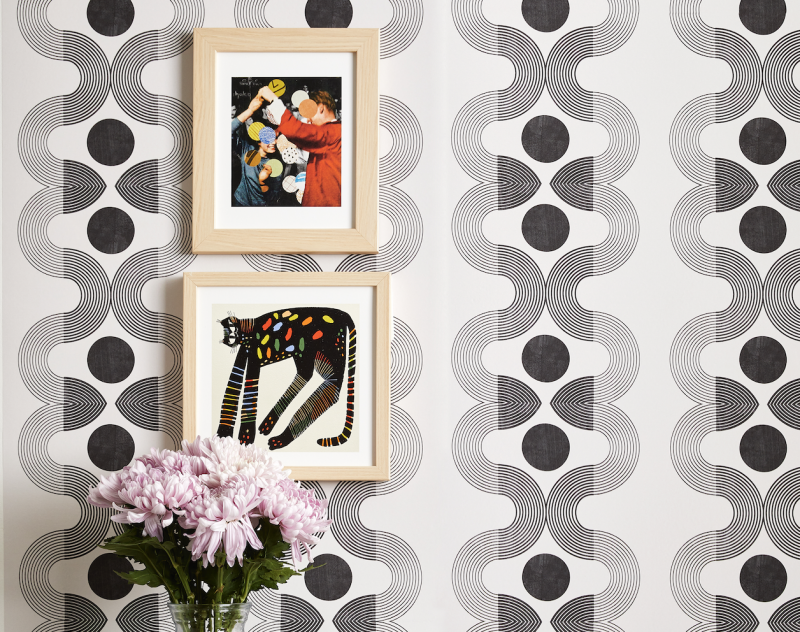 Wallpaper now comes in about any and every print you could imagine, from subdued stripes to terrific tigers. Creating a mesmerizing or subtle backdrop, wallpaper can work well in any room of the house.
Homes & Gardens recommends matching the main accent colors of a room with those of the wallpaper to "heighten impact"—think furniture, appliances, and flooring. Whether you want to keep it to an accent wall or go all-out with a full room, wallpaper can become your next favorite interior design tool.
#13 For the Hobbyists: Highlight Your Pastimes
House decor becomes infused with personality when it's personal. Make a list of all of your hobbies, from sand sculpting to coin collecting. Once you have this list, think of objects and images that represent these interests. Imagine how you can represent them through wall decor.
Avid art collector? Transform your home into a Lower East Side gallery with a wall full of your favorite framed pieces. Scrapbooker? Try your hand at pasting pages of second-hand books all over a wall for a cozy vintage feel.
#14 For the Architects: Define Your Space with Wall Paneling
Wall paneling can be a slightly more intensive process than simply hanging up artwork, but if you're crafty with power tools (or know someone who is) the effect can truly transform your space. Different options for installing wall paneling include:
Wainscoting – For an old-fashioned effect
Shiplap – For that nautical look
Vertical slats – For a modern approach
#15 For the Textile Lovers: Display Rugs on the Wall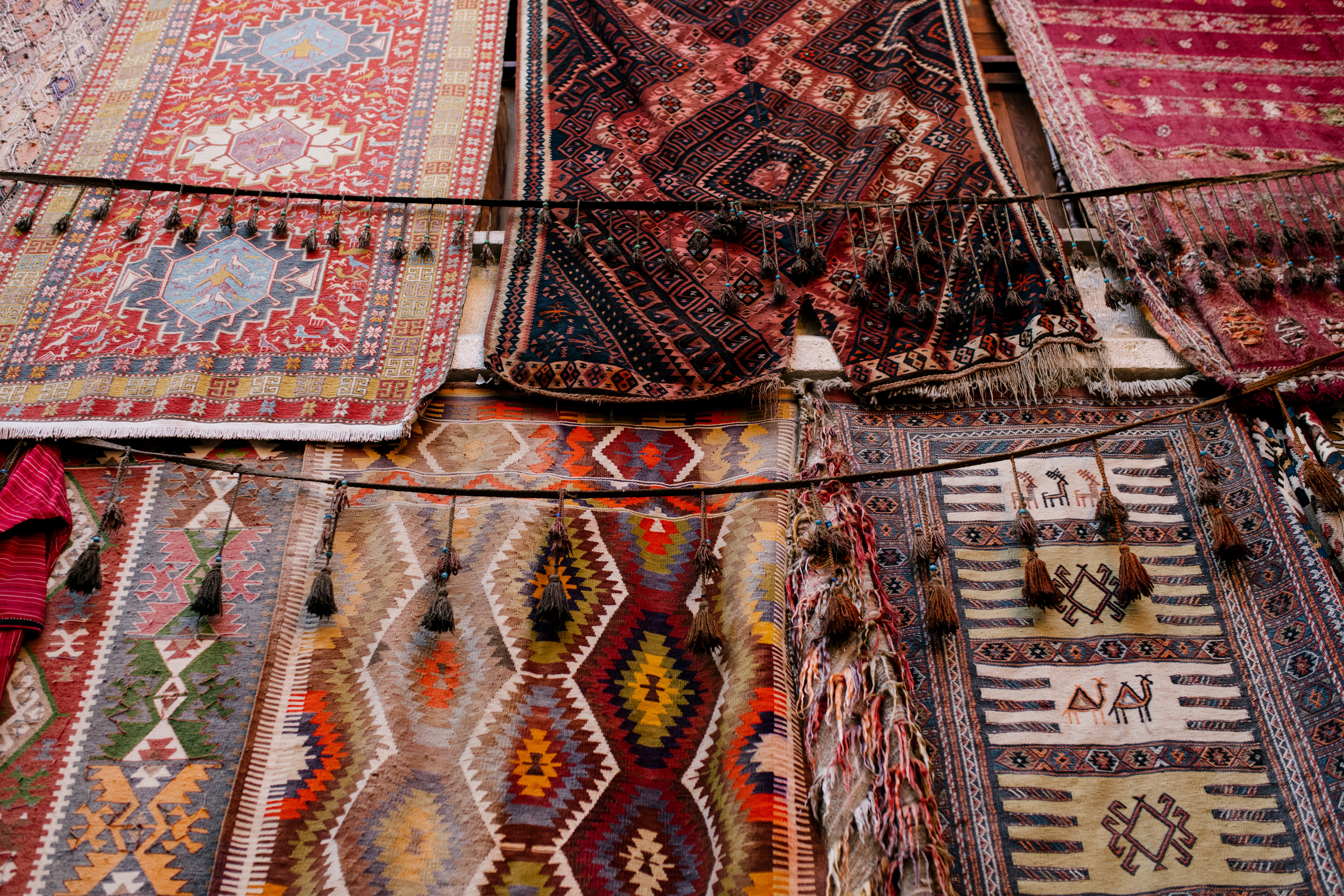 Ever met a rug you adored so much, you almost hated to put it on the floor? Here's a secret—that rug can double as decor.
Instead of displaying that brightly colored rug on the ground, hang it on your wall like you would a tapestry for a highly touchable and dynamic display that will make the room feel warm.
#16 For the Socialites: Hang a Friends and Family Portrait Wall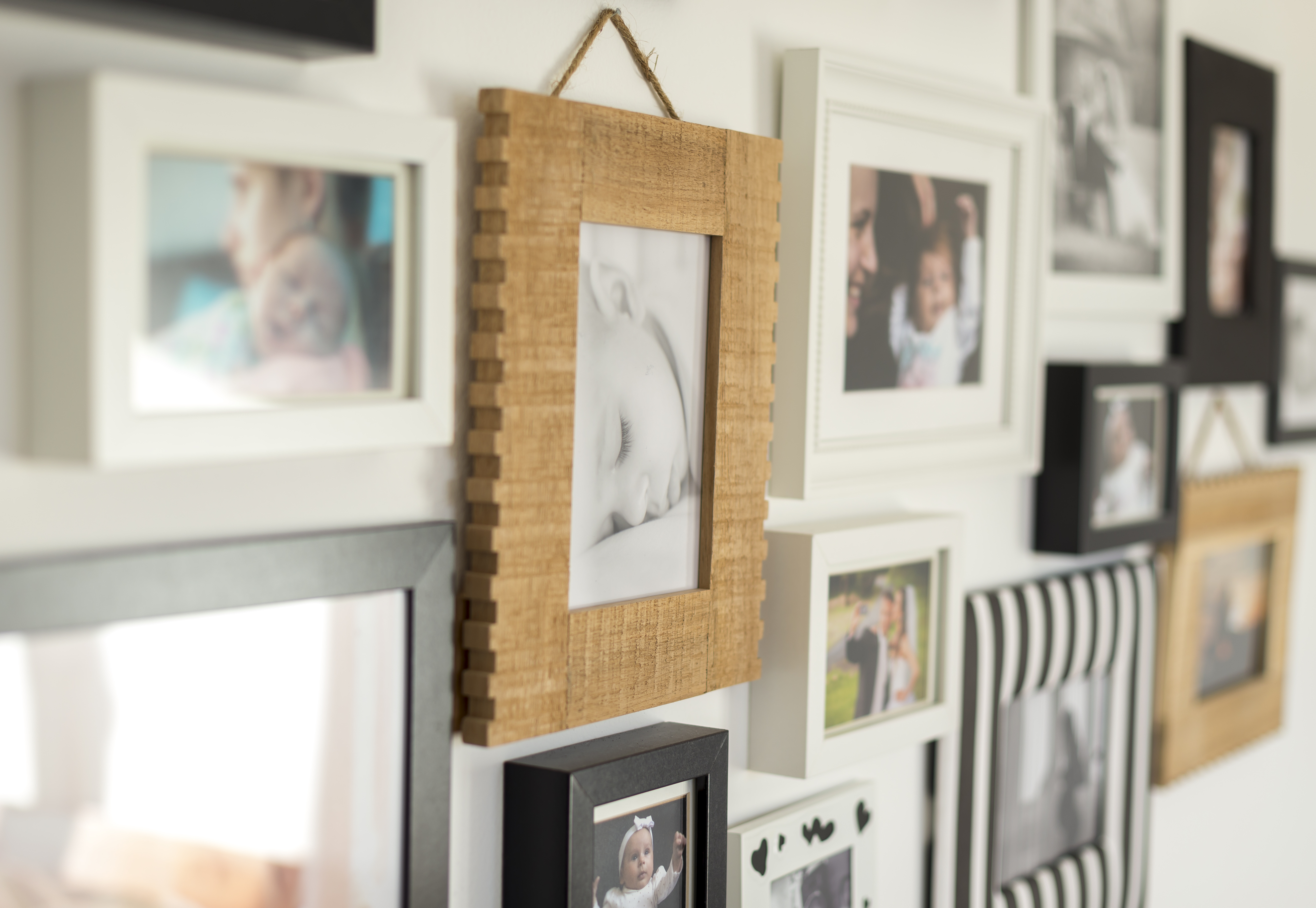 If you spend most of your time wishing your favorite people were around more often, then a portrait wall is the perfect way to feel surrounded by friends. Source portraits from those you want to display and choose a "wall of fame" where you'll hang them proudly. For a modern look, choose frames that match in size and color—or, invite your friends to collaborate on a gallery wall by choosing their own frame.
#17 For the Dramatic Ones: Set the Stage with Lighting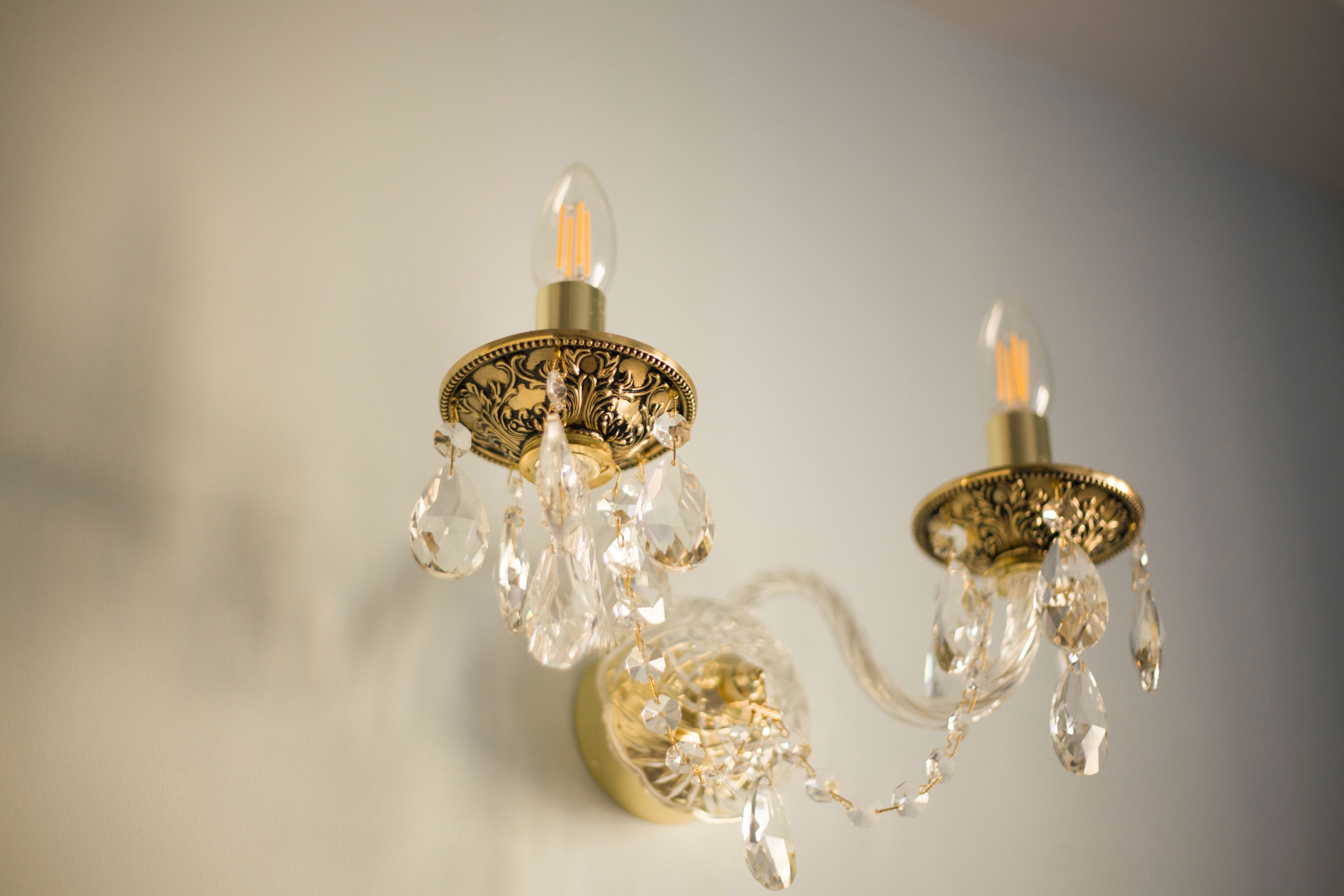 Sometimes, achieving the right mood in a room is all about the lighting. As you gather your wall decor, don't forget to choose the right lighting to accentuate its presence. Flip off the switch to your overhead lights, and instead shine some softer light on your walls, such as:
Wall sconces
LED strips
Backlit picture frames
Strings of lights
#18 For the Sports Fanatics: Display Your Gear
Some say sports can be an art form, too. We won't get in the middle of that debate, but it is true that your trusty sports gear can have a second life as part of your wall decor.
Have a bike, tennis racket, skateboard, baseball bat, or other prized athletic equipment that deserves some time in the spotlight? Place some hooks on the wall and display it proudly.
#19 For the Doodlers: Paint a Chalkboard Wall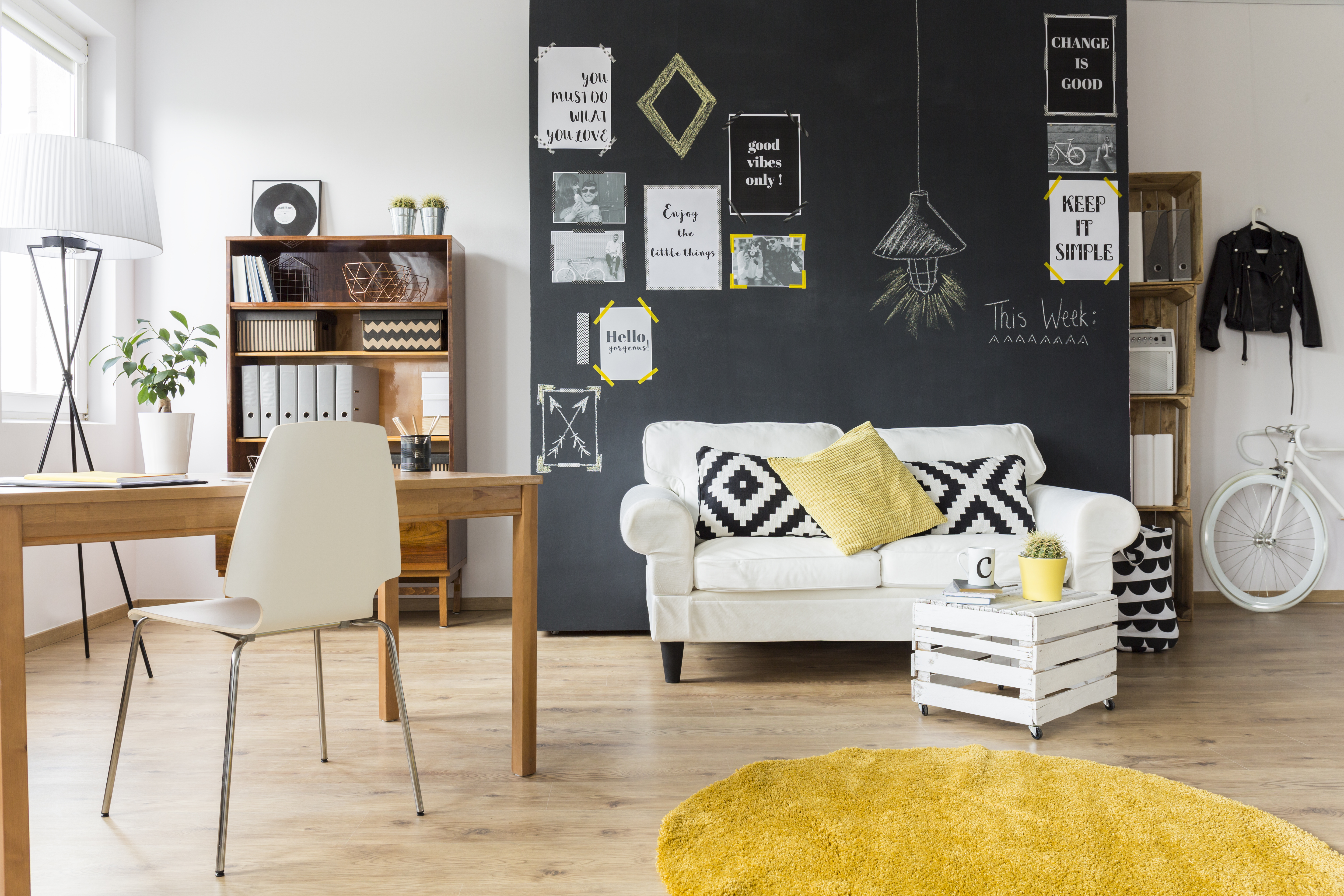 If your prized memories entail doodling cartoons in the corners of your school books, creating masterpieces on the sidewalk outside your home, or even (gasp) drawing on the walls of your bedroom, you're in luck: a chalkboard wall creates room for all the doodling potential.
Choose a wall, purchase some chalkboard paint, and go to town. All that's left is to leave out a container of chalk so that anyone who visits your place can add to the doodling.
#20 For the Crafty Ones: Create DIY Macramé Wall Hangings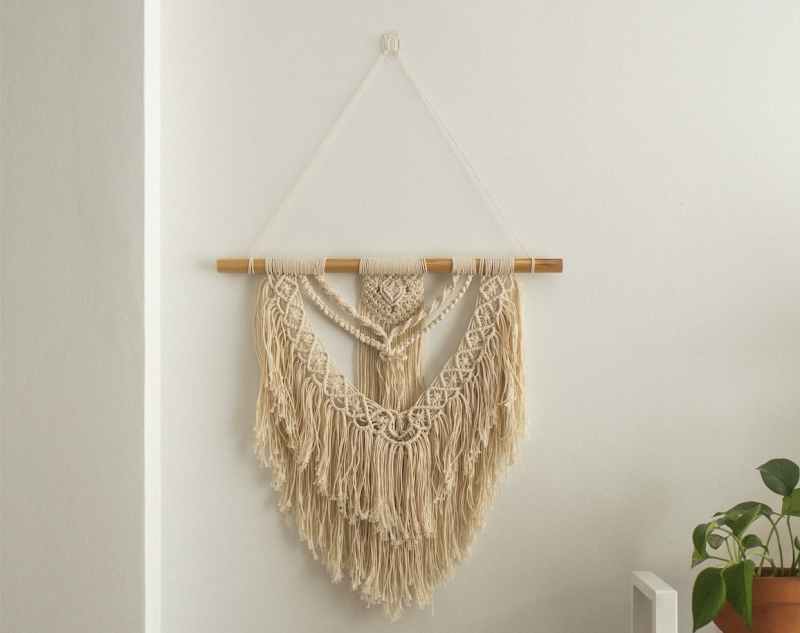 Do you feel the most inspired when you're making the art yourself? Macramé is a hands-on art form you can create using knotting techniques. You can make small-scale or even large-scale hangings to put on your walls, instantly adding boho vibes and a natural, laid-back feel to your room.
(Psst—if you love the boho vibes but aren't up for making your macramé hanging yourself, you can also totally buy one—and support an artist at the same time.)
Find Wall Decor that Inspires at Society6
Now that you're filled to the brim with wall decor inspiration, it's time for you to face the fun part and shop for those pieces that will transform your wall into a conversation piece. If you're looking for a one-stop shop for all things art and home decor, look no further than Society6.
At Society6, we've set out to provide a platform that makes the vibrant work of independent artists accessible. From prints to posters and everything in between, our community is bustling with original work that makes houses into homes.
To find your next compliment-worthy piece, shop our Wall Art collection today.
Sources:
The Ohio State University Wexner Medical Center. Are houseplants good for your mental health? https://wexnermedical.osu.edu/blog/houseplants-are-good-for-your-mental-health