She has three rats, was paid $2,000 by a stranger for her thoughts on god and lives entirely on her artistic talent. Tanya Shatseva, 26-years old and based in St. Petersburg, Russia, didn't realize her incredible talent until making it through a short stint of doing comedic portraits on commission. Now? Her fantasy-inspired artwork is being added to private collections all over the world. She's built a healthy following on YouTube with her timelapses so we were super excited to have her invite us in. BELOW: Watch the impressive painting process behind Self-Crowned in this new timelapse.
What's the most creative way you've made money?
Once, I told a man a long story of my view on how the world is set, how the universe works and what god is. I got $2000 for this information.
Weirdest painting habit?
I make a duck-face when concentrating.
At what point were you able to make a full-time living as a painter?
Well, I've never made a living as anything besides a painter. While studying foreign languages at university, I realized that a normal job would be a nightmare come true and there is no way I'd be able to stand it. While studying, I started to really practice drawing and digital painting. I tried to give it 100% effort to see if it would work. And it did. After graduating, I was already taking commissions-hilarious portraits mostly, but still I was able to make a minimum living. I never stopped improving my skills in that time and after a couple years, I had a hard decision to make: keep taking commissions or start making a living from personal art. I committed to personal art and it's paid off. I love this never ending cycle of pain-struggle and reward-euphoria that comes with the artist's job.
What's been the most exciting moment for you as an artist?
I don't allow myself to get too excited. I must behave like a samurai, calm and candid. I'm trying to stay out of the mental hospital for as long as possible!
No offense, let's talk about your rats.
Well, I live with three rats and could speak about these incredible beings for way too long. I would just say that it is unbelievable how such a tiny creature could generate so much love. So enormously much that a human doesn't even deserve it, I think. However, they behave themselves much like humans in their society and that is really fun to look at, tiny perfect humans. Animals are probably the best thing on Earth in my opinion.
What inspired Self-Crowned? Such a cool piece.
It's inspired by my fantasies of a subtle borderline world like most of my paintings. On the sunset of the age, entranced, she's building her own metaphysical crown from jewels melting inside her and solidifying in the air.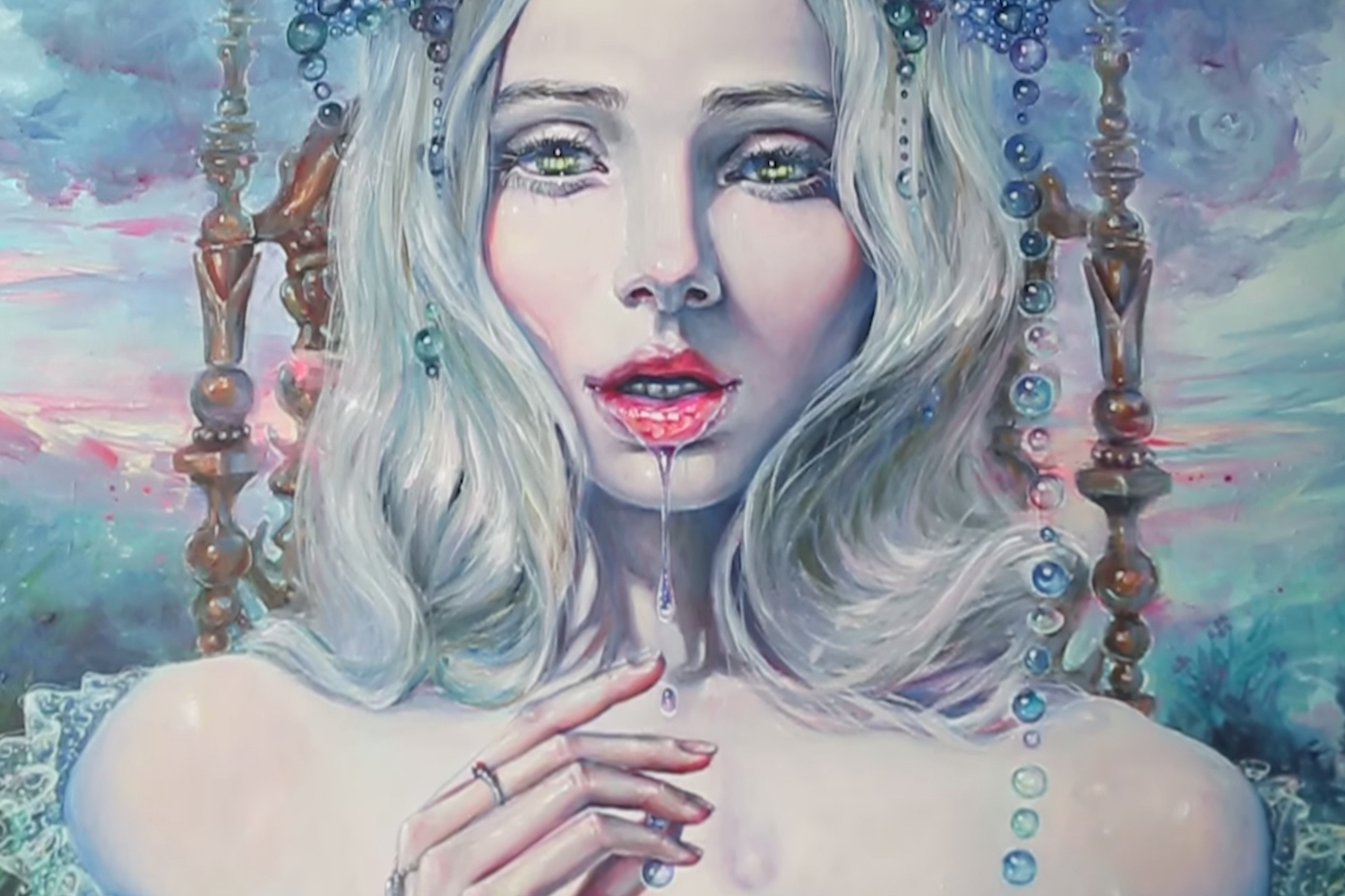 Is there a piece or series you're most proud of?
I usually love a certain detail or fragment from something I've already painted and that'll influence what work follows. As for Self-Crowned, I loved the space full of crystal plants on the edges. I didn't plan to paint that in. The misty land behind her reminds me of my lovely hometown fields. This painting is probably my favourite, currently, as it almost materialized the atmosphere that I imagined, and even revealed something new-like a quiet, pleasant melody I hadn't heard before. And this queen was for sure very widescale, challenging and it absorbed a lot of my soul. In general I can say that all my pieces are one series and I am proud of Self-Crowned as of part of it.
Any advice for those just learning to paint?
Don't forget to sleep well and to wake up more often.
Photography by Pavel Yavnik
Shop Tanya's Artwork & Products
In Her Garden Art Print
746
Self-Crowned Art Print
496
Silver Rain Phone Case
601
Blue Valentine Tote Bag
1472
Perception Wall Tapestry
751
Metamorphosis Beach Towel
377
The Last Flowers Wall Clock
840