You know those dinner parties you ~always~ say you're gonna host but never do because tbh that seems hard and all of your kitchen stuff is from Ikea like 5 years ago? Well, with the introduction of our amazing new coasters, serving trays and cutting boards you have no more excuses. We're kind-of obsessed with them, so take a look at our new goods and get those recipes lined up now!
Small, but mighty! Coasters are a bold way to bring creative designs into your space—without committing to a large art piece. Add them to your dining table, brighten up the living room or accessorize your next party.
– Comes in a set of 4
– Size: 3 1/2" x 3 1/2" x 1/4" (H)
– Lightweight, high density fiberboard wood
– High quality print with a durable satin finish
Our cutting boards feature bright, glossy designs that transform a kitchen essential into a functional style piece. Prep your food on the wood side, use the design side as a serving board and when you're done? Hang it up as art. Available in round or rectangle options.
– Round: 11.5" (diameter) x 0.5" (H)
– Rectangle : 16" x 10.5" x 0.5" (H)
– Durable, solid and lightweight layered baltic birch wood
– Wood side: matte natural wood grain
– Display side: smooth gloss finish
– 1" hole for handling and hanging
– Rinse and wipe clean with a non-abrasive cloth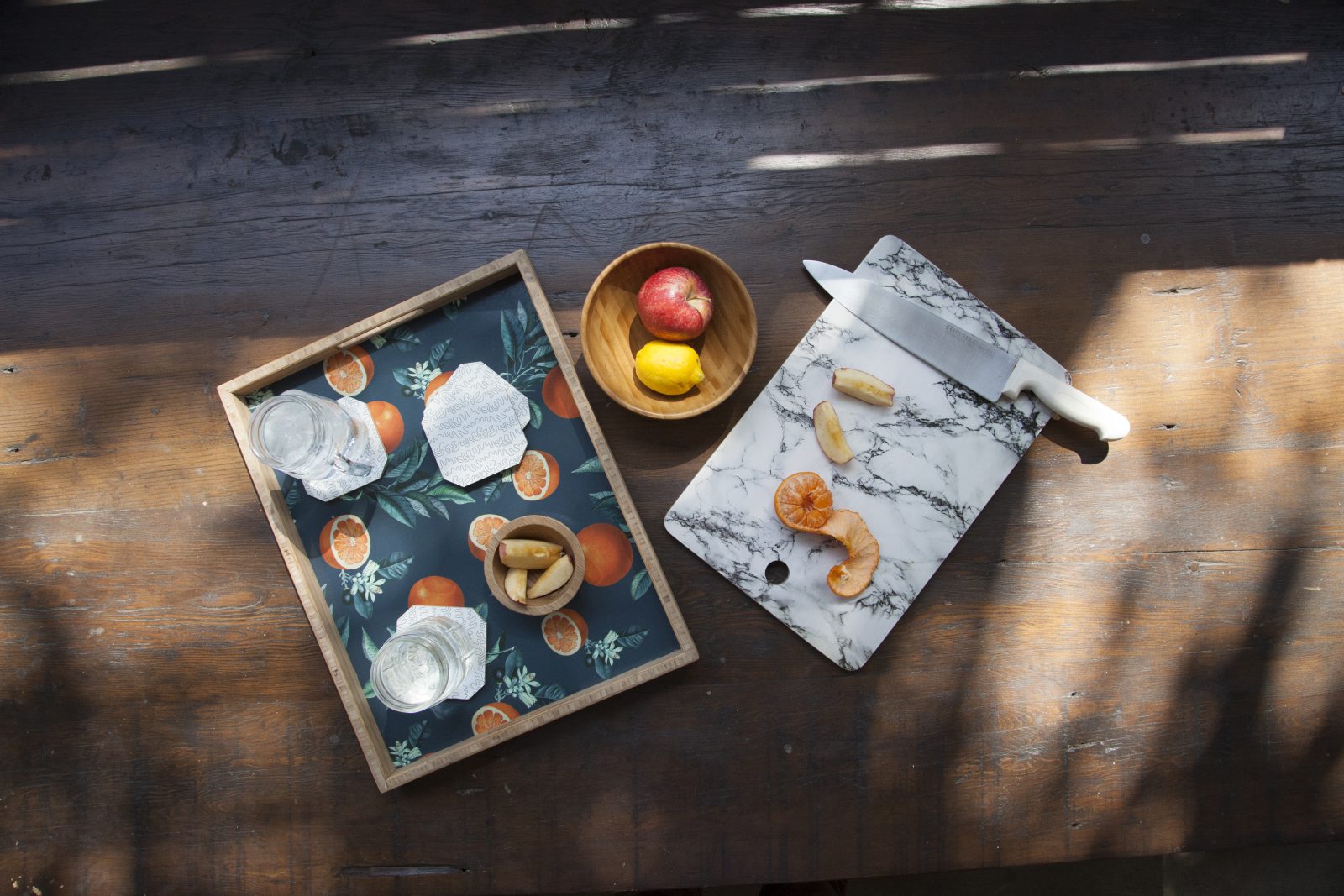 Make sure breakfast in bed is always on the menu. Crafted with 100% eco-friendly bamboo, our serving trays are a versatile accessory—perfect as a coffee table platter, bathroom organizer or plant holder. Featuring a high quality print with a glossy finish, available in two sizes.
– Medium (includes cutout handles): 18" x 14" x 1 3/4" (H)
– Large (includes cutout handles): 22 1/2" x 17 1/2" x 2" (H)
– 100% sustainable, eco-friendly bamboo wood frame
– High quality print with glossy finish