The last week of our Artist Holiday Success Guide is here. We made it! Our Cyber Week promos end on Tuesday 12/1, but we'll continue to offer great deals on some of our top products until mid-December. Here's 4 things you can do now to make the most of this week + a few helpful reminders.
1. Celebrate Small Businesses!
Today, Saturday, November 28, is Small Business Saturday. Customers are more compelled than ever to shop small this holiday season and purchasing art from a local artist they admire is a great way to do so. Let your fans know that shopping from your Society6 store is one way of supporting your independent art business. While Saturday is the perfect time to promote yourself, it is also a great time to spread the love to other small businesses you love!
Bonus: check out our new Community Hub featuring the stories of just a few members of this incredible artist community.
2. Let your customers know Cyber Week sales are ending soon.
While we've been running our best promos all month, Cyber Monday is the biggest shopping day of the year. It also marks the end of our Cyber Week sale. Of all the days to go all-in on promoting, Monday is the day. Get out there and let your customers know that time is running out to get your products at these epic prices!
Pro tip: make sure to include you affiliate link when you share to earn 10% more on sales you refer.
3. Spread a little encouragement.
We're all in this together! We're encouraging you to take 15 minutes to let your fellow Society6 artists that inspire you know by liking, commenting and sharing their posts. Whether you keep it short and sweet or go all-in on the compliments, a little love can go a long way.
Ways to do this:
Send a direct message
Comment on posts of artwork that you love
Callout your favorite work from an artist in your IG Stories
4. Create something just for YOU.
The last few weeks have been a whirlwind and if you've been spending more time than ever focused on your business you may have been neglecting your mental health. As the busiest season of the year comes to a close, take some time just for you. Whether it is spending some time with a sketchbook, trying something in a totally new medium, or learning an all new skill, forget worrying about sharing what you create and focus on creating something that makes YOU happy.
Products to Promote This Week: Throw Blankets, Coffee Mugs, Travel Mugs & Water Bottles
From 12/2 – 12/13, we'll be offering 40% off our most giftable products: throw blankets, throw pillows, rectangular pillows, art prints, framed prints, posters, tote bags, tapestries, Android + iPhone cases, mugs, travel mugs & water bottles. Consider focusing on these products in any posts or emails to your customers this week!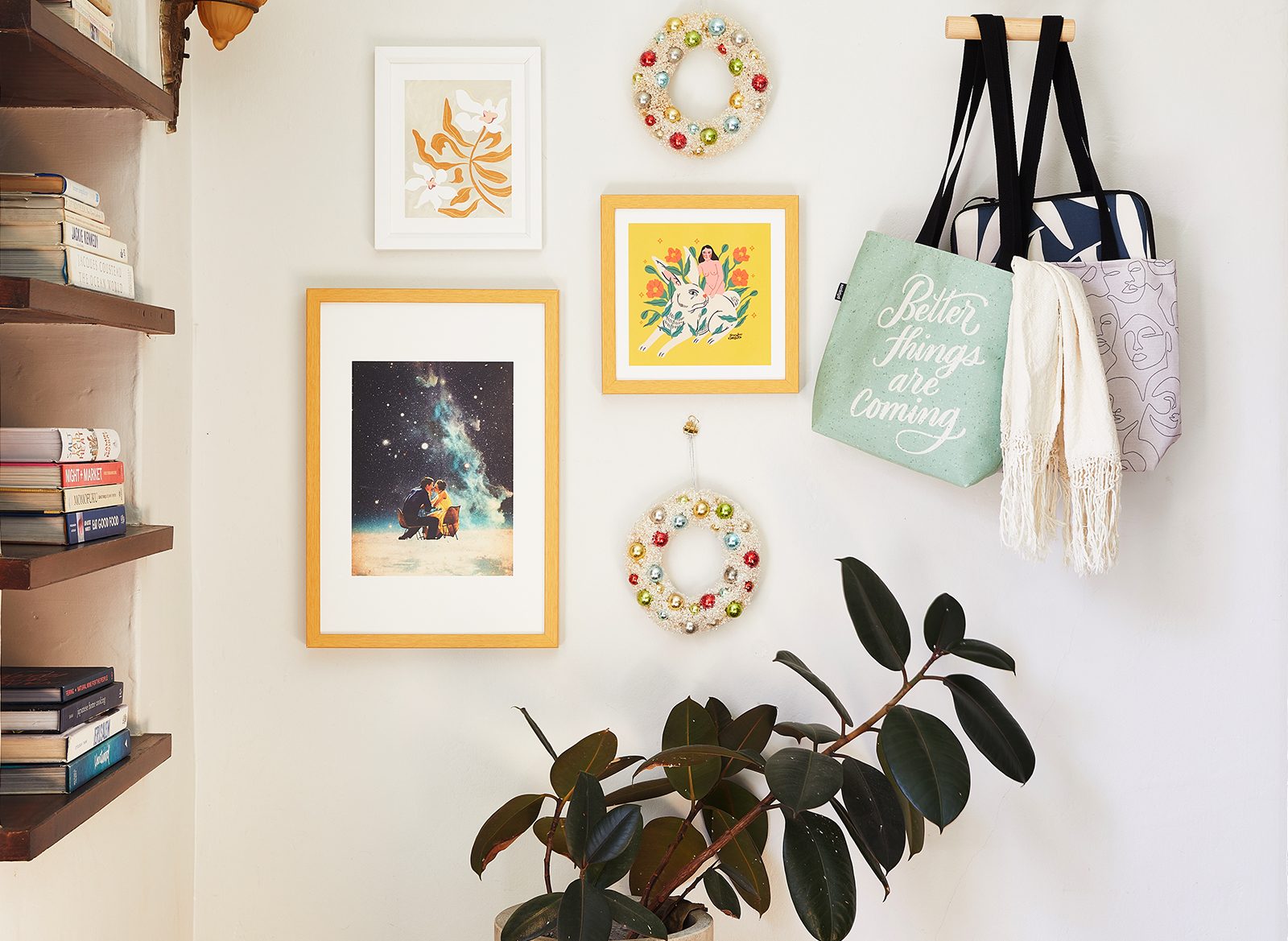 Remember you can always find our most up to date promo schedule here. See you next week for our last week of tips for success!