So you moved into your first place…
You've unpacked (most of) your worldly possessions and probably assembled one too many pieces of Swedish furniture. Now, you have glaringly blank walls, tons of Pinterest boards and no idea how to start making your new space feel more like home. So, we asked fashion and lifestyle blogger Lisa Prang to share her tips on how to decorate your first adult apartment like a pro.
OH. MY. GOSH. The three words I keep saying in my head. What a surreal feeling moving into your first place of YOUR OWN! Whether it's your first apartment, house, condo or wherever your FIRST SOMETHING is, it's a crazy thing to say. "Welcome to MY place"…
I lived at home throughout college and honestly, it was an amazing way to save money and hang with the ones I love. However, there has always been a part of me these last few years that has been itching to move into my OWN place and really experience life and decorate in my own style. I always knew I wanted to move into my own place one day before I got married. SO, that day finally came and this past month I made the big move! And by big move, I mean 20 minutes away. Baby steps, am I right?!
Moving out the first time even if it's close to family can still be kind of a scary and anxious thought. Above all, what has been most fun for me has of course been the decorating. If this is your first move especially, it is a wakeup call when you find out how expensive life really is!
1. Take It Little by Little
So my #1 tip if you are trying to decorate on a budget, as I'm sure many of us are, is to remember that it's okay to do things little by little. It's okay to take it slow and find things that you 100% love verse buying something you feel 'eh' about just to fill your space right away.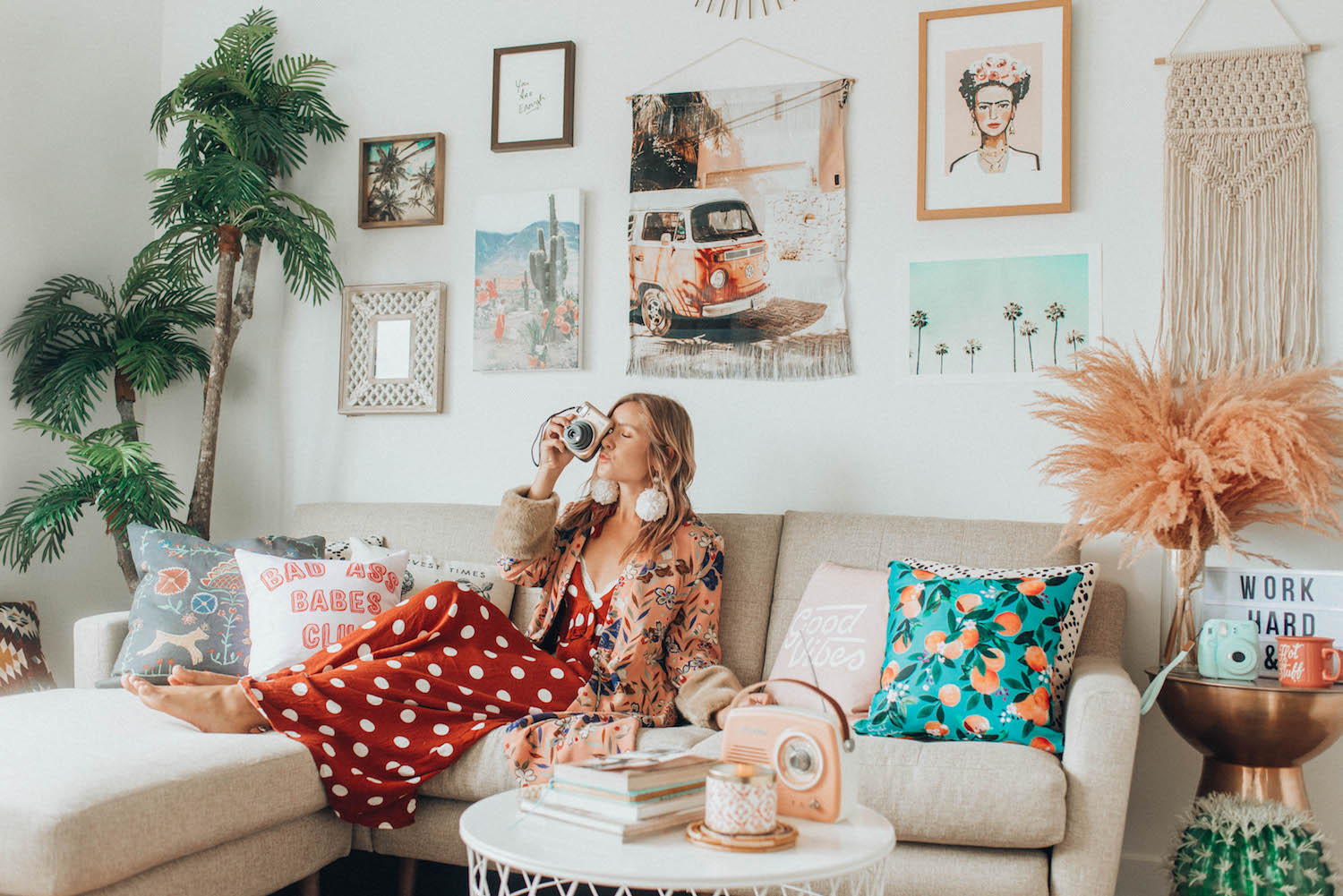 With that said, I decided to take it little by little and decorate based on spaces. My apartment floor plan is: Kitchen + living room along with a half bath on the first floor, and master bath + bedroom + closet on the second floor. I knew when I had company over we would be spending majority of the time on the first floor in the living room. I wanted a space that was not only welcoming and cozy but also 100% ME! Obviously, your first place will be lived in the most by you, so why not go all out and create a space that makes you feel inspired and excited to hangout in!
2. You Do You, Boo!
Never apologize for what you love. You do you boo and decorate your heart out while you're at it! I personally LOVE wall art and have always wanted an epic gallery wall. Going into this, my goal was to create a fun wall that could always be added to as time went on. AND SO, I DID – I officially started my gallery wall and have been adding to it since.
3. Mix It Up
In addition, I find that mixing textures, colors and prints add a fun playful element to the room. My wall has a mixture of all different color woods, posters, frames and prints but all seem to stick to a more effortless fresh beachy feel. The mix of wood frames, white metal hardware and printed pillows really make my apartment feel like a home.
Overall, I wanted a place to feel excited to invite friends to and honestly just keep my creative juices flowing! Being a creative person and working in a creative field can get uninspiring at times, so having a place that keeps the creativity alive is what I was aiming for!
To sum it up, if you are moving into your first place, it's okay to take things slow and collect your favorite things little by little. But by all means, YOU DO YOU and create a space that makes you feel alive and authentically YOU! Lastly, don't forget to take a risk and mix things up to keep your creative amazingness flowin'!