If your plain desk or workspace is making you a little stir-crazy, we got you.
We asked creative director and content creator Alex Michael May to share her tips for giving your workspace a much-needed refresh to get those creative juices flowing. Check out how she revamped her downtown LA creative studio, which she shares with fellow creative, friend and photographer Cacá Santoro, below!
If you're like most of us, your workspace is your second home. We spend most of our waking hours working, creating, building—and studies show our surroundings can have major effects on our mood.
Cold, cluttered or poorly-lit spaces may actually be taking a toll on our productivity and creativity as well, but with a few minor tweaks you can transform your workspace in a snap (we did a complete overhaul of our creative studio in just 2 days!)
Here are the 5 things we focused on to save our sanity (and wallets!):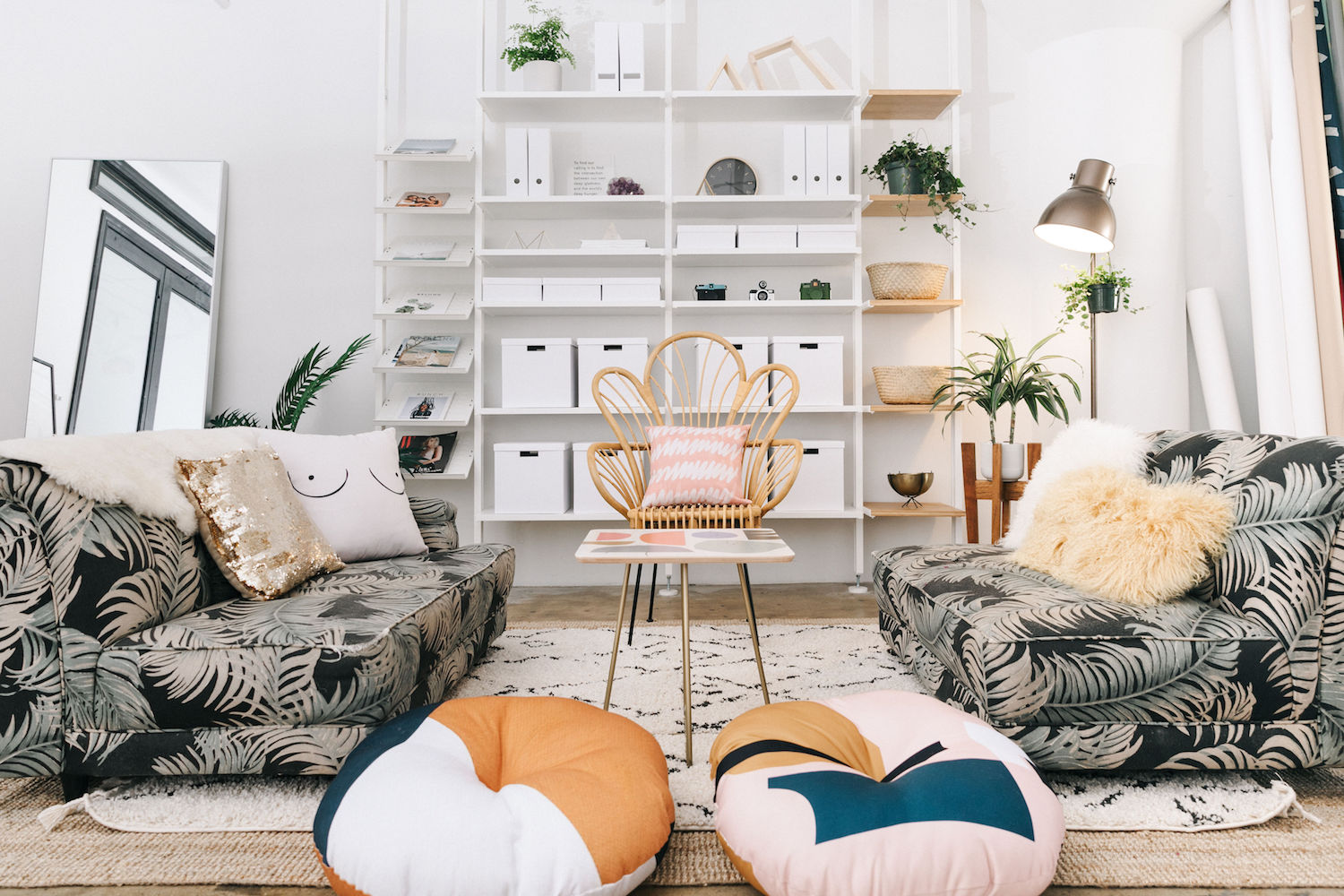 1. Let There Be Light
An overall palette of light, neutral colors, clean walls and great lighting allow occupants to feel centered, relaxed and ultimately, focused. A fresh coat of white paint will take you a long way, as will a new inexpensive jute rug (we layered ours with another neutral rug to create a feeling of cozy comfort.) Establish a palette the eye effortlessly glides across as the base of your space.
2. Go for the Green
Research proves that being around plants can help people concentrate better in the home and workplace, and studies even show that tasks performed while under the calming influence of nature are performed better and with greater accuracy. There are plenty of affordable, low-maintenance options awaiting you at your local nursery, and we brought in a variety of plant stands and pots to further infuse our design aesthetic. A bonus: plants also help filter and freshen the air!
We're adaptable, shouldn't our furniture be? Save money and feel at home in your space with options that can be moved or used for more than one purpose. For example, we found a couple great 1940's sofa sections for a steal that can be paired together to create a single long sofa, or configured into a lounge. Our Society6 side table doubles as both a coffee table for our sitting area and sidles up to any seat to form a flex desk. Floor pillows can easily move from one area of the space to another for additional seating (ours split time between our sitting area and form a cozy nook we created on an open wall.)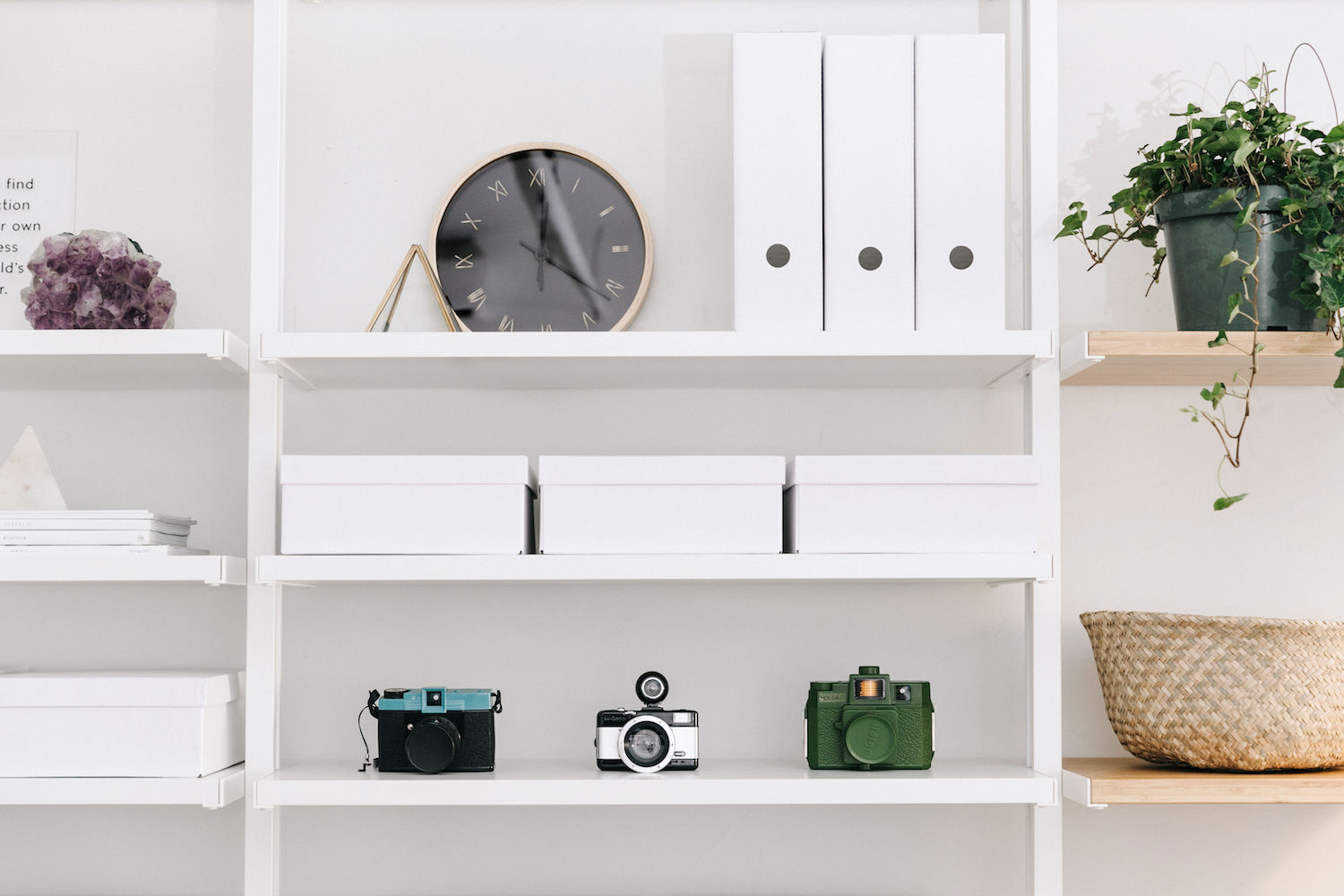 4. Calm the Chaos
Clutter can be more than inconvenient, it can be downright distracting, even to the point of dampening our mood or inhibiting productivity. Find a system of organization that you can keep up with. For us, it's as simple as everything having a place. We know cleaning supplies belong in one box, and art supplies in another. We decided to give our organization system a moment of its own and let it be a focal point in the room through a simple system of boxes, interspersed with decor objects.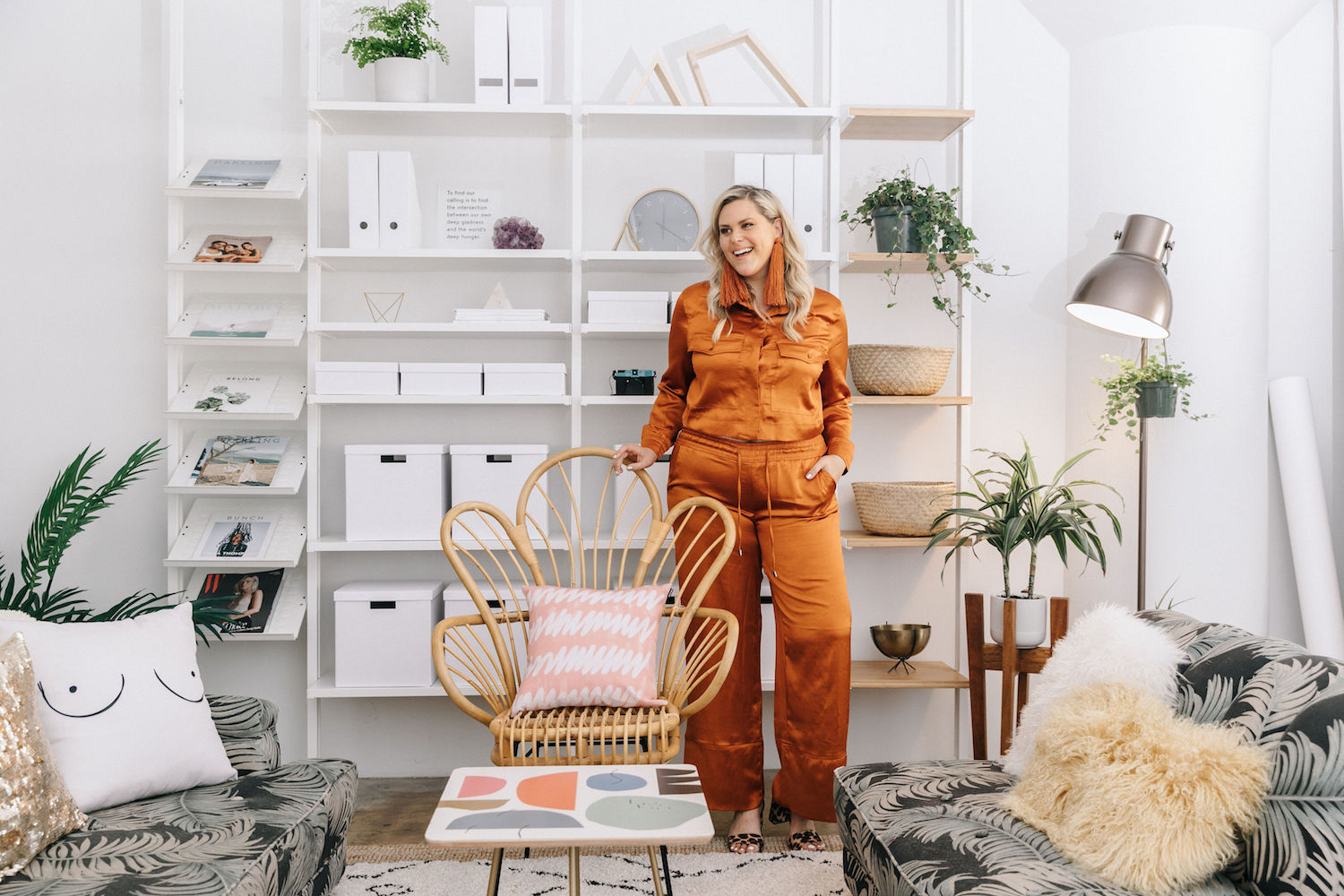 5. Make It Feel Like Home
Since we're spending so much time in our home-away-from homes, adding touches of personality and comfort is vital to make cozying up in the workspace something enjoyable and sustainable. We brought in artwork that made us smile, and added cozy touches with pillows and textured rugs and throws. Splashes of cheerful color throughout evokes warmth and an accent wall makes the overall design feel more thoughtful and finished.  Framed art, pillows, mugs, wallpaper and quirky furniture from Society6 really tied the space together for us and helped us create a studio we truly look forward to coming to every day where we can create the work that moves and excites us as female entrepreneurs.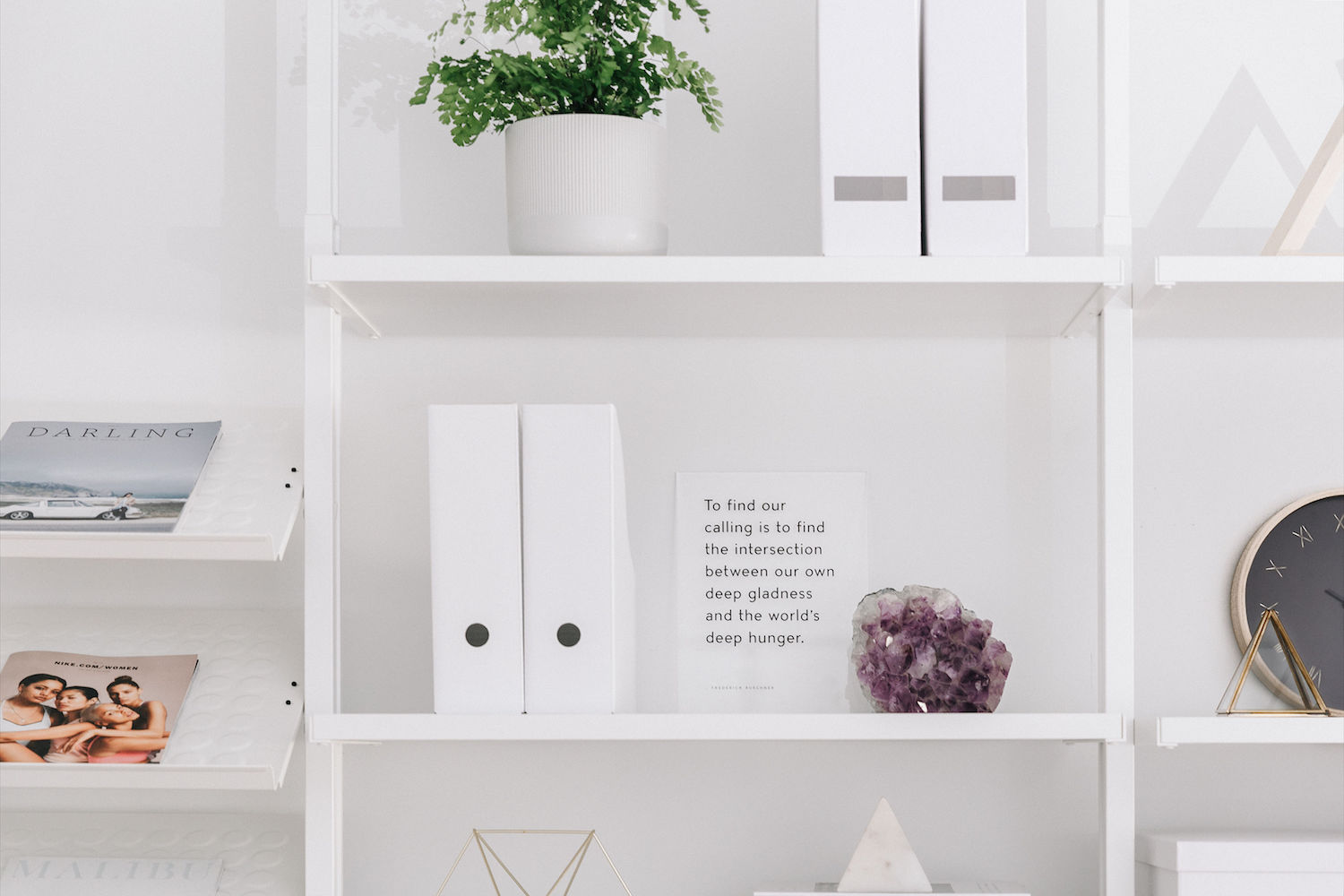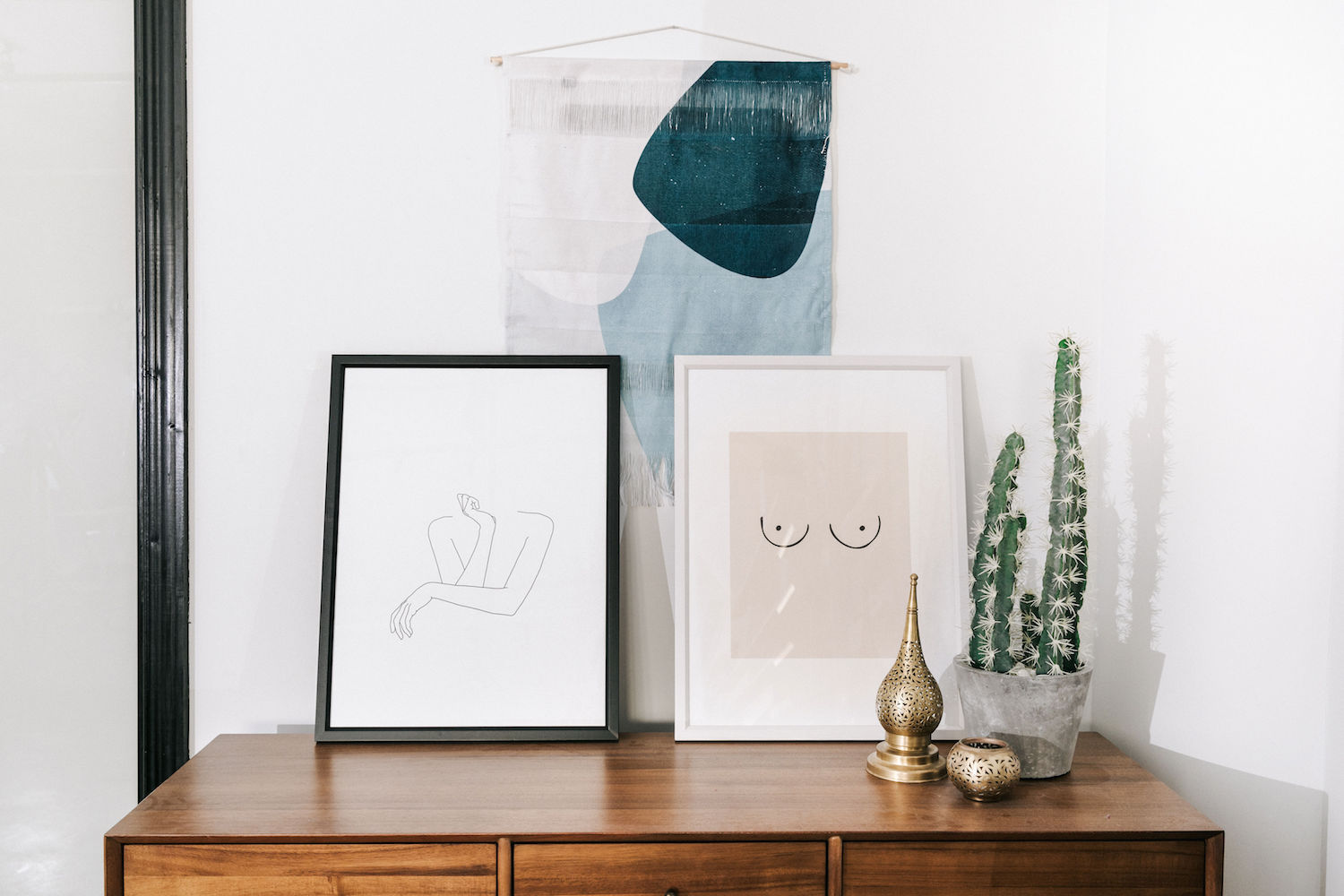 Shop Alex Michael May's Picks:
White Grid Credenza
by Pencil Me In ™
$649.00
Mikado Framed Art Print
by Tracie Andrews
$142.99
Graphic 150 A Wall Hanging
static Throw Pillow
by almostmakesperfect
$29.99
Shape study #2 - Lola Collection Floor Pillow
Back to Sail 2 Floor Pillow
by Fernando Vieira
$89.99
Blue Coffee Mug
by Alexandra Bowman
$15.99
Anna Framed Art Print
by The Colour Study
$83.99
Boobs Framed Art Print
by Natalie Catalina
$86.99
Blue Watercolour Spots Wall Mural