Finding that piece of furniture that's the perfect fit for your space and style is like finding a needle in a haystack.
So once you have that gorgeous coffee table, that perfectly comfy couch or a fabulous kitchen table, take care of it and make it last forever. Here are five easy furniture care tips to keep your pieces looking brand new. Spoiler alert: they all basically have to do with cleaning.
1. Spot Clean
Spot cleaning will save you! Spot cleaning is your furniture's best friend. If you clean quickly, chances are spills won't turn to stains and you won't have to worry about removing cushion covers (which are the biggest pain to put back on). Soda water, salt, bleach, whatever it takes to get it out. Scrub your spills like you're staying at your mom's and she can't see the coffee puddle that she told you would happen if you left your mug there!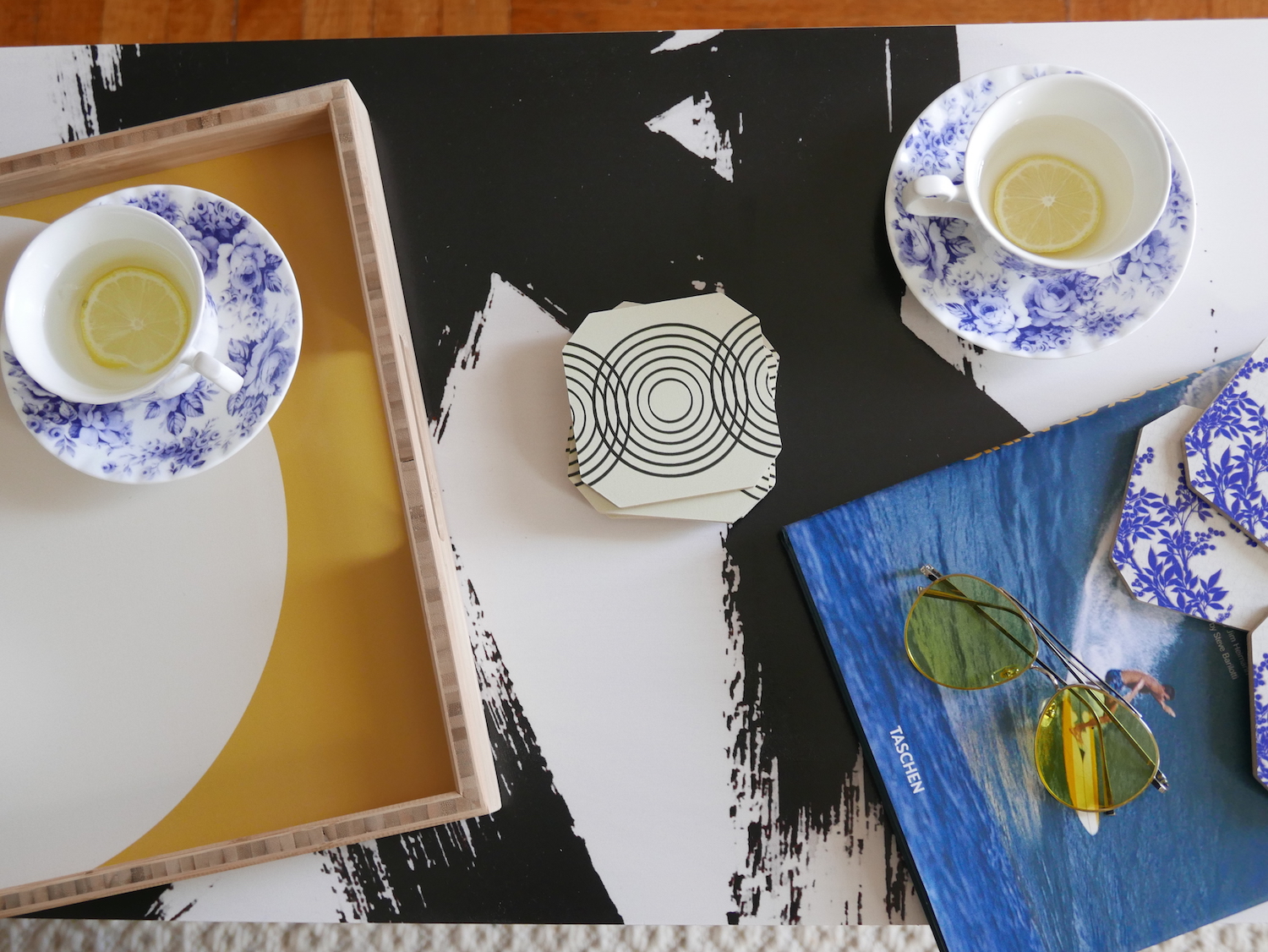 2. The Rundown on the Wipe Down
First of all, regularly wiping your tables is something that you should be doing anyway, no one wants to set their coffee mug down in a layer of dust. Still, it can be a little scary to use water on wood or risk scuffing the finishing on your favorite nightstand. When cleaning wood, the first thing to do is to soak a rag in water with a mild detergent, then wring it out until it's almost dry. This will give you that extra umph to get the sticky out without soaking the wood. After you give it a quick wipe down, dry the table and you're as good as new. If it's the finishing that you're worried about, use a feather or lambswool duster to clean without the risk of scuffing.
Pro tip: Use a serving tray to keep all your clutter organized and keep it off that treated surface!
3. Protect Your Fab(rics)
This one seems obvious, but it is one of the most important care tips. Fabrics are the tell-tale sign of worn furniture. Luckily, regular care can help counteract the regular wear. A simple act like closing the blinds can stop your cushions from being worn by the sun and extend the lifespan of your fabrics. Regular vacuuming or sweeping is also a helpful in removing dust, dirt and hair that can make your couch look and feel icky.
4. Don't Pull the Pills
No, not the pills in your medicine cabinet. Pills are also a term that describe those little fuzzballs that pop up on a sweater after you've worn it a few times. And, if you've got those little fuzzballs in your mind, you know that your next step is to pull the pill and watch as the whole sweater unravels like a bad cartoon. Well, don't pull your pills! Go E.R. Surgeon on them! Scalpel, check! Ok maybe no scalpel, but a pumice stone or a pill comb should do the trick. If you regularly brush your fabric with the aforementioned tools, you'll remove loose fibers and eventually stop your fabric from pilling all together.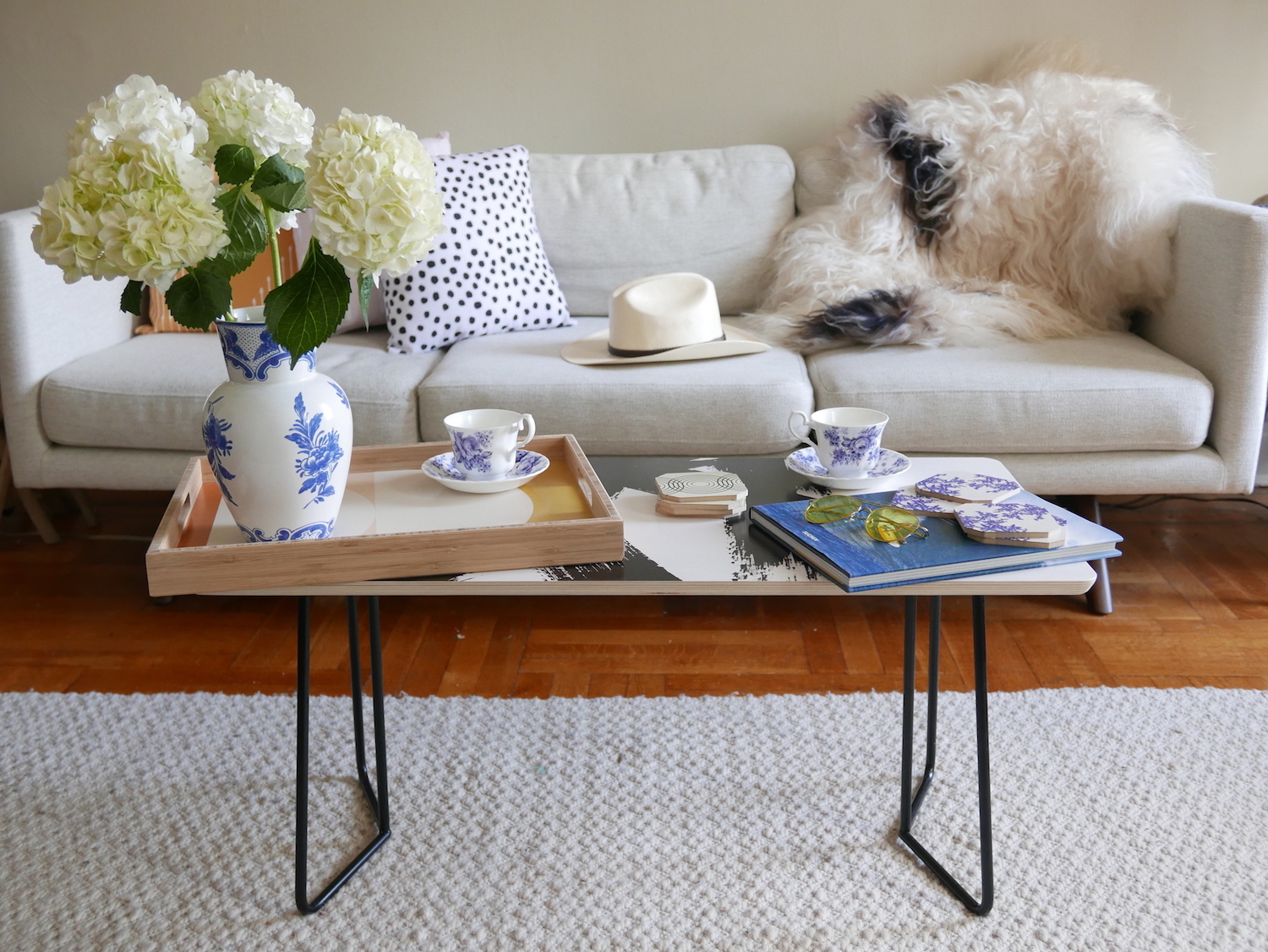 5. Wax & Oil
Not your legs, but your furniture legs. If you've a got a wood table, refresh the stain by waxing or oiling the surface and legs. Adding oil to wood can help prevent cracks and give your furniture a facelift with a temporarily darker stain. Beeswax mineral oil, teak oil and tung oil are popular options, but check on what kind of wood you have and learn which oil or wax is right for your furniture.
Abstract Geometric 01 Serving Tray
by The Old Art Studio
$37.00
Shape Study #1 Serving Tray
Sun and Moon Serving Tray
Navy Blue Serving Tray
by Chipi Art Studio
$37.00
Brushstroke 2 Coffee Table
by Alyssa Hamilton Art
$249.00
Linen Stripe Coffee Table
by Holli Zollinger
$249.00
Graphic 150 A Coffee Table
by Mareike Böhmer
$249.00