If your bathroom is in need of a little pick-me-up, we've got just the thing to bring some pizzazz and personality to your space – bathroom shower curtains! Who says these bathroom decor essentials have to be boring? With our curated list of shower curtain ideas, you can transform your bathroom from drab to fab in no time. Plus, they're one of the best budget small bathroom ideas.
If you're out of bathroom decor ideas, read on. We'll dive into the world of curtain creativity and explore 15 bathroom shower curtain ideas that will brighten up your bathroom like never before!
1. Tropical Escape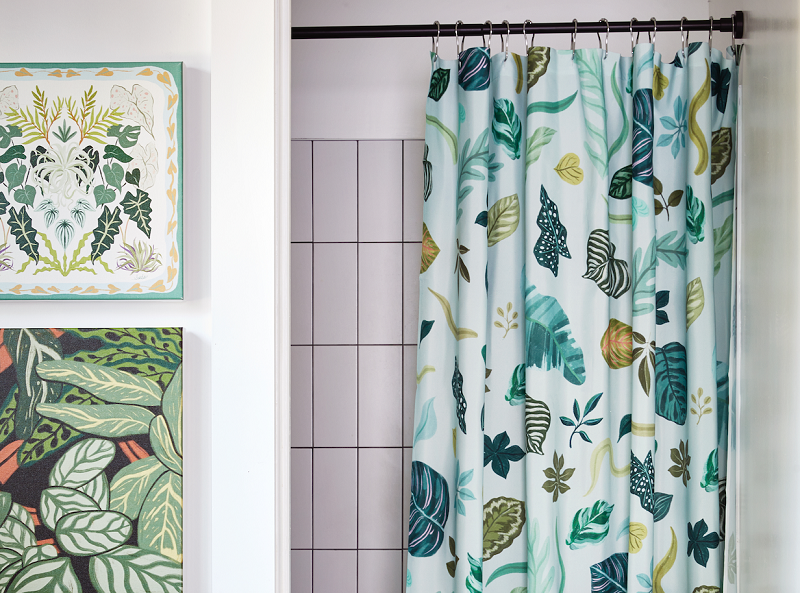 Turn your bathroom into a lush paradise with a tropical-themed shower curtain. Think vibrant palm leaves, exotic flowers, and a splash of paradise blue. You'll feel like you're showering in a tropical rainforest, even on the coldest winter days! When you choose this bathroom shower curtain decorating idea, get ready to escape to an island getaway every time you step into your bathroom.
2. Nautical Charm
Ahoy, sailor! Embrace the maritime spirit with a nautical-themed shower curtain. Sailboats, anchors, and navy stripes will infuse your bathroom with coastal charm, making every shower feel like a seaside escape. Let the soothing sound of imaginary waves and the salty breeze transport you to the open seas.
3. Vintage Vibes
Transport your bathroom back in time with a vintage-inspired shower curtain. Look for retro patterns, muted colors, and a touch of whimsy to add a nostalgic flair to your space. Embrace the elegance and charm of yesteryear with every shower you take.
4. Bohemian Dream
Create a boho-chic oasis with a colorful and eclectic shower curtain. Mix and match patterns, textures, and tassels for that free-spirited and carefree vibe. Embrace the artistic and unconventional curtain design that defines the bohemian spirit.
5. Festive Fun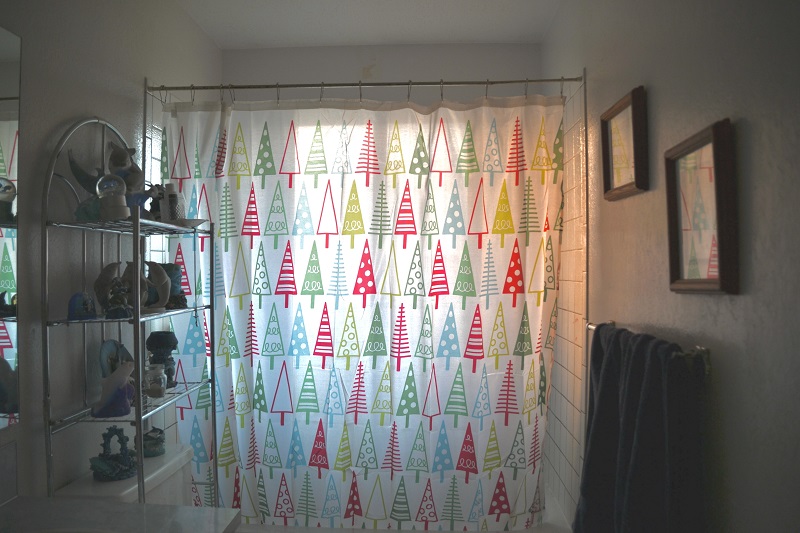 Celebrate the holidays all year round with a festive-themed shower curtain. From a jolly Christmas shower curtain design to spooky Halloween motifs, let the holiday spirit linger in your bathroom every day. Every shower will feel like a festive celebration, no matter the time of year.
6. Minimalist Magic
Less is more, they say, and a minimalist bathroom curtain proves just that. Opt for clean lines, simple patterns, and neutral colors for a serene and sophisticated look. Embrace the calming and uncluttered ambiance of minimalist design.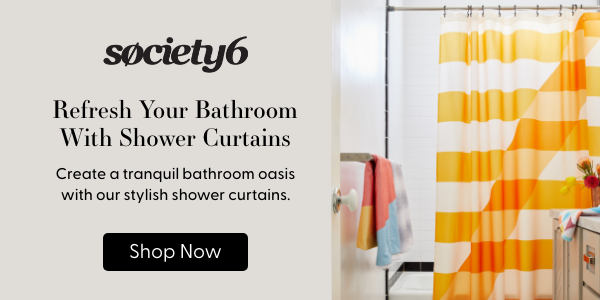 7. Rustic Elegance
Bring the charm of the countryside into your bathroom with a rustic-themed shower curtain idea. Look for burlap, linen, or earthy tones to evoke that cozy cabin feel. Experience the warmth and comfort of rustic living, even in the heart of the city.
8. Geometric Glam
Add a dash of modern flair with a geometric-patterned unique shower curtain. Bold shapes and striking colors will instantly elevate your bathroom's style quotient. Get ready to experience geometry in a whole new way – chic and fabulous.
9. Floral Frenzy
Who doesn't love flowers? Embrace the beauty of nature with a floral colorful shower curtain. Whether it's dainty blooms or big, bold blossoms, your bathroom will bloom with joy. Step into a fragrant garden and bathe in a sea of blooming beauty.
10. Artistic Expression
Turn your shower curtain into a canvas for art with a designer or artistic print. From abstract masterpieces to iconic paintings, your bathroom will become a gallery of creativity. Elevate your bathroom's shower curtain designs to a level of artistic sophistication.
11. Striking Stripes
Stripes never go out of style! Opt for vertical or horizontal stripes in contrasting colors to add a sense of visual drama to your bathroom. Step into a world of bold lines and captivating contrasts with every shower.
12. Under the Sea
Dive into an underwater adventure with an ocean-themed shower curtain. Discover colorful coral reefs, majestic sea creatures, and maybe even a mermaid or two! Make your bathroom feel like an enchanting underwater kingdom.
13. Polka Dot Party
Step into a polka-dot wonderland with a shower curtain adorned in delightful dots. Go big or go small – either way, your shower area will be a polka-dot party! Embrace the joy and playfulness of polka dots every time you shower.
14. Serene Sheer
For a touch of elegance and sophistication, choose a sheer curtain. This semi-transparent beauty will let in natural light while adding a touch of mystery to your bathroom decor. Experience a shower like no other – surrounded by an aura of graceful serenity.
Brighten Up Your Shower Space With Society6
And there you have it – 15 shower curtain decorating ideas to brighten up your bathroom! Now, go forth and shower in style, letting your creativity flow and your bathroom bloom with personality.
At Society6, our extensive line of shower curtains comes in various styles, all offered in the average shower curtain size to fit any bathroom. Our shower curtains are made to look far different than the conventional shower curtain, so browsing our selection is an enjoyable journey in itself.
With the right shower curtain, your bathroom will become a true reflection of you – fabulous, fun, and full of life! Once you find the right one, you can learn how to hang a shower curtain with Society6's help also. Happy decorating.