So you've saved a million designer living rooms on Instagram, pinned the most elaborate bedrooms on Pinterest, and are dying to get them off of your phone, computer or tablet and into your home!
Now that you've identified what design aesthetic you're most drawn to, interior stylist Miranda Rose Farmer shares her five tips for creating a glamorous, layered, inviting space that looks like a straight-up Anthropologie ad.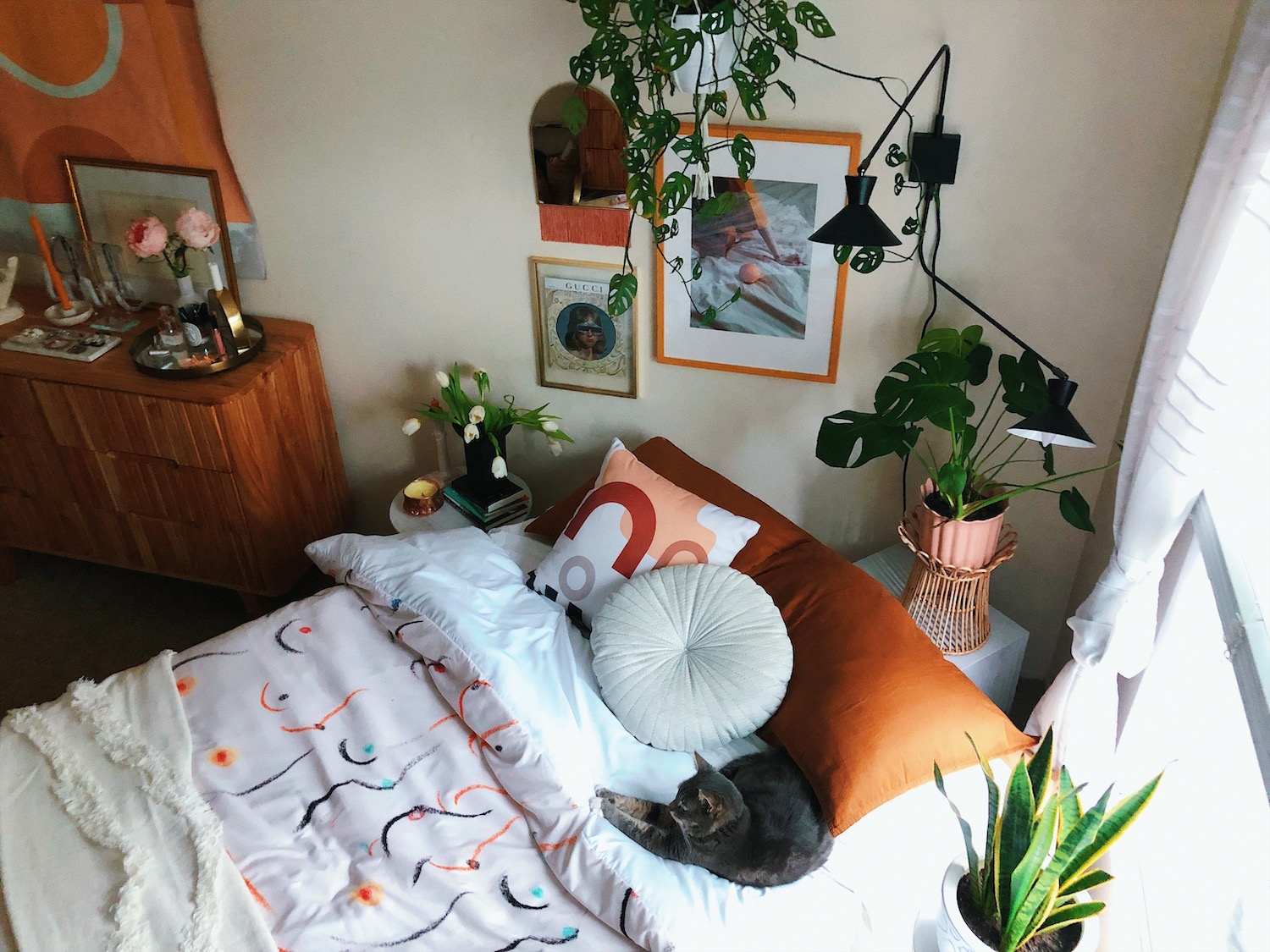 1. Make Your Bed a Sanctuary
My favorite place in the world is probably my bed: it's the first thing I see in the morning and the last thing I see at night. I like to keep my bedding fairly neutral in color to maintain that calming vibe, but with lots of visual interest through patterned textiles: animated throw pillows alongside cozy, textured blankets. Surrounding my bed with plants, candles and stimulating artwork makes it feel like a defined, sovereign space in the room. (Cue Quasimodo at the top of Notre Dame…"Sanctuary!")
2. Create a Welcoming Watering Hole
When I was younger, I remember always being very impressed with homes that had a designated bar area. There was something incredibly hospitable about having a hub where guests could help themselves to drinks and snacks – all very chic 1950's. I don't necessarily have a ton of guests over, but I like the idea that someone could just drop by and I would have refreshments readily available (plus, it feels super classy!) If a wet bar's not your style, try a coffee bar, or even just bottles of sparkling water and pretty citrus fruit. Your guests (and inner 50's bigwig) will thank you.
3. Put a Plant On It
Greenery in a home is imperative to me. Not only does it make a space look lush and thriving, it also creates an ethereal softness that eases the soul. That being said, I've murdered many a plant in my day. Many.
If you're less experienced in the ways of flora, snake plants, pothos and Zanzibar Gems (ZZ pants) are all easy-care options, and artificial plants are more realistic-looking than ever.  If an area is feeling stark or sterile, it's probably just missing some greens.
4. Add a Little Sass to Your Bathroom
I love going into a swanky, urban restaurant or bar and checking out what kind of #bathroomselfie backdrop they've got going on. While gutting the bathroom is not in my rental agreement (or even my budget), small, ornamental changes make the space feel modern and innovative. Adding a rad shower curtain, some quirky artwork and a faux plant or two can generate an elevated, unique look (sans all the hipsters and overpriced martinis.)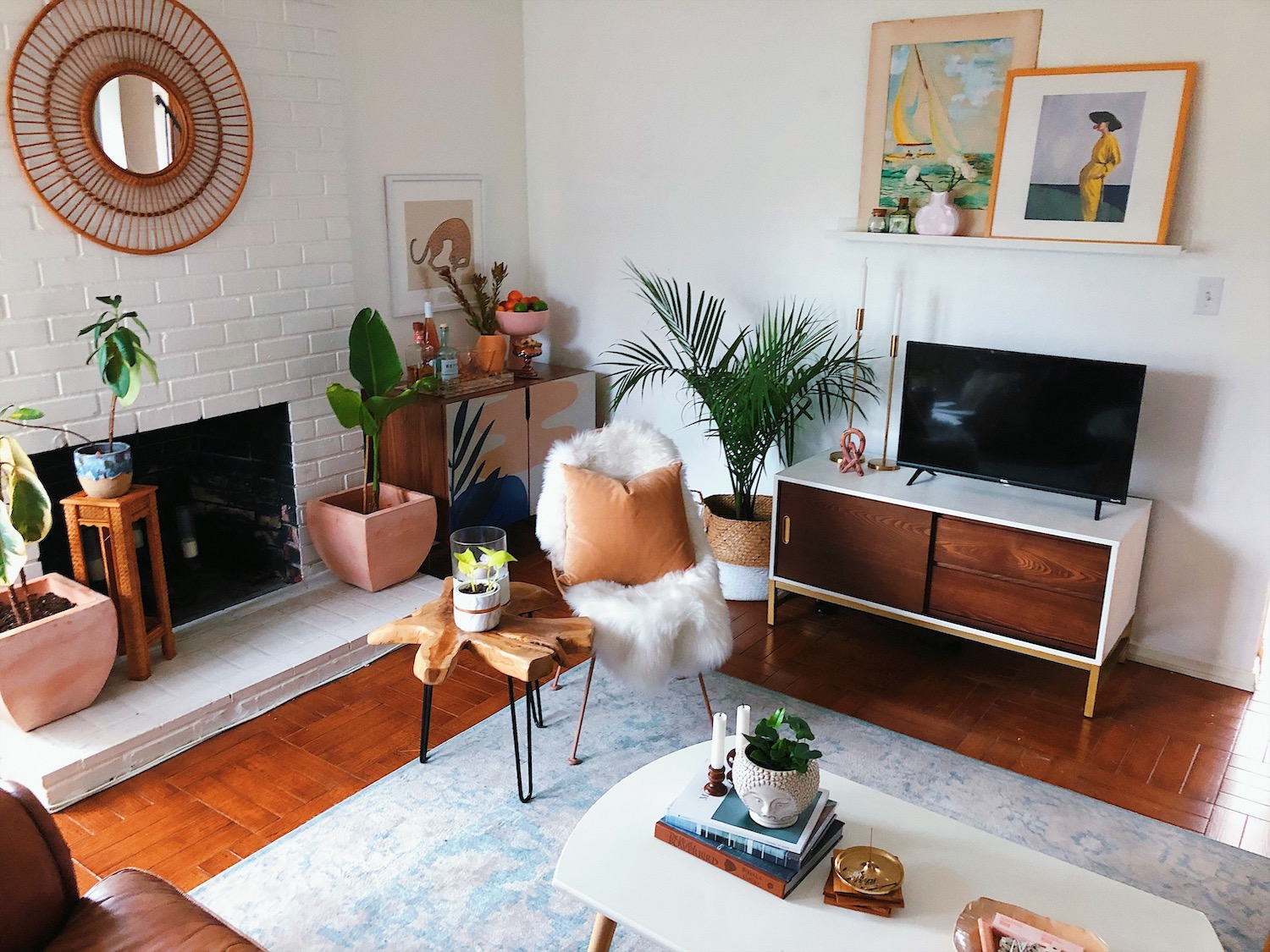 5. Balance New With Old
The juxtaposition of old pieces with new is really the key to having a multifaceted, magazine-worthy residence. The homes that I find myself most enamored with are the ones that include both fresh, contemporary decor and vintage elements. Incorporating art, furniture and decorative items that have had a past life creates an atmosphere of history, sophistication and romance.  From thrift/consignment stores and flea markets to online antique shops and estate sales, the options for integrating vintages touches are endless.
// Shape study #23 Throw Pillow
Breasts in Cream Duvet Cover
by Amanda Laurel Atkins
$109.99
These Boots Framed Art Print
by Vertigo Artography
$144.99
1993 Framed Art Print
by Alexander Grahovsky
$97.99
Shape Study #14 - Autumn Shower Curtain
by This Weekend Studio
$69.99
Shape Study #10 Serving Tray
Stolen Faces Bench
by Mind Over Pattern
$299.00
Love Is A Superpower Throw Pillow