We've made many comparisons between accessories for an outfit and accessories for the home; both punctuate exactly the features we wish to accentuate.
That could be the color scheme of the room—perhaps there are various hues of rose-pink showcased in your throw pillows, the coasters on your coffee table, or in your favorite art prints. Whatever the motif is, we must stress the importance of an overlooked accessory: window curtains. Window curtains are a much-needed design element that will help tie your room together, be it the bedroom, living room, or bathroom.
We've chosen eight of our favorite contemporary designs. You can't go wrong with any of these!
1. Blockprint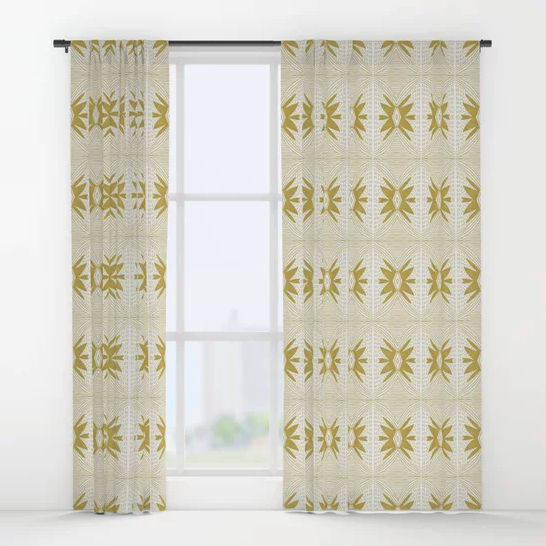 If you appreciate the meditative repetition and look of a traditional Indian blockprint, you'll love these gorgeous curtains with a unique geometric line design. This particular style and colorway is sure to inject warmth in any room.
2. Ombré for Days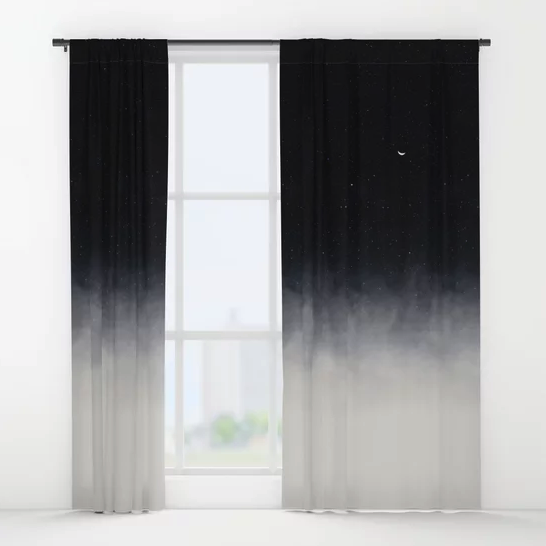 If you love the subtle, sophisticated look of dip-dye technique coupled with astrology, then these window curtains are right for you. At first glance, it looks as though these curtains were skillfully dipped in a rich black color, but as you peer deeper, a starry night emerges and a crescent moon pokes through ever so subtly. These curtains offer a twist on an evergreen, classic look. (Check these out if you prefer a golden touch.)
3. For the Music Lover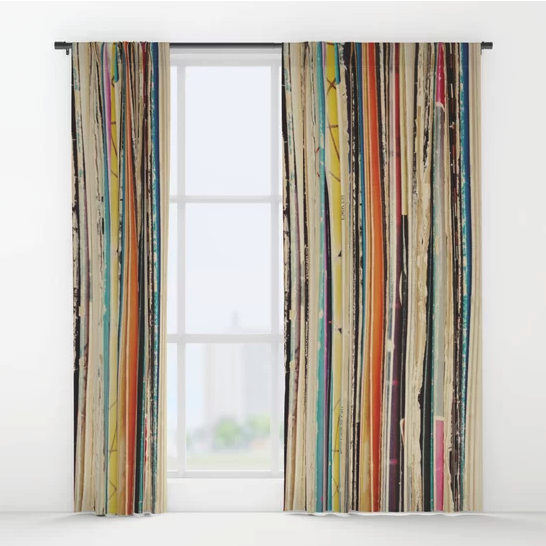 From a distance, these window curtains look like colorful vertical stripes, but upon closer inspection, you'll see that it's a collection of records. Not only is the curtain design gorgeous with its variety of colors, but it's also great fodder for conversation.
4. Marble for the Windows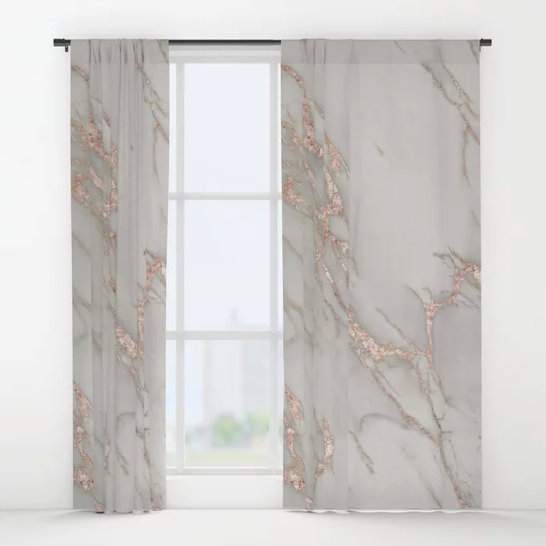 Marble is a texture that shouldn't be restricted to kitchen counters or floors. These gorgeous window curtains feature this texture in a manner that is both subtle and visually appealing. Hang these beauties in a room where either small touches of marble are strewn about or if there are other accessories in a rose-gold hue.
5. For the Graphic Designer

If you're someone that appreciates a solid grid, that affinity may lend itself to curtains with eye-catching geometric lines and shapes. These designs easily complement modern, minimalist spaces. Likewise, if you already have artworks and prints inspired by Agnes Martin, you'll want to have a window party and add these curtains to your VIP list.
6. Nature Lover
Our collection of nature-inspired curtains are an excellent reminder to go outside, bask in a forest, and unplug from technology—even if only for a few hours. If being outdoors brings you to your happy place, you'll love these curtains, which are sure to transport you.
7. Beach Babe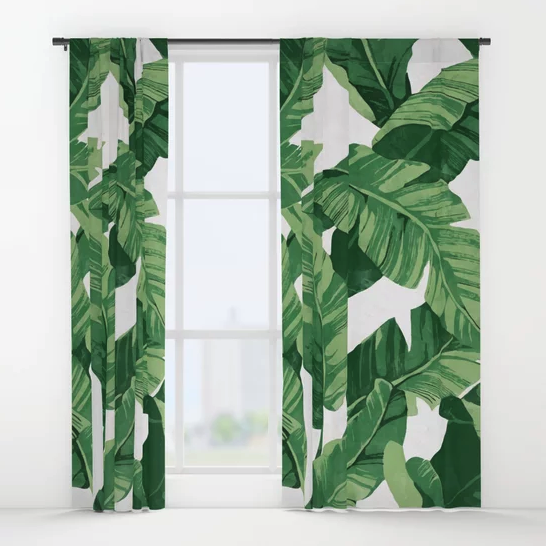 You can't go wrong with bringing banana leaves into your space, whether it's a potted plant or a window curtain featuring them. A glance at these are an instant passport to your favorite tropical island. If you're unsure of what to pair them with, these cool counter stools will do the trick.
8. For the Bookworm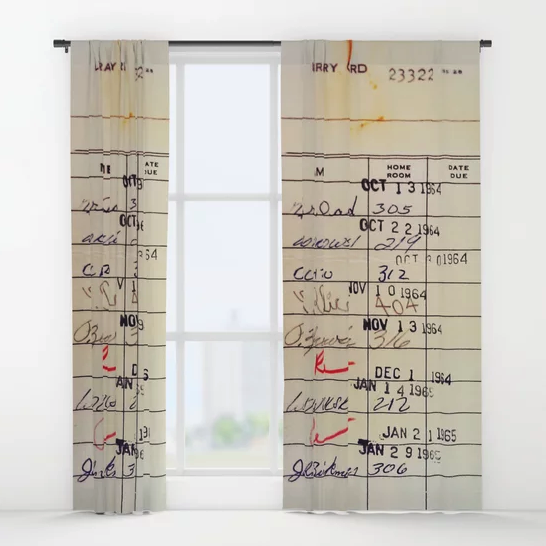 If you're anything like us, you live for mementos from your childhood, like those manual check-out cards that librarians kept track of every single week. First off, kudos to them for running that system, and second, these curtains belong in your home—especially if you already have all the merch for Stranger Things (because they're perfect for firing the flames of nostalgia).
STAR STITCH Window Curtains
by holli zollinger
$79.99
After we die Window Curtains
Record Collection Window Curtains
Marble Rose Gold Blush Pink Metallic by Nature Magick Window Curtains
Chicken Scratch #619 Window Curtains
by Natural Collective
$79.99
Deer - Black & White Window Curtains
Tropical banana leaves IV Window Curtains
Library Card 23322 Window Curtains
by Gas Station Burrito
$79.99