Memorial day is quickly approaching, and we couldn't be more ready for the symbolic long weekend that marks the beginning of summer.
There's just one catch: with all those vacation vibes comes a bit of pressure to perform on social media. From poolside parties to tropical cocktails, your feed will be filled with cute, curated shots—a glimpse into impossibly perfect lives. And that's just it, it is impossible to be perfect, but here, writer Ashley Tibbits shows us how we can all get a little better at faking it.
Nothing like a good old scroll through the 'gram to make you feel like your life looks super "meh" from the outside. But if we're being completely honest, those with the picture-perfect feeds (you know the ones) have put a lot of time and energy into making it seem like just about every latte they sip, every corner of their home, and even every floor tile their perfectly stylish shoes step on is #goals—even for those of us who totally resent that term. Now that warm weather has arrived, you're bound to be inundated with expertly curated picnics, those which look nothing like the ones you've experienced IRL: luscious, exotic fruits and charcuterie, interesting textiles, and even legit table settings that put your typical paper plate/PB&J situation to shame. But don't let it get you down, I can promise you it's not as tough as you think to make a more photogenic setup that you can not only be proud of, but can actually truly enjoy with your crew. You see, having a gorgeous picnic spread isn't about trying to fit in with Instagram's "cool crowd" (it's not all about likes, people) it's about creating an extra special occasion with your pals or significant other. Okay, okay, and maybe just a little bit about getting more likes. Here are a few of my no-fail tips to turning your picnic into a moment you'll be dying to share on social media.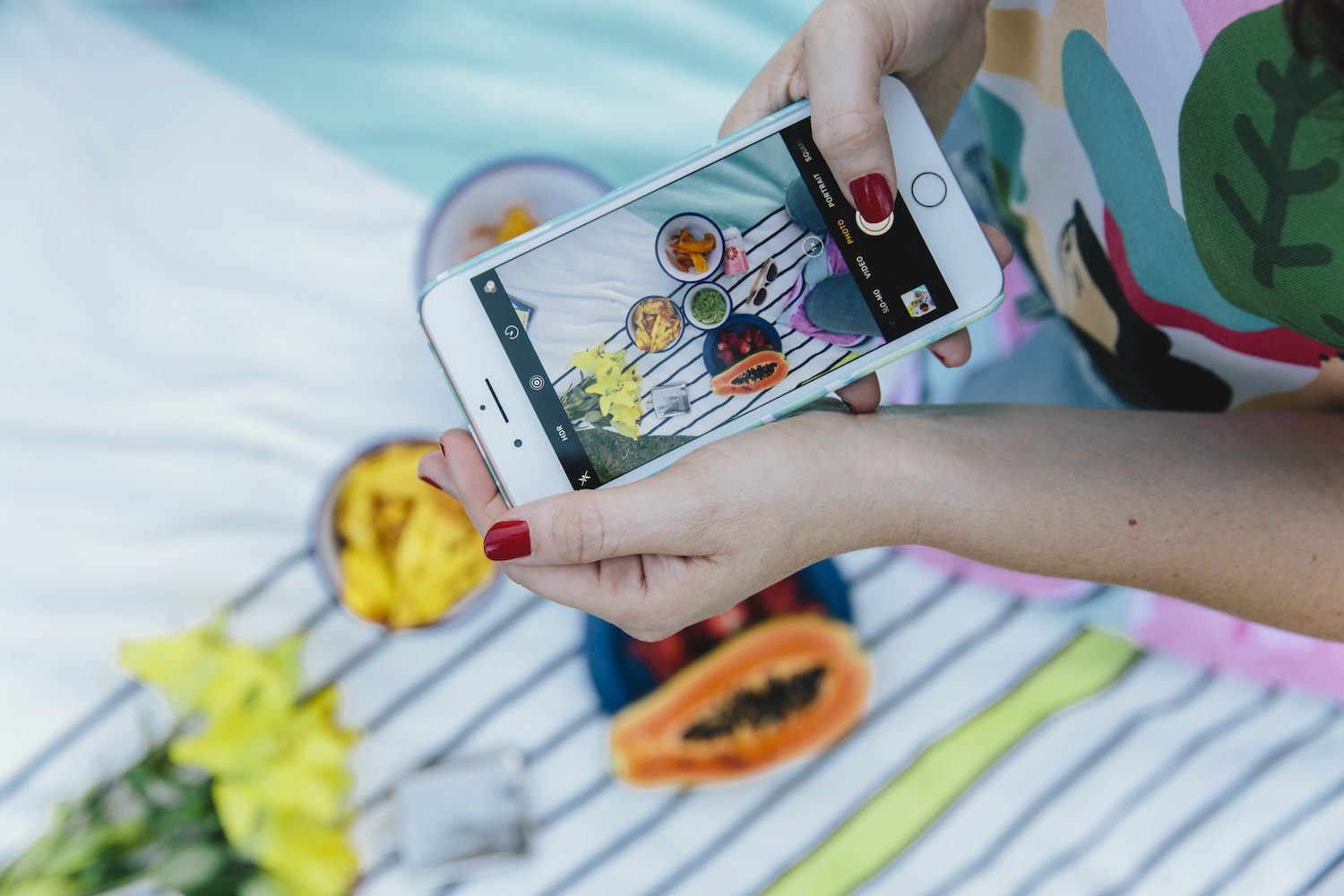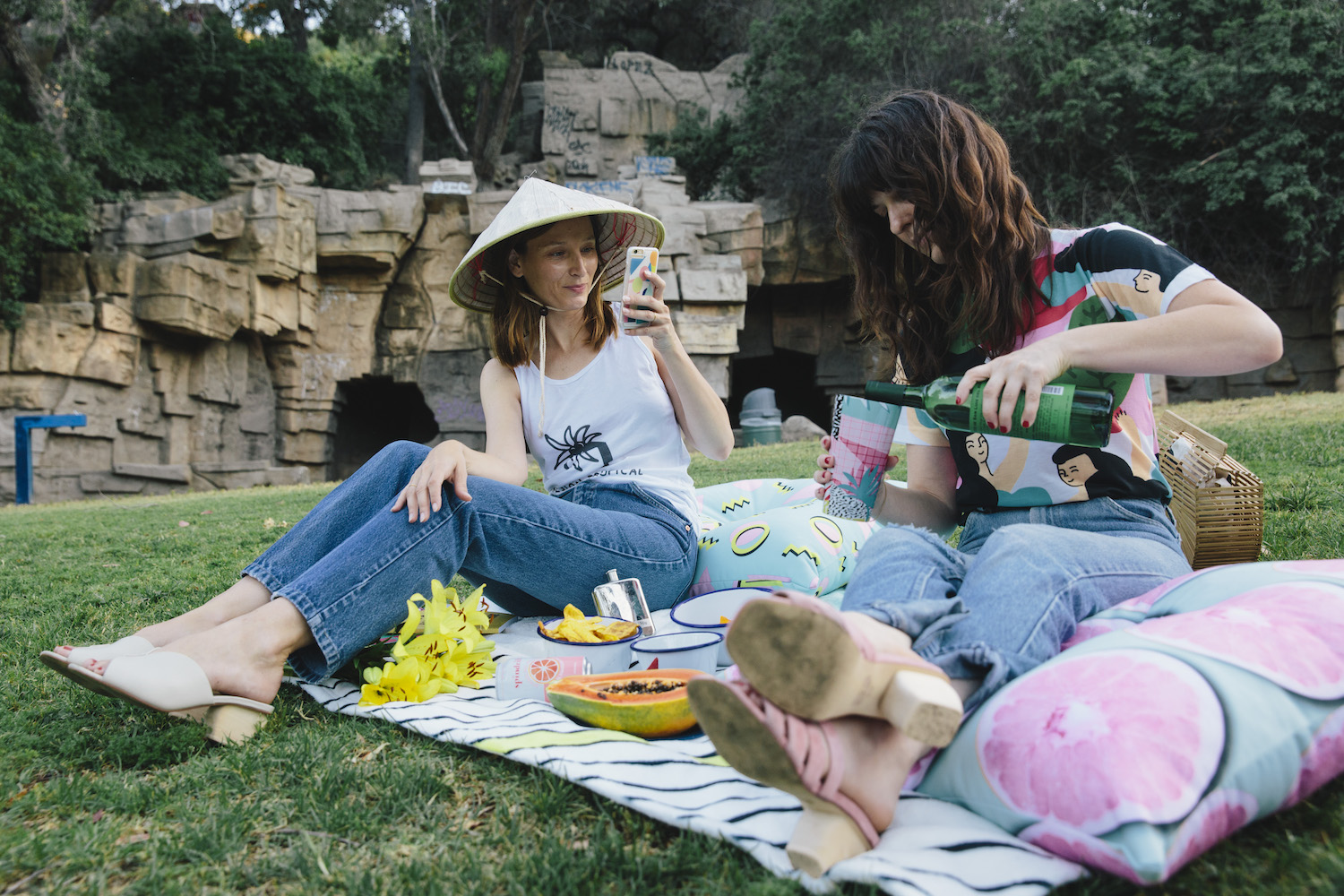 1. Come up with a theme. It doesn't have to be overt; even if you just choose a handful of colors or a general concept like rustic or super-girlie. For a recent picnic I opted for a tropical theme, which lent itself to the colors of my accessories and the foods and beverages I brought along (more on both later).
2. Hide the ugly stuff. Ever look at someone's picnic pics and wonder where the heck the plastic bags, cooler, and tinfoil are? They're probably there, they're just artfully removed from the shot because—to be honest—those things aren't great looking. That said, there are also ways to go around it. Use your cold cans of soda (or whatever you're drinking) to act as an icepack that keeps your snacks cool. Or freeze grapes to drop into your drinks like ice cubes. Also, you don't need to bring along the fine china; pack a few unbreakable but lightweight plates like melamine or enamelware and transfer your treats from the zip-top bag or resealable container onto those before chowing down. So civilized, right?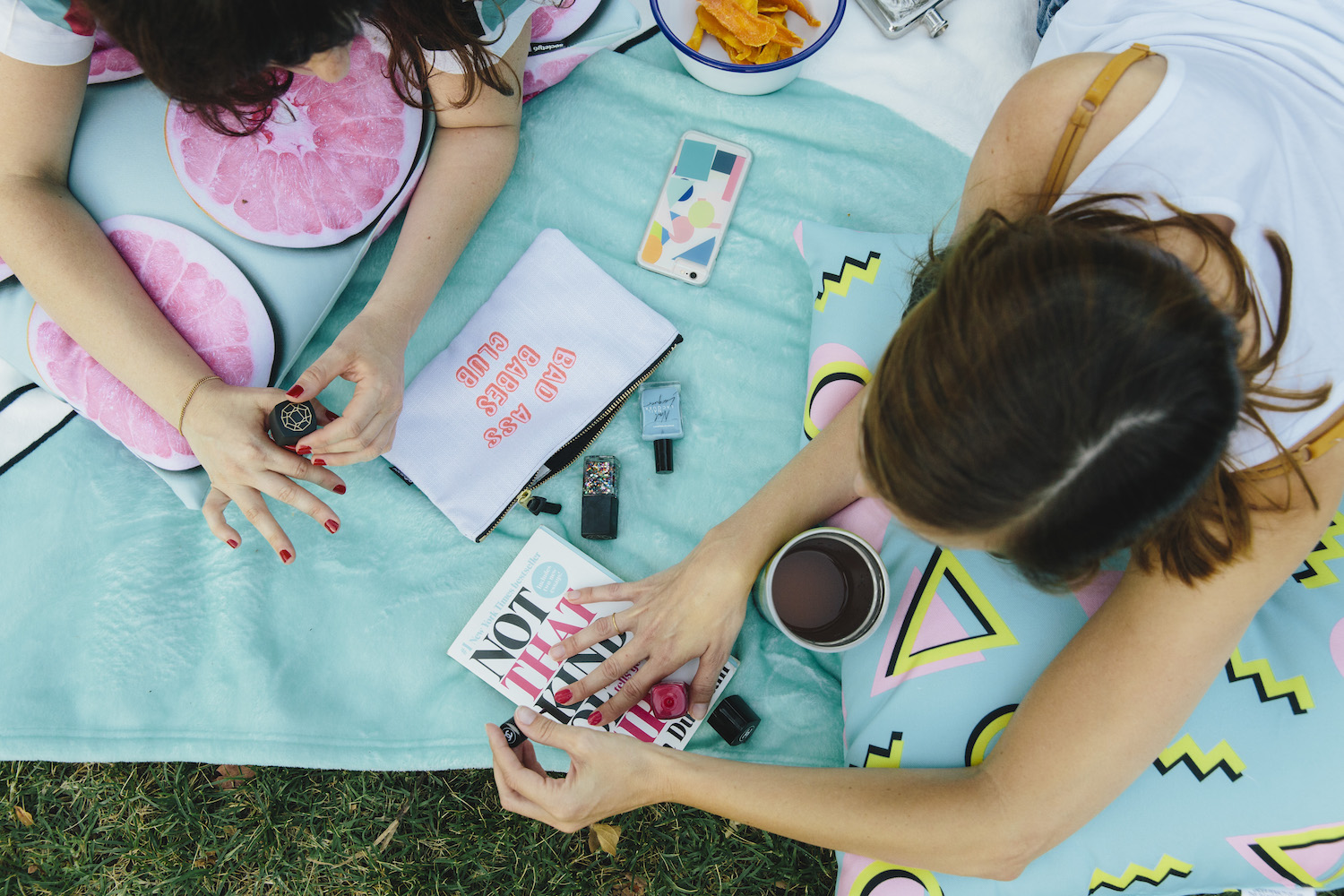 3. You don't have to play chef. You just have to play food stylist. Pack things that require little preparation and also don't make a total mess. Berries, dried fruit, olives, almonds, and other foods you can easily eat with your fingers are great. And take advantage of pre-made items (hello, Trader Joe's). There's no shame in my game about buying ready-made guac to eat with tortilla or plantain (if you're feeling fancy) chips. There's really no need to have a 5-course meal.
4. Have a (festive) drink. Yes, rose is always a win in my book but if you're looking to try something different, pick some bottled or canned beers with fun labels or grab some fruity sodas or your favorite flavored seltzer and mix with your booze du jour. If you need to be discreet, take a flask to spike your drink and keep it disguised in an insulated travel mug. No one needs to know you're turning up.
5. Lend a well-manicured hand. Personally I love shots that look like they're taken with my eyeballs, so often I'll include my own hand or foot in the shot so it seems as if it's from my perspective. My hands need a little dressing up, so if I'm planning to take a pic like this I'll just be sure my nails are looking right. If you're having a girly afternoon, bring the polish along and make it a pampering party.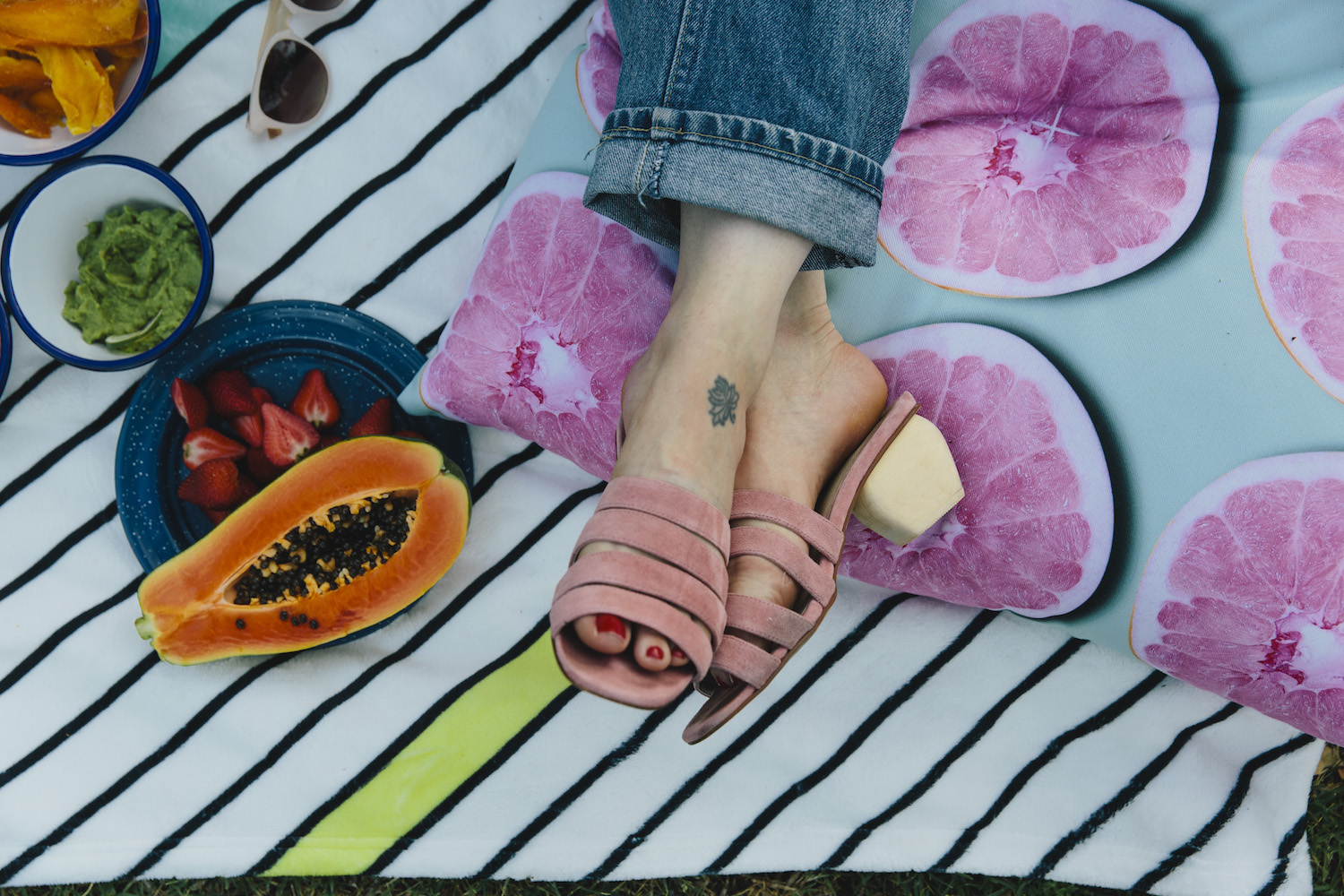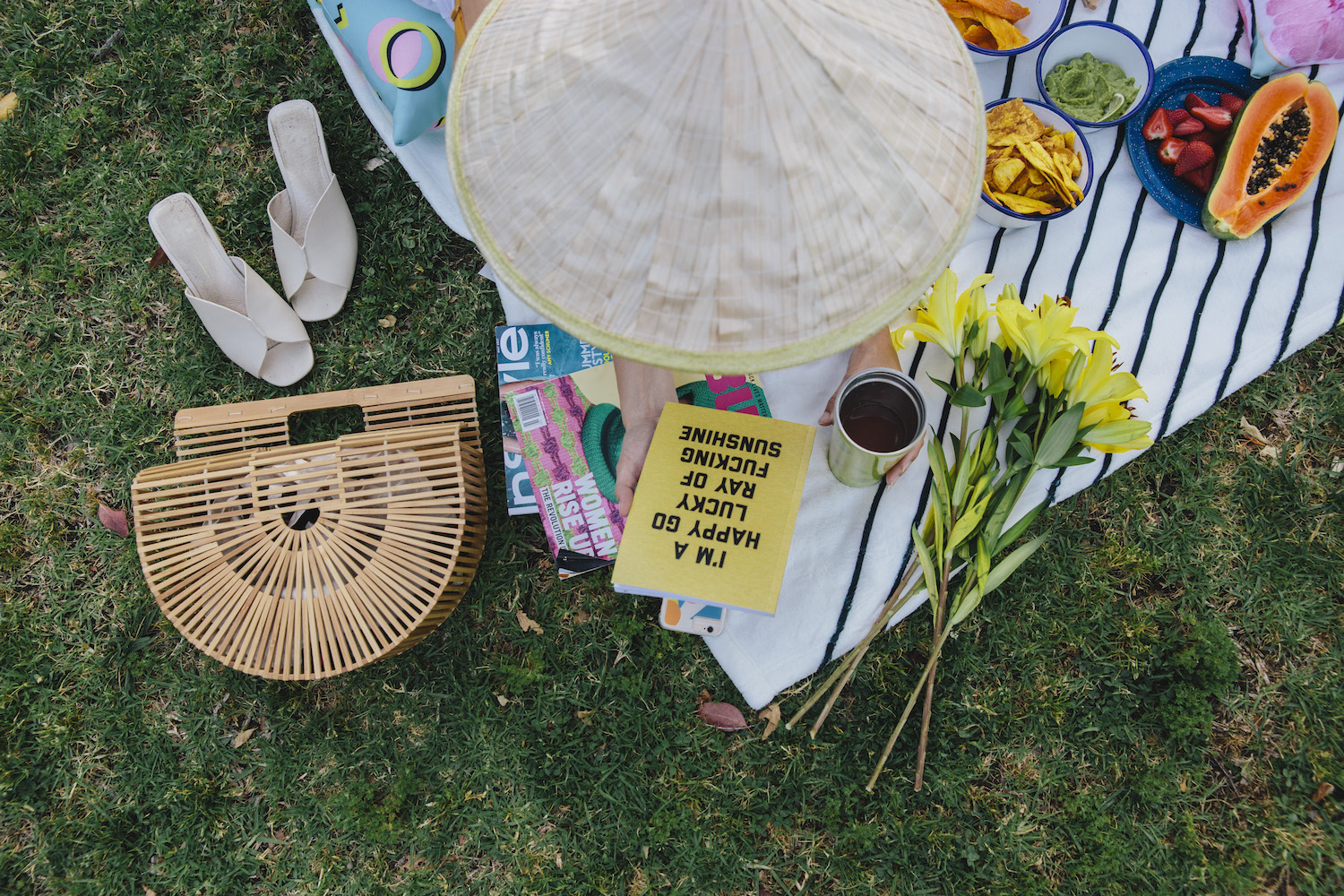 6. Flowers. Not much else to say here. Everyone loves them, and they're always going to up your Instagram game—even if they're totally pointless at your picnic (though, to be fair, are they every really pointless?).
7. Set it up. Embrace the fact that this isn't completely real life. Spread some books out artfully, eat some of the food so it doesn't look too perfect, move some things around and remove anything extra so it doesn't look too busy, etc.
8. Have fun with what you wear. That wacky straw hat that serves no other purpose than to stage a great photo? Bring it along as a prop. Use this as an excuse to feature those new sandals you're obsessed with (i.e.: Oh, I just kicked off these gorgeous things because I'm getting cozy and having the best time!). Yes an overhead shot of your blanket is cool, but my favorite shots are one that show a little sign of life — so you might as well make sure that life is wearing something cool.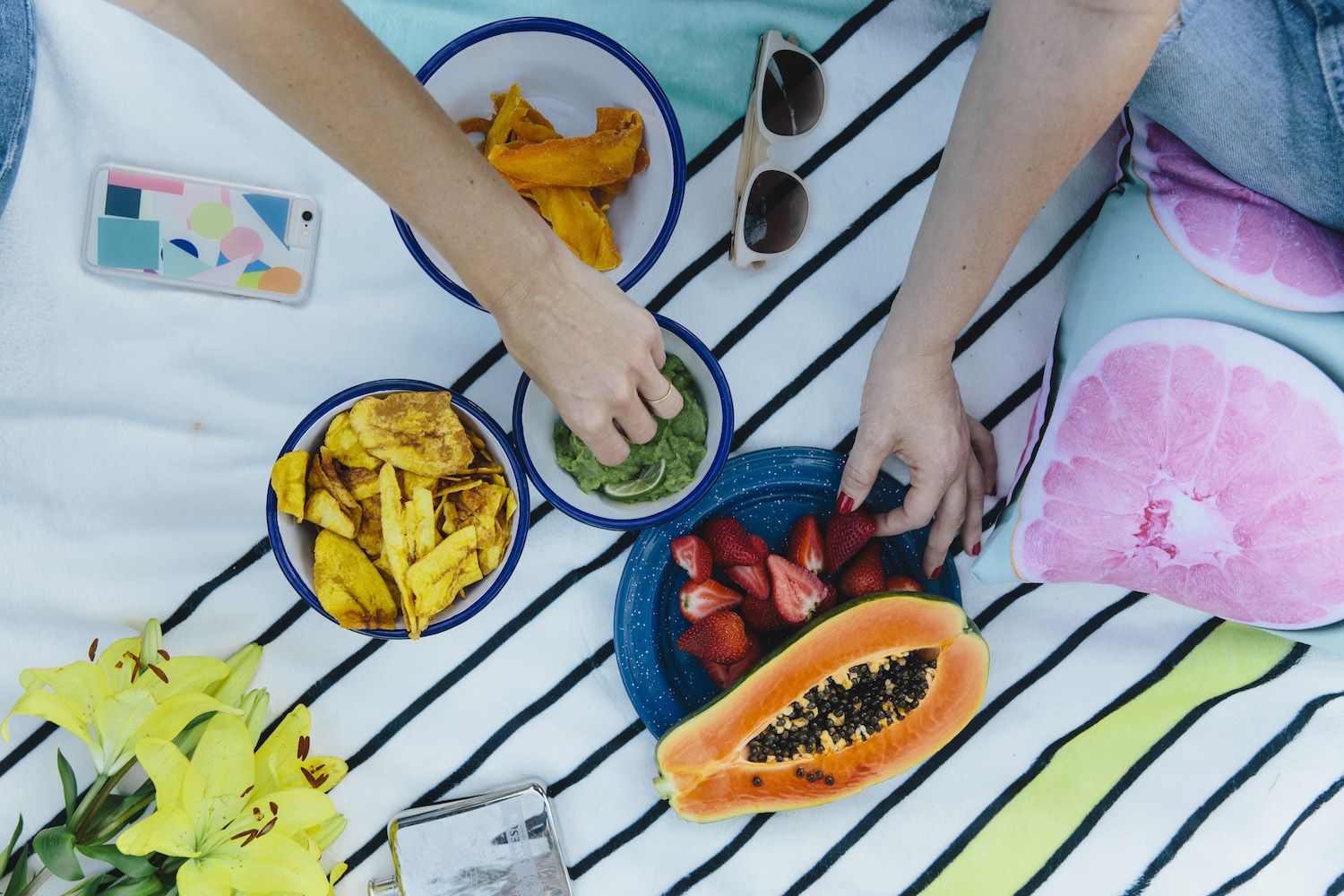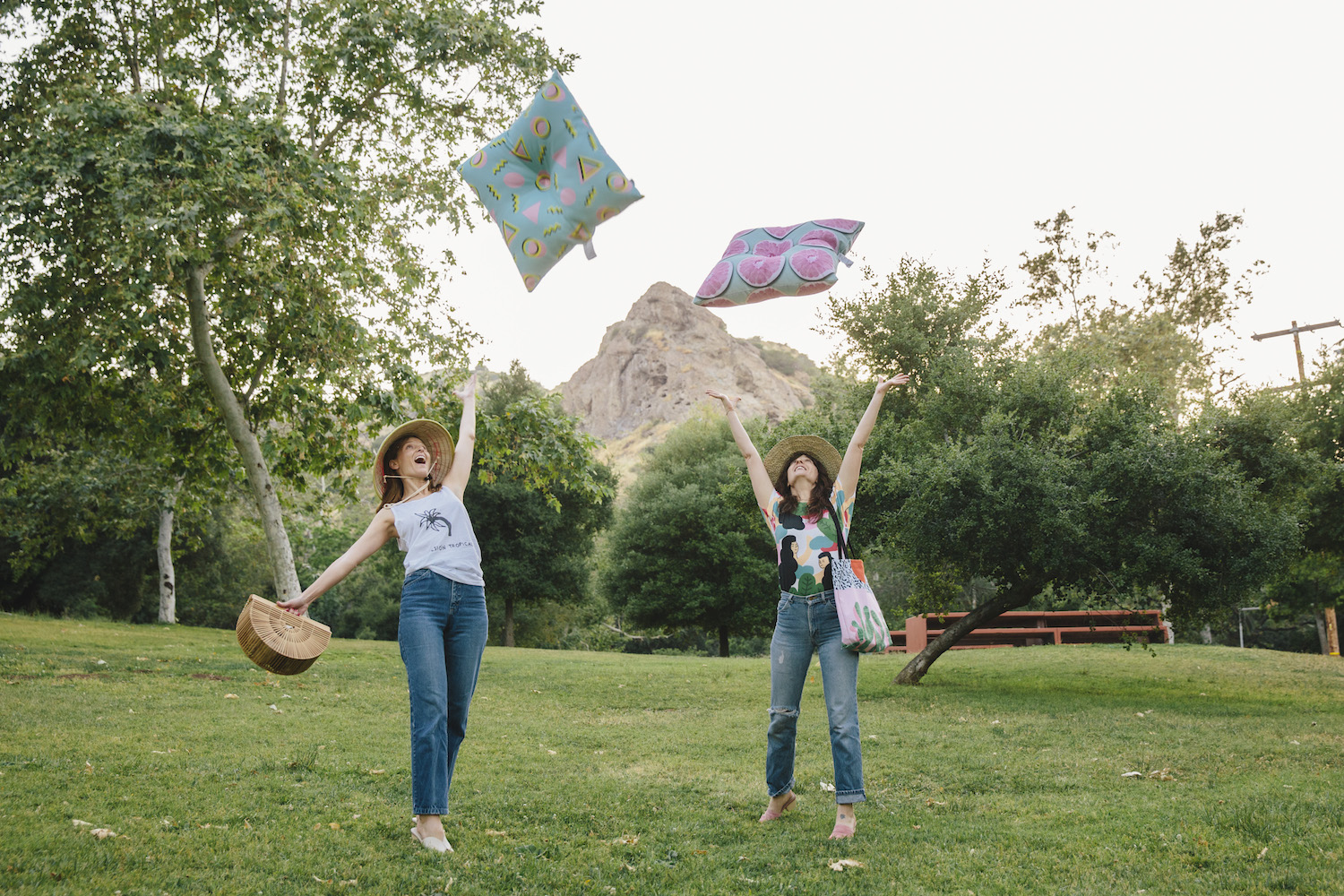 Bad Ass Babes Carry-All Pouch
Memphis Pattern 61 Floor Pillow
Minimal Complexity Throw Blanket
Ray Of Sunshine Notebook
2409
Depresión Tropical Tank Top
by Regina Rivas Bigordá
$22.00
Girl Pattern All-Over Print T-Shirt
by Regina Rivas Bigordá
$34.00