We're always just a little bit jealous when we hear someone lives in LA's cooler-than-cool Arts District.
The burgeoning neighborhood is home to a slew of art galleries, Instagram-worthy eateries and tons of creatives, among them actress Highdee Kuan, who fittingly, is inspired by art in all its forms. We caught up with Highdee to check out her chic, airy loft and learn how she made it all come together.
You were born in San Francisco, grew up in a small village in the Netherlands and moved back to California to study. Tell us a bit about what it was like growing up in many different places, and how you got bit by the acting bug along the way.
I always felt a bit like an outsider, to be very honest. Although I consider myself very lucky to have been able to call different countries and continents my home, it did somehow always push me to be more introverted and reflective, in a sense. But because of that, I was a bit of a dreamer and was always able to find solace and comfort in movies, in art and in dance. Especially movies– I always knew that I wanted to somehow be part of them, but growing up in a small Dutch rural village it just didn't seem feasible. It wasn't until I moved back to the States that I thought to myself that it might be something worth pursuing.
You live in LA now which is the place to be for acting! What do you like most about your neighborhood?
To be honest, it took me a little while to fully get used to living in LA. But now that I have, I love that it's such a diverse and sprawling city that really feels like it can cater to anyone's interests or needs. I currently live in the Arts District, which is probably one of my favorite areas of LA, because it doesn't really feel like LA, if that makes sense. There are also so many amazing restaurants popping up everywhere, which is great.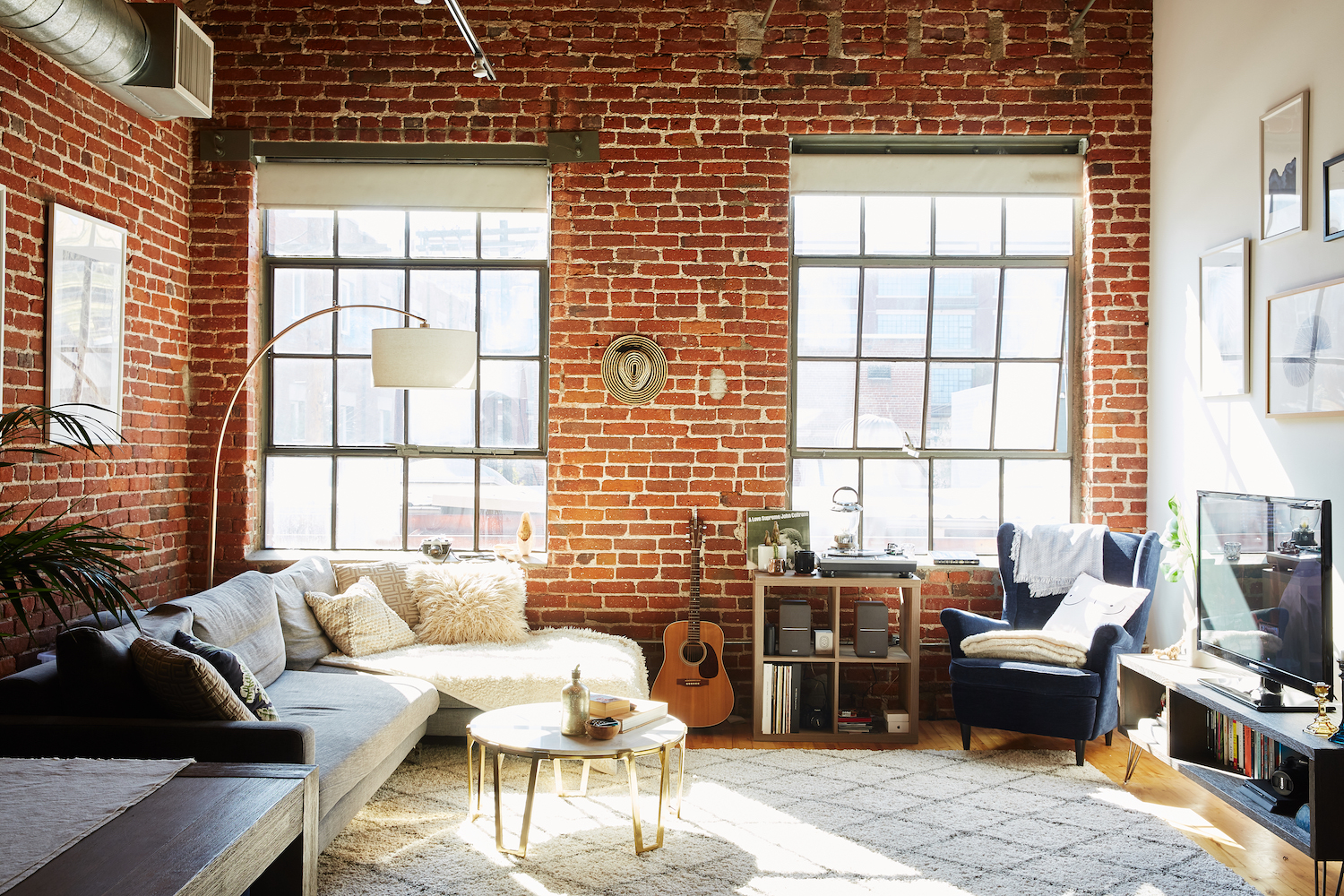 How would you describe your style when it comes to your home?
I like to strike a balance between keeping things minimal and clean, but at the same time making sure our home feels cozy and lived in, with a sprinkle of rustic tropical beach decor. Is that even a term? Haha. I'm also a big fan of art deco and if my budget allowed it I would definitely want to add a few statement pieces in that style here and there. But for now, I love to DIY pieces and just make things work from all styles and places.
You have an open layout – what are some things you keep in mind to make sure your decor and space feels cohesive?
The open layout really has forced me to be way more tidy and organized than I probably ever been. Since you pretty much can see everything the moment you step inside, the flow of where pieces were arranged and placed was really important to me. Having a lot exposed brick and large windows was a great way to be able to work with a lot of neutral colors–everything is pretty much white, cream or grey, with a few navy accents throughout. We were really lucky that the space itself has so many unique characteristics that we didn't have to go that crazy with the decorating process to make it feel cohesive.
We're always taking notes when it comes to spaces we love. Can you walk us through how you selected the pieces for the gallery wall above your TV?
Since we have really high ceilings, decorating the space between the TV always felt a bit daunting to me. I knew I wanted something that I could look at and see something different every time since I spend a lot of time sitting and working on that couch. That meant it had to be abstract, somewhat minimal, but still a bit playful and cohesive. I started with the navy blue print and then slowly started playing around with different textures and shapes. The collage one on the right I created myself, since I thought it needed something a bit visually darker at the end. I also think it's fun to get different sized prints and frame colors, to make things feel a bit more organic. But honestly, it took me forever to find those pieces because there is so much good stuff on Society6! It took me ages to decide but in the end am so happy with how it turned out.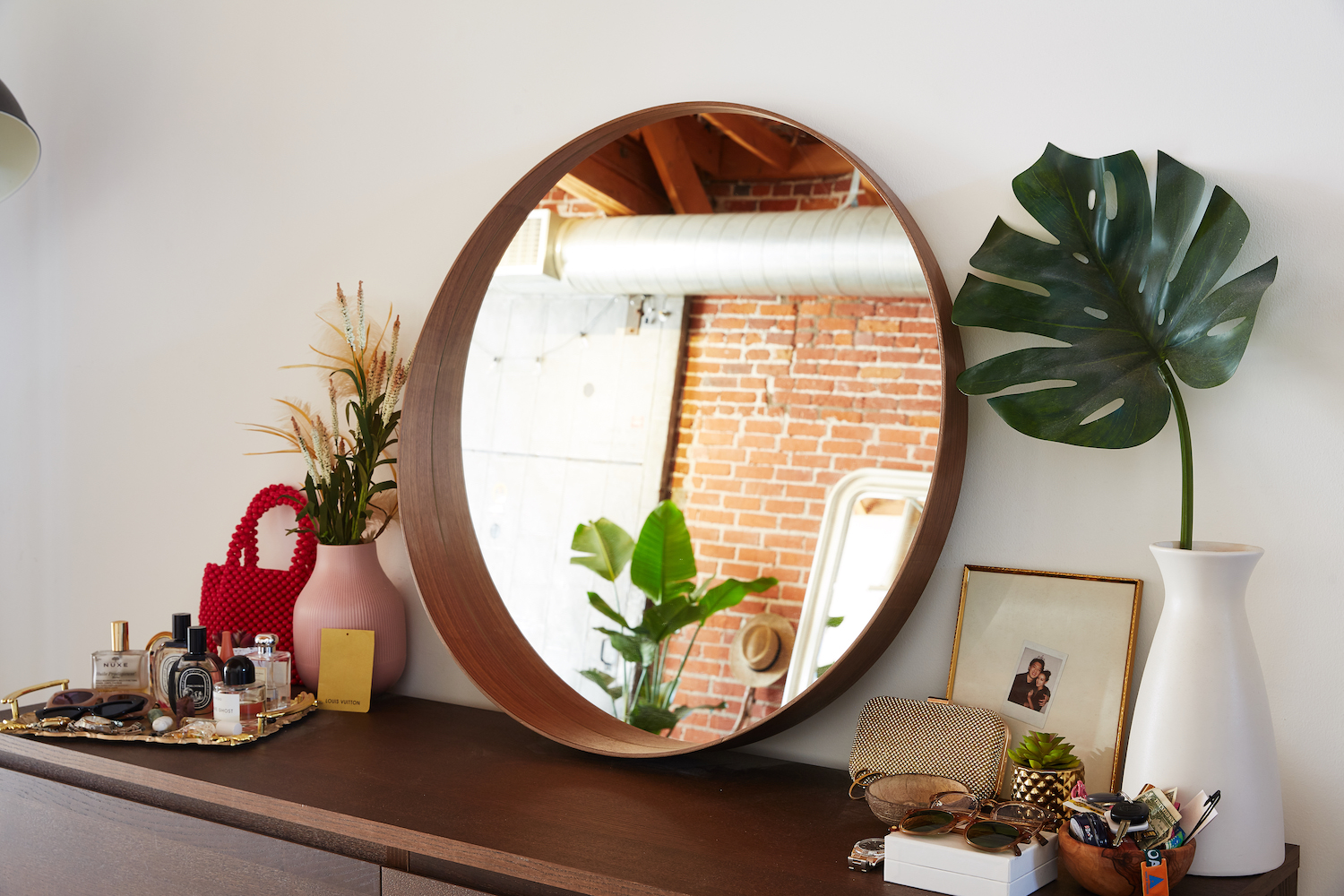 Where do you find inspiration for interior design?
Mostly by traveling to different places or visiting other people's homes. I always love to take photos on my phone of things that I come across that I am inspired by. It can be something super small or trivial like a matchbook or something bigger like a lamp. But traveling really does spark the most inspiration. My boyfriend and I actually frame dinner menus or receipts of our favorite restaurants while traveling instead of pictures of us two, haha. So far we have a mini gallery wall of receipts from Mexico City, Paris, Shanghai and Berlin.
Speaking of inspiration, what qualities do you look for in acting jobs you take on, and what's your dream role?
I like playing characters that are layered and multi-dimensional, so that I get to truly spend time dissecting who they are and what makes them tick. I also am really drawn to dark and gritty roles, characters that are seemingly flawed and morally ambiguous at first glance but reveal themselves to be different along the way. As for my dream role? So many! Thankfully there are so many amazing TV shows and films right now that I can draw inspiration from and dream about that feature incredibly complex female characters that I am just so excited to see what comes next.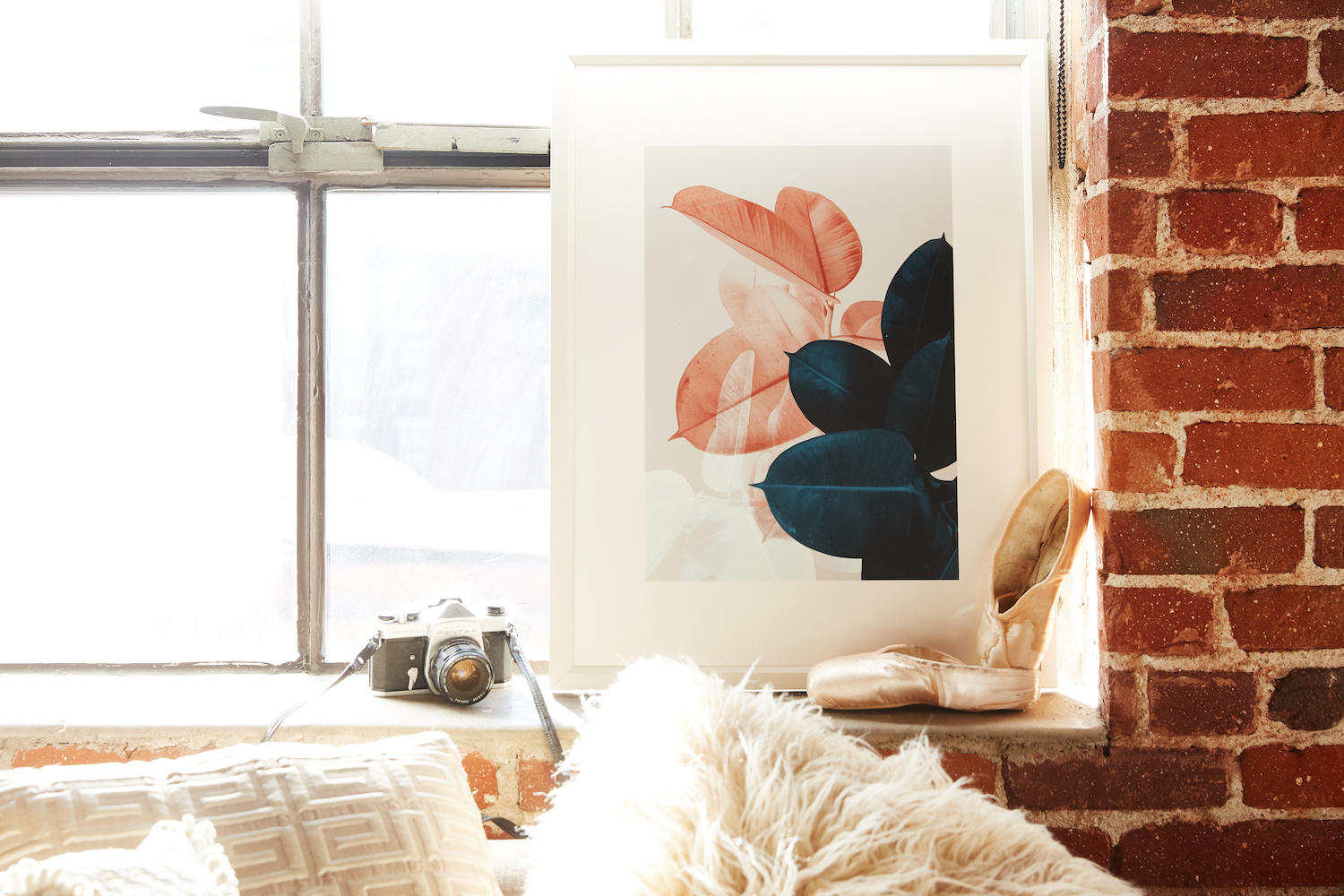 You also have a background in ballet, having studied classical ballet at the Dutch Royal Conservatory. Do you still practice ballet, and is there any overlap between how you approach both acting and dancing?
Sadly, I haven't stepped foot in a studio for at least a couple of years. I really want to, but at times I have a hard time categorizing it as a hobby or as something to do for fun because for so many years it was something I trained to do professionally, and sometimes it frustrates me that my body can no longer do the things that I used to be able to do.
And absolutely– ballet and acting have so much in common! There is so much non-verbal communication that you can express through your body, your posture, your breath. Ballet definitely made me more aware of how to use my physicality and presence on stage as an actor, and I am so grateful for it. It has also taught me a lot about self-discipline from a a very young age. I do need to fix my posture though, haha.
Aside from dancing, what other creative mediums inspire you the most?
They all do! Film, music, photography, museums, poetry, etc. But also attending live performances like concerts or plays always leaves me feel inspired and refreshed.
Lastly, any exciting upcoming projects you'd like to share?
I just worked on a really fun project that should come out in the near future! Also, a feature film I worked on last year should come out sometime later this year, which I really am excited for.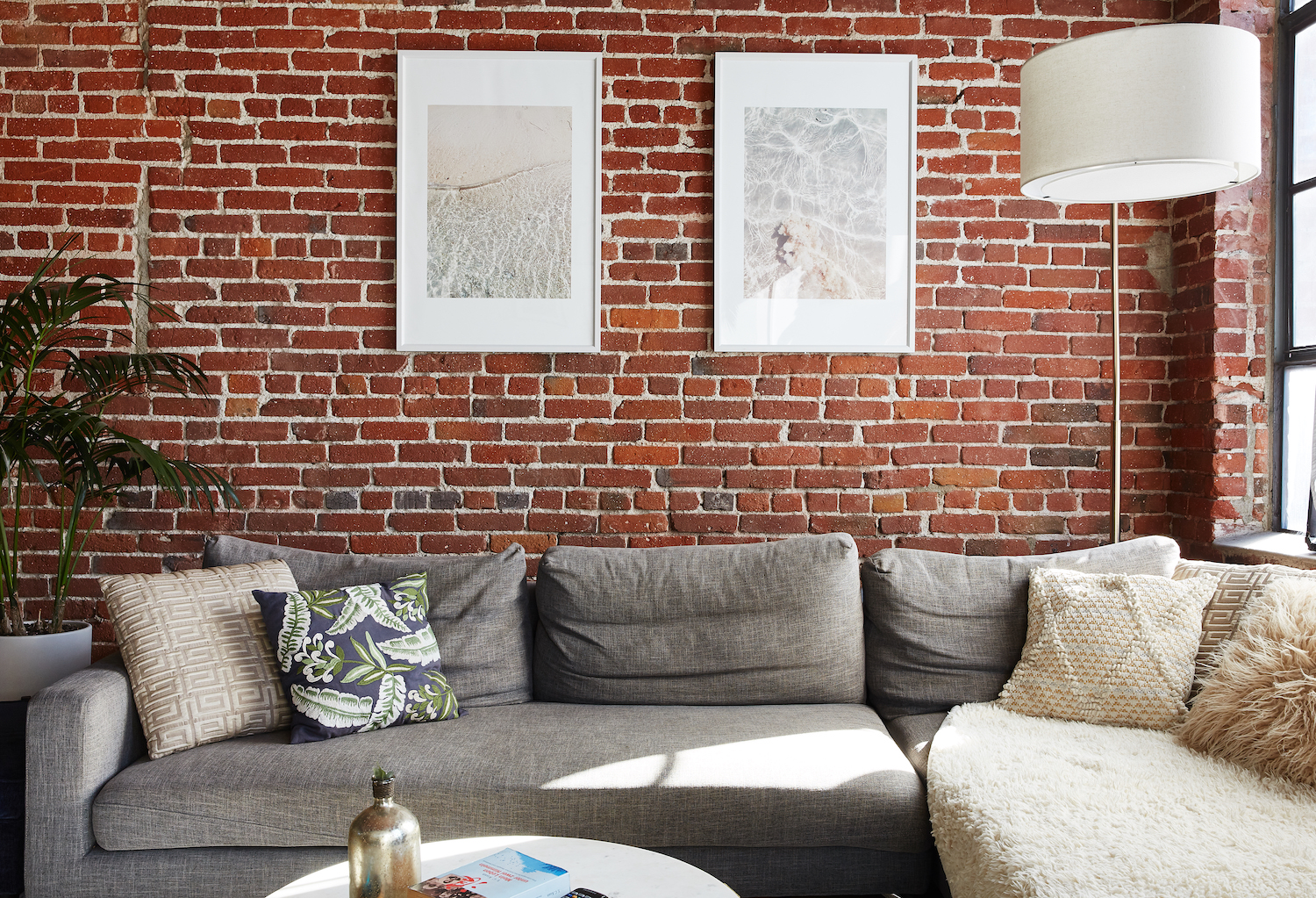 Photos by Nicole LaMotte
Shop Highdee's Picks
Blush & Blue Leaves Framed Art Print
I Can Sea Clearly Now Framed Art Print
by Lexie Kaplowitz
$162.99
Watercolor Splash in Blue Framed Art Print
Mid Century Modern Framed Art Print
Palm Leaf Black & White I Framed Art Print
abstract nude Framed Art Print
Boobs Throw Pillow
by Natalie Catalina Print Shop
$29.99